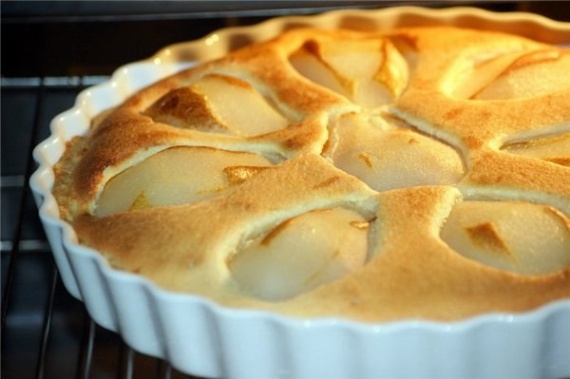 Products:
2 eggs,
3/4 cup flour,
3/4 cup sugar,
50 grams of softened butter,
1 teaspoon baking powder,
2-3 pears,
a little lemon juice,
powdered sugar.
Method of preparation:
1) Beat eggs with sugar. Add the softened butter and beat well again.
2) Sift flour, mix with baking powder and gently combine with the egg-oil mixture. Stir.
3) Pears cut into slices, sprinkle with lemon juice.
4) The dough is poured into a small rectangular baking dish. Top put slices of pear. Bake the pie in a preheated 180 degree oven for 25-30 minutes. Ready cake sprinkled with powdered sugar.