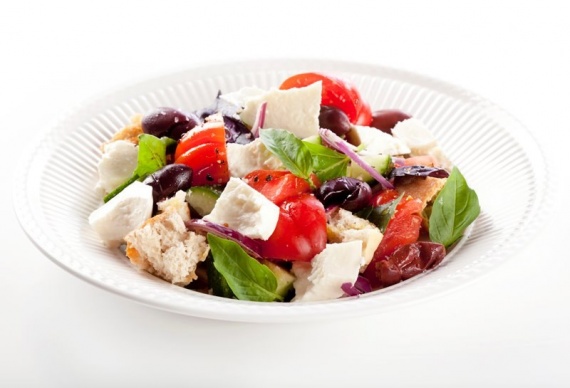 Ingredients:
250g mozzarella classical Unagrande
400 g ripe slices of stale ciabatta pomidorov4-5 or fresh white bread
1 red lukovitsa1-2 cucumber
5 Art. l. olives without kostochek3-4 sprigs of green and red bazilika2 Art. l. red wine vinegar
4 tbsp. l. olive oil
salt, pepper
How to cook:
1. If the bread is fresh, it dries in a preheated 180 ° C oven for 10-15 minutes. Break the dried or stale bread into large pieces.
2. Tomatoes and cucumbers cut into medium cubes, onion - julienne. Coarsely chop the basil leaves or leave whole. Big balls of mozzarella slice or Break a fork into large slices.
3. Vegetables mix with pieces of bread, mozzarella, basil, olives, season with olive oil, vinegar, salt and pepper. Gently mix all and let stand 1-2 minutes before serving.