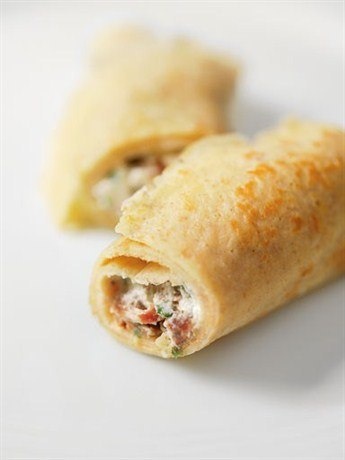 Products:
Rye flour 100 grams
Wheat flour 100 grams
Sugar 1 tablespoon
Egg 3 pieces
Salt ½ teaspoon
400 milliliters of milk
Dry yeast ½ teaspoon
Olive oil 1 tablespoon
Cheese curd 150 grams
1 clove garlic
Parsley 10 grams
Figs 2 pieces
Vegetable oil 50 ml
How to:
1. Beat the eggs with the milk, sugar, olive oil and salt. Yeast dissolved in a tablespoon of warm water and pour the solution into the bowl with the egg-milk mixture. There also add the sifted rye and wheat flour and whisk lightly whisk the contents of the bowl into a homogeneous slurry. Leave mass to rest for twenty minutes.
2. In a blender mix the cream cheese with chopped parsley, garlic and fresh figs. No need to mix and puree was too uniform, so it is best to use the pulse mode. That all the components were mixed, but not to complete indistinguishability.
3. Rascal pancake pan, grease it with oil (using a paper towel or cut in half the potatoes) and bake pancakes, pouring ladle into the pan and regularly lubricating it with oil. Flip the pancake when exposed surface it engages fully and thickens.
4. Ready pancakes grease paste with cheese and figs, roll into a tube or in any other manner and serve while hot.