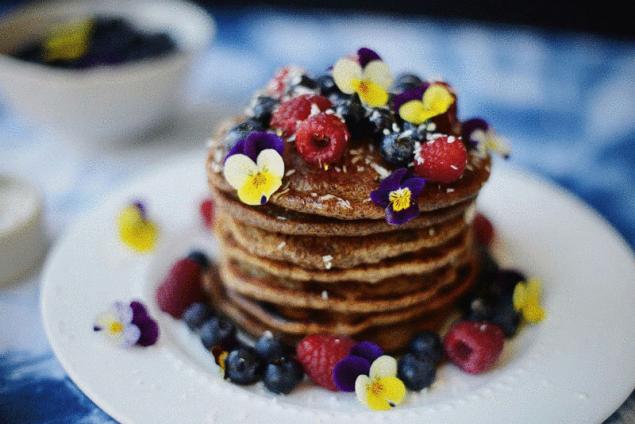 A few simple tips to cook healthy pancakes, to reduce their caloric content, but keep the traditional taste. And maybe even improve
1. Alternative to milk
Eating large amounts of dairy products can cause increase of cholesterol. In addition, milk contains the protein casein in bound form as a calcium salt. this protein is poorly absorbed by the body and as shown by "the China study" Dr. Colin T Campbell, and excessive use increases the risk of tumors and cancer.
Pancakes can always be prepared in water or any plant milk — almond, rice, soybean, poppy, coconut, etc., which can be cooked at home.
2.Less sugar and salt.
Pancakes are often eaten with toppings or sauces, so the amount of sugar and salt can be reduced significantly, but we often forget.
Adding spice to recipes, the desire to "needs more salt" dish is always reduced. In savory pancakes put turmeric, cumin, herbs, red or Cayenne pepper for spice and aroma.
Refined sugar stimulates the growth of fungal and yeast infections which in turn cause the toxins and excess weight. Against the background of a weakened immune system develop allergic reactions, impaired production of stress hormones, chronic stress provokes a new round of infections.
Baking sweet pancakes, you can use natural sweeteners that are not afraid of high temperatures, stevia, dates, prunes, bananas. Honey can be added as toppings to the finished pancakes because honey cannot withstand high temperature.
3. The flour is gluten-free.
To make the pancakes light for digestion, will help alternative to wheat flour — gluten free flour (b/g flour). Now in health food stores buckwheat, rice, soy, linseed, coconut, soy, chickpeas, quinoa or amarata and their blends for every taste and budget. The excess of gluten in the diet causes a feeling of heaviness and flatulence, allergies, clog the intestines.
In addition, ordinary wheat flour or other variety is devoid of virtually all of the useful properties of grain and only contains fast carbs, and therefore no vitamins and the risk of extra pounds.
4. Without baking powder and yeast.
Crepes out of mineral water that will eliminate the need to store baking powder. Puffy pancakes with holes will because of homemade baking powder (soda+citric acid).
Yeast getting into our blood, eat our vitamins, minerals, proteins. And at the same time, they excrete their waste products – toxins. I.e., the parasitic yeast in our body.
Vegetable pancakes on mineral water
2 tbsp. b/g flour
2,5 glasses of warm mineral water with gas
1 tsp. salt
1 tablespoon of sugar
oil ghee
They cause different types of intoxications, disorders of the immune system that can lead to many chronic diseases and neoplastic processes that increase excess weight.
5. Ghee or coconut oil
Banana muffins
2 bananas
100 g b/g flour
half a glass of almond milk
1/2 tsp slaked soda
1/4 tsp salt
1/2 tsp cinnamon
1/4 tsp nutmeg
Banana blend in a blender, add
all the ingredients and mix well. Cook like regular pancakes.
No oil in the cooking pancakes is still not enough. Therefore it is necessary to give preference to some of the most useful coconut oil or melted ghee.
Vegetable oil when heated it will not retain its beneficial properties and secrete carcinogens.
For baking or making pancakes in the pan is better to choose ghee or coconut oil.
6. Healthy filling.
That the dressing often makes the pancakes overly fatty and unhealthy or Vice versa useful.
Sweet crepes are best served with a mousse of fresh berries, fruit, low fat cottage cheese, natural yoghurt, dried fruit, honey and give up sugar, artificial syrups, sweeteners, whipped cream and so on.
Pancakes with fresh vegetables, stewed or baked vegetables and mushrooms, various sauces (carrot-ginger, tomato chutney, guacamole)
For the cheese filling it is better to choose young white cheeses, such as Adyghe, feta cheese, sheep or goat cheese. These cheeses go perfectly with a fresh herbs (cilantro, dill, parsley), spinach and spices.
To enrich the fiber pancakes, the dough you can add fresh herbs (dill, parsley, cilantro), spinach, flax seeds, zucchini.
7. To charge food!
Cooking pancakes is meditation and creativity!
If, during cooking, we think about work, problems and a thousand other things, in the end, here burnt there too... And the food turns out "empty" and not so tasty, because you are mentally not present in the process of its preparation.
Before the meal try to meditate, get rid of unnecessary thoughts in the mind, to relax, to free energy barriers flowing through the body. Try to cook mindfully, be fully immersed in the process, turn on your favorite music and get creative! Fill each pancake with your love, make him alive and recharge your kindness! published  
P. S. And remember, only by changing their consumption — together we change the world! ©
Source: www.yogabodylanguage.com/poleznie-blini/