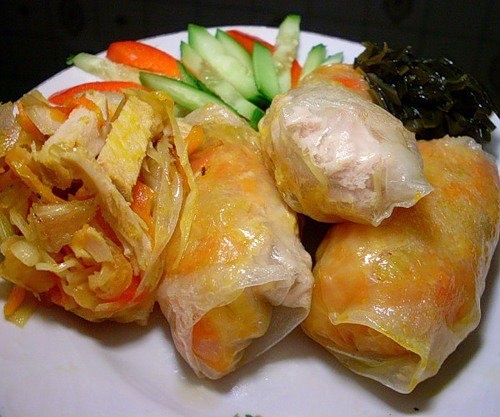 Ingredients:
15 sheets of rice paper
2 chicken breasts (ok.300 g)
150 g carrots
100 g young snow peas
1 red onion
3-5 cm of ginger
3 teeth of garlic
bundle of cilantro
2 tablespoons soy sauce
1 tbsp Worcestershire sauce
chili
olive oil
For the sauce:
400 g tomatoes
200 g of sweet pepper
1 large onion
2 cloves
5-8 peas allspice
0, 5 tsp cinnamon
chili
2 tablespoons soy sauce
1-2 tablespoons rice vinegar
olive oil
Preparation:
1. Vegetables cut into long strips, chicken breast - thin strips. In a wok heat the olive oil and quickly fry over high heat for chicken. Add the onions and carrots and fry less than a minute. Then add the peas, ginger and garlic. Fry for a couple of minutes. Stuffing flavor sauces and herbs. Vegetables should remain crisp.
2. Moisten a little rice paper in warm water, but do not allow it raskisaniya. Put pancakes on the board, put the filling and roll pancakes as stuffed.
3. To prepare the sauce cut into large tomatoes, peppers and onions. In a frying pan heat the butter and 1 st.l.olivkovogo warm vegetables on it.
4. Warm the vegetables in a blender grind and rub through a sieve. The intensity of the color depends on the ripeness of tomatoes. If it seems that not enough red sauce, you can add an additional 1 tbsp tomato paste. Grated sauce back into the pan, add all the spices and warm it up well. Remove cloves and allspice.
5. In a skillet heat the vegetable oil (pancakes should not wallow in the oil and the oil should cover only half pancakes) and fry the rice pancakes to the "glass" state. Put hot pancakes on a platter with the sauce and serve immediately to the table.