The main thing in pancakes - it is filling! 11 most appetizing options. Bashny.Net
To
cook pancakes , you need to spend a lot of effort. But with each baked pancake mood uncontrollably rises: it's the same dish, from which few people able to refuse

. With these fillings thin pancakes are particularly delicious! We offer you 11 variations of dishes beloved by all. Be sure to try the walnut filling, if this magical taste is not open to you ...

fillings for pancakes Meat filling
Decoction of 350 grams of meat and we shall cut finely. 2 Fry the chopped onion in butter. Mix the onions with the meat in a frying pan, add salt and pepper. Sour cream accentuate the taste of pancakes, and they are good with the white sauce.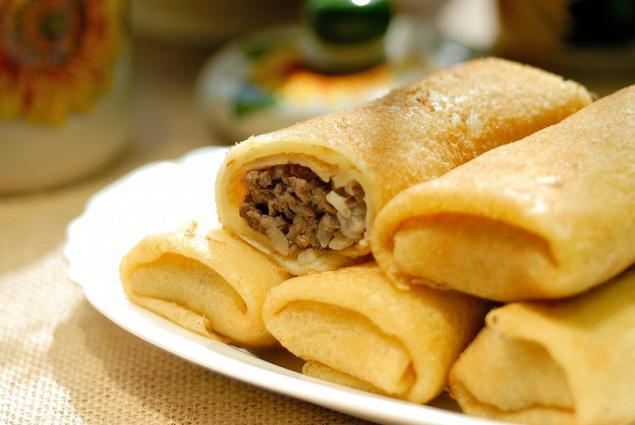 Egg filling
Finely we shall cut 6 boiled eggs. Add them to the chopped green onion, sour cream or mayonnaise. Salt to taste, you can add a little dill - pancakes will be more spicy.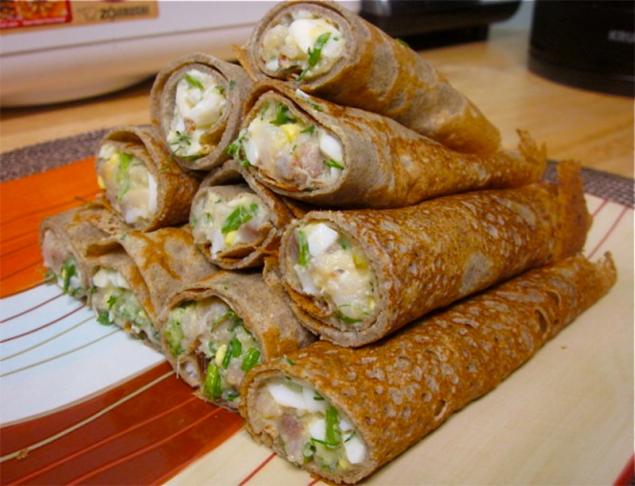 Mushroom filling
500 grams of mushrooms and finely chopped onion fried in vegetable oil. Add 2 tbsp. l. flour into the mass and mix. This also enter 2 tbsp. l. sour cream and 1, 5 glasses of milk. Salt and pepper mixture to taste. Will mushroom stuffing with delicate cream sauce! Rolled pancakes you can sprinkle with grated hard cheese. Recommended feeding hot.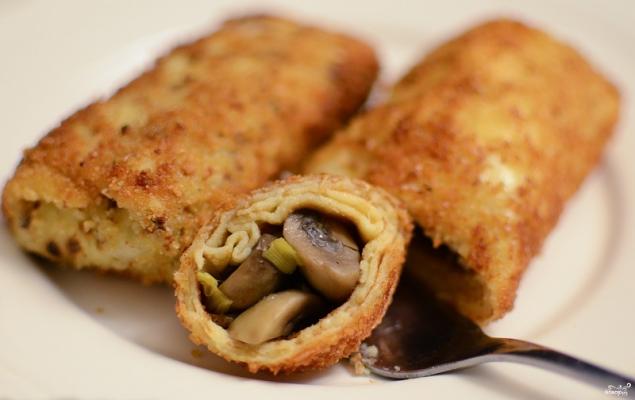 Chicken filling
Decoction of 500 grams of chicken breast and grind it in a blender along with the finely chopped dill. Add 1 crushed clove of garlic, 2 grated boiled eggs, 1 tbsp. l. sour cream, salt and pepper to taste. Pancakes will be even tastier if you sprinkle them on top of the melted butter.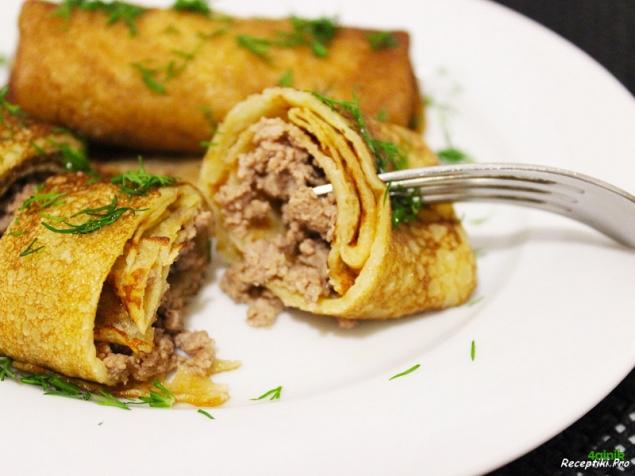 Cheese filling
Heat the 150 ml of cream on low heat. Sodium 50 g and 50 g parmesan cheddar, boil a weight until completely thickened. Decoction of broccoli for 2 minutes, disassemble into florets and wrap the pancakes, put in cabbage and cheese sauce. Broccoli can be replaced with zucchini, spinach, great will these pancakes even with lettuce!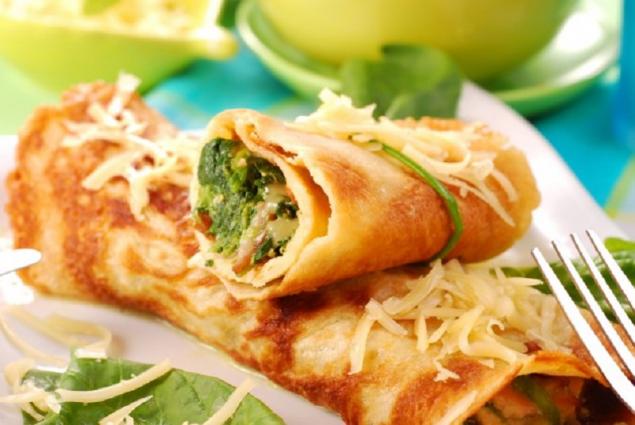 filling with salmon
Brush the pancakes soft cream cheese, on top Put a slice of salted salmon. Prisyp fish chopped herbs, wrap the pancakes. Despite the simplicity of this recipe, it can rightly be called royal.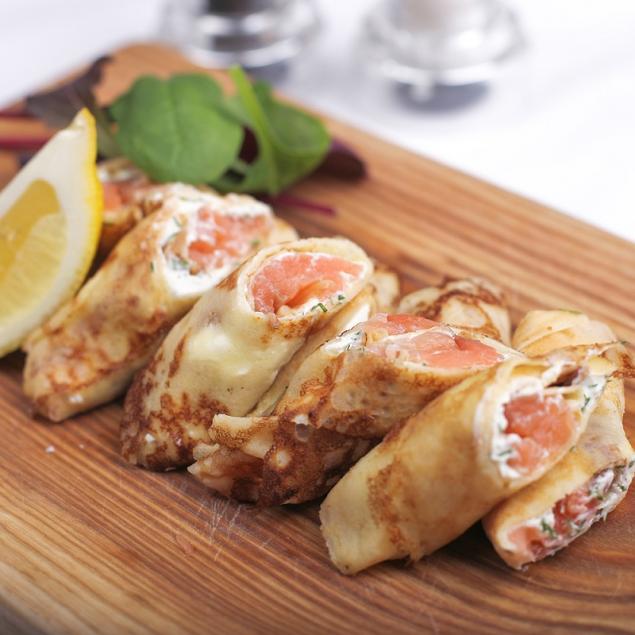 curd
Pour 50 grams of raisins with boiling water. Mix 500 g of cottage cheese with 1 egg yolk and 2 tablespoons. l. Sahara. You can add a little vanilla, if you love its unique taste and aroma.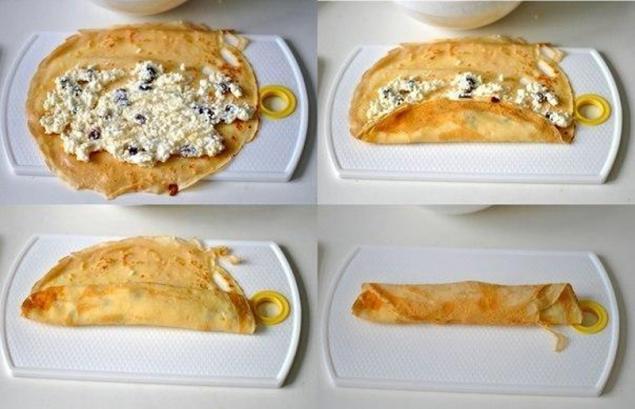 nut filling
Mix 500 ml of milk, 120 g sugar, 100 g ground walnuts and 1 tbsp. l. flour. You can prepare the stuffing from a mixture of nuts, adding hazelnuts, almonds and peanuts to walnuts. Cool the mixture and add to it 100 g of butter, stir with a mixer filling. If adding it in 1 hour. L. cognac, taste becomes even more expressive!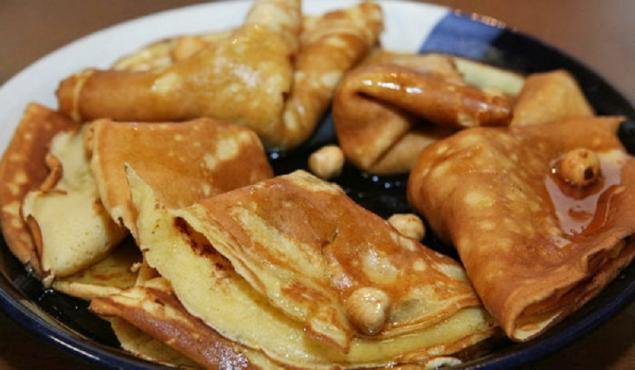 Lemon filling
Cream cheese with lemon jam, sprinkle with a few drops of lemon juice - a great filling for pancakes! Serve lightly sprinkled with powdered sugar.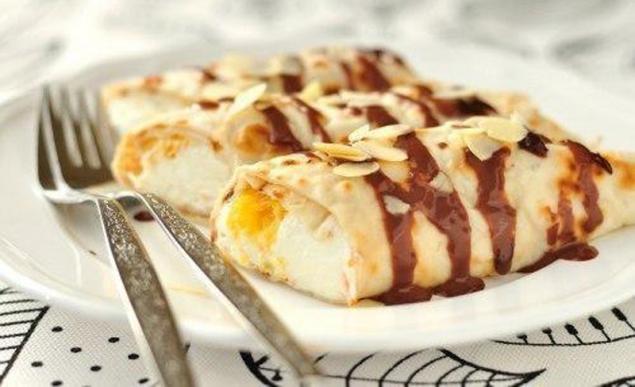 cream filling
Vzbey the cream with the sugar, vanilla and a few drops of lemon juice. Air filling for pancakes ready!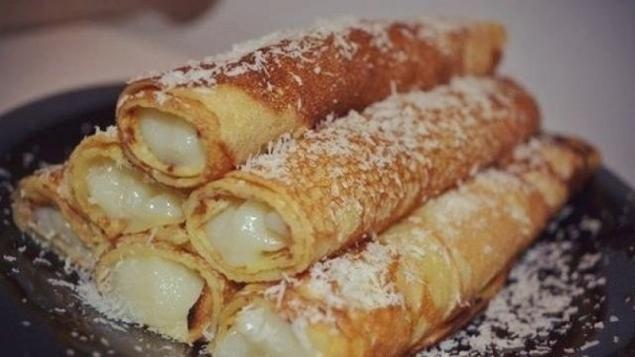 Banana filling
Mix with a mixer 70 g of butter and 2 tbsp. l. Sahara. Mash with a fork 3 bananas, sprinkle with juice of 1 lemon. Mix the banana puree with butter, and the filling is ready! You can pour the melted chocolate pancakes. No less tasty are obtained if the bananas are cut into small pieces, and not to mix in the mashed potatoes.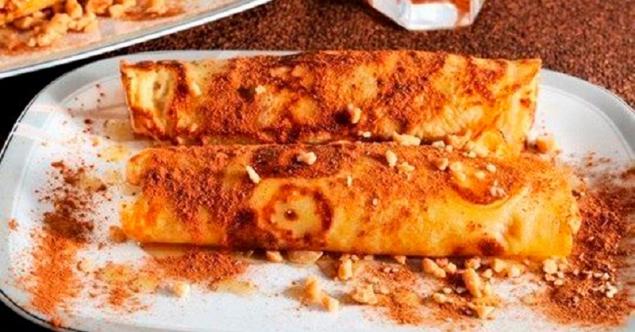 Enjoy these truly tasty variations of pancakes! Tell us in the comments what toppings you prefer.


Tags
See also
New and interesting
New and interesting