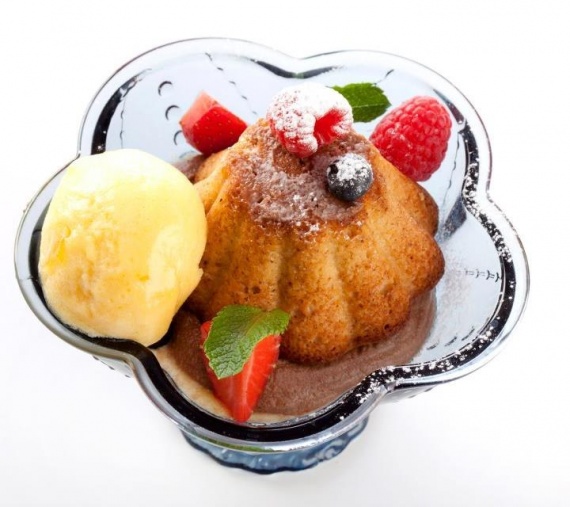 Ingredients:
For the sponge cake:
4 eggs
130g sifted flour
100 grams of sugar
a piece of butter for greasing molds
treatement:
300 ml of milk
50 g of condensed milk
1/2 h. L. cinnamon
Cream:
200 g chocolate mascarpone
100 g of whipped cream
1 tbsp. l. brandy
1 tbsp. l. powdered sugar
ice cream or sorbet, fresh berries and a couple of sprigs of mint for supplying
How to cook:
1. To connect the biscuit eggs with the sugar and beat with a mixer at high speed for 10-15 minutes in the dense air mass. Gently insert the sifted flour and mix quickly, so that the dough does not settled. The resulting dough is spread out on a small cupcake tins, greased with butter. Place the molds in a preheated 180 ° C oven for 30 minutes. Remove and cool.
2. Whisk mascarpone mixer a few seconds and connect with whipped cream. Enter the brandy and mix. Remove the resulting cream in the fridge.
3. Mix the milk with cinnamon and caramelized milk and slightly warm. Dip biscuits in the resulting mass of warm and allow to soak a few seconds.
4. Spread a little cream into mascarpone ice-cream bowls, top with soaked biscuits and some lay on the ball of ice cream or sorbet. Garnish with fresh berries and mint leaves. Sprinkle with powdered sugar and serve.