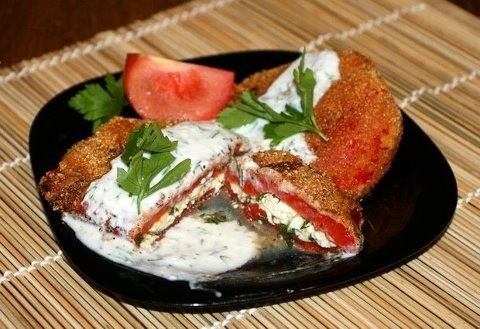 Ingredients:
Pepper, red is better - 6 pieces
Feta cheese or feta - 150 grams
Dill, parsley
Tomato - one
Sunflower oil
Flour
Egg - 2 pcs
Breadcrumbs
Pepper, salt
Preparation:
1. Pepper bake in the oven until soft entirely, 20-25 min., At 180 ° C. Cool, carefully remove the peel, remove the seeds, rinse with cold water.
2. Prepare the filling. Cheese (feta), finely crumbled fennel, peeled and seeds from tomatoes - Mince - mix and grind with a fork. Dosolit if necessary. Pepper. Add one egg protein. All mix thoroughly with a fork until a smooth paste.
3. Stuffing stuff with perchiny. If a little flow - no big deal. Very hot frying pan and pour oil. In a bowl to release an egg, salt and pepper and whisk with a fork. Perchinu sprinkle with flour, dip in beaten egg. Roll in bread crumbs and fry in a skillet.
4. Give browned on both sides and on dozharit over medium heat. In general - 10-12 minutes. Out onto a plate, garnish with parsley and dill twigs and lemon slices. Can vegetables: tomato, cucumber, pepper.
Tip: You can not breaded peppers and fry a little and bake in the oven.