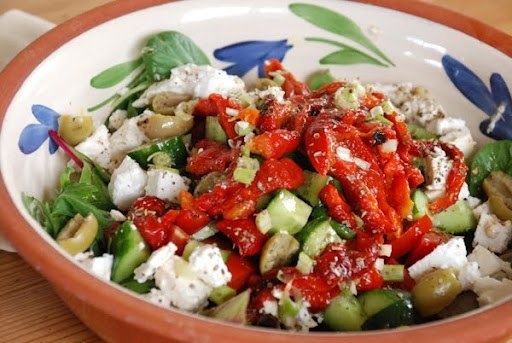 Ingredients:
4 tomatoes
1 cucumber
3 red, 1 yellow bell pepper
1 red onion
150 g of cheese
4 tbsp. l. olive oil
1 tbsp. l. light wine vinegar
a handful of olives
salt, black pepper
Preparation:
1. Peppers bake in the oven at 200 ° C for 10 minutes (or hold it over an open fire) until the skin is not blacken, put in a plastic bag, to postpone for 15 minutes.
2. Cucumber peel, cut lengthwise, then crosswise into thick slices. Tomatoes cleaned from the stalk, cut into 8 pieces. Onions cleaned, cut into thin half-rings.
3. Make the salad dressing: whisk with a fork olive oil with vinegar, salt and pepper.
4. Baked pepper Peel, stalk and seeds and cut into strips.
5. All the vegetables mix, arrange on plates, add the olives, pour salad dressing, sprinkle with parsley and grated grated cheese.
Serve immediately