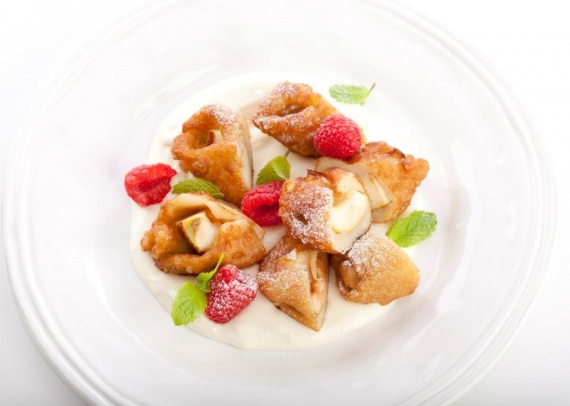 Ingredients:
200 g flour
250 ml of water
75 g butter
2 eggs
4-5 small strong sweet-sour apples
1/2 h. L. baking powder
1/2 h. L. salt
1 hr. L. sugar
vegetable oil for frying
a handful of fresh berries and a sprig of mint to decorate supply
Cream:
250g mascarpone
100 ml of cream (35%)
3-4 tablespoons. l. cream liqueur
60 g of powdered sugar
How to cook:
1. For the test, bring water to a boil, add salt, sugar, butter and mix until the oil gets going. In a separate bowl, combine the sifted flour with baking powder. Reduce heat to low and gradually add flour, stirring constantly to avoid lumps. The dough should get thick and uniform. Remove from heat. Separately, beat the eggs with a mixer or a whisk, add the dough and return to the quiet fire. Cook, stirring constantly, until the mixture is smooth and homogeneous. Remove from heat and cool.
2. For the cream, mix the mascarpone cream, 50g icing sugar and liqueur. Beat with a mixer into a homogeneous mass of air and store it in the refrigerator.
3. Apples cut into small slices or cubes. Each slice of apple wrap the dough, like clay and fry in a large number of well-heated (up to 180 ° C) oil for 3-4 minutes until golden brown. Remove with a slotted spoon and blot with a paper towel from the excess oil.
4. Ready apple donuts serve, sprinkled with powdered sugar with butter cream and fresh berries and garnish with mint leaves.