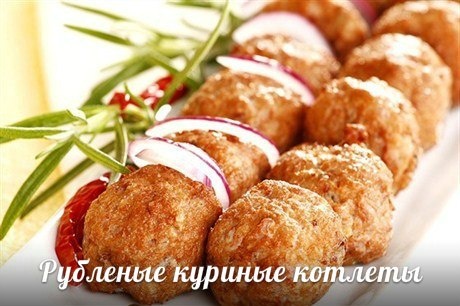 Ingredients:
Chicken fillet 600g
Fresh mushrooms 300 g
Onions 2 heads
Cream 150g
White bread 150 g
Madera 50 g
Green basil 20g
Walnut nutmeg pinch
Eggs 1 piece
Butter 50 g
Refined oil 4 tablespoons
Salt, ground black pepper to taste
Sugar 1 teaspoon
How to:
1. Chicken fillet finely chop a large sharp knife, lightly salt and pepper.
2. Two chopped onions and fry in a mixture of oil and butter until soft.
3. While the fried onions, mushrooms wash, dry cloth and finely chopped, add to the onions in the pan, sprinkle with a teaspoon of sugar and fry for about 5 minutes.
4. In a blender, put a bowl of white bread without crust, low-fat cream and pour the egg, add a sprig of basil and freshly ground nutmeg and whisk.
5. Mix in a large bowl, chopped chicken, fried mushrooms with onions and egg-cream mixture of bread with spices, add 50 grams of Madeira and carefully Stir
6. Form a small round patties and fry in vegetable oil until golden brown.
To prepare the stuffing instead of a knife grinder can be used, but then the consistency of the stuffing will be more uniform, and burgers come out a little less tasty