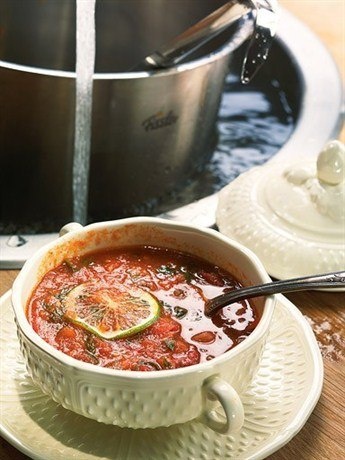 Ingredients:
Tomatoes 1 kg
Red onion 1 clove
Chicken broth 1 liter
Honey 2 teaspoons
Lemons 1 piece
Ginger 20g
Cumin ¼ teaspoon
Cinnamon ¼ teaspoon
Parsley 50 g
Cilantro (coriander) 50 g
Olive oil 50 ml
Paprika 1 teaspoon
Salt to taste
Ground black pepper to taste
How to:
1. Finely chopped onion fry in a deep skillet in olive oil with grated ginger, ground cinnamon, cumin seeds (jeera or). Fry to a strong smell of fried onions and spices, but not to burn. Coal is not necessary.
2. Finely chop the tomatoes (you can get rid of the pre-skin and seeds, but it is too delicate for chefs) and add to the onions. There also pour the chicken broth, season with the contents of the saucepan with honey, one teaspoon of chopped parsley, one teaspoon of chopped cilantro, salt and pepper, bring it all to a boil, reduce heat and simmer barely bubbling thick of a few minutes, stirring occasionally.
3. Remove the soup and refrigerate it in a sink filled with water and ice. Then pour in the soup a tablespoon of lemon juice, toss the remains of chopped parsley and cilantro, stir and pour into bowls, putting each in a thin slice of lemon or lime.