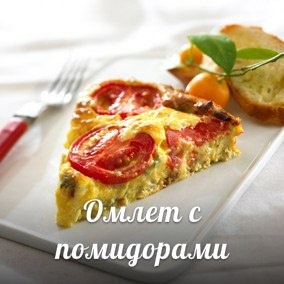 Products:
egg - 4 pcs.
cheese - 150g
butter - 2 tablespoons
tomatoes - 3-4 pcs.
green onions, salt - to taste
How to:
Tomato peel. To do this, pour boiling water and carefully remove the peel. The flesh is cut into slices and fry in a pan with butter. Ready tomatoes lay on a plate.
Whisk the eggs with salt, add the chopped green onions, shredded cheese and mix well. Melt the remaining butter in a frying pan, put the tomatoes and pour the cooked egg mass. Omelette bake on low heat about 5-8 minutes. The finished dish can be decorated with chopped dill, parsley or chives.