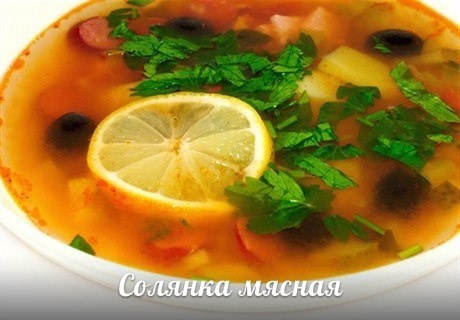 Ingredients:
Beef 400 g
Sausage 4 pieces
Cooked sausage 200g
Ham 200g
Pickled cucumbers 3 pieces
Onion 1 piece
1 bunch parsley
Tomato paste 2 tablespoons
1 can of olives
How to:
1. Beef broth boil, add the bay leaf and black pepper.
2. Cut the meat from the broth, sausage, sausage and ham (or summer sausage). Onions, cucumbers and finely chopped parsley and simmer for about 10 minutes with tomato paste.
3. Put in a stew broth mixture and cook until tender vegetables. Then add the meat, sausages, ham and sausage. Cook until it boils broth. Pour into a hodgepodge of olives with brine (olives must be pitted). Bring to a boil and immediately turn off. Serve with a slice of lemon and sour cream.
The broth should not be much salt because all the ingredients quite salty. Better to try a hodgepodge at the end of cooking and, if necessary dosolit.