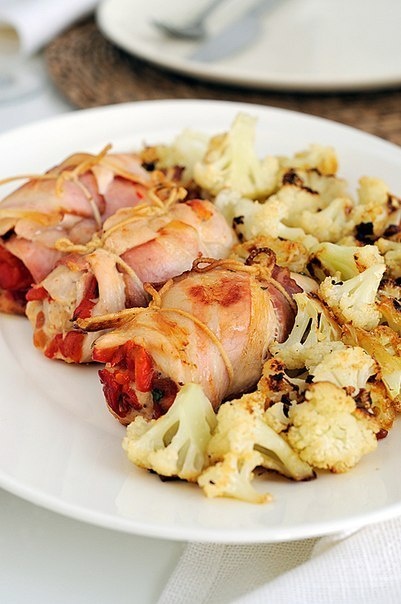 6-12 slices of smoked bacon
6 chicken schnitzel
4 red sweet pepper
2 tablespoons chopped parsley leaves
salt and black pepper to taste
1 medium head cauliflower
50 g bacon piece
1 tbsp extra virgin olive oil
1/2 tsp of dried chili
Preheat the oven to 180C degrees. Lay a baking foil, pepper wash, dry, put on a baking sheet and bake for 30-40 minutes. Ready peppers wrapped in foil or put in the pan was hermetically sealed. Totally cool, peel and seeds and cut into small cubes.
To add pepper parsley, season with salt and freshly ground black pepper. Chicken schnitzel cover with cling film and beat off. On a slice of bacon to put chicken schnitzel, salt and pepper, put on the edge of each schnitzel a couple tablespoons of the filling and roll rolls secure culinary thread.
Vystelit baking dish with baking paper and put the rolls.
Bacon cut into small cubes, fry in a dry frying pan for 5 minutes. Cauliflower divided into florets. Put in a bowl, add the olive oil, diced bacon and season with salt and chili. Stir and put in a form close to the rolls and bake in a preheated 180 ° C oven for 30 minutes or until tender.