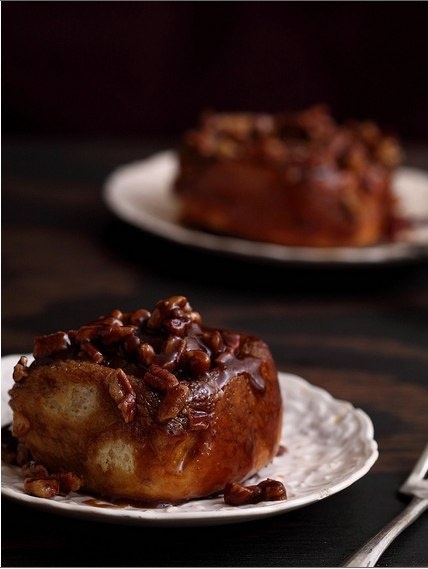 Ingredients:
Dough:
Yolk - 4 pcs
Egg (whole) - 1 pc
Sugar - 2 tablespoons
Brown sugar - 2 tablespoons
Butter - 6 tablespoons
Cream cheese - 4 tablespoons
Sour milk (warm) - ¾ cup
Yeast - 2, 25 teaspoon
Flour - 3, 5 cups
Sea salt - 1 teaspoon 25
Filling:
Butter - 60 g
Brown sugar - ¾ cup
Cinnamon - 1, 5 tablespoons
Nutmeg - ½ teaspoon
Syrup:
Butter - 110 g
Brown Sugar - 1 cup 25
Honey - 1/4 cup
Syrup (any taste) - 2 tablespoons
Cinnamon - 1 tablespoon
Vanilla - 1 tablespoon
Walnuts (chopped) - 1, 5 cups
Preparation:
Preheat sour milk (not boiling). Stir sugar and yeast and let sit for 5-10 minutes, the yeast ferment.
In the bowl of a mixer to beat the butter, cream cheese, egg yolks and sugar and brown. Continuing to whisk, add the yeast is ready for sour milk.
Stir in 2 cups of the flour and salt and continue to interfere. When all the ingredients are thoroughly mixed, remove the blade from miksrea, sprinkle in the remaining 1, 5 cups of flour and knead dough hands (3-4 minutes). Blindly ball of dough and leave for 2-3 hours at room temperature (the dough should double in size).
Filling:
Fork mash the butter with brown sugar, cinnamon and nutmeg until smooth orehom.Peremeshayte.
Over medium heat almost to a boil in a small saucepan, butter, brown sugar, honey and syrup. Periodically stir to dissolve the sugar completely. Remove from heat, add the cinnamon, vanilla and pour this mixture on the bottom of the form to sprinkle zapikaniya.Sverhu chopped walnuts (or pecans).
Hands, roll and stretch the dough (it must be sufficiently flexible, but not liquid - if too thin, add more flour and knead again before you roll) on floured surface. Having prepared a large rectangle of dough, apply oil-cinnamic weight over the entire surface. Sprinkle brown sugar on top.
Twist roll, oiled with a sharp knife cut the roll into 12 pieces (wide enough).
Put the buns on the spiral-dish right in caramel sauce. Close the dish with cling film and leave for an hour or two, so that the buns have doubled in size. He should almost touch each druga.Duhovku heat to 175 degrees and bake for 12-15 expired, then remove the dish and cover it tightly with foil and bake for another 15-20 minut.Dostante from the oven and run a sharp knife around the edges to get the buns. After 5-10 minutes after the meal a little cool down turn the dish and remove the muffins. Sticky sauce should be on top.
Serve warm.