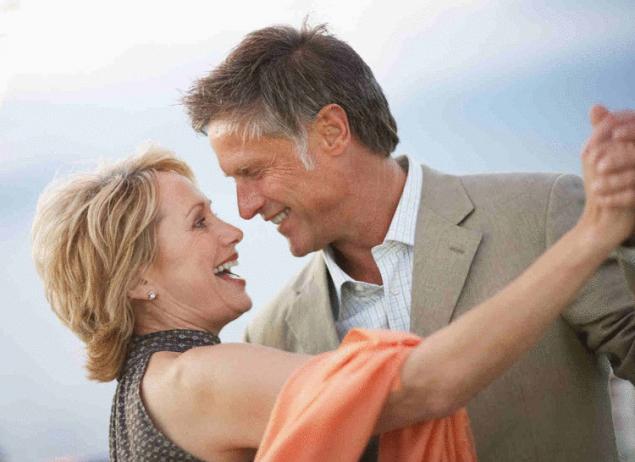 Menopause is considered a terrible thing. We have collected different claims about him and asked the therapist Alexander Teszler comments to see which of them is true and what is myth.
THIS ONLY HAPPENS WITH WOMEN
Male menopause is a conditional notion. About the strong half of humanity usually say: "a gray beard, and he went in the city." But the midlife crisis is not related to hormonal changes. Men's hypersexuality have on youthful age, that is 17-23 years and 45-50 years, the hormonal balance begins to quietly fade away. Despite this, the man feels young but already an accomplished man. From a male point of view, it's maturity. I want to be charming to everyone you loved, think about making some to temper the pace of life, not only to incur obligations to family, children, society, but, in General, to obtain pleasure for themselves. And the man begins to buy expensive toys, to meet new people including girls. He does a slightly balding, he has wrinkles and his eyes were faded blue. But being in quite a serious age, he, nevertheless, has not lost its appeal. This does not apply to those who, twenty years ago, in the dashing 90-e, was literally thrown out on the street who could not find employment in a new time. Many of them have been a disaster in his personal life, because "the losers" useless: for many years, not all women are able to lean on, sometimes they get desperate and looking for a better life. Such men, unfortunately, continue to pull the strap to sit in the garage, fishing from the family's troubles and hide in those holes that they have dug for themselves many years ago.
IT CAN NOT BE AVOIDED NO WOMAN
About 40 to 55 years old in the hormonal system have all women comes age-related changes. Some of this process occurs abruptly, others gradually and is accompanied by various somatic symptoms.
SIGNS
Women 1. Fade skin.
2. Wrinkles appear.
3. The presence of silicone and Botox.
Men 1. Dramatically begin to follow the fashion and figure.
2. Sports.
3. Quit Smoking.
4. Limit alcohol.
5. After thirty, with a good background of testosterone can go bald and gain weight.
THE WOMAN TURNS TO BABA YAGA, SHE BREAKS DOWN, SHE DOESN'T KNOW WHAT HE WANTS
At this time women change dramatically, psychologically, they feel that time is running out and they need to catch up, they become sharply irritable, because of this changes even the nature. I believe that people close friends will always help and support, but it is impossible for life to do what to endure the vagaries. Do not sit on the neck, people can forgive a lot, but not all. If a woman starts to blossom, then, sadly, families break up. Wife assigns all the blame and starts to make trouble. You will be surprised how many men aged 40-45 years wife jealous of perfect stranger to women, thereby to drive them out of the house. And husbands leave home not someone, but simply rent or buy an apartment at the same time thinking: "God, I live a good one!" They communicate with children, grandchildren, spend holidays with ex-wife, but I feel independent, dress more contemporary, you begin to look after themselves and look younger for 10-15 years. Still, the woman due to the demographic component and the Patriarchal mentality of Russia more vulnerable in our country. We must realize that today it may fall tomorrow too, but it should not become a system. Sometimes you should bring this issue to a specialist. Those who engaged in psychological terms, is successful people.
WOMEN IN THIS PERIOD OFTEN BETTER
Every self-respecting woman knows that the power needs to be regulated, and physical exertion required to keep yourself in shape. In addition, there is special therapy. And to think in this direction a little earlier to meet menopause head-on. The problem of excess weight in the heads, I know many charming lush women who have no end of men. Us media impose a certain stereotype. Someone he may meet, and some don't. The right of any person. The only thing women should not have to dissolve itself. It can be a full but well-groomed. It can be lean, smoky and grubby, there is a correlation of weight and height in this situation is not working.
REPRODUCTIVE SYSTEM BEGINS TO FADE BEFORE 40 YEARS
There are cases of hormonal disaster operations when you remove a certain endocrine gland. Sometimes women because of the physical prerequisites is a specific treatment that stops the menstrual cycle, and therefore the body begins to age early.
THE EXTINCTION OF THE REPRODUCTIVE SYSTEM MEANS OLD AGE
Old age comes after 75-80 years. In medicine there is the concept of the climacteric period, or involutional period. In fact, old age is a state of mind, a lot of people in old age remain stunningly energetic. The most important thing – that the person was self-centered. Because self-centeredness is something around which revolve in different orbits people and events. If this rod is strong, and the core is you, you will always be loved and you will be in life.
PROLONG THE REPRODUCTIVE PERIOD IS IMPOSSIBLE
For women to postpone menopause for a few years in elementary. Should lead a healthy lifestyle, take care of yourself and not to neglect the advice of the gynecologist-endocrinologist. Substitution therapy has prolonged female age 15-20 years. Ladies look great and attractive in sexual terms to quite high numbers in the passport. Women are very supportive of the attention of young men, similarly, men of a certain age inspire young girls.
source
Source: /users/147