How to make traditional crispy pancakes and chicken soup according to ancient recipes of Asian cuisine.
Cao Lao noodles with spicy pork
Cao Lao noodles with spicy pork
For 6 servings: 500 g boneless pork shoulder and pork belly with skin; 2 bulbs of shallots and stems lemon grass; 2 tablespoons soy sauce and vegetable oil; 1 tbsp fish sauce and spicy chili paste; 2 tsp salt and sugar; 1 1/2 tsp Chinese seasoning "5 spices"; 6 garlic cloves; 1 pack of cao lao noodles; 200 grams of boiled sprouts of soy beans.
Preparation: Mix onion, lemon grass, soy and fish sauce, chili paste, salt, sugar and seasoning in a large bowl. Add the pork and stir. Leave to marinate for at least 3 hours.
Heat the oil in a large skillet over medium heat. Fry the pork for 10-15 minutes until Golden brown, turning occasionally. Put the meat on a plate. Drain the oil from the pan, leaving about 1 tablespoon. Fry in oil the garlic for 1 minute, stirring and not allowing to brown. Then pour into the pan the remaining marinade and 4 cups of water, bring to a boil. Put in a pan the meat, reduce heat and simmer for 1-1. 5 hours, stirring occasionally. Leave the meat to cool in broth.
Boil the noodles, drain in a colander and rinse with cold water (the water remaining after cooking the noodles, pour). Put the noodles in a deep plate. Remove meat from broth, cut into thin slices. Drain the broth in a saucepan with the water left over after cooking the noodles. Add half a Cup of water, remove the sample: the taste of the broth should be rich and slightly salty. Will doverite noodles in the broth to simmer for 2 minutes, remove from heat and add the chopped meat. Let the dish to cool. On the noodles place the bean sprouts and pour a small amount of broth.
Serving: Serve with Chile, lime, herbs, fried wontons (dumplings stuffed with meat, mushrooms and bamboo) and a drop of chili paste.  
Hojenska crispy pancakes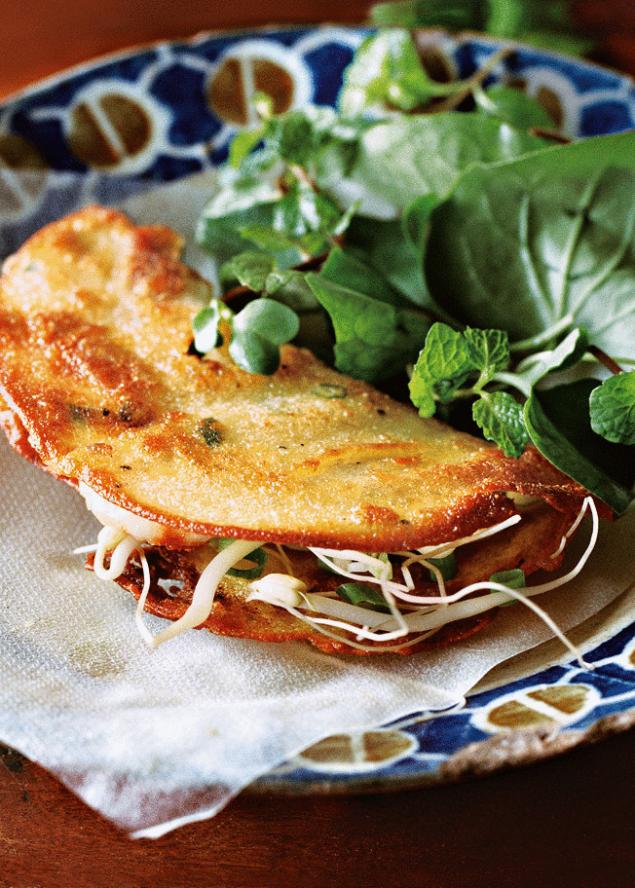 Hojenska crispy pancakes
For 4 servings:
for the dough: 1 Cup rice flour; 1/2 tsp ground turmeric and salt;
for the filling: 125 g peeled shrimp and pickled beans mash; 5 tbsp vegetable oil; 6 stalks thinly sliced shallots; salt; freshly ground pepper.
Preparation: In a large bowl pour the flour, turmeric, salt, add half a Cup of water and knead until smooth. Cover the dough and leave for 1 hour to rise at room temperature. Heat a tablespoon of oil in a frying pan over medium heat. Fry shrimp, pre-salted for 3 minutes, stir constantly. Place shrimp on a plate.
Wipe the pan and put on medium heat. Add the remaining oil. Stir the batter, pour into the pan half a Cup and spread evenly. Fry pancakes, occasionally shaking the pan, until the edges of pancakes begin to curl (about 4 minutes).
Put the pancake on a quarter of the cooked onion, beans and shrimp and cook for about 3 minutes. With a spatula fold the pancake in half. Put on a paper towel to let excess oil drain out.
Serving: Wrap each pancake in a lettuce leaf, a little sprinkle with mint leaves, cilantro, Thai Basil. Serve with Nuoc Cham sauce.  
Chicken salad and green papaya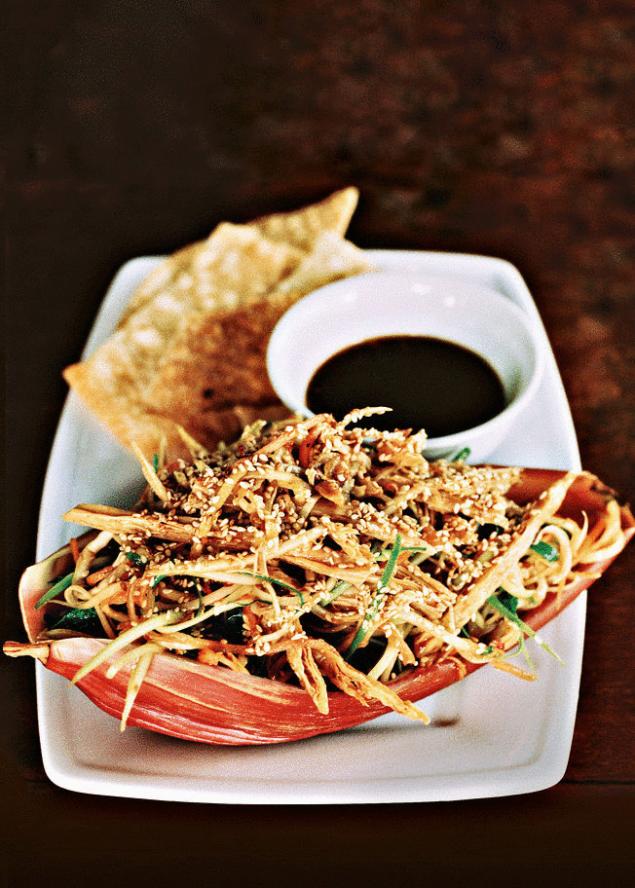 Chicken salad and papaya
For 6 servings: 500 g chicken breast; 1 tbsp soy sauce; 3 tsp sugar; 1/4 tsp Chinese seasoning "5 spices"; 2 garlic cloves; 2 tbsp lime juice; 1 tsp fish sauce; 1/2большой green papaya and cucumber; 1 small daikon, carrots and Chile peppers; 6 onions shallot; 2 tbsp toasted sesame seeds; salt; freshly ground pepper; vegetable oil.
Preparation: RUB the chicken with soy sauce, sugar and spices, and season with salt and pepper. Leave to marinate for 1 hour. Heat the grill to medium temperature, grill grease with oil. Fry the chicken for 5-8 minutes, turning regularly and not allowing to burn. Cool thoroughly, cut into thin slices.
In a bowl put the garlic, remaining sugar, pour in the lime juice and fish sauce. Add the chicken, papaya, sliced cucumber, radish, carrot, onion and chili pepper. Add salt and mix thoroughly.
Serving: Place a lettuce in a flower petal banana or just on a wide plate, sprinkle with toasted sesame seeds.  
Vietnamese chicken noodle soup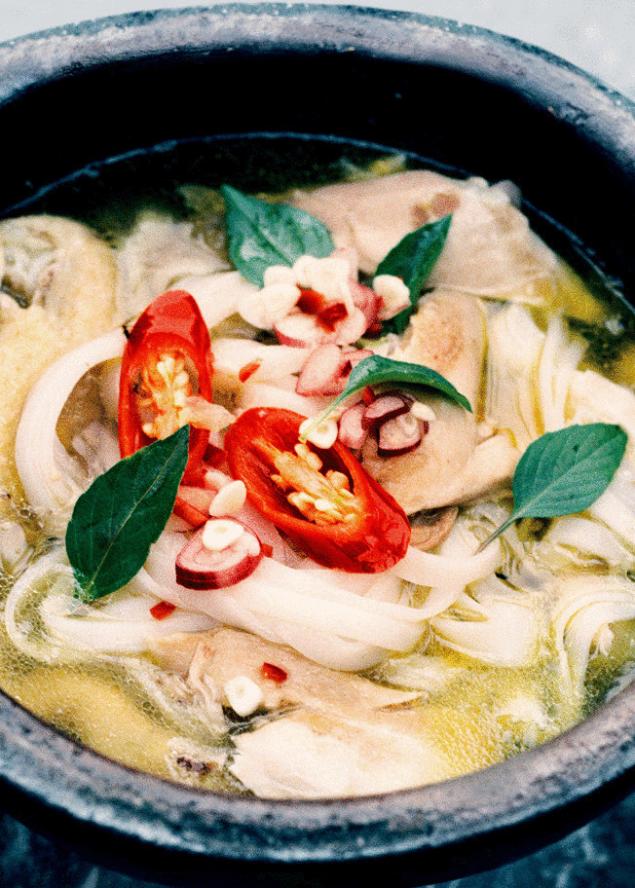 Vietnamese chicken noodle soup
For 6 servings:
for the broth: 2 kg chicken; 1 big onion and celery; 2 carrots;
for the soup: 4 chicken thighs on the bone, 1/4 tsp Chinese seasoning "5 spices"; 1 tsp grated peeled ginger; 1 tbsp salt, sugar and fish sauce; 2 onions and cinnamon sticks; 6 pods black cardamom and clove buds; 4 boxes of anise; 500 g wide rice noodles; 250 g mung bean sprouts; 1 piece of ginger the size of a small cucumber; 1 stalk lemon grass.
Preparation: Cook the broth on low heat for 2 hours. RUB the chicken thighs with a mixture of "5 spices" with grated ginger, a tablespoon of salt and tablespoon of sugar and leave for 15 minutes.
Preheat oven to 200 °C, on a baking tray lay a baking paper and spread on it the rest of the ginger and onions. Place baking sheet in the oven and roast, turning occasionally, for 15-20 minutes until tender. Add lemongrass, cardamom, anise, cinnamon and cloves and bake until fragrant about a minute.
Put the mixture from the pan into a large pot. Add the broth and fish sauce, bring to a boil. Put in a pan the chicken and simmer for 20-25 minutes until the chicken is cooked. Put the chicken on a plate. Let cool, then skin and remove the bones. Narva meat with your hands and put it back in the pan. Continue to cook the broth on low heat for 50 minutes. Strain into a clean saucepan.
Prepare the noodles. Using tongs or a slotted spoon drain it in a colander, rinse with cold water and set aside for a while. Before serving, heat the noodles, put in a dish, add the chicken and the bean sprouts.
Serving: Serve with spicy pickled shallots, mint leaves, cilantro and Thai Basil, quartered lime.  
источник:cntraveller.ru
Source: /users/1077