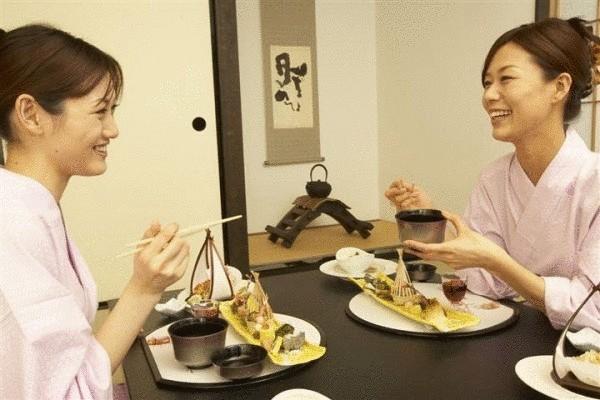 Have you ever heard that Japanese food can help you lose weight? Many studies confirm the positive side of the Japanese eating plan. Fresh food, small portions, vegetable drinks, rice, fish are the main secrets of Oriental diet. If you want to know more about how Japanese food can help to lose weight and what rules must be observed, read our article!
The secrets of Japanese диеты1. Why the Japanese are renowned for longevity and not obese? According to statistics, the population of Japan has among the highest life expectancy. And the key factor here is the diet, which includes such delicious sushi and teriyaki sauce. In addition, great importance is the lifestyle of the Japanese. Despite the fact that they are focused on work, they have the right strategies in the surroundings, including communion with nature, relaxation practice and seemingly insignificant, but important for the health habits that day by day improve the quality of life.
In Japan there are few people suffering from obesity. In fact, only about 3% of Japanese women have problems with excess weight. How is that possible? Can be fresh salmon? Or seeds, Indian sesame seeds, which improve skin tone and replenish energy? The answer lies in the fact that the Japanese follow simple but important rules, which we will cover in the article.
2. But... what are the features of the Japanese diet?
The first key item of the Japanese diet — consumption of fresh products and, very importantly, in small portions. What does it mean? The main rule: to appreciate meals for their quality, not the quantity. That is, no semi-finished and finished food or products suitable for reheating in a microwave oven, in addition, excluded refined flour, fatty foods, etc. Only fresh and natural products.
Another important aspect is the shape of the meal. Slowly, steadily and enjoying all the flavors. The Japanese get most of your meals, chewing food slowly. And it's not boring, because they appreciate the way of presentation and visual side of the products. We can say that the Japanese eat not only the mouth but also the eyes. That's very important!
And now one of the major facts: the Japanese do not eat dairy products, do not feed weakness for bread or meat. They no longer taste the rice, vegetables and fish. Fresh fruits are also of importance and is always used in small quantities.
For residents of Japan the most important meal is Breakfast. They start the day with a variety of dishes from vegetables and rice to soups, eggs and beverage, the use of which cannot be overemphasized, green tea.
The basic points of the Japanese diet
Rice: it is a fundamental part of the diet of the Japanese. However, if possible, you should only eat wild and brown rice and rice.
Noodles: there are special kinds of noodles perfect for Japanese diet — Udon, Somen, ramen, soba... They have different thickness and made from different types of cereals, at the same time, have many useful properties and contain the necessary carbohydrates. Japanese noodles are suitable for gluten free diet, and this is undoubtedly another plus.
Fruits, especially Fuji apples, persimmons and tangerines. Delicious, isn't it?
Fresh fish: mackerel or salmon.
Soy, millet, tofu: rich in calcium and protein, they are a great alternative to dairy milk. In addition, they are rich in antioxidants that reduce bad cholesterol and prevent the development of diabetes.
Green tea: without it none of the Japanese meal.
Vegetables: eggplant, soy beans, red beans, cabbage, ginger, pumpkin, radish. Plus mushrooms and seaweed.
Approximate nutrition plan for weight loss at the Japanese diet Next, we will present to your attention a diet plan which you can adhere to during the day. The Japanese diet offers a variety of options and opportunities, the dishes are simple to prepare and have incredible flavor. Remember that it is very important that the food should be fresh, and then the game colors will cheer you up. Try to eat slowly and enjoy the taste of each ingredient.
Diet, which we describe, ideally designed for 10 days. At this time you can eat balanced and lose weight in a natural and safe way.
Breakfast
1 Mandarin
1 Cup miso soup: don't worry, the ingredients are easy to find in the supermarket or departments of Japanese food. This is a typical Japanese soup that is well-suited for the Breakfast, it improves skin tone and contains a minimum of calories. The composition of the soup usually includes tuna, tofu, seaweed, miso (flavored pasta soy-based) and onions.
1 Cup of green tea.
Lunch
1 piece of sushi (fresh fish and rice) with soy sauce
1 serving of Japanese noodles with mushrooms
1 Apple
1 Cup of green tea.
Dinner
Assorted sashimi (a dish made of different kinds of fish) with soy sauce and wasabi (should be careful, because this seasoning is very spicy)
1 Cup whole or wild rice
1 orange
1 Cup of green tea.
It is important to note that, following traditions and customs, the Japanese devote sufficient time to meditation, Hiking and Cycling, and appreciate nature and enjoy the simple things. Maybe we should learn from them? published  
P. S. And remember, only by changing their consumption — together we change the world! ©
Source: steptohealth.ru/