Pasties – very tasty and satisfying dish. But most importantly, it is quite easy to prepare and it can be easily done at home.
But the pasties turned out as they should be, special attention should be paid to the preparation of the test. It is from the test depends on how crispy and delicate are these delicious hotcakes.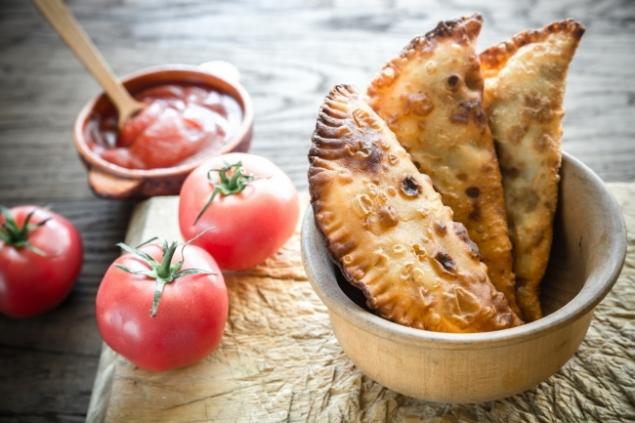 Classic pasties. Photo: thinkstockphotos.com  
Originally pasties made entirely with meat. Now cook them with potatoes, fish, mushrooms, vegetables and cheese. But whatever the filling, neither was chosen, mainly in the pasties is still dough. That's why you need to make that pie turned out delicious and crispy.
There are several recipes for dough for pasties, each with their own pros and cons. Below are the two most commonly used recipe. They make the dough is thin, crispy and not too greasy. 
RECIPE CLASSIC DOUGH FOR PASTIES
What you need:
5 tbsp. flour
1 tbsp. hot water (almost boiling)
1 tbsp. cold water
vegetable oil
1 tsp. salt
How to prepare a classic dough for chebureks:
1. The flour and salt should be divided into two equal parts. In the first bowl with flour and salt should be poured a glass of hot water and knead pastry dough.
2. In another bowl should be poured cold water. Knead fresh dough.
3. You can combine the two types of dough, add 2-3 tbsp oil and knead thoroughly for 5-10 minutes, until a homogeneous elastic mass, not sticky to hands.
4. To form a ball, wrap in clingfilm and put into the refrigerator for 30-40 minutes.
5. Chilled dough on the work surface to form a sausage with a diameter of 5-7 cm, cut it into equal pieces. The size of each pellet is determined by personal preferences of the hostess. Someone who likes large pasties, someone small, one bite.  
Another good dough recipe for chebureks could embarrass one of its ingredients. But do not worry, vodka is used as an extra baking powder and the final product will not be felt.
DOUGH RECIPE FOR CHEBUREKS ON THE VODKA
What you need:
1 liter of boiling water
100 ml of vodka
100 ml vegetable oil
800 g flour
2 tsp salt
How to cook the dough for pasties with vodka:
1. In boiling water pour vegetable oil, vodka, salt. Mix everything carefully.
2. Small portions to enter the flour, without ceasing to constantly stir the dough.
3. Let the dough rest and then you can begin to create pasties.published  
P. S. And remember, only by changing their consumption — together we change the world! ©  
Join us in Facebook and Vkontakte, and we're Classmates
Source: domashniy.ru/