If Breakfast is for you – real punishment, you just don't know that it can be a delightful beginning of a hard day. After all, even the ordinary and boring oatmeal can be prepared so that Breakfast turns into a veritable feast.
You say, "Time! In the morning he was sorely lacking in the banal sandwich."
We offer you seven simple but very tasty recipes for Breakfast for a week. For their preparation you will spend a minimum of time, given that most you can prepare in the evening without haste and bustle.
Monday. Banana-oat pancakes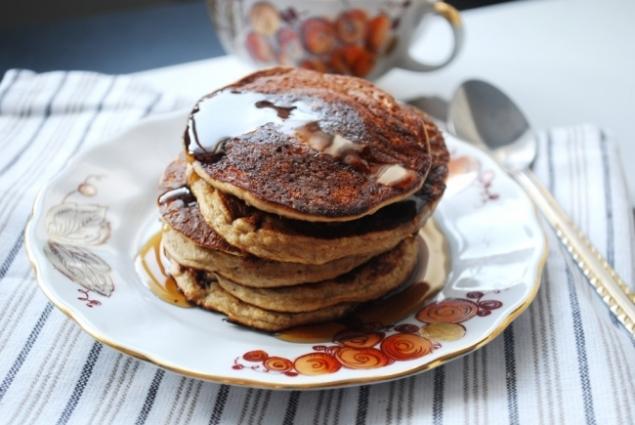 This recipe is a real godsend for those who are concerned about health and value their time. Ten minutes and a portion of tender, airy pancakes you have on the table. The recipe has no sugar, and protein content of these pancakes can compete with omelets or scrambled eggs.
What you need:
(5 large or 10 small pancakes)
35 g rolled oats
1 banana medium size
1 large egg
cinnamon, vanilla, salt – to taste
vegetable oil for greasing forms
How to make banana-oatmeal pancakes:
1. Combine all ingredients in a blender. Beat for 1 minute until smooth.
2. Bake on preheated Teflon pan, lightly greased with vegetable oil.
3. Serve pancakes with honey, maple syrup, natural yoghurt or cottage cheese.
Tuesday. Sandwich mini baguette with ham and cheese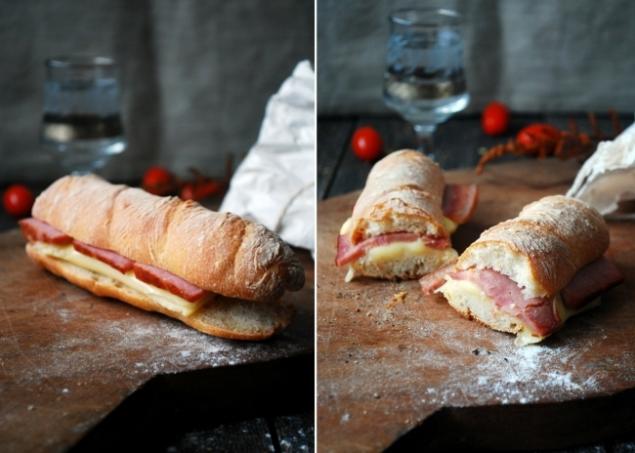 You think that this is a banal sandwich does not deserve your attention? I advise you not to jump to conclusions, and try to prepare our sandwich with a secret. Tart Apple mustard own cooking will transform even the most ordinary combination of ham, cheese and white bread.
What you need:Apple mustard:
3 tbsp white wine vinegar
3 Bud cloves
1 tsp cinnamon
3 black peppercorns
2 tbsp sugar
1 tsp. salt
250 g Apple sauce
3 tbsp mustard powder
Sandwich:
(for 2 servings)
2 mini baguette
6 slices of ham
4 thin slices of cheese
4 tsp. of Apple mustard
How to cook a sandwich from the mini-baguette:
1. For the Apple mustard bring to boil vinegar with cloves, cinnamon and black pepper, add salt, sugar and carefully stir until they are dissolved.
2. Mix Apple sauce with dry mustard, to avoid lumps. Pour in vinegar with spices. Mix thoroughly.
3. Sandwich preheat the oven to 220°C.
4. Cut the baguettes lengthwise. The bottom of each sandwich spread 2 tsp. of Apple mustard, put cheese and ham. Cover the top of the baguette and put in the oven for a few minutes until they begin to melt the cheese. Serve immediately!
5. Apple mustard transfer to a small jar. Store in the refrigerator up to 1 month.
Environment. Chocolate pudding with avocado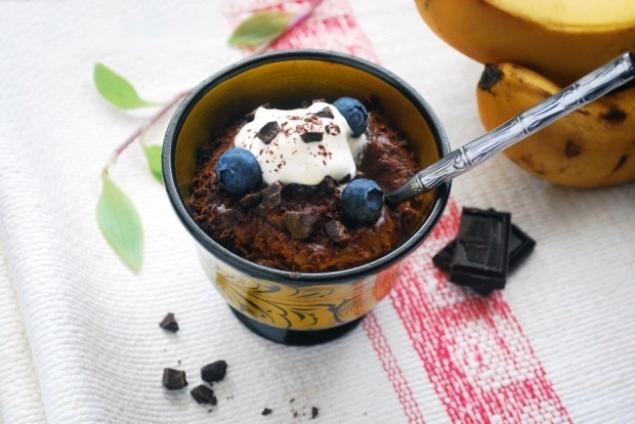 As you know, the chocolate lifts the mood. This savory pudding has an incredible velvety texture and deep rich flavor, includes a number of monounsaturated fats, easily digestible protein and contains no refined sugar.
What you need:
(for 2 servings)
1 ripe avocado
1 ripe banana medium size
3 tbsp cocoa powder
1-2 tbsp honey or maple syrup
4 tbsp thick natural yogurt
2 tbsp ricotta or cottage cheese 9%
1 tsp natural vanilla extract
1 small pinch of salt
How to make chocolate pudding with avocado:
(all ingredients should be cold!)
1. Combine all ingredients in blender and whip until smooth for a minute.
2. Sort kremanku or glasses, decorate and serve immediately, if desired, garnish with fresh berries. Recommended to Supplement feed with natural yoghurt.
Thursday. Frittata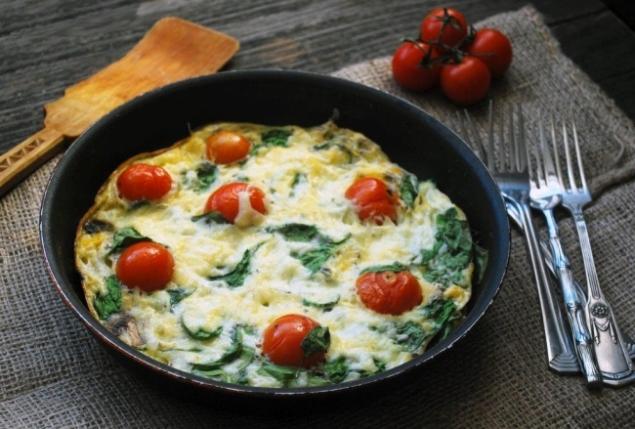 How about something Italian sun? Great option of Breakfast will be the next of kin of the omelet – a delicious Frittata eggs, mushrooms, spinach and juicy tomatoes covered with browned cheese crust and served on a hot skillet. Buon appetito!
What you need:
150 g mushrooms
6-8 cherry tomatoes
6 large eggs
1 sprig of fresh thyme
1 bunch spinach leaves
100 g feta or sheep cheese
35 g Parmesan
1 tbsp. butter
salt, pepper – to taste
How to cook a Frittata:
1. Preheat the oven to 200°C.
2. In a pan suitable for baking in the oven, heat butter. Fry the chopped slices mushrooms on high heat until Golden brown. Add tomatoes and keep frying for another couple of minutes, stirring constantly.
3. Break the eggs into a bowl, stir with a fork. Add the finely chopped thyme, salt and pepper. Do not get carried away with salt, cheese is salty by itself.
4. Reduce the heat to medium. Add the mushrooms and tomatoes and spinach, mix well. Then pour the eggs and cook for a few minutes. The edges of the Frittata should be slightly set.
5. Meanwhile, crumble feta with your hands or cut into small cubes. Grate the cheese on a grater. Sprinkle Frittata with feta and Parmesan and put the pan in the oven for 8 minutes.
6. Serve hot.
Friday. Oatmeal with plums and cinnamon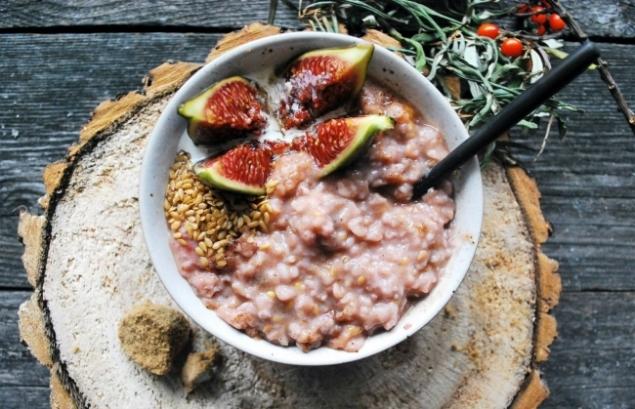 The original Duo of sour plum and spicy cinnamon turns the usual oatmeal into a gourmet Breakfast. Delicious brown sugar melts, forming a caramel cap. Add a little fresh cream for a richer taste.
What you need:
(1 serving)
0.5 of Cup of large oat flakes
1 1/4 Cup water or milk
4-5 small plums
2 tsp brown sugar
1-2 tsp flax seeds – optional
1 tsp cinnamon
0.5 tsp. natural vanilla extract
1 pinch of salt
How to cook oatmeal with plums and cinnamon:
1. Bring water or milk to a boil, add oats, diced plums, and 0.5 tsp of cinnamon. Cook over low heat, stirring occasionally, 8 minutes. Remove from heat, add vanilla extract, 1 tsp brown sugar, salt, flax seeds and stir. Cover and let stand 3 minutes.
2. Hot food put in the dish, sprinkle with remaining cinnamon and 1 tsp brown sugar. Optionally garnish with fresh fruit, yoghurt, nuts and honey.
Saturday. Apple stuffed with ricotta, chocolate and ginger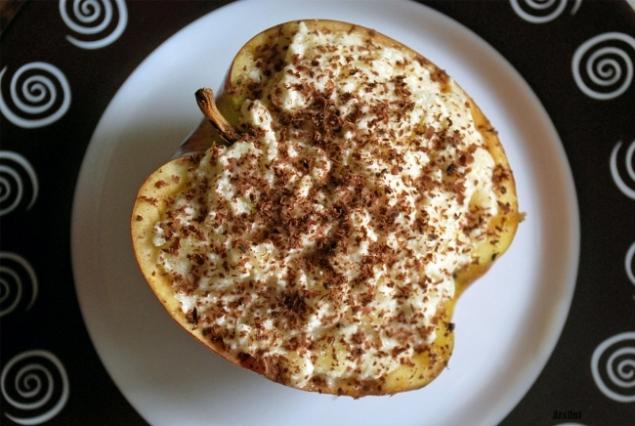 Crisp juicy Apple with delicate filling of ricotta, chocolate, honey and fresh ginger would be a great alternative to the boring morning sandwiches and coffee.
What you need:
(for 2 servings)
2 the Apple varieties Pink Lady, Braeburn
250 g ricotta
1 cm ginger root
50 g dark chocolate
2 tsp. honey
2 tsp lemon juice
How to prepare Apple filling:
1. Cut the apples in half, remove the pulp, leaving about 1 cm from the skin. The flesh into small pieces and immediately sprinkle with lemon juice to apples not darkened.
2. Grate the ginger root, mix ricotta, honey and grated chocolate (you need leave 1 tbsp grated chocolate to decorate). Carefully connect the resulting mixture with the pulp of apples.
3. Stuff the cleaned halves with stuffing, sprinkle with grated chocolate and serve.
Sunday. Cheese mini-quiches with banana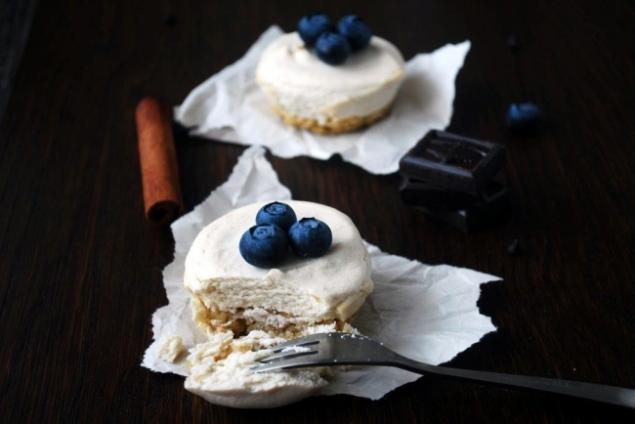 These miniature cheese casserole have intense banana flavor and delicate texture, which will envy even the most exquisite cheesecake. Great choice of light and healthy Breakfast in the day when you can give yourself a little more than fifteen minutes.
What you need:
(for 2 servings)
1 tbsp walnuts or almonds
1/4 Cup rolled oats
2 tbsp applesauce
half a large ripe banana
200 g of cheese pasty (1-9%)
1 tbsp honey
0.5 tsp. corn starch
0.5 tsp. natural vanilla extract
butter – for greasing ramekins
How to cook cottage cheese mini quiches:
1. Heat the oven to 150°C.
2. To prepare the baking dish, brushing them with butter.
3. Finely chop nuts, mix with cereal and Apple sauce. The resulting mixture is spread on the bottom of the tins and place in oven for 8 minutes. Allow to cool in the form.
4. Banana mash into a puree and mix with cottage cheese, honey, starch and vanilla extract until smooth. Put the mass into molds on top of cooled base and bake for 18-22 minutes at a temperature of 150°C. to prevent Browning the top!
5. Cool in a shape at room temperature, then remove, wrap in cling film and put into the refrigerator for at least an hour. Serve with fresh berries and fruit.published
Author Vladislav Spout
P. S. And remember, only by changing their consumption — together we change the world! © Join us at Facebook , Vkontakte, Odnoklassniki
Source: www.domashniy.ru/article/eda/recept-dnya/idealnyj_zavtrak_sem_prostyh_receptov.html