To Breakfast provide the body with necessary energy while not contributing to body weight gain, and, conversely, allowed losing, he must be sure to include fruit, protein and dietary fiber.        
Is it possible to burn fat starting right with Breakfast? Yes, but you need to follow some rules regarding food and healthy lifestyle in General. That is to remove the belly maybe, but always important, it is a complex approach.
Start? We offer to your attention three variants of wholesome, delicious and nutritious Breakfast!
What should be Breakfast, not to gain weight?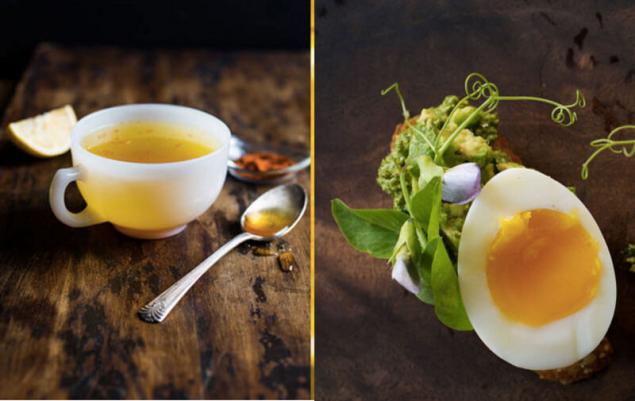 Belly, no doubt, is one of the most problematic zones of our body. Bulky, bulging, which is so evident, if we wear slightly tighter clothes than usual — of course, it's frustrating.
Is there any way to fix it? Of course! The most effective are exercise, but it is equally important to take care of your food: that is, it is important to provide the body with all necessary vitamins and minerals and at the same time to get rid of unhealthy fats.
To do this, try to follow these instructions:
Never, under any circumstances, indulge in Breakfast. In fact many do just that, try to eat less, and in the morning it is easier to do everything. But it is a big mistake, which in addition can harm your health. After all, going to work, not getting the proper nutrients and energy you risk at least to feel dizziness and headaches. Forces in the execution of their duties you will have not where will. The only thing you will do is slow down your metabolism, resulting in fats (which later will still be in your body) will accumulate in the body instead of burned. So Breakfast need to be sure.


"Fat burning" meals should include cleansing juice, fruit, protein and whole grains. Our goal is to accelerate all the metabolic processes in the body, and the use of appropriate ingredients. The ones we have listed above will allow you to feel full and avoid snacking between meals.


Nutritionists recommend to eat for Breakfast is about 350 calories. But consider the following: do not rush to the table, you barely opened eyes and got out of bed. Drink the first juice, and after half an hour or even 40 minutes start Breakfast. This time can be used to shower, for example, or to freshen up. Yes, it is likely you will need to get up early, but believe me, it's worth it!


Breakfast No. 1
Lemon juice and a glass of water to Wake up
After 40 minutes, 1 green Apple


1 Cup of oatmeal with raisins (a few grapes)


Green tea


As you have probably heard, start your day very useful with a glass of warm water with lemon juice. This will allow a natural way to cleanse the body and get a good supply of antioxidants.
Then begins Breakfast: green Apple, components of which allow us to lower the blood sugar and start the fat burning process.
Ideally in order to reduce the volume of your belly. And oatmeal and green tea are two ingredients that will perfectly fit into any diet to combat the extra pounds and inches.
Breakfast No. 2
The infusion of Cayenne pepper with honey
After 40 minutes, the sandwich: a piece of whole wheat bread, chicken egg, boiled and cut into slices, a few avocado slices.


A glass of grapefruit juice


You may surprise the first menu item. But believe me, the welding of Cayenne pepper with honey is one of the best ways to force your body to be active from early morning to start the fat burning process. It really is a very effective drink.
A sandwich with whole grain bread will supply the body with whole grains that must be present in every healthy Breakfast, and the egg will increase its nutritional value.
So we get more and protein and, most importantly, the feeling of fullness that will stay with us for a long time. One of the scientific research on this topic has shown that people who eat Breakfast the egg less likely to snack between meals, that is, they are physically easier to follow the diet restrictions.
The juice from the grapefruit, in turn, will also help to burn fat and provide our body with essential vitamins.
Breakfast No. 3
Cleansing drink with strawberry juice
After 40 minutes: Greek yogurt with cereal


Whole grain toast with a few drops of olive oil


Did you know that strawberry drink is a great way to lose weight? The fact that strawberry contains huge amounts of antioxidants that have a cleansing effect on the body and remove from it excess literally everything (fluid, fat, toxins...).
To make this miraculous cocktail, you just need to mix in a blender 5 PCs of strawberries and add one Cup of water. Can also brew a strawberry in a glass of water, not add sugar.
Then you eat Greek yogurt, which is rich in probiotics. It gives a sense of satiety, while low in calories and it contains less lactose than regular yogurt. Complete your Breakfast with a slice of whole grain bread dipped in olive oil.
Very simple, but it involves cleansing of the body, accelerating metabolic processes, and as a consequence fat burning, as well as a large amount of nutrients.
In conclusion, I want to reiterate that you should never skip your Breakfast. Start your day with a cleansing drink (just plain drinking water with aloe Vera juice). And don't forget to include the Breakfast some fruit, a little protein and fiber. The result you will soon notice and appreciate. published
P. S. And remember, only by changing their consumption — together we change the world! © Join us at Facebook , Vkontakte, Odnoklassniki
Source: steptohealth.ru/3-pitatelnyh-zavtraka-kotorye-pomogut-ubrat-zhivot/