Very interesting dish turned out, with a wide range of tastes — from tangy eggplant and savory cheese, to sweet peppers and tender mushrooms. Fans (and opposers) of eggplant will love it!
Cooking time:
60 minutes
Servings:
4
The complexity of the dishes:
2 of 5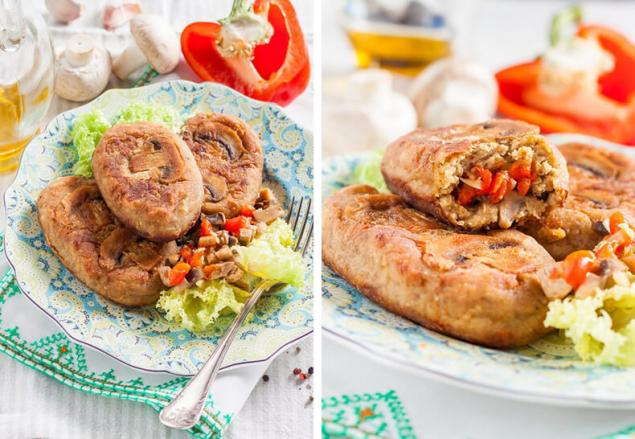 You will need:
Large eggplants — 2 pieces
Mushrooms — 200 g
Red sweet pepper — 1 piece
Egg
Breadcrumbs — 5-7 tbsp.
Spicy hard cheese (sheep or goat) — 50-60 g
Garlic — 1 clove
Half spicy chili pepper
Pinch dried oregano
Olive oil
Flour
Salt
How to prepare:
1. Wash the vegetables, brush with vegetable oil and bake at T 200C in the oven for 20-30 minutes. Cook mushrooms before, so to get them in about 10 minutes.
2. Mushrooms finely chop.
3. Pepper wrapped in a bag and leave for 10 minutes to peel easily moved.
4. The eggplant and peppers to remove the skin. Carefully wring out excess moisture.
5. Slice the eggplant into pieces and grind in a blender. Pepper cut into small cubes
6. Mix in a large bowl aubergine puree, grated cheese, breadcrumbs and egg. Season with salt and pepper and stir. Leave for 5 minutes to let the breadcrumbs swell and the mass thickens. If the mass is watery, add more breadcrumbs or flour/starch.
7. Prepare the filling — mix the finely chopped garlic and half a chili, mushrooms, pepper and dried oregano. Add salt, pepper.  
 Envelopes of roasted peppers with halloumiVegetable soup: 7 simple recipes
8. On a Board or on hand, sprinkle flour, put the cake of eggplant-cheese stuffing, it is stuffed with peppers and mushrooms.
9. Connect edges, roll in flour. fry in vegetable oil on medium heat until Browning.
10. For decoration you can on each raw chicken using egg to glue the plate of mushrooms.
Bon appetit! Cook with love!
Author: Larissa Seagull  
Source: vk.com/academy_main?w=wall-46725206_23524