Apple Pie "Nezhenka": juicy, flavorful, melting in your mouth! Bashny.Net
This
simple apple pie - a decent copy of my piggy recipes. When preparing it for the first time, I remember how worried: That would be turned out so, as in the picture! Decorated severed halves of apple pie resembles a tropical dessert, sweet and filling, like a soufflé.

The main thing - to choose the right apple for this wonderful cake: succulent, green, sour. If you observe the proportion of products specified in the recipe, there is no chance that the pie will fail! What he is gentle, like the taste of chilled ... I can not even think about it calmly!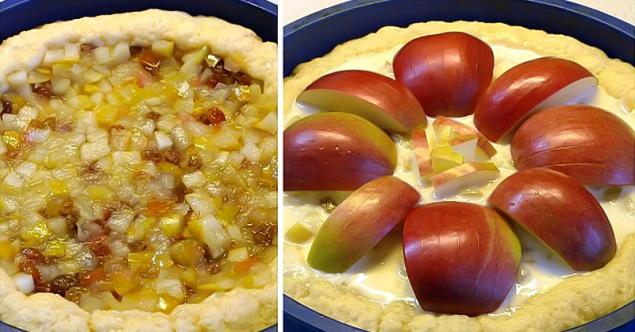 Apple pie dough in duhovkeIngredienty 100 g butter 100 g of cottage cheese 100 g sugar < / 200 g of flour 1 hour. l. baking powder a pinch of salt

Ingredients for apple fillings 4 apples 2 tbsp. l. lemon juice 80 g raisins 2 tbsp. l. brandy (can substitute orange juice)

Ingredients for sour cream filling 200 g sour cream 25% fat 2 eggs 1 tbsp. l. sugar vanilla on the tip of a knife 2 tbsp. l. starch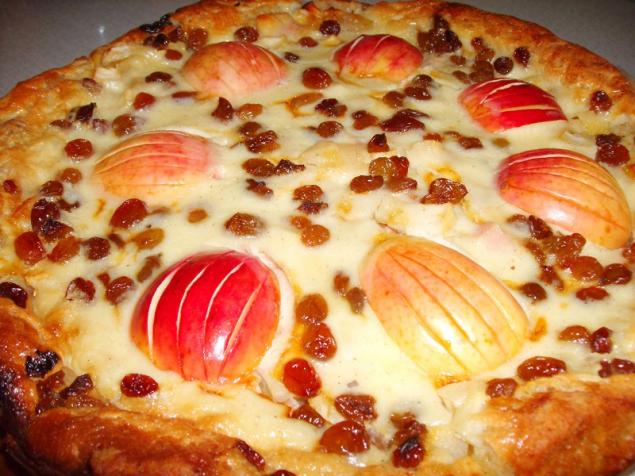 Preparation Chop butter knife on a cutting board. Sift the flour mixed with baking powder. Prepare the dough by adding to the oil vanilla, sugar, a pinch of salt, vanilla and flour. Wrap the dough in plastic wrap and leave in the refrigerator for 30 minutes. Wash the raisins, zaley his brandy or orange juice. Washed apples Cut into 4 pieces and sprinkle with lemon juice so they do not darkened. 6 quarters set aside for decoration. Make them cross cuts: apples beautifully unfold like a fan while cooking The remaining apples we shall cut cubes.. Add the sugar, a little lemon juice and boil for some time their until tender over low heat. Get the dough from the refrigerator, overlaid their bottom and sides of the form, pre-lubricated with oil. Put the form with the dough in a preheated 180 degree oven for 10-12 minutes. Mix sour cream, eggs, sugar, vanilla and starch until homogeneous. It is possible to add 1 hour. L. grated lemon peel in a cream filling: so the cake flavor will be even more refined ... dec stewed apples on the surface of the dough, raisins prisyp them. It is possible to add optional walnuts. Gently place the top lightly incised quartered apples. Pour cake sour cream filling and bake at 200 degrees about 25 minutes. Ready cake can be sprinkled with powdered sugar or coconut!

This cottage cheese and apple pie is best to cook on Sundays and on holidays: so he solemnly decorated, so it is tasty! Do a good deed - share it with your friends with this recipe, they will be satisfied, I promise

.
Tags
See also
New and interesting
New and interesting