Italy has managed to extend its cuisine around the world! And in New York, and China and Russia and in general everywhere eat, love and praising Italian pasta. < Website offers you a dozen culinary secrets from Italian chefs. These ideas will be useful not only in the preparation of pasta and risotto, they can be applied to a variety of everyday dishes.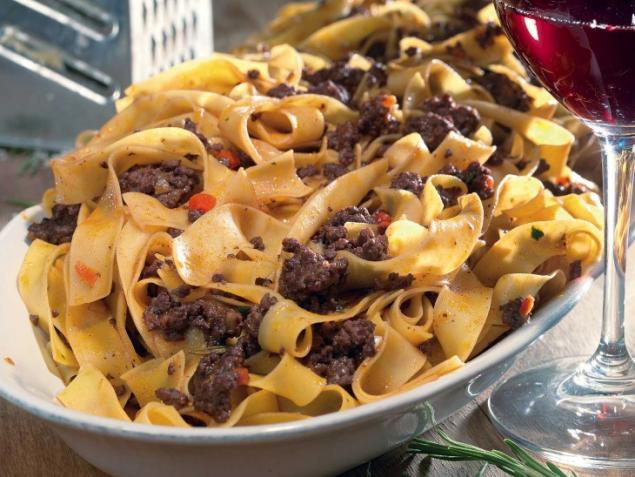 1. Do not add the cream into carbonara h3> All wonder how Italians eat so much pasta and not get fat. It's solid carbohydrate! The secret is that the everyday diet Italians choose the most simple recipes that do not contain in its composition of ingredients with a high percentage of fat - such as cream.

If you are a big fan of Carbonara, you should learn a few options for this dish. In his classic version of this pasta enough calories and heavy on the stomach. Avoid cream.


2. Choose the right pasta ​​h3> Of course, the pasta should be made of durum wheat. They belong to the category of complex carbohydrates and do not harm your figure, if you eat them in moderation. However, this is not the only rule, which is worth remembering, choosing pasta.

So, spaghetti and other long thin pasta sauces are more suitable for oil-based and fish fillings. A large pasta perfectly complement a thick and rich sauces.


3. Add the cheese time h3> Even in some Italian restaurant pasta sprinkled with cheese already in the final. It is not quite right. Italian chef advised to add the grated cheese to the pasta sauce. Under the influence of hot temperature it melts and will melt in the mouth by adding your pasta greater sophistication and rich taste.


4. Take your time with chicken h3> If the pasta cooking required tender chicken, then bake it at medium temperature. Suppose you take it a little more time, but the chicken evenly fry thoroughly, and the meat will be tender. Increase the temperature only in the final stages of preparation to poultry meat was deliciously crispy.


5. Tie the beef h3> No, this is not a joke. Just beef fry thoroughly so much better. The thread does not leave almost no trace, and the meat loses its shape and remains tender. Rich taste of beef in your pasta is definitely worth it to take advantage of this advice.


6. Do not neglect the whole fish h3> The Mediterranean cuisine is famous for a large number of fish dishes. Many are frightened by the prospect cook whole carcass and feed it in such a way to the table. However, this error has nothing to do with the real situation. For example, baked with herbs and lemon sea bass will look fantastic on your dinner table.


7. Let you do not prevent odors h3> Many people do not want to cook the fish because of its smell, which quickly spread throughout the kitchen and beyond. However, this should not stand in your way. There are a few secrets that will help get rid of the fishy smell. For example, put a few cubes of sugar into the center of dishes and set fire to it. Or another way: grease the edge of the pan or a saucepan with salt in a bowl and pour ½ cup of vinegar. Bring it to a boil - and the smell is gone.


8. Do not touch the shrimp ahead of time h3> As a general rule, cut up shrimp before cooking. Try to go the other way and do it when the dish will be ready. So you save them stunning fragrant trail.


9. Do not torment eggplant h3> Many Italian pasta recipes contain ingredients list eggplant. We love them very much, but to them muchimsya trying to get rid of the bitterness, which can spoil the taste of the dish. Forget! Modern varieties of eggplant little taste bitter. It is not necessary to cast spells on them, because the risk that you will be no dinner, no.


10. Do not be afraid to cook risotto h3> Choose the right rice for risotto - it should be srednezerny. This example, Arborio, Carnaroli, Vialone nano. They meet in this dish for a delicious creamy texture.

Also, do not forget to first lightly fry the rice in a little oil, and only then add the hot broth. This seemingly insignificant life hacking saves all meals.



via kitchenmag.ru/posts/5780-11-luchshih-italyanskih-kulinarnyh-layfakov-kotorye-nuzhno-znat?utm_source=RSS