While decorating a small kitchen, it is impossible not to wonder – how designers can not put too much furniture in a limited space, making the whole room not only ergonomic, but also practical, and beautiful?
Sometimes these kitchens can be found the sofa of course, small, but quite roomy.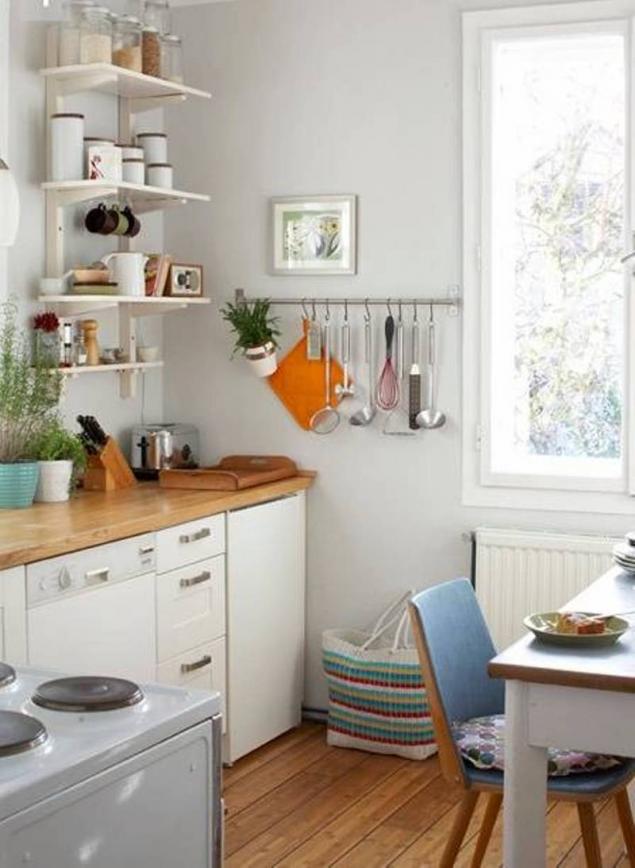 A designer trick is to select the color of the furniture, starting from the color of the walls
Professionals when choosing furniture for small kitchen use the secret – and the colors and shapes should be selected so as to expand the space, creating a visual illusion of spaciousness. If you are only planning design and kitchen renovation, keep in mind the following rules of combination color of walls and color of furniture in a small space.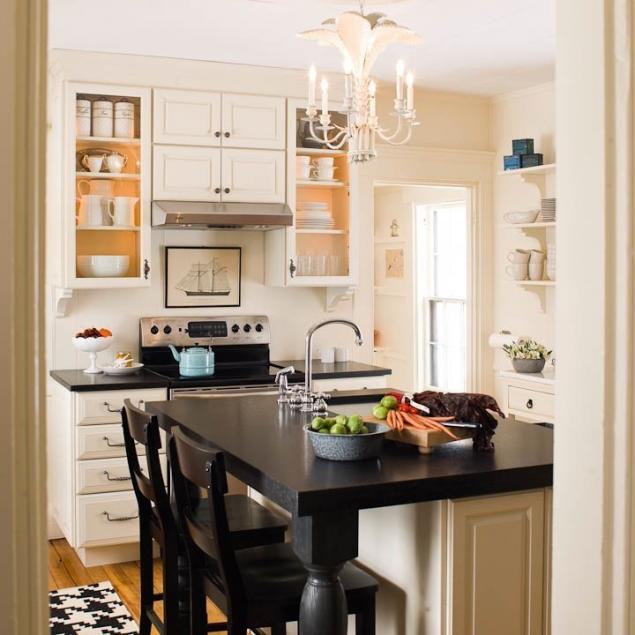 1. It is desirable that in a small kitchen the walls were light-colored or with small unobtrusive figure – the furniture on this background looks less bulky.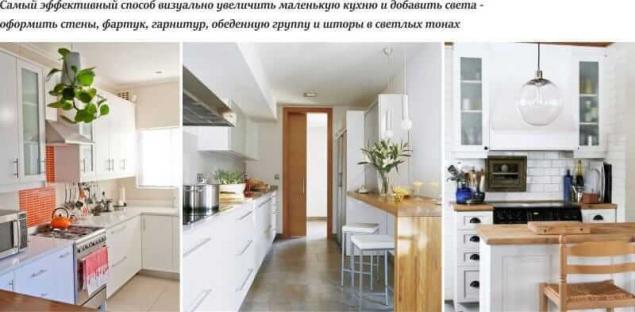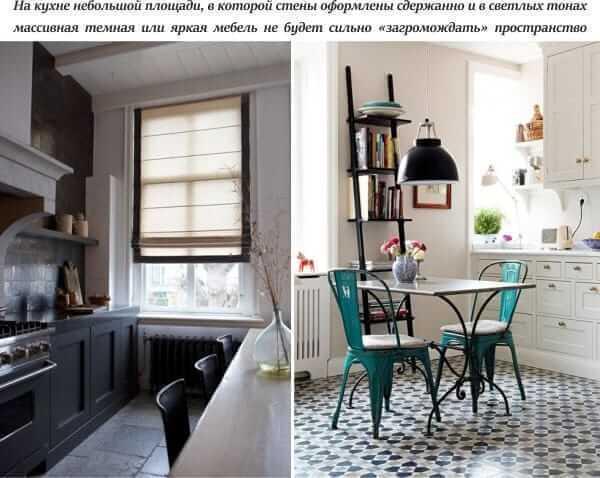 2. If you have already decorated the walls in dark colors or do you like contrasting combinations, the furniture is better to choose white, beige, grey and pastel shades.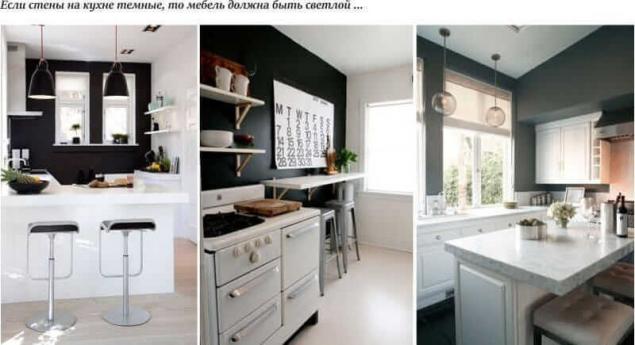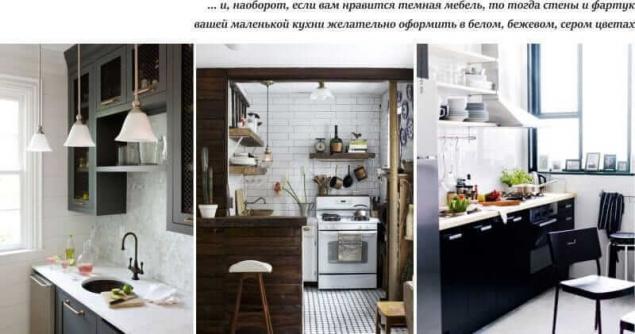 3. If the furniture and walls in your kitchen decorated in dark colors – does not matter. Get many local fixtures in a working and dining areas and Windows that make translucent and plain fabrics.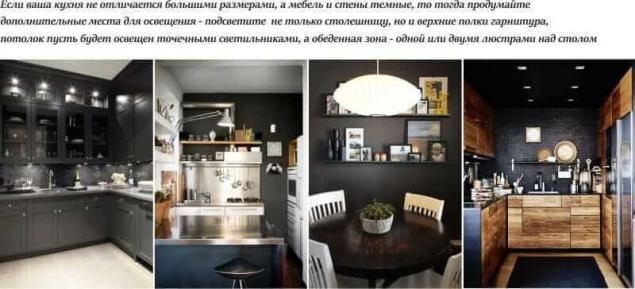 Tip! To further expand the space you can use glossy facades in combination with led light.
Realizing the placement of furniture in a small kitchen we can not forget the large number of vehicles. To save space, you should buy embedded or compact equipment. It is possible that your family's needs do not provide a roomy refrigerator, and instead of a traditional kitchen area you choose to place a sofa and a dining group.
Tip! Don't forget that as a full work surface you can use and sill. Sometimes this part of the window decoration can even replace the table for a small kitchen.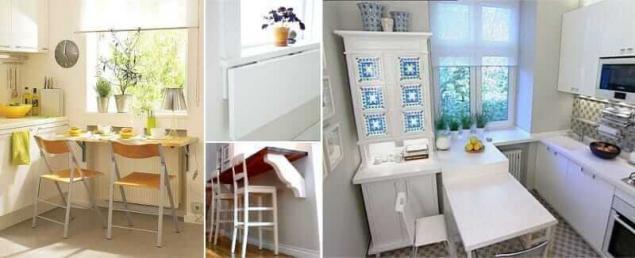 The main rules of designers
The main recommendations on the choice of furniture in a small kitchen are:
1. Even massive furniture, decorated in light muted colors will not look awkward;
2. Kitchen is better to choose to ceiling: on the upper shelves store dishes for the guests, cooking the books seldom do you need and other things needed, and the bottom – heavy and large pots and pans.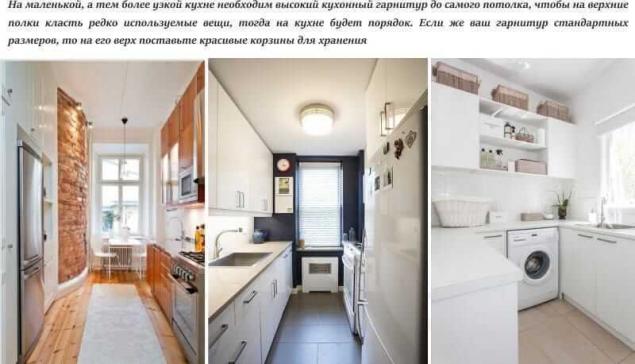 3. Preferably, the headset was in the lead shiny, glossy, mirror and chrome surfaces.

4. The mirror in the minimum space are particularly impressive – and in the natural, and artificial light, they reflect light.
5. It is preferable to use a visually simple solutions, not combining within the modest kitchens of more than 2 main colors.

6. You will create a stunning visual effect, if you decide to place in the kitchen of transparent furniture like glass table or bench or chairs of translucent plastic.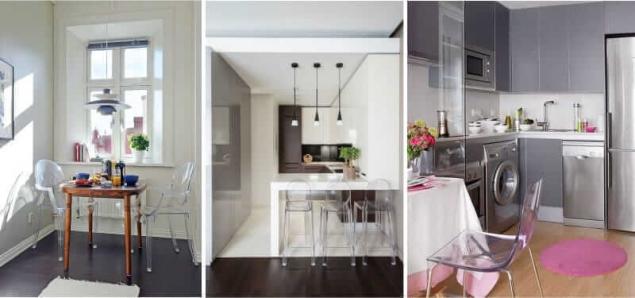 7. Options with lots of small elements of the interior looks more casually than 2-3 large piece of furniture that you can put into place. So do not think that the sofa in the kitchen will not fit.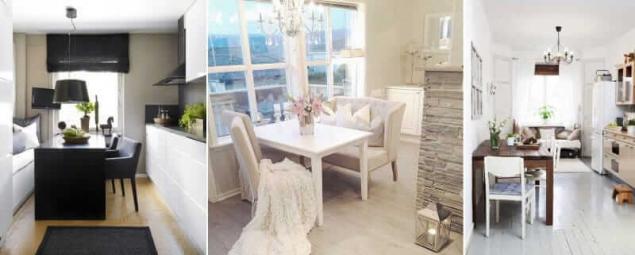 8. At least one piece of furniture in a small kitchen needs to be high to attract more attention to the upper part of the room.
9. A round table for a small kitchen suitable more as takes up far less space compared to square and has corners, about which you accidentally hit.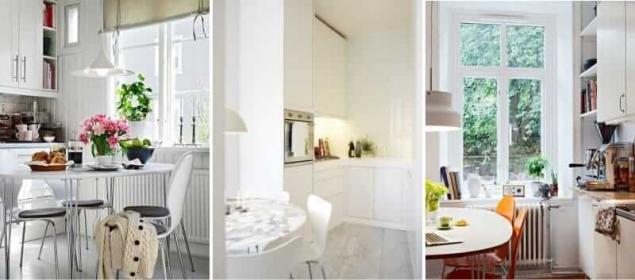 10. When choosing a sofa, a table, benches or chairs for small spaces, it is preferable to use lightweight design, don't clutter the space.
11. Collapsible and convertible furniture is a great way to optimize space in a small kitchen.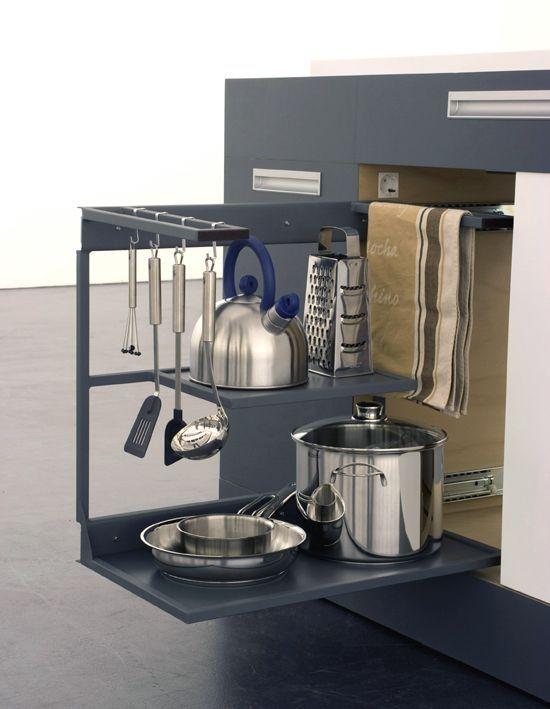 The main elements of furniture styles, designs, nuances of
How to arrange furniture in a small kitchen and place on a limited area with a sofa, table, chairs or benches, work surfaces and all the necessary equipment? To do this, select corner Suite or furniture-transformer, and other compact, easy to use options.
An optimal set of furniture for small spaces are:
1.
Corner Suite
– compact, small, with 3 lockers high. It is better to use narrow oblong construction, through which the room visually elongated. Set single-section sink, and cupboards are equipped with sliding, not hinged doors. Lower cabinets are combined with one table top and, if necessary, used to house built-in appliances.

2. Alternatively, the corner furniture with hinged lockers are used
long, narrow canisters
. To make the interior uncluttered, you need to place 2 of these canister in the corners of the room and are permanently removed from the hanging shelves.
3. As has been said, good when, the perfect dining group for a small kitchen consists of a round folding table and light chairs. As a table, space saving, suitable and
a bar
– alternatively, the corner.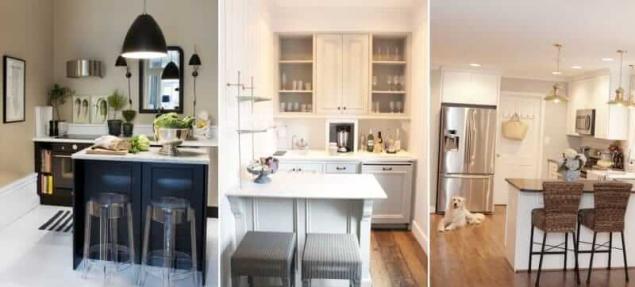 4. To increase the functionality of small spaces is to use
relingowe system
– vertical or horizontal. Rails is a tube, which by means of hooks you can hang shelves or a variety of kitchenware.

5.
Cabinets
must be ergonomically doors – roller, folding, sliding.
6.
The table under the sink
has an integral container is divided into several offices. This will place the previously inconvenient to find the area of a lot of useful items.
7.
Cabinets with drawers
are complemented by a multi-tiered trays for small items, allowing you to store many useful things in order.  
Choose a place for storing utensils and arranging the furniture
Decided to use the sofa? Choose the option with niches where you can hide rarely used bulky dishes. For the same purpose and fit benches with folding seats.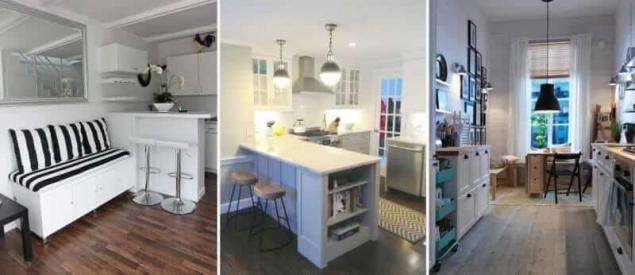 Question pots and pans, you can solve unusual – for example, adapting to the dining table a large basket.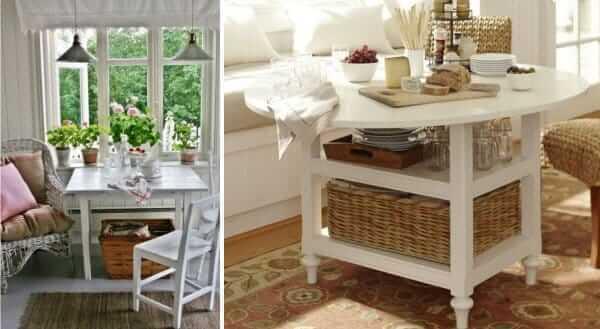 The room with a peculiar charm, you can create and in that case, if you use the open corner stand – of course, it is to be placed only washed to Shine dishes and often wipe the dust from it.
If the kitchen is small, but wide (or dining area made from the kitchen) can be done in the center of the island there can make even a refrigerator or sink, but you can do the open shelves.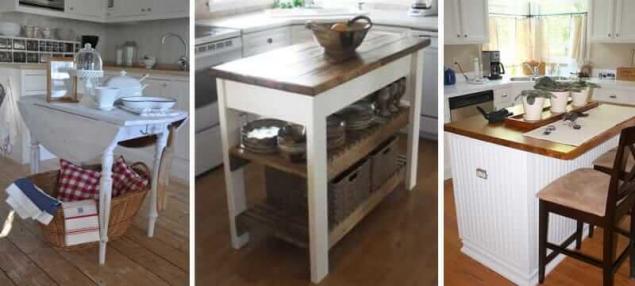 Another interesting decision will become the galley – in this case the angular distribution and drawers and wall cabinets are mounted along the parallel walls of the room.
Generally there are several standard layouts for small kitchens:
1. Pieces of furniture (including a sofa or bench) are placed along adjacent walls (two row layout).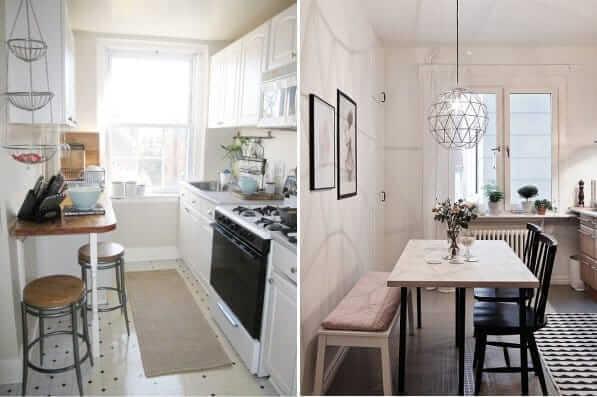 2. Furniture placement along adjacent walls (l-shaped) – usually used corner kitchen set.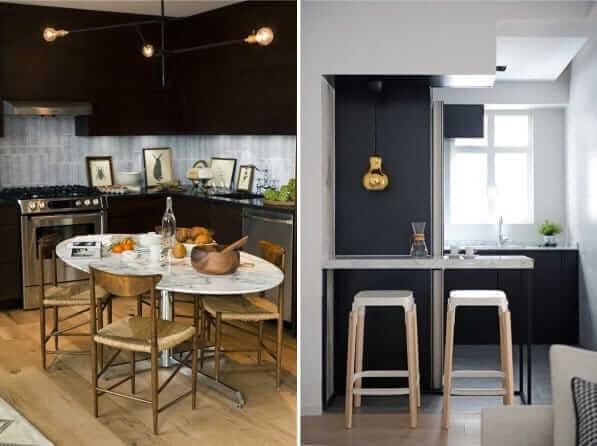 3. The furniture is installed along one wall (the linear layout). In this case, priorities – first is the working surface, and then everything else. Long narrow bench will be the salvation of elongated areas, and the traditional chairs do not have to complement the dining table (his role may well play a bar or wide reinforced sill).
Tip! If space is very much a "squeezed", the fridge and other bulky items are removed from the food – perhaps to steal them in the corridor or will be able to redesign the pantry.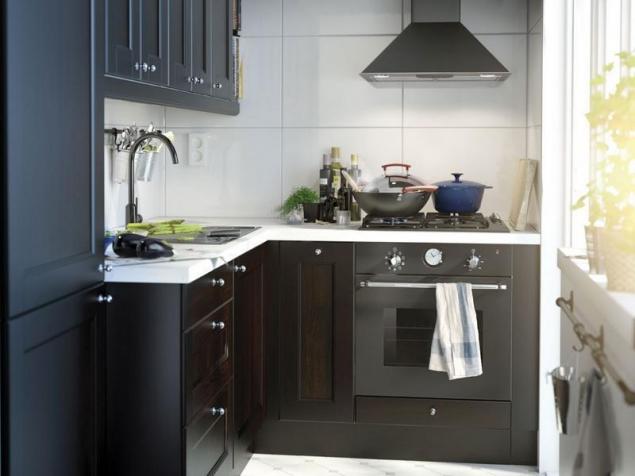 Other interesting recommendations
The space above the cooking surface never closes lockers is a place for exhaust. If you don't want to ruin the furniture regular contact with grease, moisture and fumes, place her at least 30-cm away from the plate. And also take into account the distance between the upper and lower boxes on the recommendations of experts, it should be at least 600 mm.
Do not forget that about work surfaces and built-in equipment should be sufficient space for passage.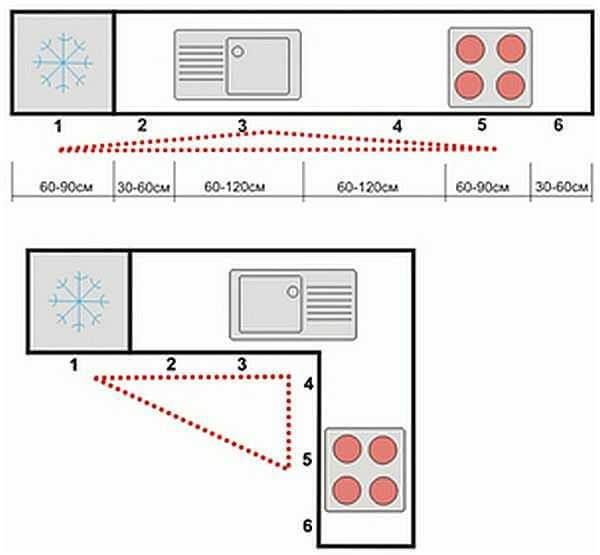 Tip! All the tall items in the small kitchen are placed on the edges of the fridge, cupboards and so on. They in any case should not break a countertop.
Visually enlarge the space using rounded or bevelled furniture facades, as well as if you use the "Spartan" couch, high bar tables, chairs and benches (forged or carved, with delicate lightweight items).Do not forget about ergonomics – from the idea to put a sofa or bench should be abandoned, if space is critically low. It is better to use chairs, which if necessary is easy to hide under the table.  
Also interesting: the Design of a small kitchen in 6 steps 10 tricks on how to make a small bathroom visually larger
A small kitchen can be cozy, bright and comfortable, if properly choose and arrange the furniture in it. It is important to come to the arrangement of the main room in the house with love, intelligence and enthusiasm.published  
Source: kitchendecorium.ru/design/small/mebel-dlya-malenkoj-kuxni.html