Studio apartment – this apartment with no interior walls, that is, open when the kitchen is in one space with living rooms – living room, bedroom, office.
Interestingly, the SNiP does not define this type of housing, so the Studio is now called as "odnushki", when really in the same room fit kitchen, and a living and sleeping space, and two-bedroom apartments, United by a kitchen with living room;
The open layout can be originally designed by developer, and may appear as a result of the alterations;
Studio layout are often relevant for a small apartment with a total area of 20-30 sq. m. but apartments with great footage sometimes designed without partitions.
Kitchen design Studio should be not only beautiful and comfortable, but also functional and comfortable — as possible.
Here's practical tips and rules that you should consider mandatory, especially if you have a small apartment.
11 principles of arrangement of the kitchen in the Studio apartment
1. Place a kitchen as a logical continuation of the living room and Vice versa
If the apartment is a standard layout allowed a fundamental difference in the design of rooms, kitchen-Studio, all the areas should support each other in style and color.
In the photo below the project Catherine Lashmanova for a one-bedroom Studio apartment in classic style.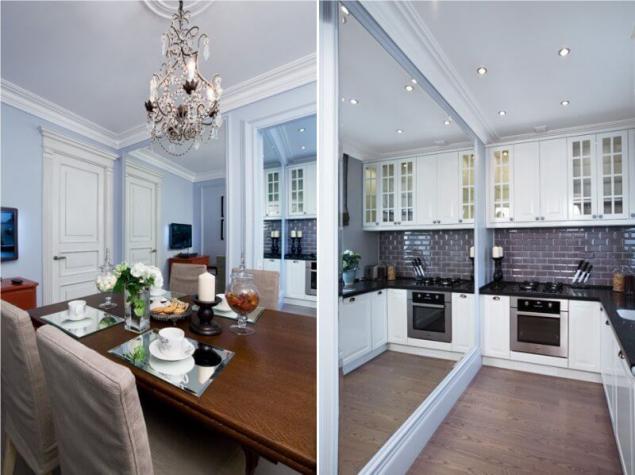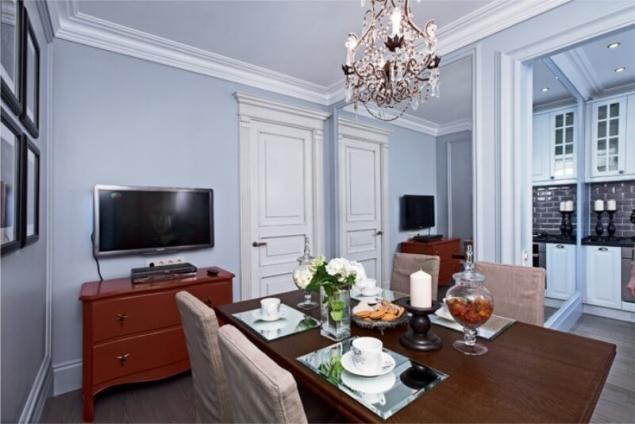 2. Redo the window sill
a Windowsill can be converted into extra working or dining space and also storage space and even a sitting area.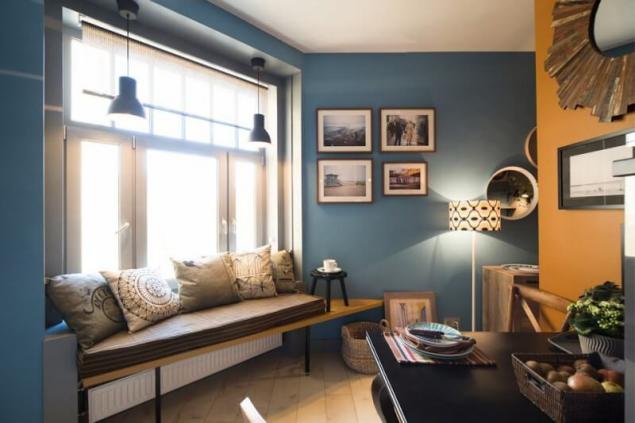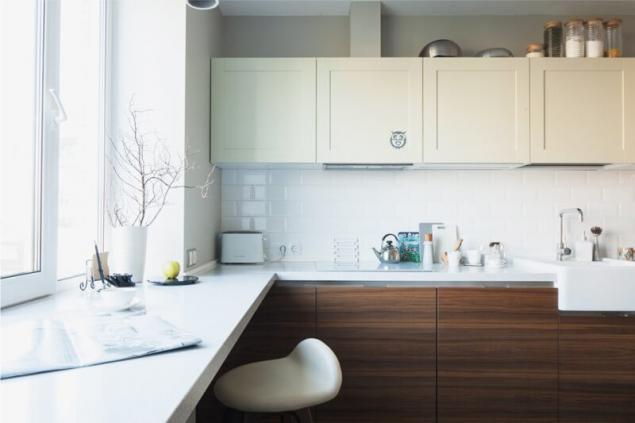 3. Choose built-in appliances
To the kitchen area look neater and less full, fridge and dishwasher, extractor hood, hide behind the facades of the headset. After all, kitchen is the room in which to cook, rest, and work, and because she often is in a state of 'live' mess and to add to their dissimilar surfaces is not necessary.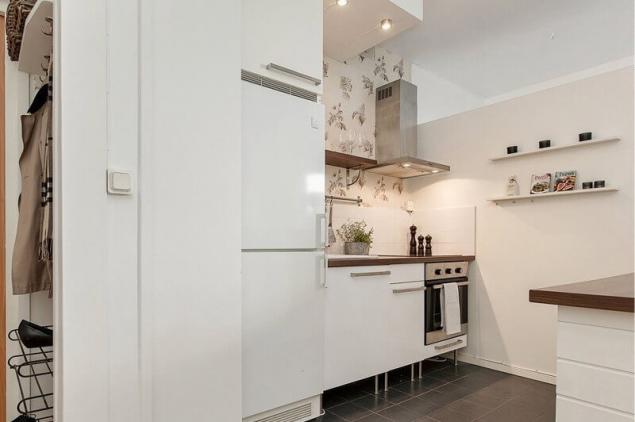 4. Always cook with hood
Choose a powerful extract and cook with it always, to curtains, upholstery, bedspreads and pillows in the room less absorb odors and is not covered with particles of grease in the air.
The most effective types of hoods – domed and fitted with a sliding filter. Perhaps for a small kitchen-Studio, built-in models desirable, as they work efficiently, and, at the same time, save space.
5.Evenly distributed light
Good lighting in the Studio apartment – a very important factor, especially if the room is rectangular, the window is a sleeper, and the kitchen even in the daytime light is insufficient. Harsh shadows and gloom, as you know, visually reduce the space, and uniform, diffused soft light on the contrary — increases, and for a small Studio. Therefore, in the kitchen area the point of light to cast on set, under upper cabinets, inside the cabinets and, of course, over the table/bar.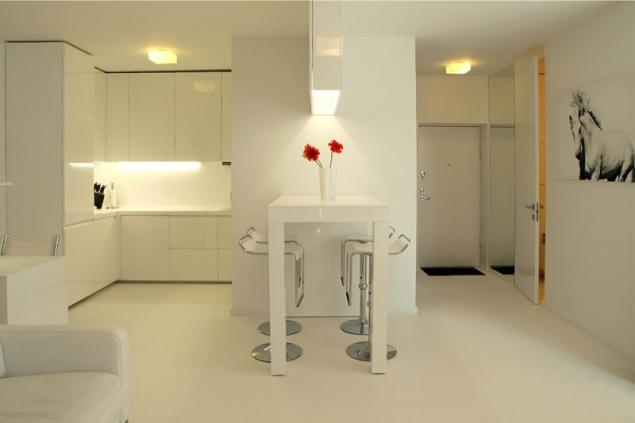 ​
If you needs repairs or you are already in the process, but haven't had time to decorate the walls, you will need to plan in advance the lighting project, such as, sconces with hidden wiring after the repair is not to hang.
Also, keep in mind that if the kitchen is on the opposite of window side, it isbetter to choose a lamp with white light spectrum – it is as close to daylight.
6. Choose quiet equipment
carefully choose a dishwasher/washing machine, refrigerator, hood, and other kitchen gadgets. They should not be too noisy so as not to disturb those who are resting in the living room or bedroom area.
For example, look for a refrigerator with a noise level of about 41 dB, and better than – 39 DB or less.
7. Use foldable lightweight and mobile furniture
with a Kitchen, it is best to make a folding, collapsible, mobile (on wheels) and transforming furniture. For example, if placed in the sofa area to put the table-transformer, which from the coffee table easily converts into a full dining table, you don't need any Breakfast bar or dining table, or coffee table. Here is how designer Nikita Tooth used a table-transformer Calligaris Flexy in your design project for a small kitchen-Studio.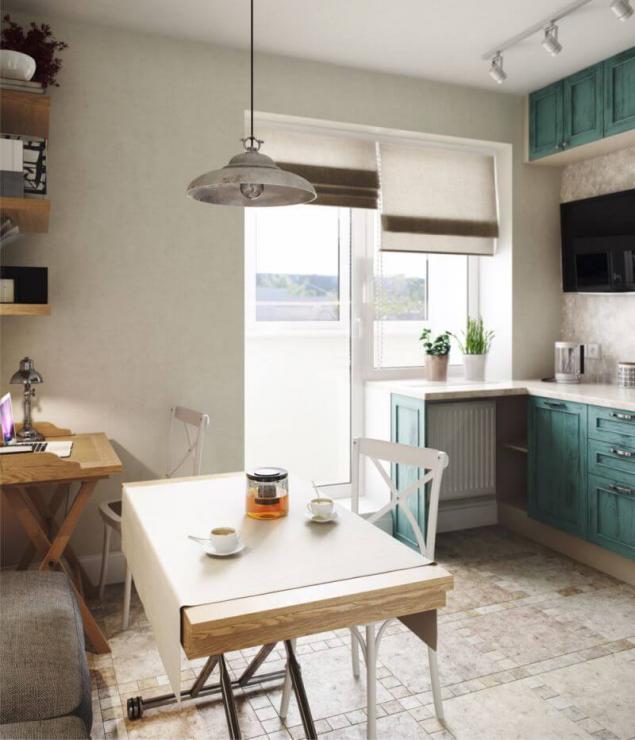 8. Consider system storage
Use every available inch to good use. For example, kitchen sets for a small kitchen is better to order high up to the ceiling.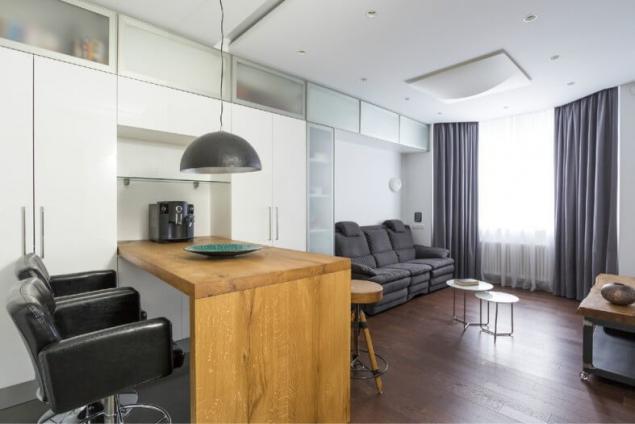 If you already have a wardrobe standard height, put on top a pretty basket where you can put
hand tools, Christmas decorations, festive tableware
and so on, that is, what you use rarely. Here is a way to build on headsets with your hands, having made a shelf of wine holders and two boards.  
If you decided to put
the bar
, then choose those
with niches, drawers and lockers
– where you can put utensils, stationery for work, books, etc., and you can arrange and Minibar.  
Place over a dining table or Breakfast bar can also be use, there is a beautiful hanging shelf.  
9. Try not to overload the interior
avoid excessive diversity, abundance of decoration, three-dimensional textiles, solid furniture. If the kitchen is really small or dark, it is better to give preference to the kitchen with a smooth (without panels), glossy facades that reflect light.
In this sense, the most suitable styles for mini-apartments: Scandinavian, minimalist, modern.
Again, the project we present you Nikita Tooth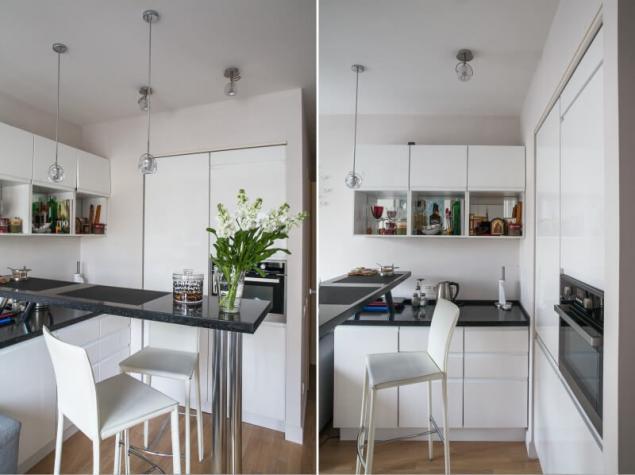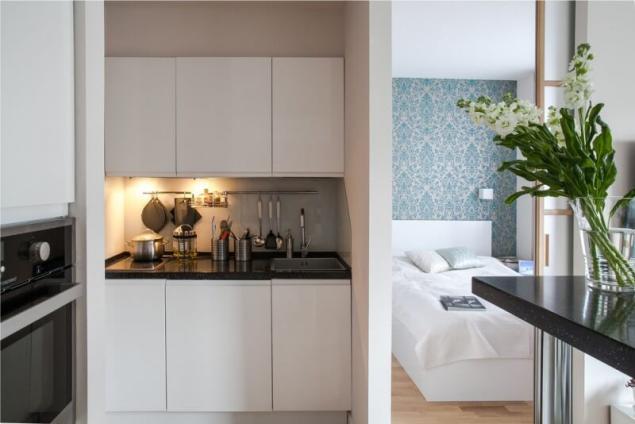 If you do not have a built-in refrigerator, it is likely that it is replete with a collection of magnets... for the Sake of feeling okay better to abandon the habits to collect them. Or leave only those that are really important to you and memorable.
10. Bright colors will lighten and visually enlarge a small kitchen
In the interior of a small Studio dark colors only allowed in if you have very large Windows. Believe me, bright colors will add the room light and feeling of spaciousness. In the photo — a white kitchen in the interior of the Studio, which prior to redevelopment was a one-room Khrushchev. A Project By Maria Dadiani.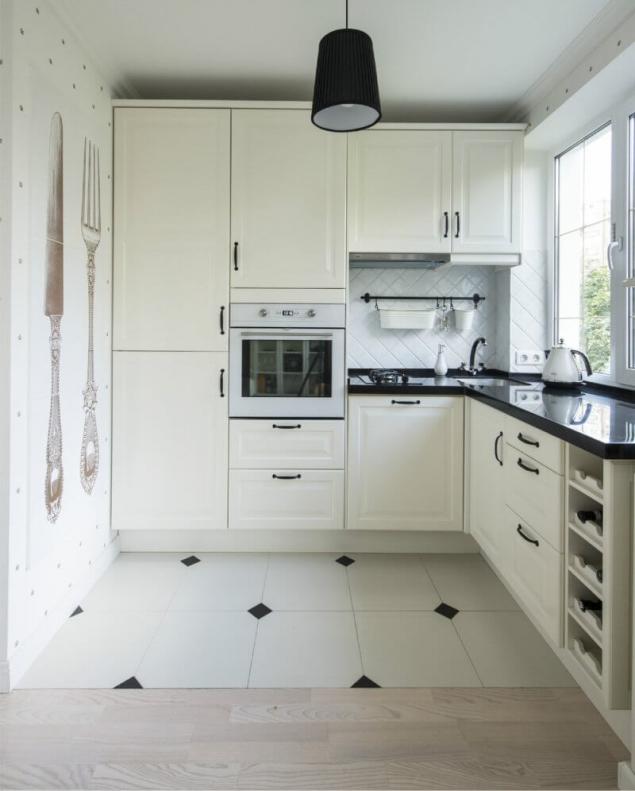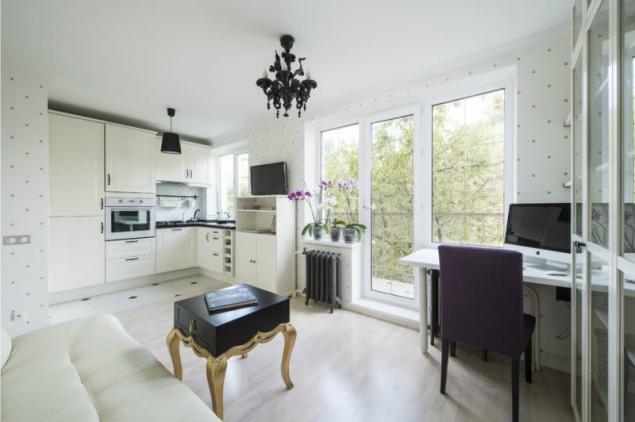 But do not have to choose white color
as the basic tone will be suitable beige, gray, light green, light blue and other neutral shades.
11. Divide the space into zones – visually or physically
Competent zoning – the main guarantee of convenience and comfort. So this topic is outlined in a separate Chapter.  
5 options for zoning the kitchen-Studio
For visual zoning you can use the following technique – choose one color and decorate it and sitting area, and kitchen area, but that colour was present in two zones in different proportions.
For example, the kitchen can be brighter and darker, and the living room/bedroom – lighter and quieter. An example of such color zoning can be seen in the following the interior of the apartment-Studio 40 sq. m.
​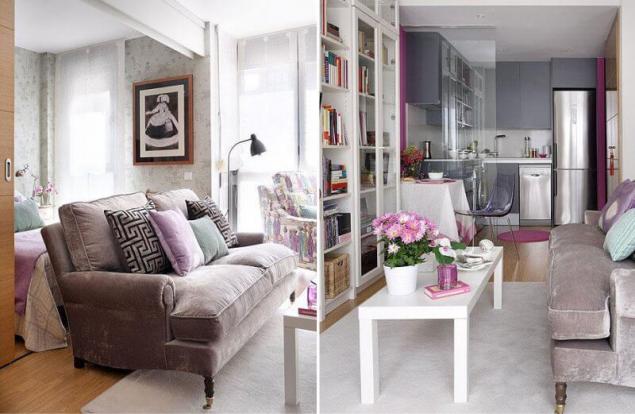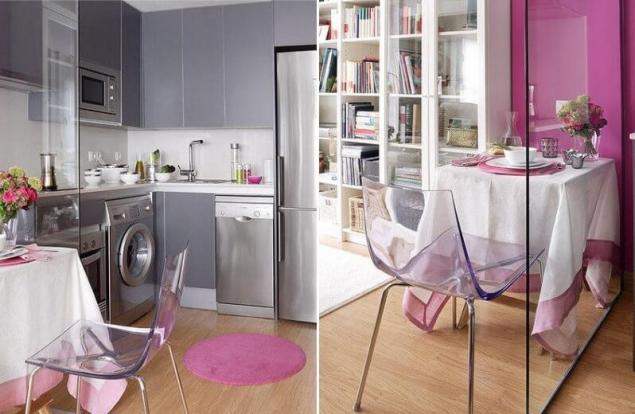 Zoning with walls or arched openings
– architectural method is relevant when you want still to fully or partially isolate the kitchen from the living part of the room.
​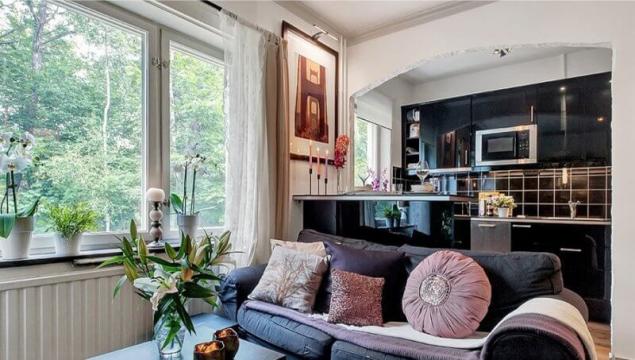 You can make a partition of the drywall, build a solid wall of foam blocks, to install the partition glass, partition type French Windows or install a sliding door as shown in the next design-project, implemented by Nikita Tooth in the Studio apartment of 25 square meters in St. Petersburg.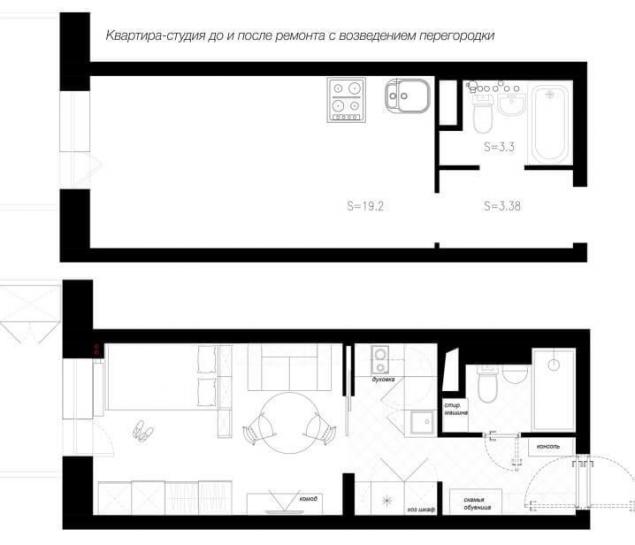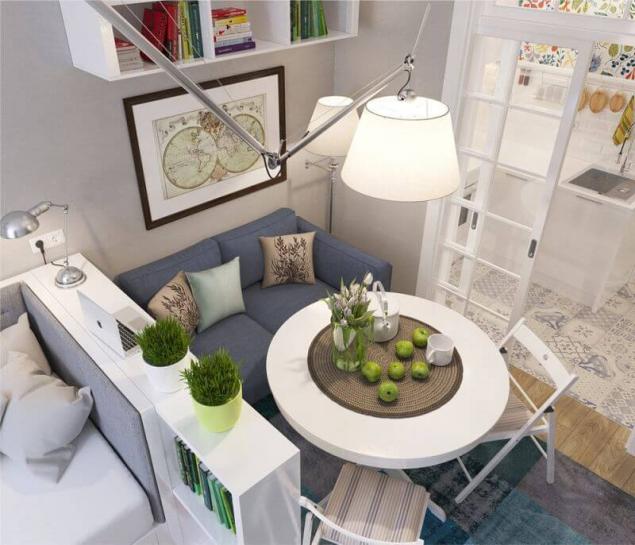 Zoning using furniture
– often a single share living space with sofa, a bar counter or shelf.
​
In the photo — the interior of the apartment of 29 square meters, which is due to the demolition of the walls of an ordinary Moscow "odnushki" turned into a Studio. The author of the project Maria Dadiani.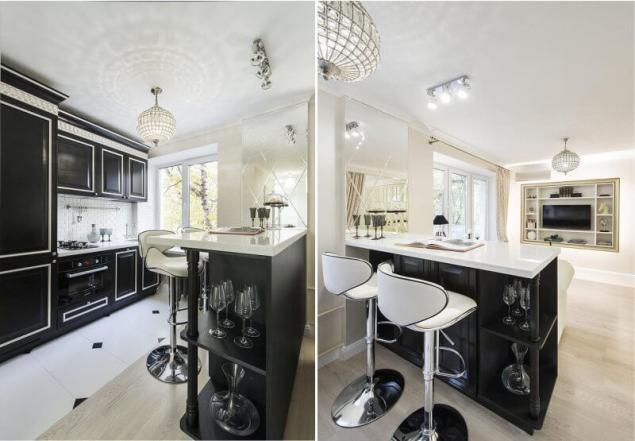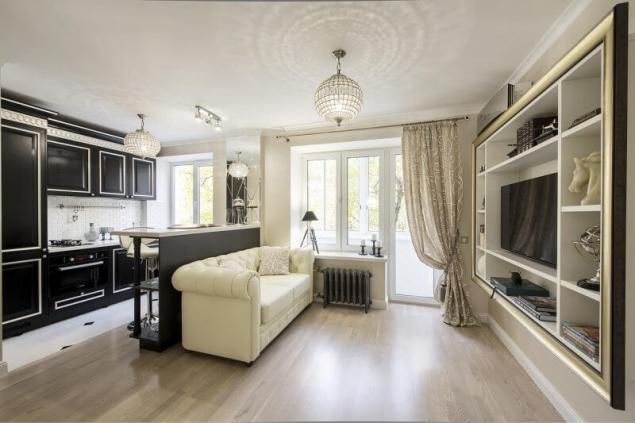 Zoning by screens and curtains
– most often in Studio apartments this is the technique used for isolation of the bed, but why not isolate this way FR u? In the photo below the project Galina Yurieva, in which the kitchen is separated by cotton curtains.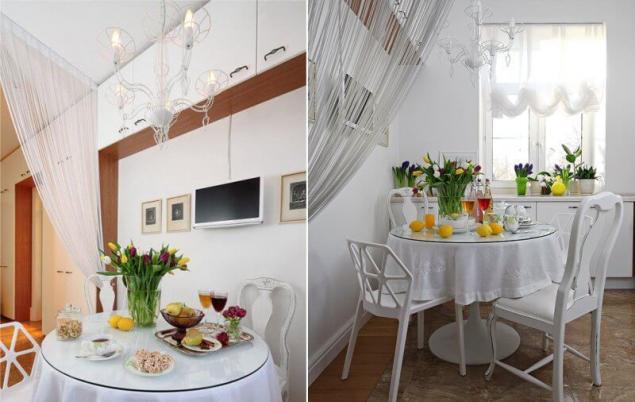 And another fine example of zoning curtain.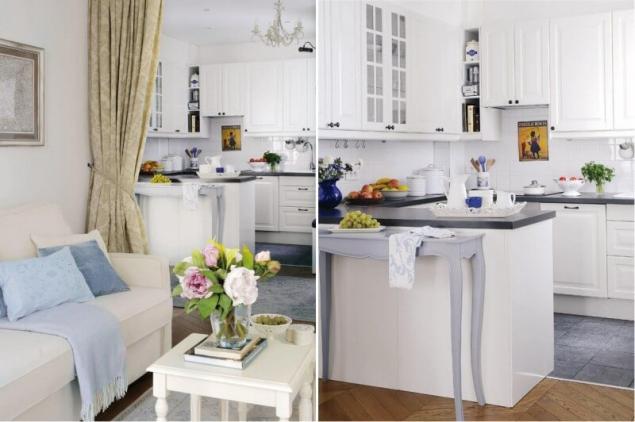 Zoning with different finishes – the walls, floor and/or ceiling in different materials
sometimes it is caused not only from a decorative point of view but also from a practical one. For example, the kitchen floor is tiled, it will be much more practical, parquet boards, laminate, etc. coatings.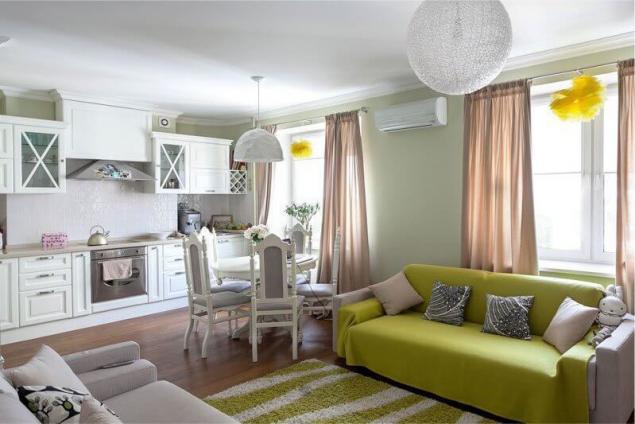 An example of the different walls in the kitchen in Scandinavian style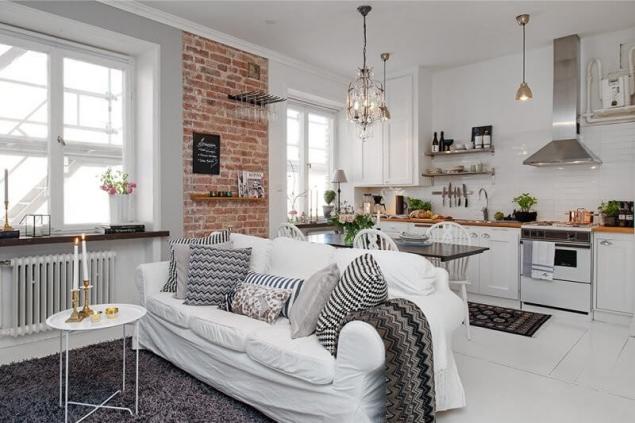 The ceiling can also be arranged in different ways. Very often when remodeling and demolition of walls it is necessary to leave the supporting beams, just they can serve as a delimiter as, for example, in these United kitchens.published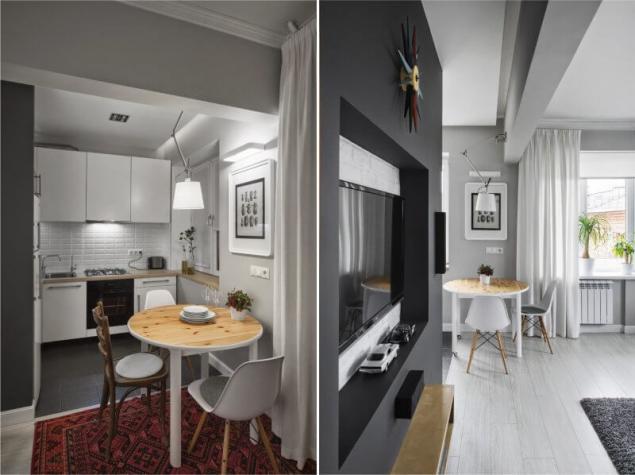 P. S. And remember, only by changing their consumption — together we change the world! ©
Join us in Facebook , Vkontakte, Odnoklassniki  
Source: kitchendecorium.ru/design/sovmeshhennaya/dizain-kuxni-v-kvartire-studii.html