Design narrow kitchen is in its own complex and demanding. How to make the space both functional and beautiful? How to arrange the furniture and what colors to choose when making such dishes?
For these and many other questions we are seeking answers today and learn how narrow layout gives us many opportunities in interior design kitchen.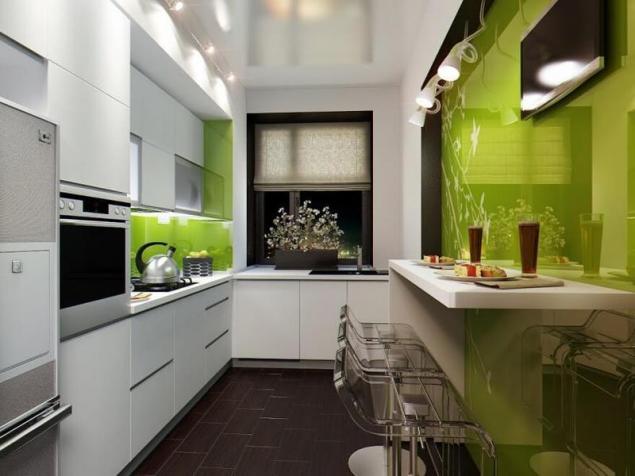 The layout of the narrow kitchen to place a dining area and a set?
It is through the layout and placement of furniture it is possible to correct the shortcomings of the rectangular space. There are several variants of arrangement of furniture:
Single-row layout, which is also called linear — this is when kitchen set along a long wall so that the refrigerator and stove were from different sides of the sink. So this will be a place to pass, and the free space can be used for a dining area. For a very narrow kitchen it will fit best.
​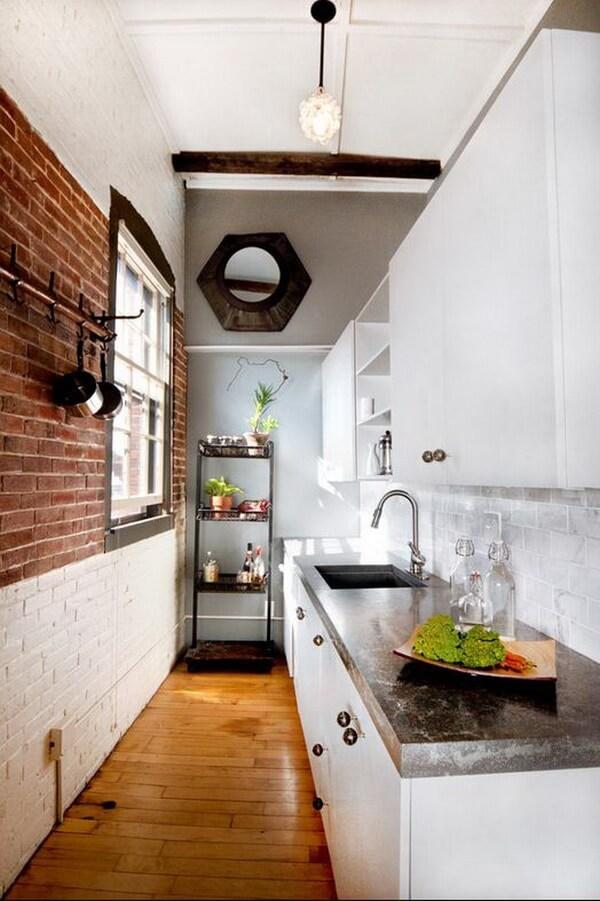 When the l-shaped (or corner) of the layout of furniture are arranged along adjacent walls for better proportions, but at the same time create an extra work surface. In this case, it is possible to increase the sill and make it a continuation of the countertop, use it as a table, or placed in the void washing machine.
​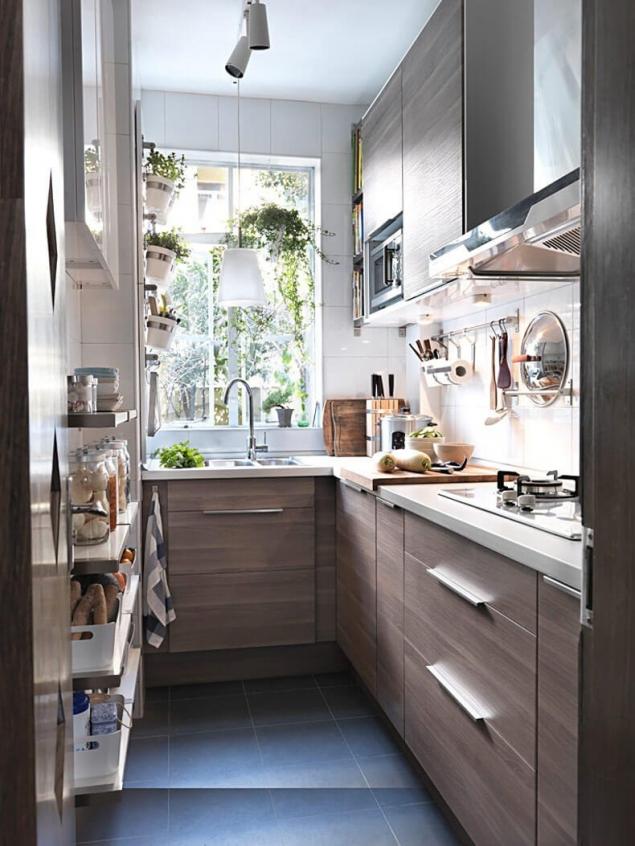 Two-row layout is better suited for elongated, but broad enough dishes. Select a layout option, if you have a large square kitchen, having a rectangular shape. Then the dining area can be put in one end of the window.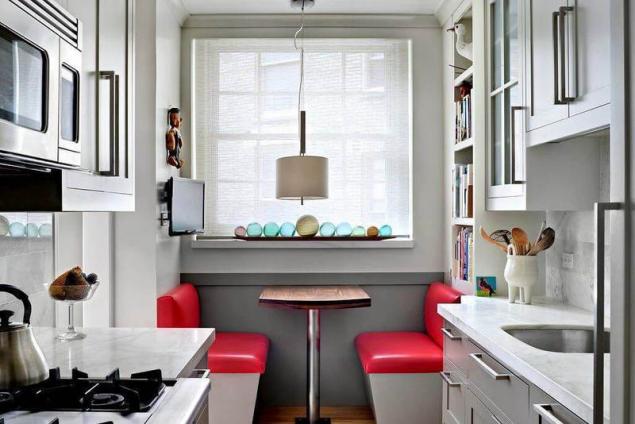 Tip!
It must be remembered that between the rows of cabinets must remain 90-120 cm.
If the space is too small and narrow, the dining area or make into another room.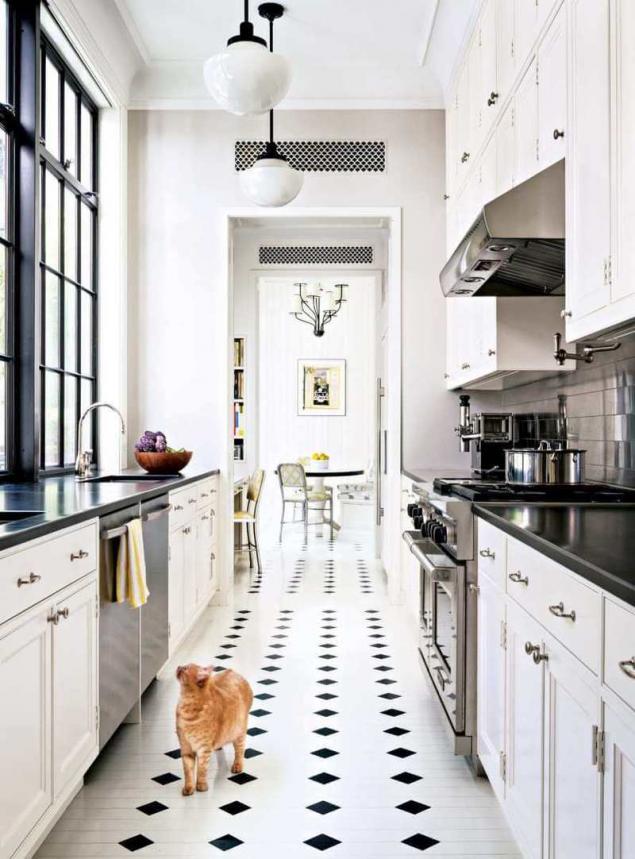 Or consider a custom solution to accommodate dining areas — bar, a folding small or narrow table along the wall.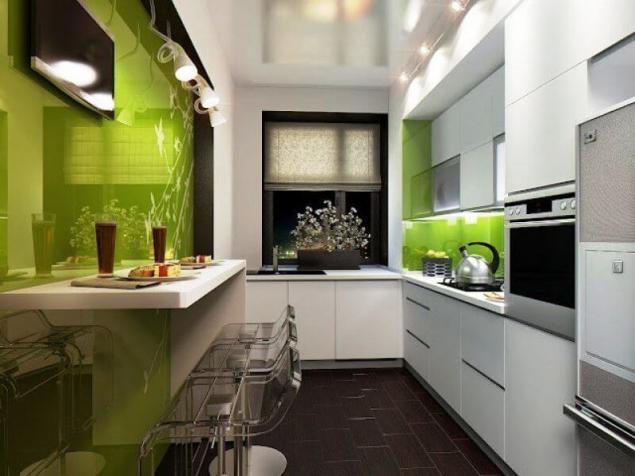 Another option for similar cuisine – this U-shaped layout. Convenient from the point of view of the spaciousness of the cabinets and the possibility to equip the kitchen with all necessary equipment, but almost all the free space will be "eaten". Such planning will have to move the dining area in your room because the kitchen is the place most likely will not remain.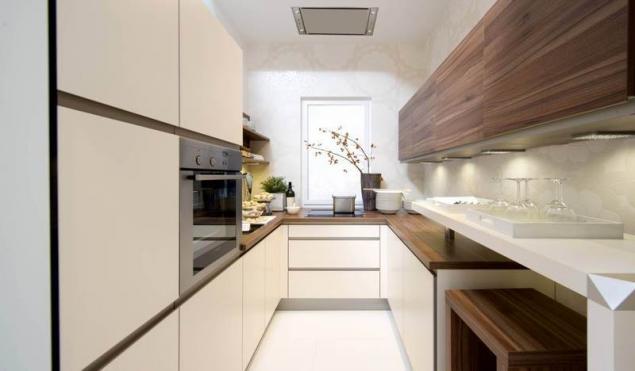 Tip!
Preparing the work area, keep in mind the so-called "triangle rule".
Stove, sink and working surface have to be located, as in three points of one triangle.
This will allow you to spend a minimum of time and effort while cooking and related processes.  
Choice headset
The best option to take into account features of the extended kitchen will be making food to order, because the typical headsets are usually made for standard layouts. To maximize the usefulness of the narrow space can be ordered open shelves (visually enlarge the space) or cabinets that will "stretch" up to the ceiling — this will solve the problem of storage when the rarely used utensils are placed on the top, and need – below.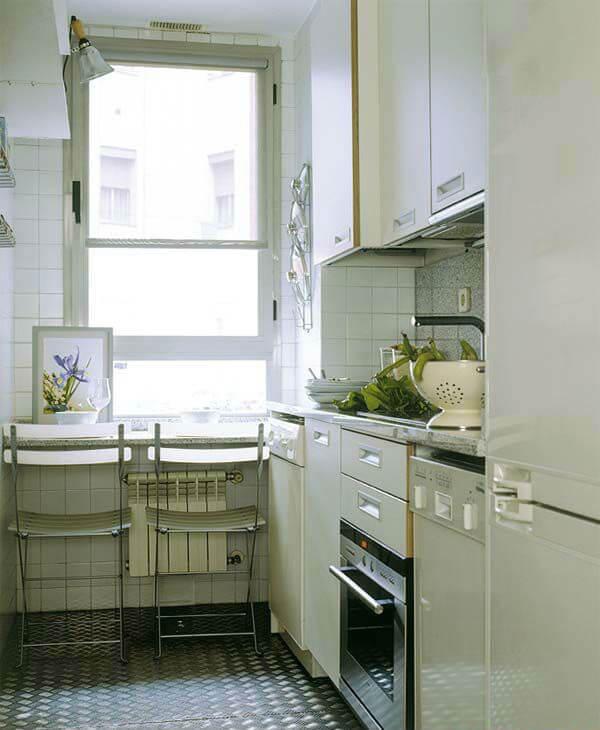 Tip!
Preferably, the Cabinet doors in this case were made with clear glass, semi.
Doors headset, by the way, can open up, it will add modern flair to your kitchen, and nothing would interfere.
In addition, a set made to your requests, in the case of a narrow kitchen, will allow to realize the most daring ideas: how about a sliding worktop and folding tables? They can be used both for eating and for cooking.  
WallThe main challenge in the design of any narrow room – visually "expand".
This can be achieved by choosing light colors for walls decoration, which can cover as Wallpaper and paint. The apron is also desirable to make to match the walls or lighter.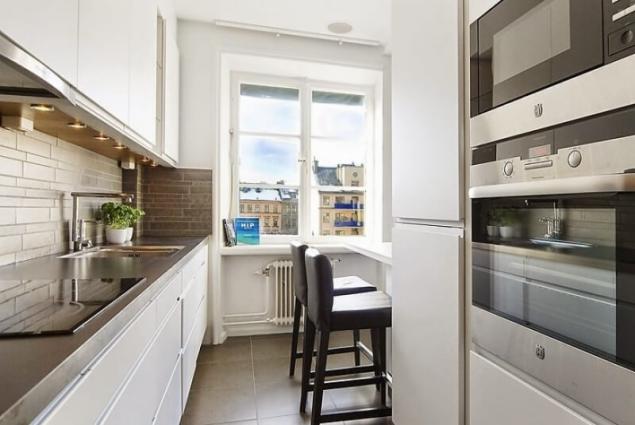 Of course, better if the walls are monochromatic, but you can choose Wallpaper with a pattern, in this case, the main thing – that he was small. Another option is Wallpaper with a panoramic image, which will create linear perspective and expand the space. From dark Wallpaper should be abandoned, and even more, it is not necessary to highlight a long wall dark Wallpaper, Wallpapers with bright small pictures or horizontal stripes will suit him much better.  
The darker color is better to select a narrow wall to balance the space.  
Floors
As flooring will fit almost anything, you only need to choose the correct pattern and to correctly pack cover.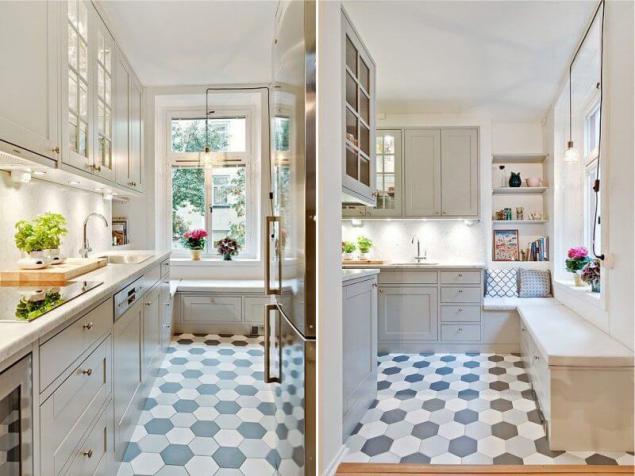 The tile is better to lay diagonally.
Choosing the colour of the flooring, it is important to keep in mind that it is better to choose either contrasting with the main color of the room or repeating. For example, a dark color on the floor will make a narrow room visually above, and light floors similar color with the furniture, add light.  
Tip!
Will look good coating of rectangular elements, where the narrow side is facing the long wall – so it is possible to stack, for example, a laminate.  
Design, color, decor
Design narrow kitchen harmonious whole to perform in a minimalist or Scandinavian style.
Restraint of these styles would be quite nice, after all, a narrow kitchen, not allowed any extra items or massive structure. These styles like order, simplicity, low detail, cluttering up the space — just what you need on a long kitchen. Bright colors is better to choose not only for decoration, but the choice of furniture.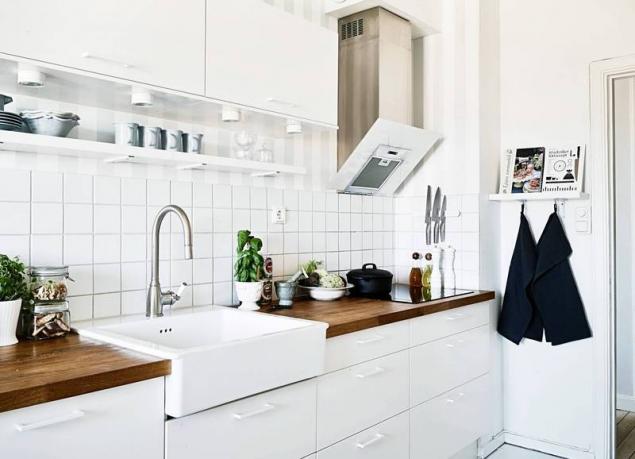 However, if you like bright colors then you can add them to things like chairs, potted plants or kitchen utensils.  
Additional tweaks
Good lighting plays an important role, so for Windows, choose light curtains or Roman blinds. The first are suitable for larger wider Windows, and another for narrower. Any kitchen needs to have several sources of illumination, and narrow – even more so. A ceiling chandelier is best placed above the dining area, a working area – to provide spot illumination. Ceiling lights can also be hung by highlighting a few areas of the kitchen, but it is important not to place them in a line so as not to reinforce the "tunnel" view of the kitchen.
The reflecting surface will visually expand the space: choose glossy furniture and fittings, perform the finish of the mirror elements. For ceiling best suited stretch glossy coating.
If it adjoins the kitchen balcony, he can become additional useful space. For example, if you properly insulate it, then you can put on the balcony dining area or put in fridge.
Remember that horizontal lines and patterns make the kitchen wider, while vertical ones are higher. So along elongated walls keep tall items of furniture and interior, and the narrow end walls can be trimmed by a window seat and short curtains.
Also interested in: Stylish kitchen in a private home To know and not to repeat the error 5 of the kitchen renovation on personal experience
As you can see, it is easy to harmonize the space, a narrow kitchen, you can use right selected finishing materials, simple furniture and intelligent combination of horizontal and vertical lines. I hope that with the help of our tips and photo design and construction of a narrow kitchen it will become for you easier and more interesting.published  
Source: kitchendecorium.ru/design/small/dizajn-uzkoj-kuxni-luchshie-idei-i-poleznye-xitrosti.html