The large kitchen is the dream of every housewife, but what if you have a lot less square feet than we would like? These tips will help maximize the efficient use of kitchen space!It is considered that a small kitchen is rather a drawback. But even it is possible to find the pros! For example, you don't have to spend a lot of money on furniture and decoration. And our tips will help maximize the use of available space and turn it into a Paradise and the dream of every housewife!
1. Colors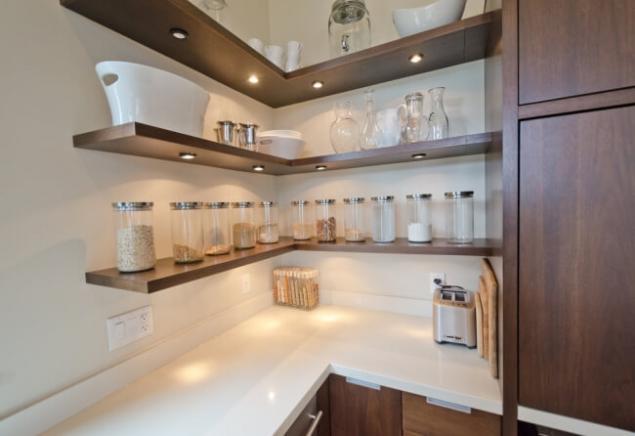 A small kitchen will visually appear slightly more if you arrange it in bright colours. They reflect the light and seemingly expand the boundaries of the room! Moreover, light can be the entire interior, and a solid wall or kitchen furniture. And to add brightness to the kitchen space with contrasting accessories.  
2. Daylight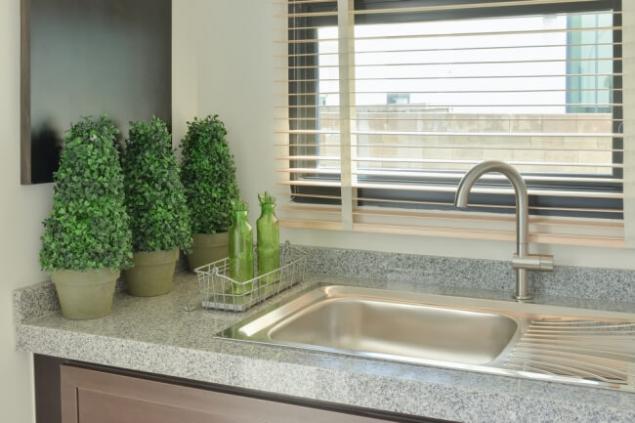 Natural light fills the kitchen with comfort and makes it more spacious, so the kitchen window can not curtain at all, or instead of curtains to choose more compact options. For example, blinds or Roman blinds will perfectly fit into any interior and will not take up much space.  
3. Mirror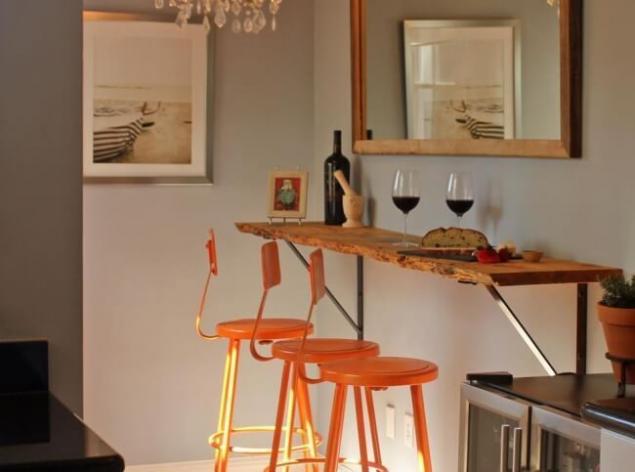 Generally, mirrors in the apartments are of a practical nature: often they are placed in the hallway or rooms. However, the mirror can be a perfect decorative element and design ideas for a small kitchen: it will visually increase the space and create the illusion of "extra Windows".  
4. Backlight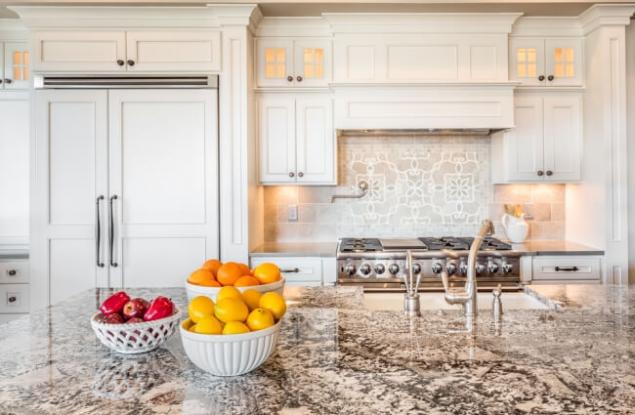 To visually expand the kitchen area will help more lights, located on the perimeter, for example, under the wall cabinets and shelves, as well as the led strip is glued along the kitchen units and work surface.  
5. Open shelves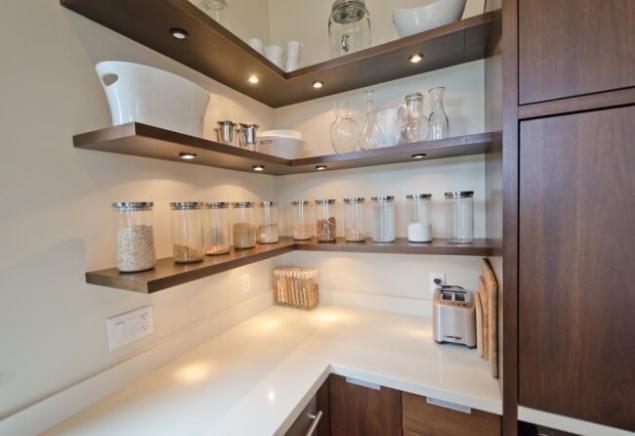 Closed wall cabinets are often cluttered space, so they can be replaced by open shelves. So you can place a lot of useful things, and because the shelves are always in sight, to maintain order will be much easier.
6. Closed cabinets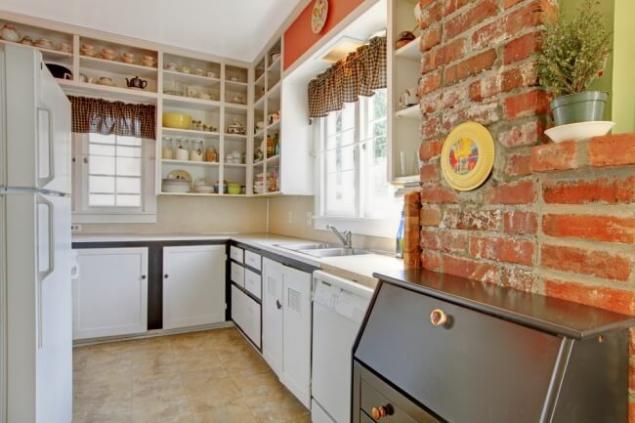 But lower the kitchen area great to place it in the ranks of the multifunctional closed cabinets with plenty of shelves for storing dishes and cooking utensils.  
7. Doors-shelves
In cabinets with doors you can create extra storage space by increasing their area through special fixtures and convertible shelves. With them you will be able to use the kitchen furniture to the max!  
8. Pull-out shelves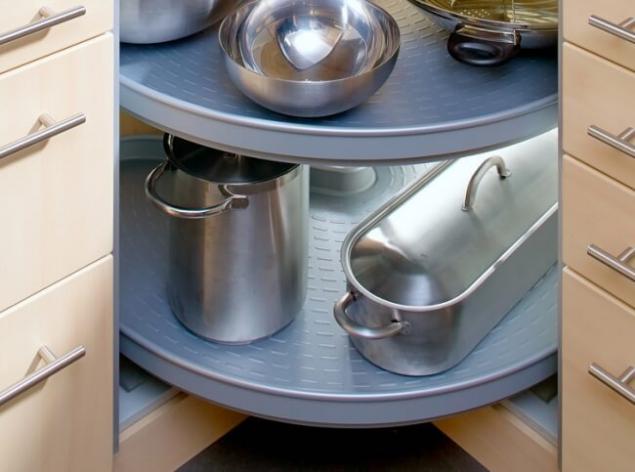 An excellent solution for corner kitchen will be a rotating or sliding corner cabinets where you can remove the bulky dishes, pots, pans and other bulky items, which usually occupy a lot of space.
9. Corner cabinets and shelves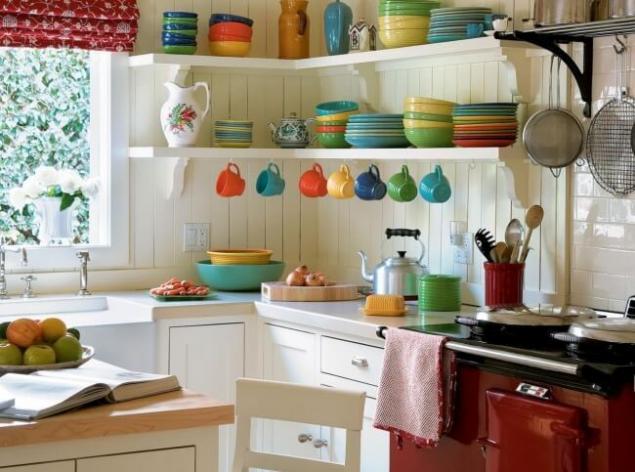 They can store small kitchen utensils or make an outdoor "area Housewives", decorated with cookbooks, decorative items or flower plants.
10. Narrow shelves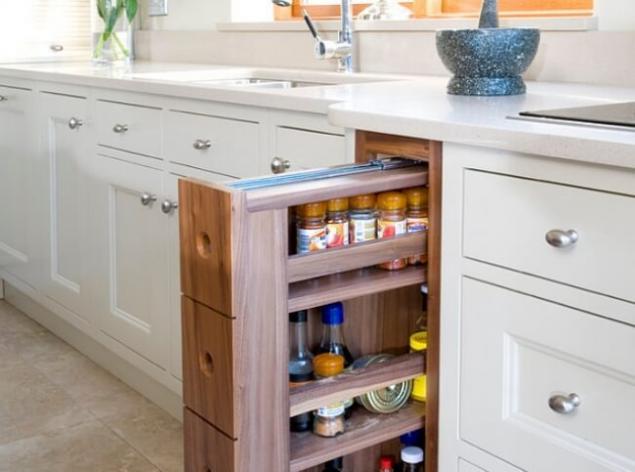 Storage bottles and tall containers are ideal for vertical drawers. Perfect for those occasions when another full wardrobe cannot be squeezed, and the stock is 15-20 centimeters free. Very convenient to use them, and place them even in a small kitchen!  
11. Rack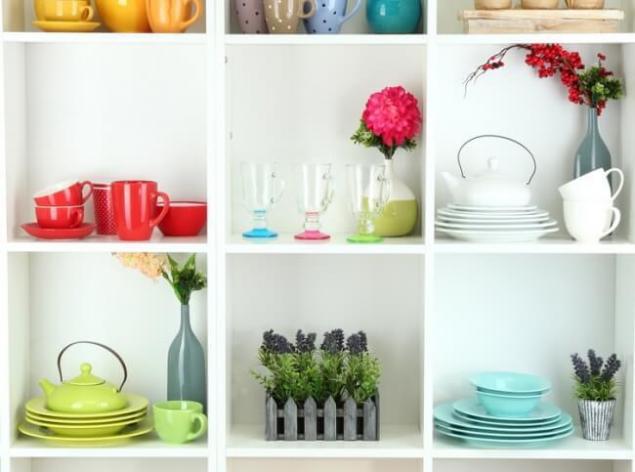 Replace your regular cabinets for minimalist kitchen shelving. It is possible to deliver beautiful dishes, jars of cereals and spices, ornamental plants and various interior items, thereby freeing up work surfaces. Get creative and make a place that will every day to inspire you to culinary feats!  
12. Small shelves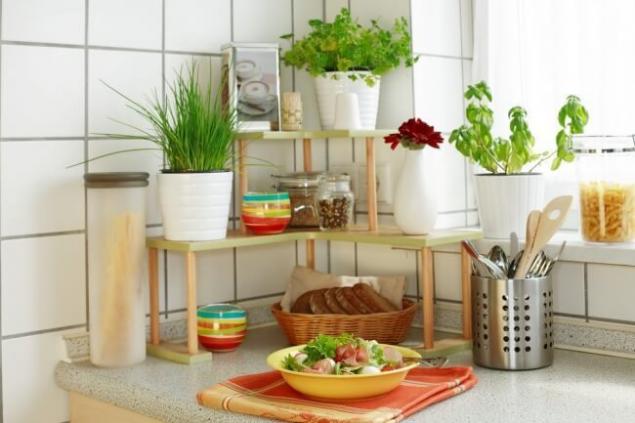 Another simple idea that will help you win some space in the kitchen, is a multi – level shelves on the working surfaces. They will look great potted plants or the most necessary things that you use often: sponge for washing dishes, a placemat or paper towel.  
13. Built-in appliances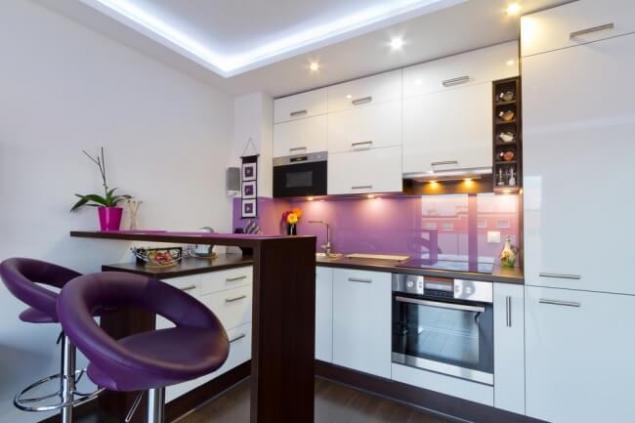 Nothing clutters the kitchen, as the abundance of different kitchen appliances! Built-in refrigerator, stove and sink will create a single space kitchen and will not take a single extra inch, the maximum saving area.
14. Versatility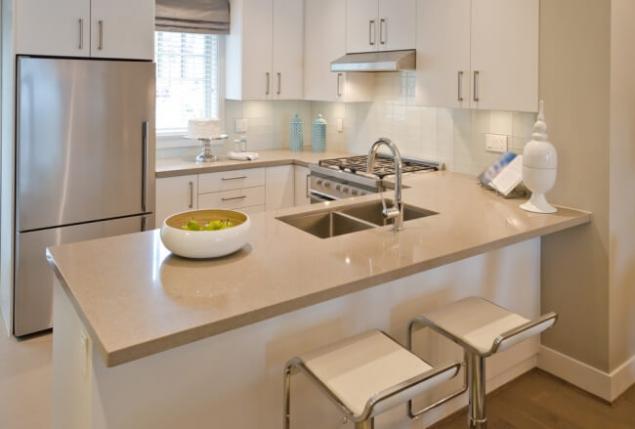 Substantial space savings can be reached by organizing the kitchen is a convenient multipurpose area that will serve as a working surface and a dining table, and storage space for kitchen utensils.  
15. Dining area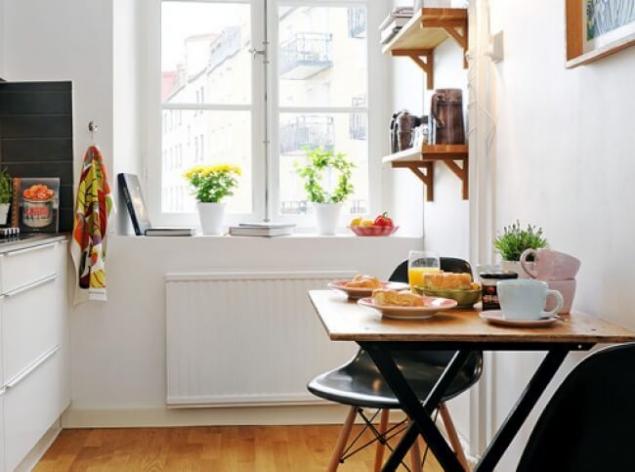 Many owners of small kitchens decorate dining area with corner sofa. It would seem that this furniture fits perfectly into the kitchen space, but it is quite bulky, immobile and takes up half a room. Give preference to simple tables with chairs and stools: they look more minimalist, and besides, you can always rearrange them if necessary.  
16. Custom furniture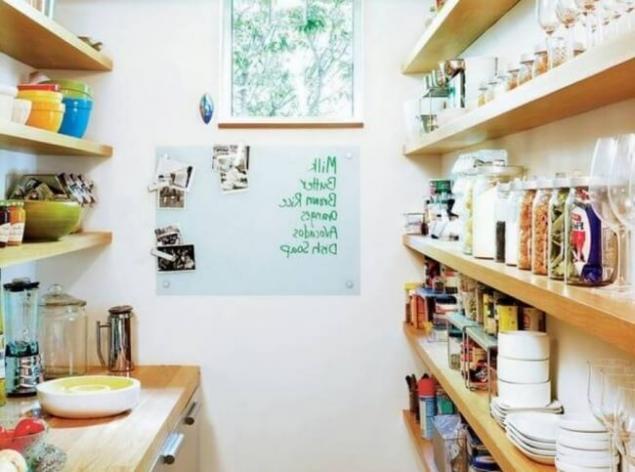 If your kitchen has non-standard layout, pick up for her the appropriate furniture. It can be made to order or view a directory of designers and manufacturers that offer practical solutions for small apartments.
17. Furniture-transformer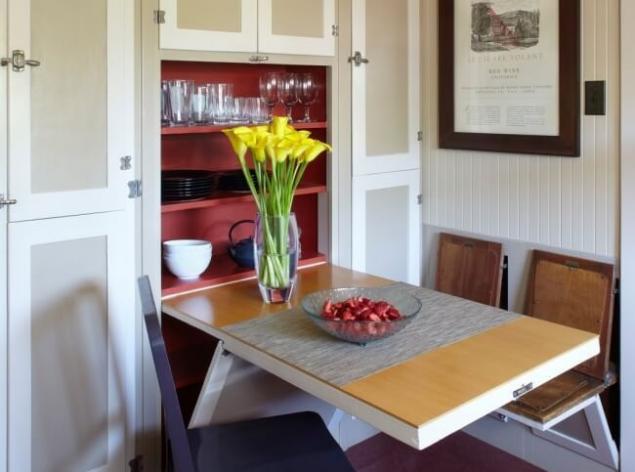 A real "lifesaver" for a small kitchen will become convertible furniture. It can be a table, who with one hand turns into the door of the Cabinet or chairs, pull-out kitchen drawers, or familiar to many since the Soviet times table-book, which can be used as a bar and additional work surface.  
18. Miracle windowsill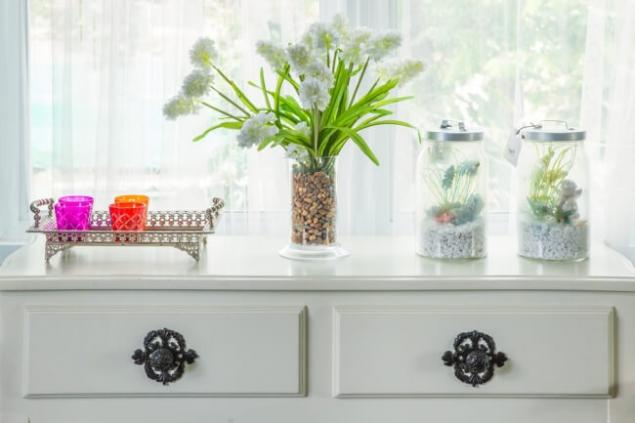 If your kitchen is a wide window sill, use it as a place for storage, a Desk or a place where you can comfortably sit with a Cup of tea. Under it you can also organize additional wardrobe with drawers or small bookcase.  
19. Hanging a TV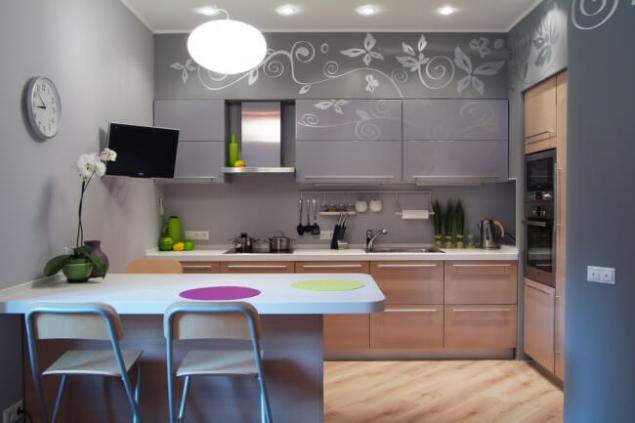 Many Housewives like to watch television while cooking. To save space, hang it on the wall using the hanging bracket with a twist and enjoy your favorite programs anytime!  
20. Secluded places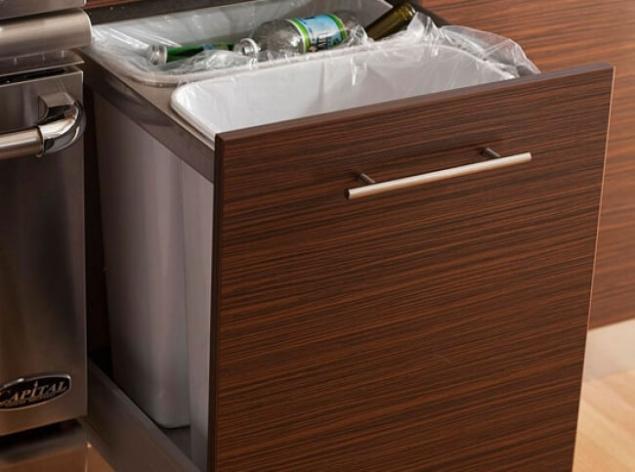 To maintain cleanliness in the kitchen, to avoid the unpleasant odour and need to touch the bin with your hands, it can be stowed in the sliding Cabinet under the sink, previously investing in a package.  
21. Hanging utensils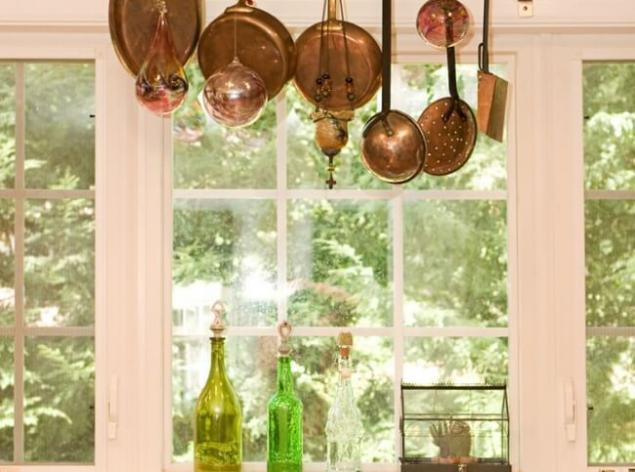 Accessories for cooking and kitchen sets can be placed on separate hooks and hanging systems near the sink or stove so they are always at hand.
22. Folding items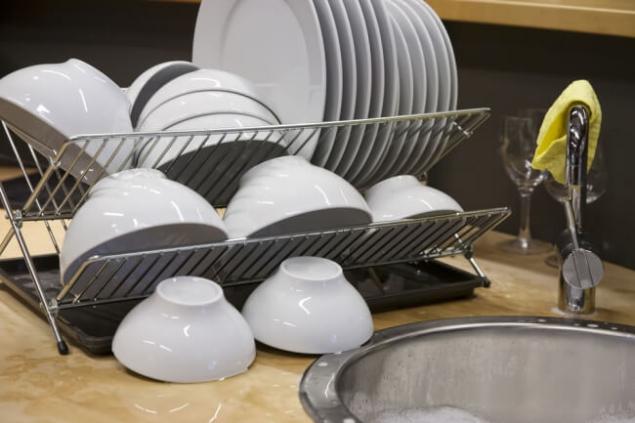 Folding things in the house – save for square meters! For example, a compact folding dish rack will be an indispensable tool for any cook. It can be put near the sink, and after use, folded and put into the closet.  
23. Kits for storage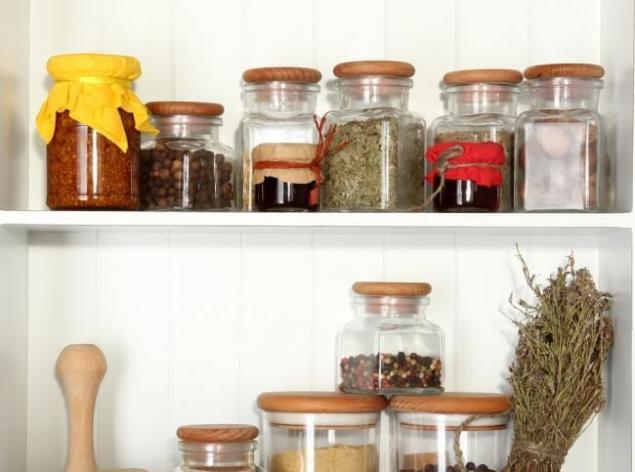 Use sets of containers for storing spices and bulk products. You do not spend a lot of time on sorting, but will be able to always find the right product and save the order on the kitchen shelves.
24. Magnetic holders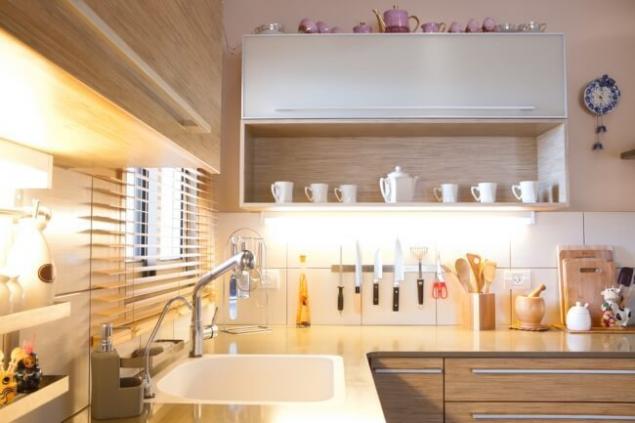 Knives will be available and in a safe place if you attach them to tape. This holder is also perfect for any metal objects.
25. Organizers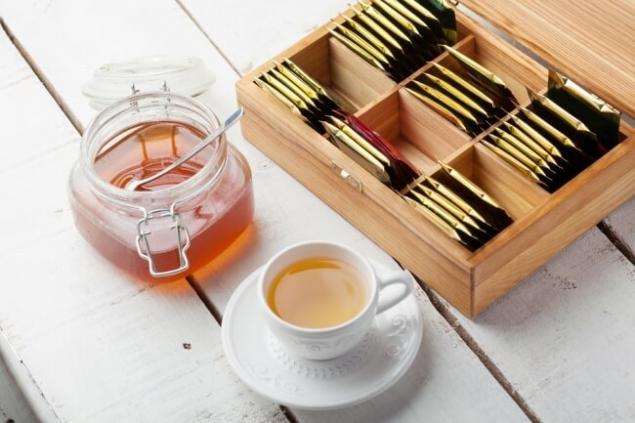 Boxes and bags of spices, tea and coffee often clutter up closets and take up too much space and so little. Buy special boxes-organizers with compartments and enjoy a clean kitchen! published  
P. S. And remember, only by changing their consumption — together we change the world! ©
Join us in Facebook , Vkontakte, Odnoklassniki
Source: domashniy.ru/article/dom_i_dacha/interier/25_idej_dlya_malenkoj_kuhni.html?p=25