More is not always better, especially when it comes to the kitchen. The smaller it is, as a rule, the more functional its interior. Effective working area and stylish design are not the only attributes large kitchens.
All you need is a few good ideas for the organization of the working space, as well as a couple of fresh designs. And if your kitchen will sparkle with new colors will be the most practical, original and properly organized.
"If you can organize your kitchen, you can organize your life"
(Louis Parrish).We have collected the best solution for small kitchen interiors. They perform tasks assigned to them and possess a sophisticated style.
We assume that there are three most common problems of compact spaces: clutter, lack of storage space and lack of lighting.
Mess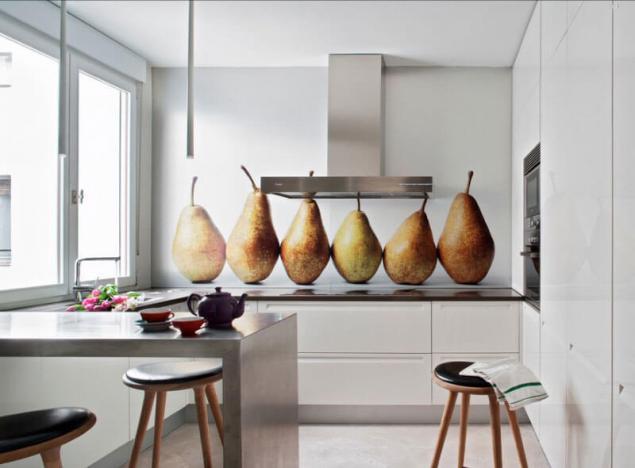 Sleek design with an artful twist
This is usually a side effect associated with the lack of space. In an effort to relieve the interior, the homeowners often refuse things they really need.
A revision of all cabinets and drawers (especially the far) and donate what you don't use for a long time.
Ask yourself if you really need a tool for removal of cherry stones or a ball-cutter. After the cabinets are released, outer clutter can be eliminated by placing all that interfere on the surface in the vacant places for storage. 
The lack of storage space
Great idea of using the valuable space near the sink
You have already made your cabinets but feel that's not enough? It is a well known problem. Use compact appliances to maximize the utility of horizontal and vertical surfaces, such as the trick to turning the lateral wings of the shell in the cutting Board (pictured above). 
Dark kitchen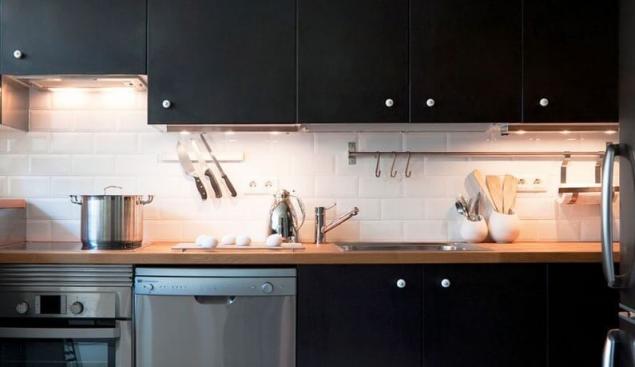 Fashion stylish dark kitchen continues its March through the city interiors
Dark rooms always look smaller, so it is recommended to decorate the walls in bright colors. If you love the rich, dark kitchen design, add a variety of lighting options.
Use additional lighting under wall cabinets will highlight the area of the working space and to focus her attention.
Good illumination makes the space visually larger, regardless of the palette.
Consider the following ideas:
to equip a led strip or a long fluorescent lamps, the shelves and bottom of cabinets to illuminate the work surface;
replace incandescent bulbs with energy saving equivalents;
to install additional pendant lights, in order to implement the idea of multi-level lighting in addition to the existing system;
replace outdated fixtures;
mirrors to hang on the kitchen wall or to consider adding small mirrors for extra light reflection.
The easy to implement ideas:
hanging racks for cookware;
wall to kitchen tools;
convertible furniture;
the working surface is larger;
additional shelves
1. Hanging rack for utensils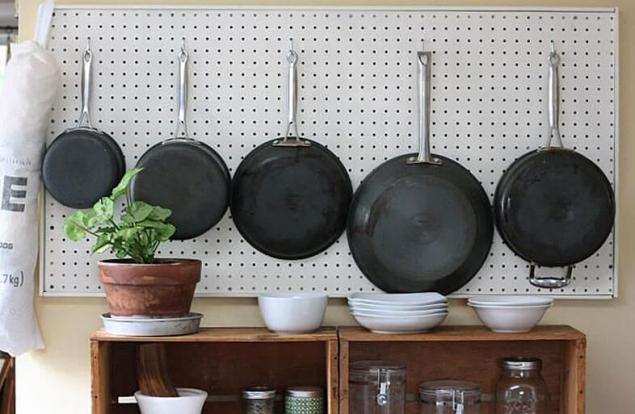 Easily implemented solution that absolutely will not spoil the appearance of the kitchen
In most compact kitchens is not enough space to install the large and spacious shelves on which to store pots, pans and other kitchen utensils, but still there are options for limited space.
Hanging stand is not necessarily fixed to the ceiling: some of them can be placed on the wall as perforated panel with hooks in the image above. Looks very organic.  
2. Wall to kitchen tools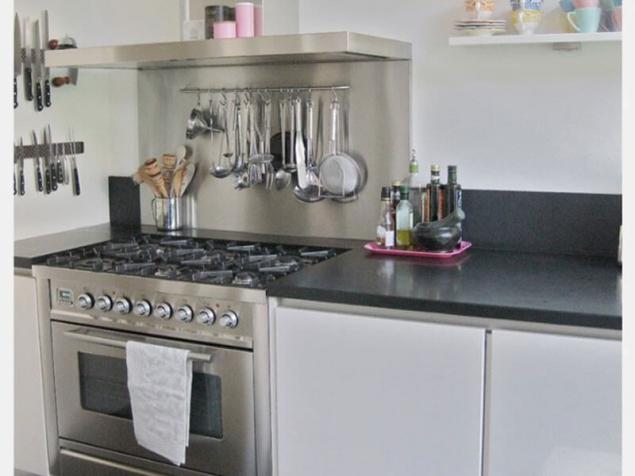 Everything you need at hand. And do not need to stretch!
Take the example of the busy restaurant kitchens, using industrial design and racks for storage of various devices and utensils. Here are some ways to accommodate all kinds of kitchen utensils on the wall:
hang cupboards. Simple hinged design with multiple hooks can hold tools with a loop or hole;
decorate and attach to the wall cutting Board, and use it to hang your tools. Organize storage in color or functional principle;
Use wall magnets for storing knives and jars for spices.
3. Convertible furniture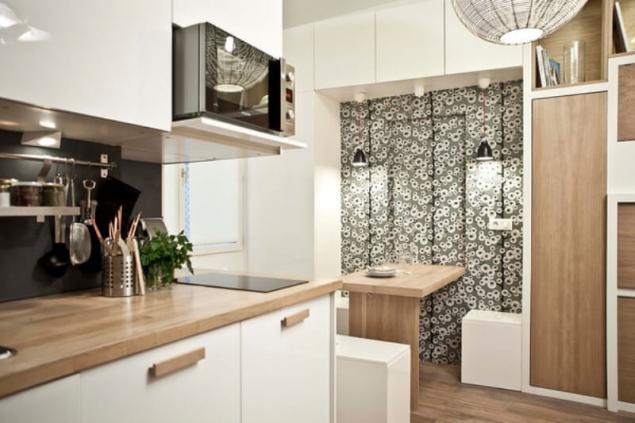 Tiny dining table built into the wall, and the stools are spacious boxes with lids. All ingenious is simple!
Be creative in giving your kitchen the maximum number of functions.
Look for ways to create multifunction space with practical furniture that can be removed if necessary
. Here are some ideas:
bar stools without backs that can easily slide under the countertop of the island;
folding and retractable countertops;
cutting boards, scales, and other helpful items include a folding mechanism or slide.
​
4. Increase work surface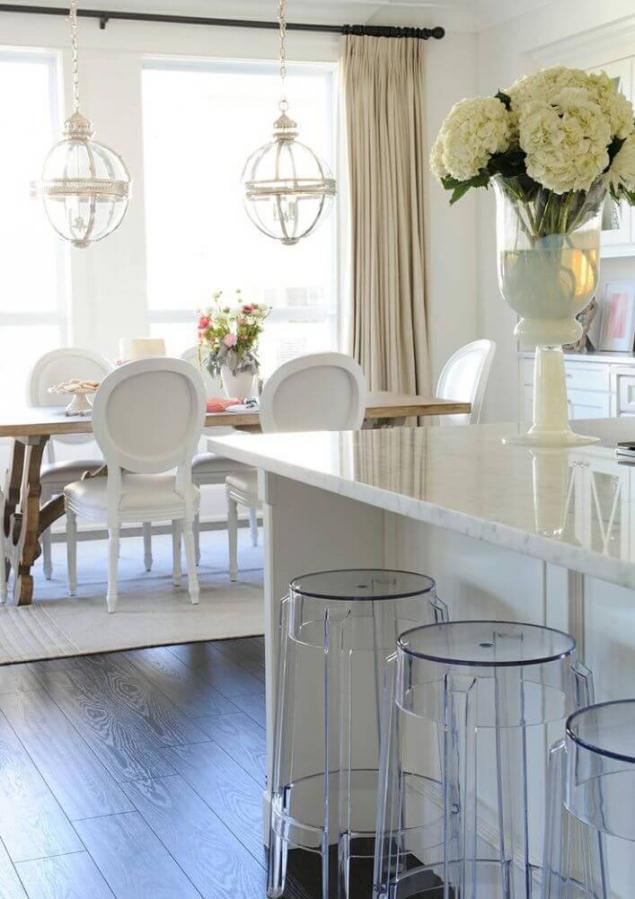 Transparent bar stools to avoid burdening the space and, if necessary, retractable under the worktop
When your goal is to create modern kitchen appearance, the logical choice for you should become a minimalist, this spacious kitchen island. It not only looks stylish, but also increases the working area, so that the cooking process becomes easier and more enjoyable. The first step is to remove all the small appliances and items on the countertop.
Here are a few ideas for increasing the workspace:
electric hob. Today almost all of them are smooth and compact. They have an additional advantage: the ability to install almost flush with the main top, so you can put it on a cutting Board or other items when not using it for its intended purpose;
gas cooking surface. If you use a gas cooking surface, you can purchase a hat, when equipped plate which will turn into additional workspace. some of these domes are so strong that are suitable for a sufficiently vigorous manipulation up to chopping.
Portable cutting table or even light tables on wheels successfully function as an additional work space. Buy a new Desk with wheels or upgrade the old self. Add a couple of simple stools to the cutting table and get the original stand for Breakfast.
​
5. Additional shelves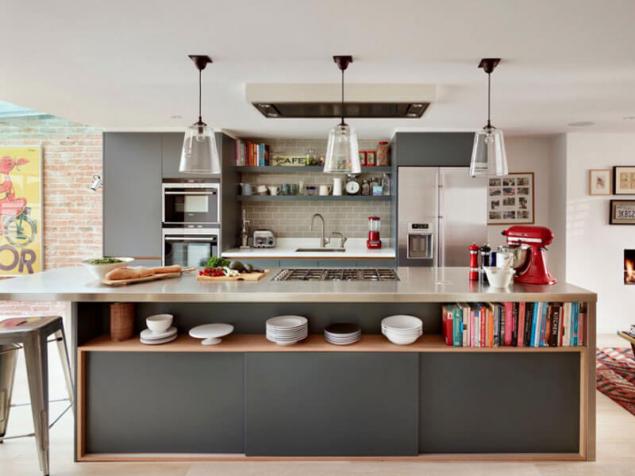 Add some shelves to a kitchen island. See how a lot of things in it and it can fit?
Find a place to install shelves or small shelves for extra storage. For example, a series of narrow shelves added to the island, will perfectly cope with the role of containers cookbooks. Looking for additional space, including corners, or mezzanine.
We hope that this article will inspire you to makeover your compact kitchen. What idea do you like the most? Leave comments, discuss and share your experience!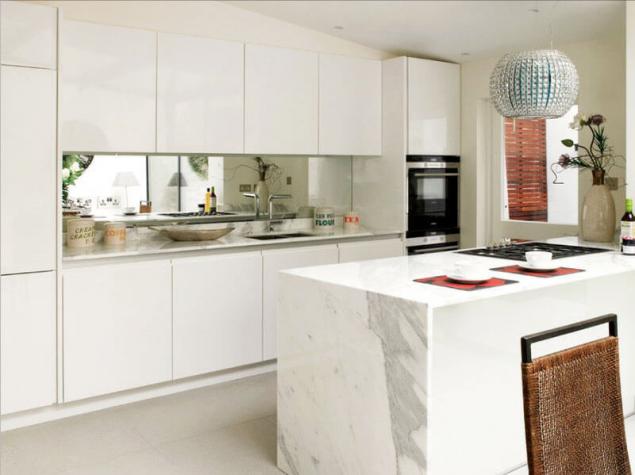 Using mirrored backsplash visually expands the space published  
P. S. And remember, only by changing their consumption — together we change the world! ©
Join us in Facebook , Vkontakte, Odnoklassniki  
Source: interiorsmall.ru/20-idey-dizayna-malenkoy-kukhni/