I thought that maybe someone will be interested in my experience is not great alteration motorcycle under their own taste and not tell a lot about the process of creation of separate elements and details.
11 photos via falcon650.
Znakomtes- "Brigadier", based on the motorcycle Dnepr 11.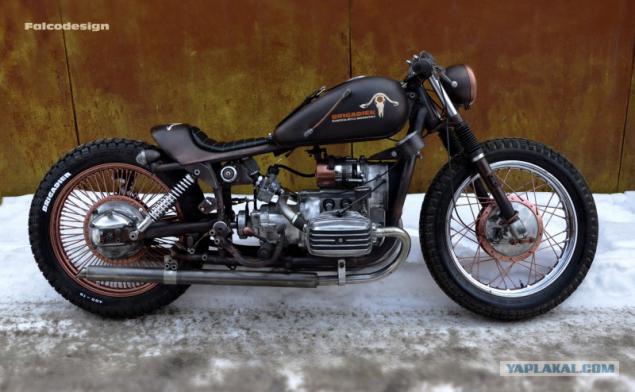 I wanted to make a "fair", the iron, male motorcycle with a dynamic design. There was a concept «Brigadier» (marginal style motorcycle).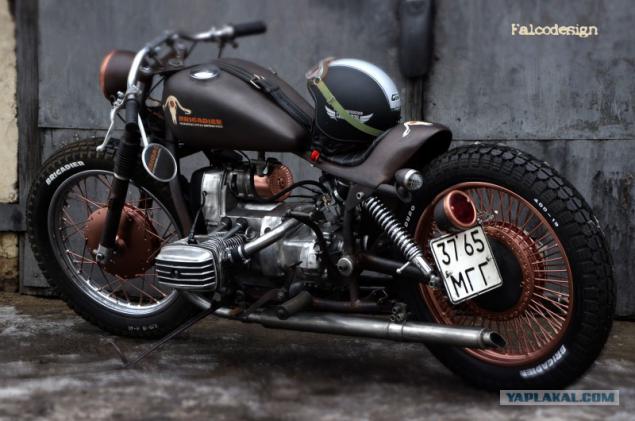 Its essence is as follows:
beauty and aesthetics of the metal in its various forms (pure iron, aluminum, copper, chromium, corrosion) harmoniously combined with the old school aggregate base. Using thus mainly parts, tools and accessories and Moto Soviet truck proma.V my case, it happened like this: the engine, frame, rear wheel drive - Dnepr 11; tank, fork, front wheel shock absorbers, speedometer - Iz; turn signals (only two, two more until I can not find), rear lamp with stop signal and illuminated rooms, the unit of pressure of oil - Zil 164,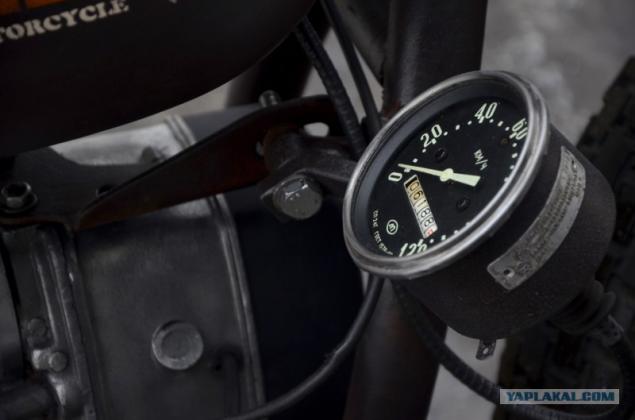 Headlamp with connections to the tank fuel level gauge - tractor Belarus.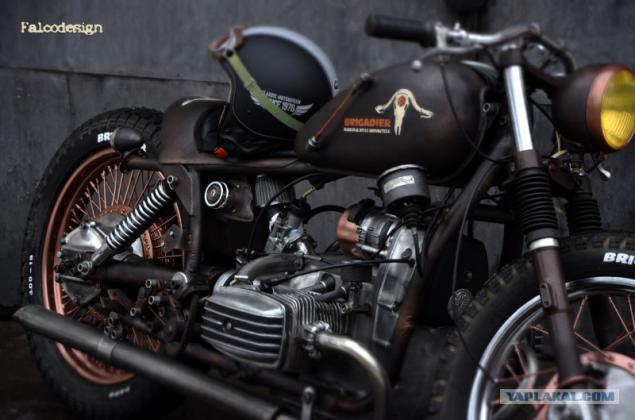 Saddle, (it is also the wing and back), the flight of creative thought. Fashioned from clay matrix, then it is removed from the form of glass volokna.Sdelat a piece of metal do not allow my skills.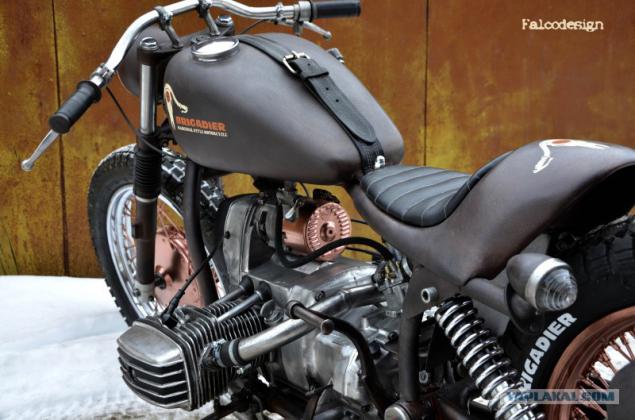 All this "salad", each element separately, had to go through, to expose the adjustment both in color and form, what would it all looked and integrally assembled together was the nature of the motorcycle.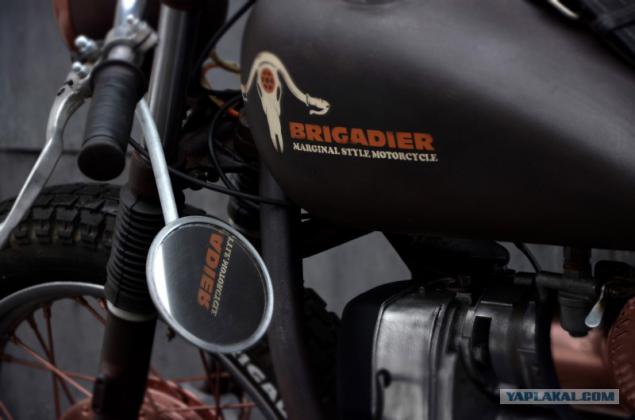 Now about the name.
I noticed that the vast majority of beginners' garage customizer ", among other things, in the process of remodeling, lacks a clear idea what they want to eventually get. Ie there is no concept, the basic idea.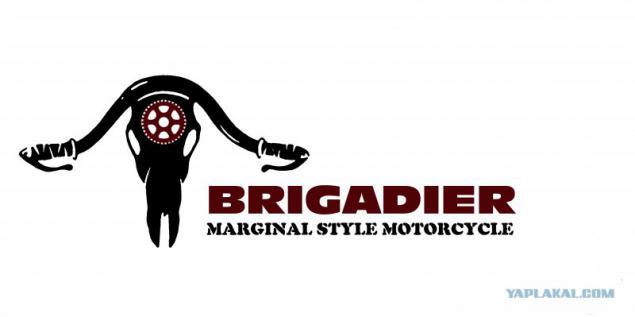 This concept allows the catch of the "motorcycle ocean," that it needed a handful of us in this project, "pearls", from which will develop integrated and harmonious obraz.A logo is the graphic visualization of your idea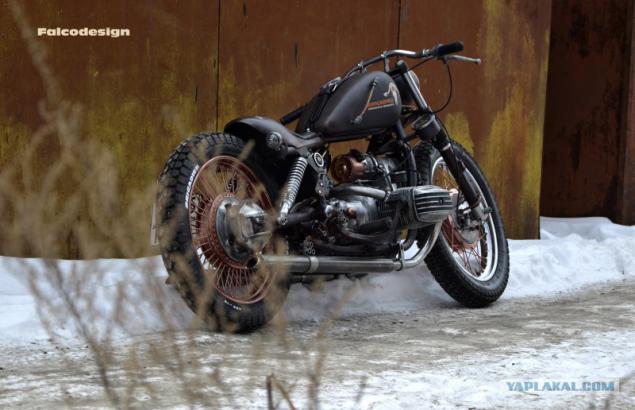 Looking at this bike, you realize that it's not the loader, not the worker, not a mechanic, foreman, and not even the chairman,
it - Brigadier!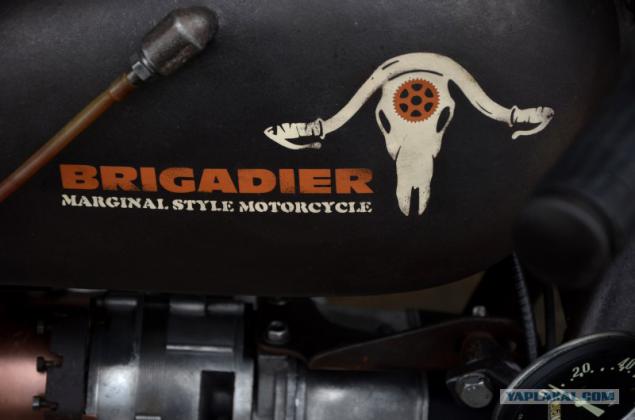 "Marginal style" I would like to emphasize that the motorcycle is on the border styles, between town and country (for habitats and destination), and the execution of "samopal" with a hint of the flavor.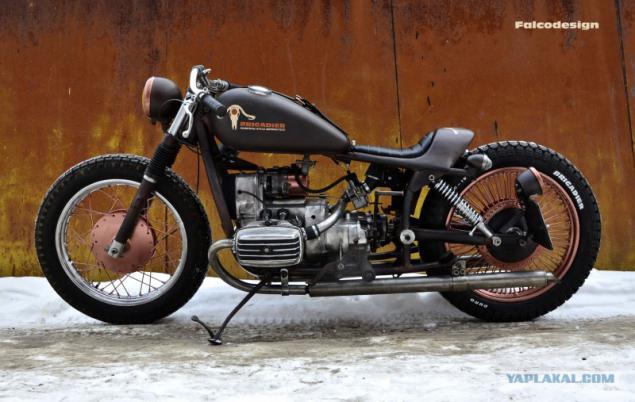 this is truncated ...