Belarusian response to electro-Caen from Russia

via drom.ru
Writes Alex M from Borisov:
Hello. That's decided nakropat a couple of lines of Caen. It's not even a review, rather it is the story of "a car." So he lived was a wonderful car, until he decided to test what is his real Mach speed. According to his passport 3.2 engine should like to cross the barrier of 220 km / h. We decided to check it out. We checked. As a result, the wedge front gear breakage foreign grenade, twisting front propeller in the ram's horn, and scattering pieces razdatki across the road. But the barrier of 220 km has been overcome yet. Stop. The arrival of a shock ... and again. Fire! It burns. Oil razdatki ignited by a hot exhaust pipe. Fire extinguisher mineral water ... ... the sand from the curb. Help other drivers and flames shot down.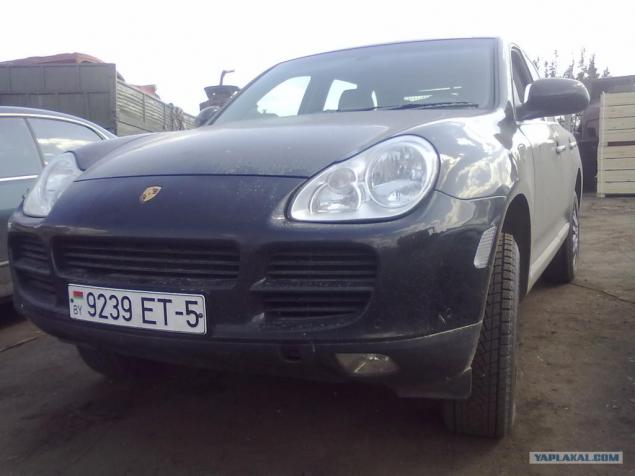 Tow ... bring to work ... I start to understand deffektovat.Posle hours disassembling understand that the repair is not on a penny. In my village, s / h of course there is not any at the avto.Zvonim in Moskvu.Chelovek with no Russian accent said that all est.Vyezzhaem ... but like all to.Pokupaem in many deneg.Nachinaem collect ... that is not suitable for chert.Polovina .Provodka sensors ... ... visually it ... and not (It turns out that vtyuhali by Tuareg 3.2 ...
I call to ask ... why did it happen? The same voice ... all goes well ... do not take golovu.Vobschem wished me every udach.Ladno God be with you ... or whatever they put God and trubku.Cherez week they came for s / h, returned denyuzhku + prizent for superfluous gestures.
Begin to look for s / h here on mestu.Vrode can bring value ... cheated ... I shoke.Stoimost s / h as the car floor (((((rent for a penny removing almost feel sorry for a new car ... put on prikol.Tut even crisis I arrived ... funny stretched for 2 years.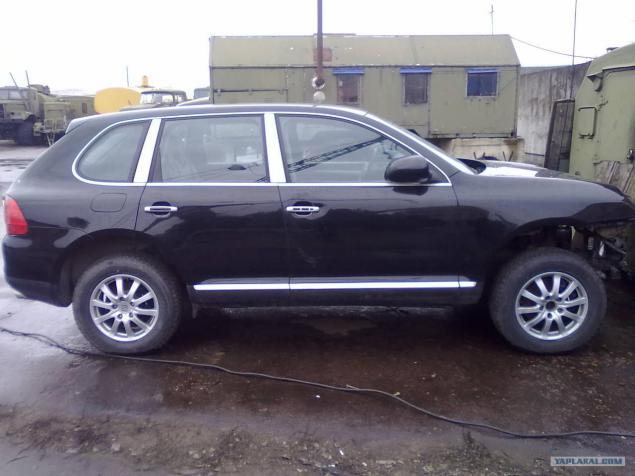 So sitting in the office / cabins))) ... blowing cigarette smoke at the ceiling to me comes to mind ... put another thought ... motor.Nachinayu develop diesel rear-wheel drive ... ... donor Mersedes.Obzvanivayu showdown ... but not as much as cars dismantled entirely no gde.Pokupat All parts of questionable avantyura.Na small things razorishsya.Nuzhen a avto.Vobschem order a right-handed Lupato * * England with engine OM 606 3.0 TDI 1999g.Po money he has become a necessary set of parts for peredelki.Prodazha all unnecessary and eventually s / h cost me 1,000 u.e.Kogda as soon as the engine is disassembled on 1500 u.e.Vot such an economy.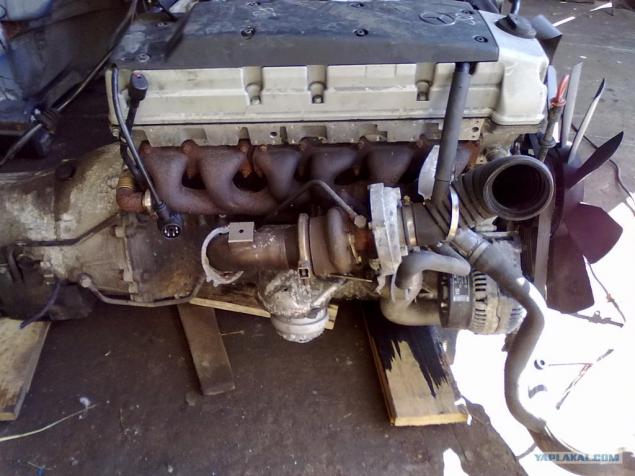 We quickly scattered Porsha.Snyali akpp.Otkrutili engine and rear sub-frame stretcher. Also scattered Lupato * *. Talc in boxing had ... had to use cars kran.Konechno not very convenient to try the engine ... but terpimo.Vystavili Kolodochka it on and started to produce new original brackets krepleniya.Den I is potratil.Podushki motor mersedesovskie ostalis.Esche half a day and ... under the automatic transmission also made the original suspension. Vynemaem Porshevsky rear gear and begin to try to take his place Mersedesovskiy.Vot here already had some trouble a couple of days ...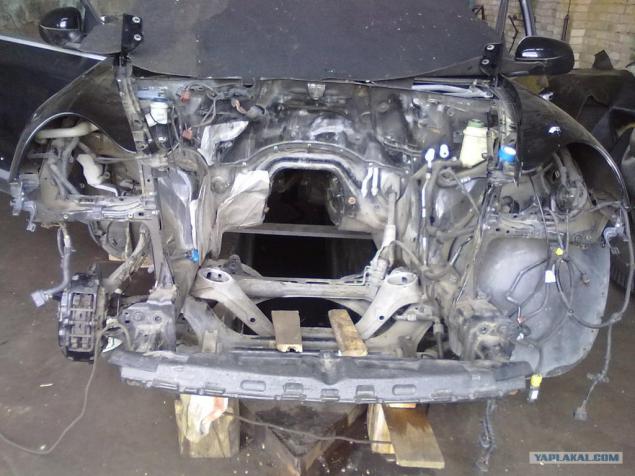 Two podramnika.Perestanovka gear.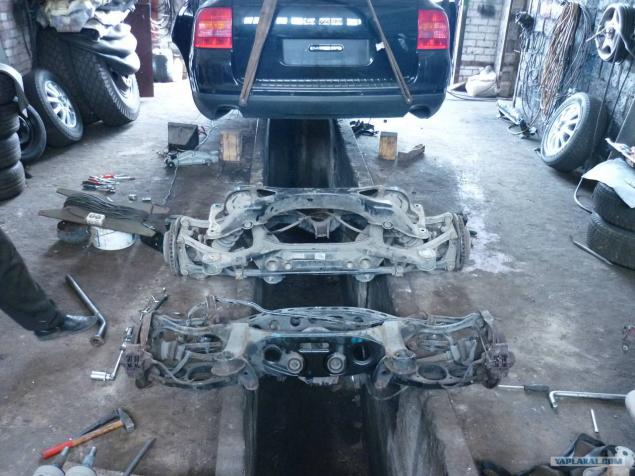 Production shafts. Tk gear replaced accordingly that it had to do with the drive shafts. It turned sleduyuschee.Odin end of the shaft at the outer Porshevskuyu grenade (the hub) and the other under the joint to reduktoru.Nedelyu Mersovsky they were made.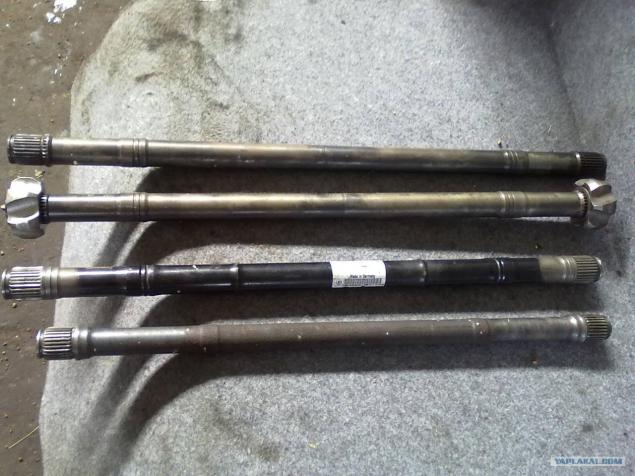 Cardan ... big udacha.Ne had nothing delat.Po length as polozheno.No here as it is not suspended wheeled not twisted or does not want beautifully attached to kuzovu.Snimaem suspended and when the wind blows on the market to pick up again, that's something drugoe.I udacha.Ot Mikrikov Transit one to one as the nuzhno.Dazhe of holes on the body coincided!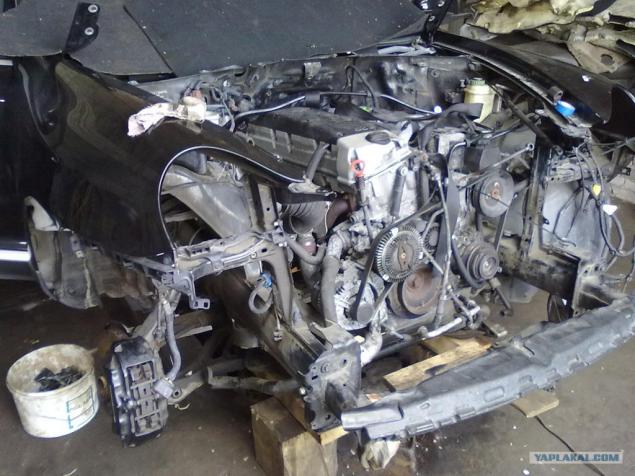 ...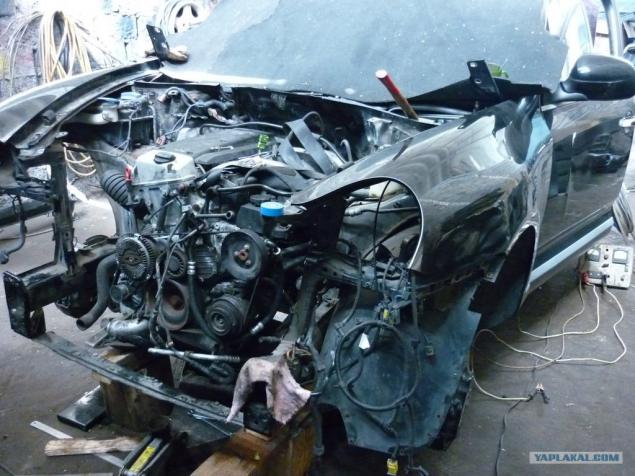 We turn for a week ... I do not have it zavesti.Bez porab muffler ... without a rope of gas ... ... at least kanistrochke smoke pustit.I here comes the most kasyakovy moment.KAK ???? I begin to understand that secure the motor to bring the power, exhaust and other small things a trifle compared to the charging motora.Polnostyu electro / controlled pump, the motor control unit, a bunch of sensors slozhneyschy imobilayzer with chip / key * fish * Referring this all move on Porsche ????????
For this work would not take no one !!! Neither super electrician ... well ... all I thought I had found priehali.Vse desired cheloveka.Elektrik / programmer ... just a fan of the business ... it just one week laid new wiring ... just I took it and wove it novuyu.Vot so.
mersedesovsky key "Goldfish»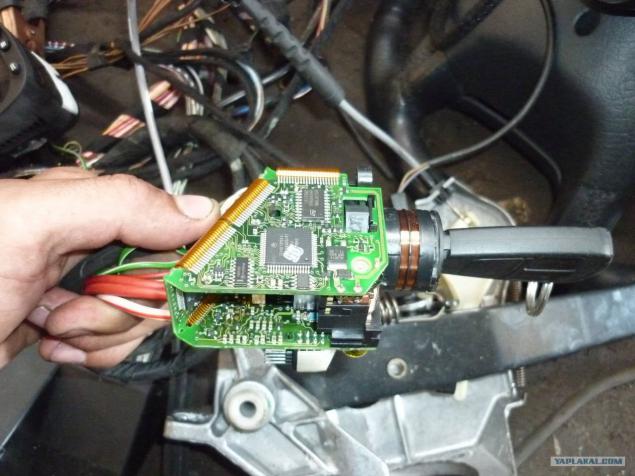 Calls gotovo.Letim ... ... but not again razocharovanie.Zavoditsya edit.Rabota automatic transmission is tied to the CDS and ABS sensor on the steering column ((((((And these signals do not have to tie and automatic transmission control unit with ABS Porshevskoy not in his power (
Taking avto.Radosti not ... potracheny.Vremya money spent ... there is no result. Here comes the clever myslya.Snimaem automatic transmission and put Mkpp.Zakazyvaem desired box + flywheel + Coupling and a week set priezzhaet.Ustanovil all one literally vecher.Priladil scenes and the control rod per day.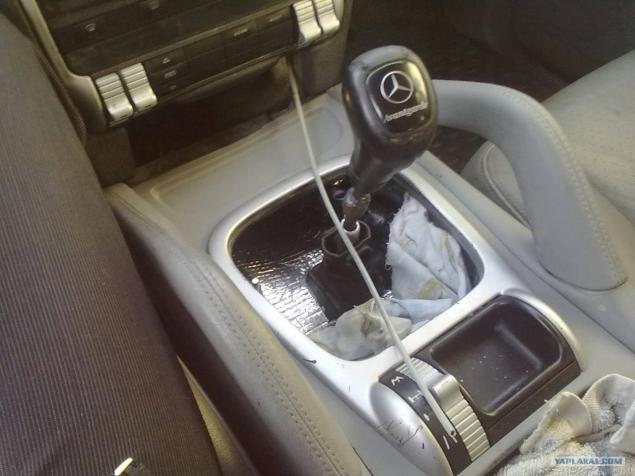 Clutch pedal homemade
Plant of auto ... but he refuses prinimaly signal from the chip / klyucha.Prostym language speaking * * got rid of the control unit DVS.Snova electrician ... throws up his hands ... not * tied * key ((((
I am disheartened ... and drew me all need it ... but it burned down luchsheb then ... yes, I ludsheb little dead)))))))
I began to study the models which were put on the pump series motors 603-606.I here udacha.Na W-140 3.5 engine with mechanical fuel pump was placed upravleniem.Ego and try to buy ... shish tam.Bolshaya redkost.Privezli from Ireland))))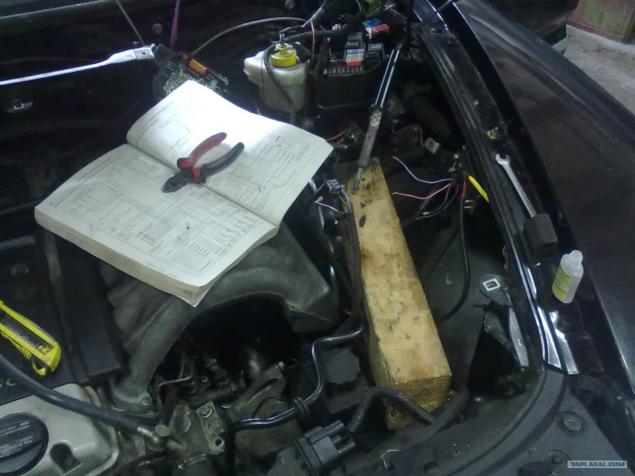 That's all collected vodyanka.Poliuretanovye adapters / tees ... all made to order.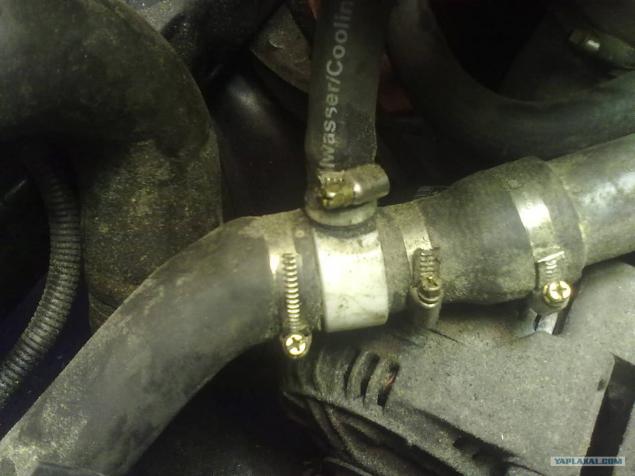 Plugs / clips in the front hub instead SHRUS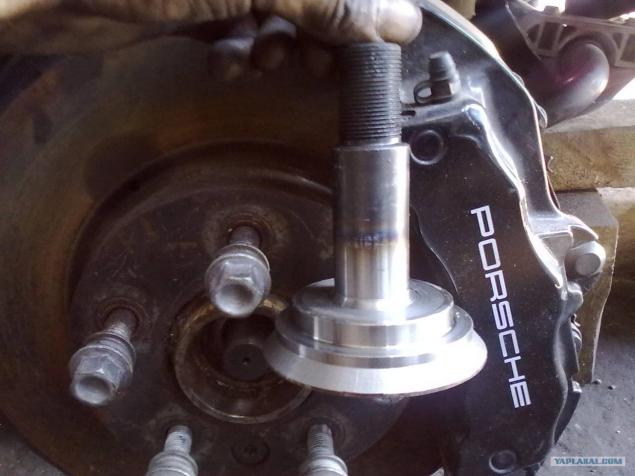 Engine Mounts bespoke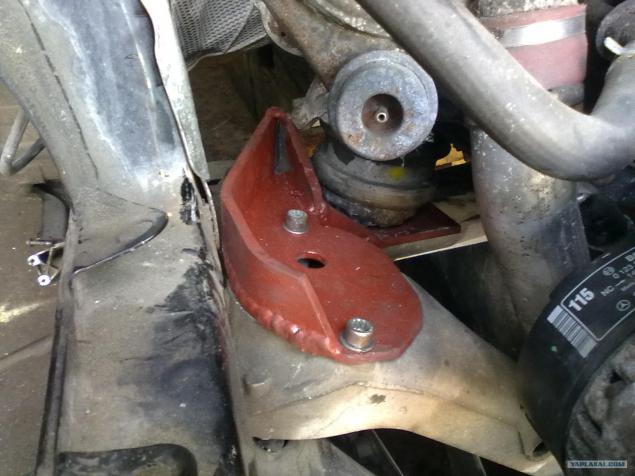 I do not eat can not sleep ... and so thin ... so more weight ... skinul.Stavlyu pump without connecting the glow plugs in looking for some help ... I razsvel efira.Zavelsya ... smiled ... but just as a child obradyvalsya ...
Pulls out all the wiring ... fucking chip key, a flow meter, encoder count / tree ... skorenko stretch the throttle cable to the salon and night ... invented / adjust the gas pedal of the original / own konstruktsii.V 5 in the morning all was to establish ...
Pedals ... rather pelal clutch is also self konstruktsii.Vozilsya this node night !!! Just like that night pohudel.Priehala friend ... check out what I'm doing here at night ... saw midst of calmed down)))) Looks like something currently have head and share ...
In general I am now in my kicks ... Diesel Kaien.Ostalos true trivia dodelat.No much all this stuff ...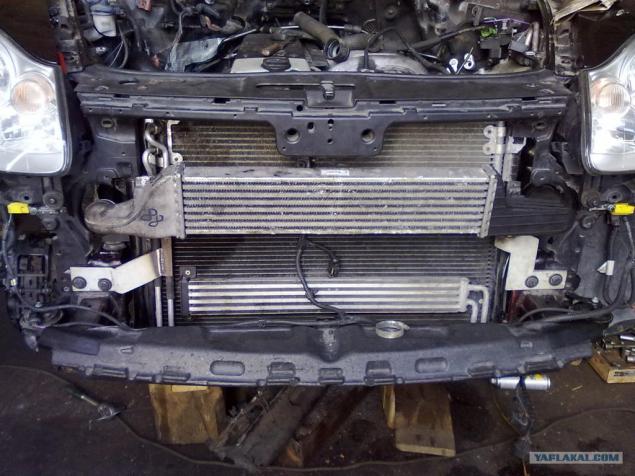 Here on this Mercedes engine
This is all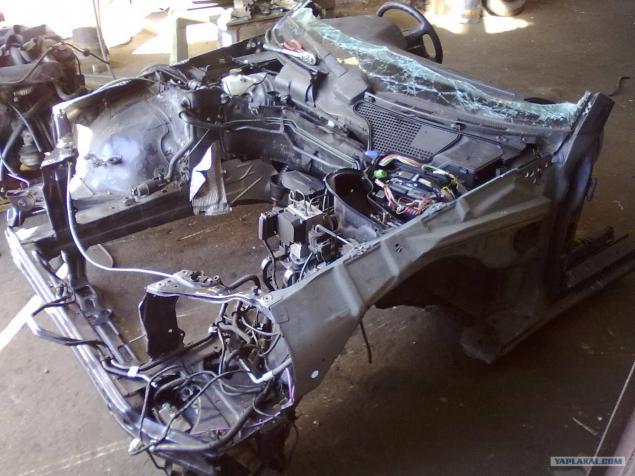 Source: