Way in the city-hero Friazino not close, and in this heat is not easy, but a friend's birthday - a sacred thing. Especially because the day before he called and said:
 - Ni Hua do not worry, I am for you to send Sanka cage, so tune in to a full festival !!!
... And then we, "Kuma - Pesch, kumu easier ...
... 11.00 unambiguous morning of July 17 2010, the solar year! At that time, my buddy, who started at first, sent by him to Marino "kamryuhe" vytantsovyvaetsya my porch.
Well, there rassusolivat Details charges and movements? Everything is as usual: a gift is purchased, one for two, flowers for the wife of the birthday too. Beer for skrashivaniya considerable kilometers invitingly pobulkivaet bag thermos ...
************************************************** ******************
... In four Klin two are not the little stigmas (carrier not sschёt, dry drooling), just enough to enter the territory of the holiday koperativa, Sov Shanghai-type, but for quite a lived-in and cozy. And not for the first time has visited, to be honest.
Already anticipating the tender meaty kebabs, spiced Samosadniy flora garden, soul sang and danced !!!
Suddenly ...
 - Blyayayayayaya, Sanya, you take it where the beer ???
 - ... Achёtakoe, achёtakoe, achёtakoe? - Wailed druzhestvennonastroennoe body with savory chmokoniem breaking away from the grave situation Suction piavasa ...
Due to the fact that moving us along a narrow and Suco, a stretch corresponding to the proud title of "road" path to do was neher and we are in moments of unoccupied absorption of beer, staring at the long-familiar structure of this holiday village ... and no What no signs of trouble, but what we saw, or rather, at first, I finally threw us in silent horror ...
 - ... Ibaaaaaaat - in unison I wail Shura I saw this building that seemed to come from the left - on the klafelin not exactly similar, and not rushing him so crooked !!! With him, we would have fallen asleep, but, first of all, if we are asleep, we should see different dreams! And secondly, this is your dream, because he completely cocks !!! I would dream about a beautiful peasant woman would be seen, because I'm about architecture zaёbyvayus dreams at work, playing live ...
And he began nervously vnyuhivatsya hole in the neck, then quite whinnied again sucked, apparently thinking that is at the memory - it is necessary to drink.
 - Well, nah, Sanka ... this is not my dream - and we are not saying a word suspiciously looked at the cage ...
 - Or did you sleep well, or his fuck - the threat uttered my buddy, - Come on, admit it, you Che you smoke?
 - Camel, blyayayayaya simple Camel - said the carrier, such as straining, too, and began to fumble with his left hand under the seat, and clearly-zhelezyachnye rumble intermittently ...
 - Brakes, - I said, - Come on, look, what kind of a mirage.
 - O-X-Y-E-T-L !!! Architecture, blyayayaya ...- could only utter, battered in construction, Sanya, after all, not for nothing plow Commercial Director of the construction company - I should shoot it and hang it in a large box at the cantor ... No, you can not hang up, and then workers then I zaebut, telling how they fucking building, but as will be built, if the salary will not increase ... But history ... Stsuko, "architect Shot" ... blyayayaya
Whether wept, whether wept seasoned builder. Heart and eyes could not accept the fact that such a thing could exist.
 - No, that we are still not something that swallowed ...
************************************************** ******************
At this point, because of the angle of the house, where for some horseradish, it was apparent that something like a garage, there was a body. Or rather not the body and stomach, kilograms, that way 120, which grew:
1. Beard (the only thing that could be seen at the place where the head is usually present) perehodyaschayaya in hairstyle,
2. hands in a rather ancient shersyanyh gloves (and it can not have gloves, and natural hairline),
3 feet, more like spider legs, shod in rubber boots, immense size semeyniki in fire cucumber
And Telaga ...
Yes, FSUs that the street for tridtsatnik ...
Long pause broke my friend, taking a pose Cicero and othlebnuvshy upivisty another sip SPRO materialized body:
 - But tell me, my dear, that the style of the building? We are here with a friend, drinking a "click", puzzled. This "borokko", "renaissance" or is it early Renaissance classicism ????
 - Yeah ... - somehow zheleyuchi apparently croaked our opponent - Fuck you on the dick, asshole.
 - YYYYt ???? - Adam's apple gurgled curious connoisseur construction ...
 - Schaaaaaa ....- continued his detailed narration about the kinds of buildings and the owner is quite Prytkov for his incredible physique siganuv whence came and somehow already approaching back and told, - SCHAAAA, shit, I took a crowbar, talk better about your car ...
Not even "... Sport air as illusionists ... & quot; we Snack took place in our pepelats and evaporated in the required direction. Something not very much like to know how it turned out, some unknown architects of this creation ...
************************************************** ******************
But we do not even offended by the owner of the hacienda, leaving only a bitter taste of the unknown: the house that he built, but some of his favorite tree? Yes, and I would like to see his son, suddenly worthy of attention!?!? What do you think?
After all, a real man needs to do three important things in his life: to build a house, plant a tree and raise a son!
ZY And here's the very structure of the picture
© UdavKaa and photo UdavKaa too)))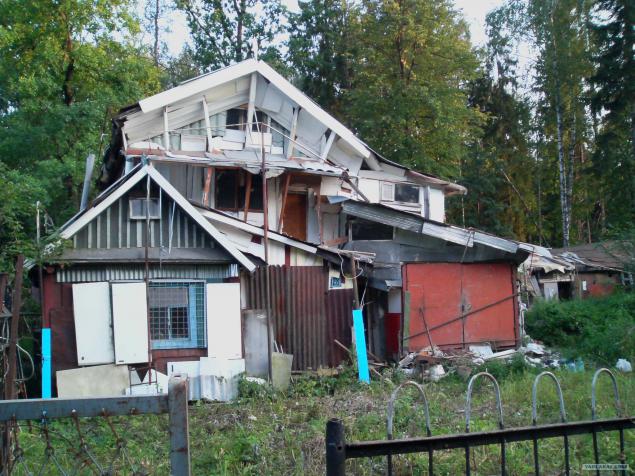 Source: