The demand for Uzbek chefs in the neighboring countries today is great as ever. Unfortunately, foreign restaurateurs are not always picky when hiring our chefs. It seems that for other, cook - it's the same construction help. No special education or qualifications, nor any diploma certifying training from him trebuetsya.Odnako here in Uzbekistan are able to cook almost everything. And all of them are divided into amateur and professional craftsmen. Professionals from the Uzbek cuisine should be adequately paid, because he knows his own worth and allows himself to choose the employer. Craftsman - he is a simple man, having worked in Uzbekistan assistant chaikhana keeper for several years, he readily sent overseas grain and prepares it for pilaf, shish kebab money are slim. It is nice to prepare, as a practitioner. Nevertheless remains illiterate in matters of technology, food processing, service delivery, and even sanitation.
And would you like to see as an exam on the profession of chef in Uzbekistan? Learn what is required to the professionals, even the youngest? As easy as pie!
We go with the President of the Association of Chefs of Uzbekistan Akbar Hamdamovichem Umarov on the state exam in college Yunusobod service and tourism of the city of Tashkent. Today there rent 'gosy "future chef.
20 photo does not break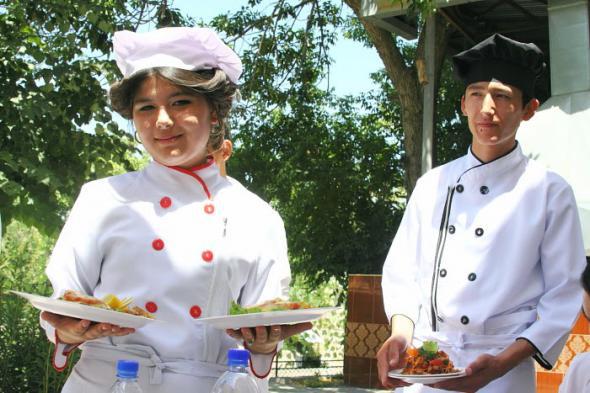 On examination, a group of young chefs from Yunusabaskogo college, take to yourself kitchens and halls of the best restaurants in Tashkent. And we go to the restaurant "Buyuk Ipak Yuli", which is like a majestic castle stood on a canal in the old district of Tashkent Tahtapul.
The task for the exam each graduate is composed of:
1. Preparation of the main dishes of European and national cuisine. First or second dish of choice.
2. salads, desserts or baking.
3. Additional issues on the technology of cooking, food processing and service.
Long before the exam, a college graduate with a teacher selected dishes for the first and second questions.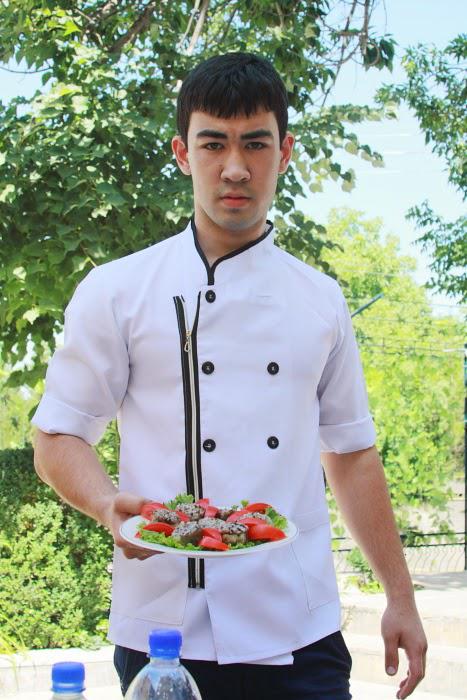 Thus, the student is ready the first question - Uzbek Hasip. Cooked sausage-products and rice in a natural casing. Now he needs to tell in detail all the stages of preparation Hasip.
By filing complaints. Beautifully served, well garnished with fresh vegetables.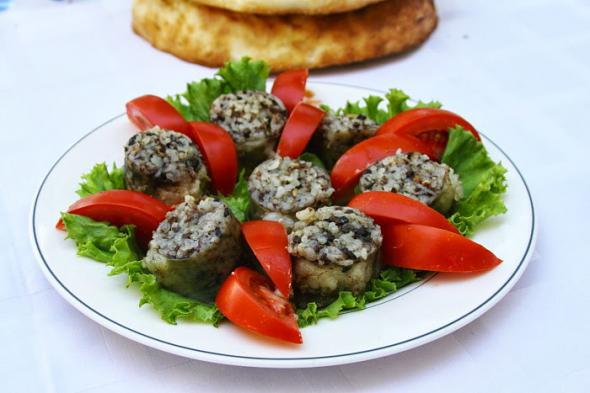 As long as a student is sent to prepare the second question, the Examination Commission of the table, on the summer terrace of the restaurant there is a second student.
In the hands of just two questions - Pieces of chicken stewed in sour cream and cake author.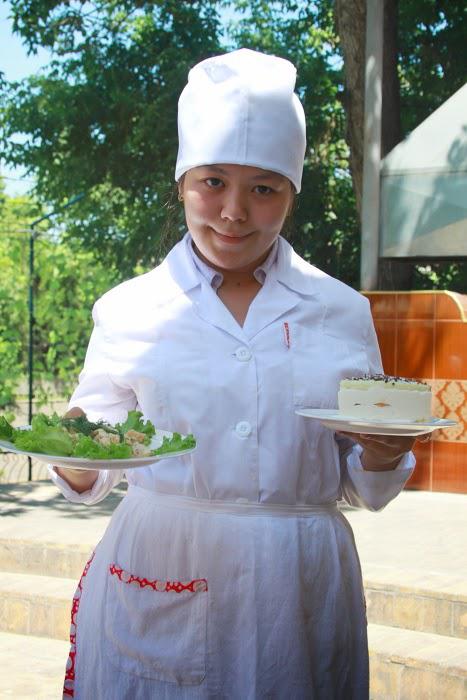 The cake of his own, of course, causes the greatest number of examiners questions. Each examiner cuts off a small piece of cake and assesses its taste. Great cheese, well-soaked cream cake!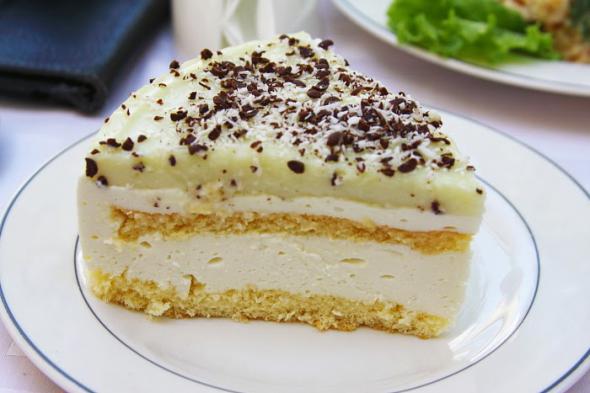 After passing the first and the second question follows a series of other issues. They can relate to how a student cooked meals and be completely unrelated.
President of the Association of Cooks, chef of international class, the judge international competitions of cooks, Akbar Umarov, the examiner strict.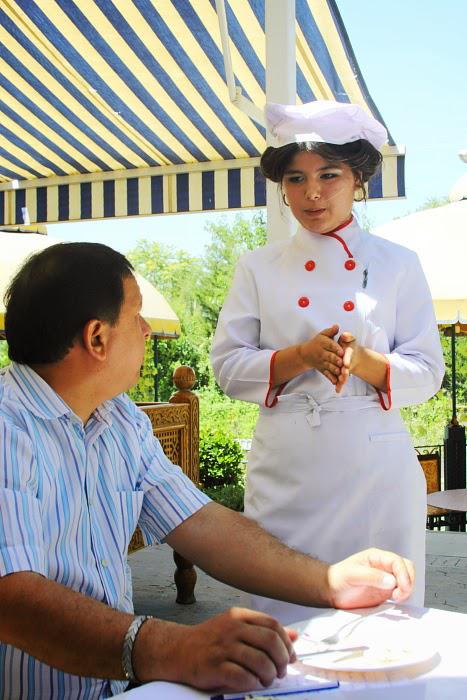 Students are ready to respond, worried. They stand on the stairs leading to the kitchen of the restaurant with a ready answer to the first and second questions are in the hands.
While another student takes the exam, go to the kitchen of the restaurant Buyuk Ipak Yuli, a look at how you prepare for the answer. Here work is in full swing. Noisy and puff a lot of pots, cauldrons and pans.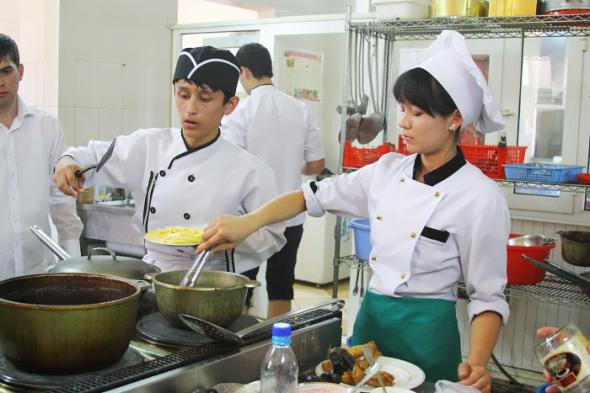 To the table examiners meanwhile fit another student. In his hands the classics: chicken Kiev and vinaigrette: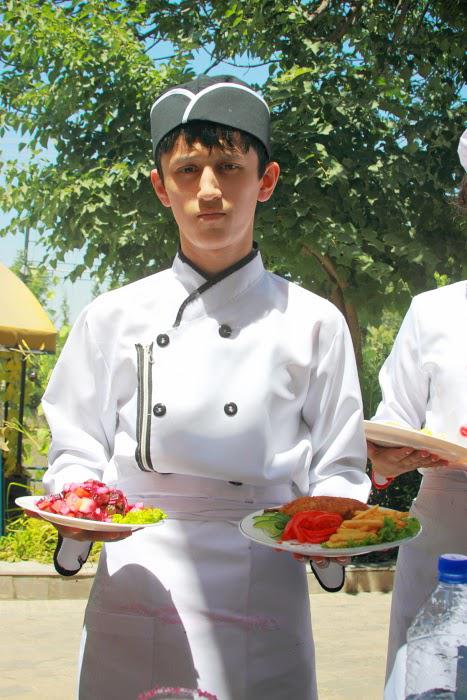 Chicken Kiev looks great, garnished and served correctly. Crispy breading of uniform and deep. It remains to see patty on a cut and try.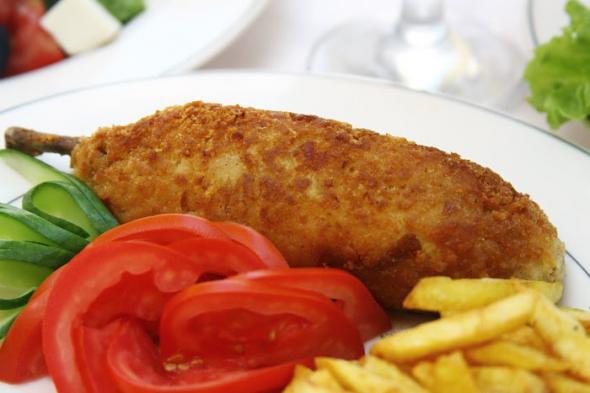 Slice cutlets perfect. Layer chicken, stuffing of minced chicken and a piece of butter, melted by the sun flows from the cavity. This five-plus!
Akbar Umarov, assessing dish remarked:
- Final year students have practice in cafes and restaurants. This young man definitely learned from a good master. Senses!
And turning to the student asked:
- Where do you work?
- The hotel's restaurant "Uzbekistan", - said the young man
It all became clear to all. Chicken Kiev - a dish that is famous for the restaurant, and our students really learned the best craftsmen. Akbar called masters Hamdamovich name, and instructed him to convey greetings to the fact that they have prepared a good young chef.
- You definitely need to learn from world-class chefs - said Akbar Umarov - at the end of college, we are waiting for you in Asootsiatsii Cooks.
Meanwhile, to the Examinations new students approached the table:
Salad "Spicy" and Roasted chicken leg.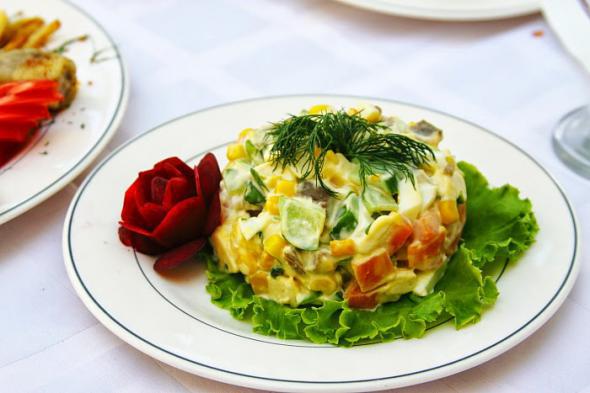 We reserve the examination table while the graduates will ask questions about the processing of chicken carcasses, and went to the brazier. From there came the fragrant smoke. This is one of the students chose the topic for the exam "Kebabs»
What?! It just seems, or on the grill, barbecue ground near one of the most difficult kinds of shish kebab - pork loin skewers of mutton ?!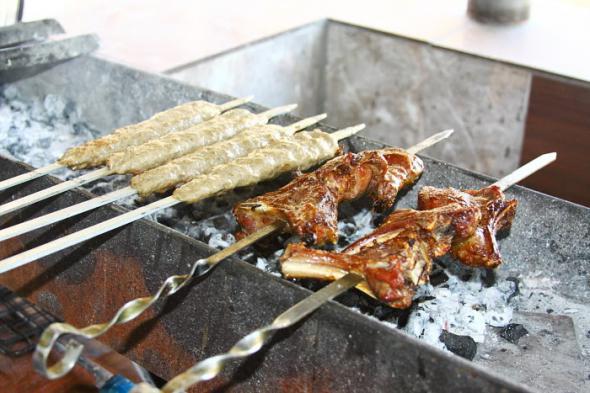 - Hello - I welcome the student - Let your barbecue will be successful. It skewers of pork loin?
- Yes, - nods yuonsha
- You're a very brave and confident, just chose such a complicated barbecue. Please tell us how you did marinated?
Student in great detail and really explains. We'll leave it a secret recipe. Because of this boy will grow a beautiful master barbecue with its own handwriting. The boy has deep knowledge, have a skill, a fantasy and taste.
Talented student name Sayfitdin Alikulov.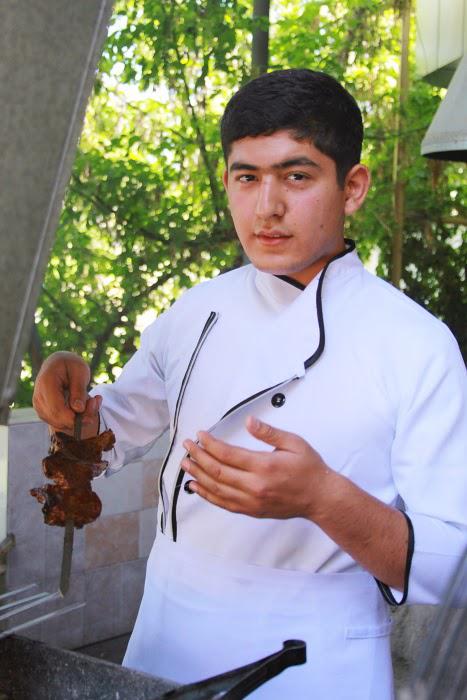 - Sayfitdin, we in Uzbekistan there is a very well-known journalist, Eugene Sklyarevskaya, so here it is everyone who prepares barbecue asks: "Why ground kebab sticks with no falls?»
- It is necessary to add a little minced bread and knead well - seriously responsible Sayfitdin
- Of bread? Does it add to the barbecue?
- There are different skewers. I add the bread that it was elastic sochnym.i.
- How many years you started cooking?
- With three years - laughing student - have proved up, always helped the senior cook. A barbecue began to prepare yourself to fourteen.
We will not interfere Sayfitdin, wait for the result of his labors, and return to the examination committee.
The next student on the way. In his hands - delicate dumplings and mayonnaise salad.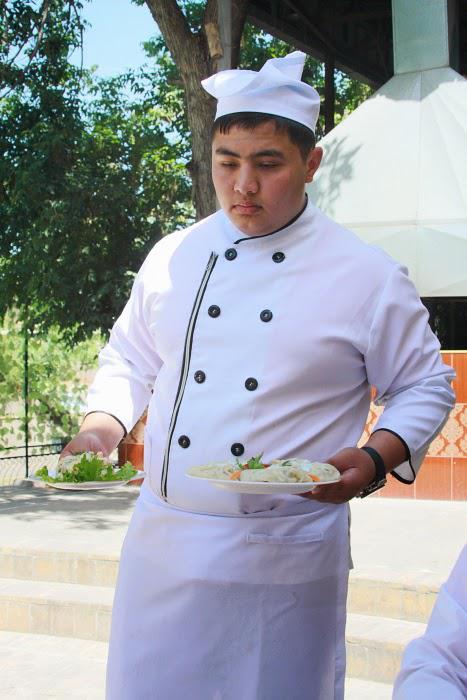 The openwork mantle Finer Roll out the dough, they watered dressing Uzbek katyk with salt, pepper and herbs.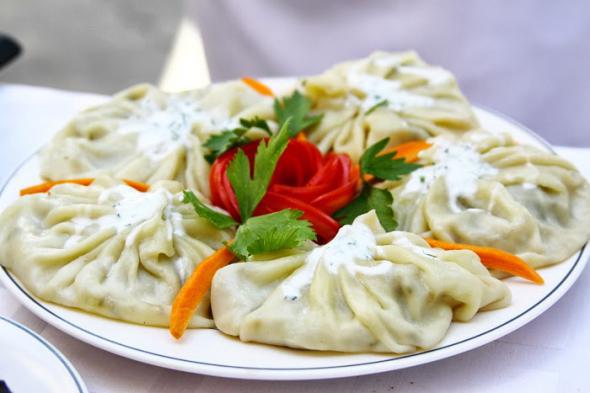 - This is what manti? Uighur, Uzbek, Kazakh? - It sounds a question from examiners
- Uzbek home - corresponds to a student
- How many servings here? It is a common dish, or one?
Student somewhat lost. Yes, it is understandable. House Manti served on a common dish, and at the points catering orders each piece. These dumplings, which brought a lot of our students can eat. Mighty, delicious dumplings. But the calculation of servings in a chef really no one has canceled.
Salad with the same name "Spicy" is seen very much like the students of this group, as was repeated several times. Cooked carrots, potatoes, eggs, fresh cucumbers, canned corn and mayonnaise dressing.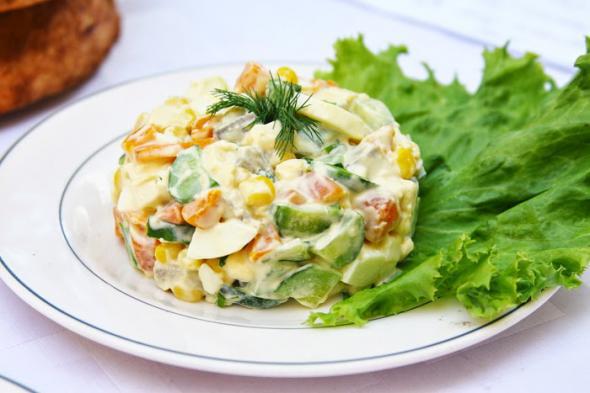 But the long-awaited and our chef, Sayfitdin, with whom we have had the privilege to talk. In one of his arm Greek salad, in another - two kinds of barbecue: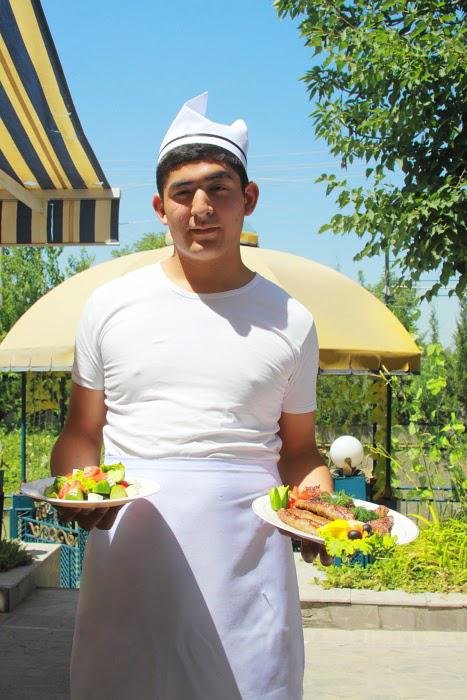 President of the Association of Chefs of Uzbekistan, which has seen many of its activities the best kebabs, pointing shashalyk of pork loin, said:
- If skewers of pork loin at least half closer to the ideal, we will immediately put you five!
Sayfitdin nods, he do not even care.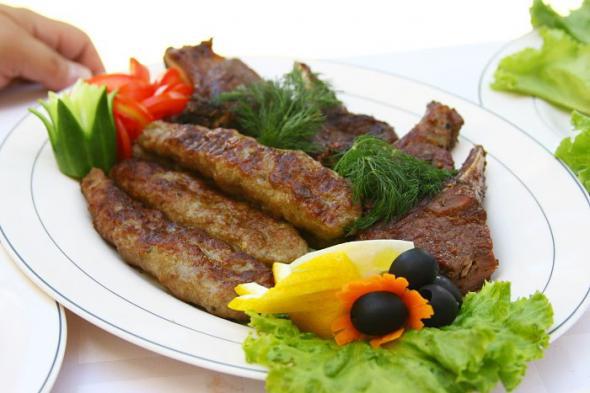 The knife raised over a slice of pork loin. Fork holds its edge. Examiners frozen. By the way the meat will behave under the knife, it will become clear how it mildly ...
Meat knife lends itself easily, but at the same time elastic. The knife slides along the connective tissue near the bone, but it lends itself to the knife without any apparent effort. Examiners try flavored slices of juicy meat - and give an estimate. Definitely five!
Sayfitdin was asked a lot of questions. So bright was the result of his examination. Kiyma also had an excellent barbecue.
It turned out that the young master of the barbecue has long earns in one of the teahouses Mahalla in Tashkent. A teahouse in the mahalla - a special culinary school. This person gets a pompous restaurant a couple of times a year. A tea-house come to dinner, dinner often. Moreover, in the same chaikhana and almost the same visitors.
Sayfitdin Alikulov also received by Akbar Umarov invitation to the Association of Chefs of Uzbekistan. This master must take a training course on the world-class chefs and represent the Republic abroad.
Dozens of the most different dishes lie and lie on the table in front of examiners. The examination board is not simple. Do you want-not, you should be sure to separate and eat a small piece of each dish to evaluate its merits and demerits.
Nearby, on a couch in dastarkhan area restaurants Buyuk Ipak Yuli going handed examination material:
At the end of the exam students will have something to mark their "gosy».
In the meantime, we can only congratulate the management and teachers of the college Yunusobod service and tourism so that they prepared a wonderful release of talented young chefs. In front of each of the graduates of many years of practice and improvement. But now, looking at them, you feel proud of this generation of future professionals.
So, gentlemen, restaurateurs, if you still need good Uzbek cook, then cook for jobs and decent wages. Uzbekistan is rich in talent Cooking!
The material is taken away
Well done CHILDREN !!!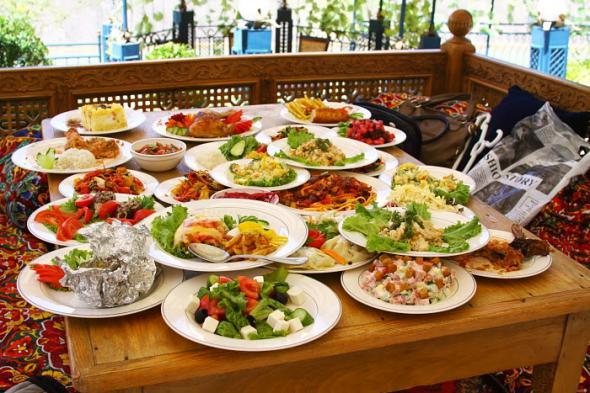 Source: