Pochityvaya overnight otchetik avtoputeshestvennika different mothers, I always found myself thinking that that's how it's cool - take and go to the far distance, without asking permission of the head and not trying to cram nevpihuemoe in a modest two-week vacation. But as a representative of the office plankton, for obvious reasons, I could never afford it.
However, last spring crept midlife crisis, well, still promised end of the world, so that the solution formed rapidly. Dismissed from work, change the car on a little better and go. We're going to look to Russia, Kazakhstan and Uzbekistan, and of Mongolia would be nice to look.
That is so unpretentious began a journey of 3 months without coffee sponsors, large yellow off-road maintenance, sleeping in the car and satellite phones. But it was a lot of interesting things: ancient Central Asia, Siberia and Altai beauty, turtles, praying mantises, and bison, as well as - for the first time! - Try to imagine the Uzbek court system.
Oh, and most importantly: an absolutely standard VAZ-2114.
The author did not I
Author Cherviak
Pruffff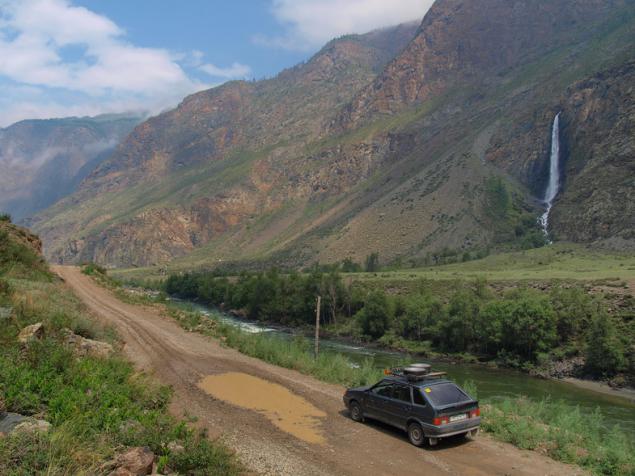 In fact, to paint such a journey can be infinitely long, so I will try as much as possible compact show the most beautiful and the most interesting thing to tell, well, you ask questions. How will, in general.
So first a little bit about the organization.
Direct incarnation of this journey in life began a few months before the start (and the accumulation of money even earlier, about a year). Buy the missing tourist equipment, preparing navigation, chose the car. The latter is done for a long time, saw a bunch of options - from the Nissan Frontier (we had it) or fresh Niva, to any type of cars or new Matiz "five". Such seemingly non-obvious options arose in part because that would not just travel the long route and do it in style, as befits a real traveler. Well, it was so cheap too.
The choice finally fell on a slightly used / have VAZ-2114. Relatively reliable, simple, maintainable, with a minimum of extra parts (like the power-steering or air conditioner), economical and inconspicuous.
Posted in [mergetime] 1359250617 [/ mergetime]
With its acquisition added hassle - instance fell not so hot (I do often "lucky" for cars, despite my love for them), had to invest in a thoroughly refreshing chassis and engine.
Initially planned total modification of the chassis off-road: spacers to increase clearance, gain leverage, etc. But in the end refused: the more unusual items, the more "side effects" in the adjacent nodes, reducing the reliability and the less likely it is to find a broken piece in the rural non-native Magazev. Because the path gain anything and everything has been replaced by way of acquiring a larger number of parts in store.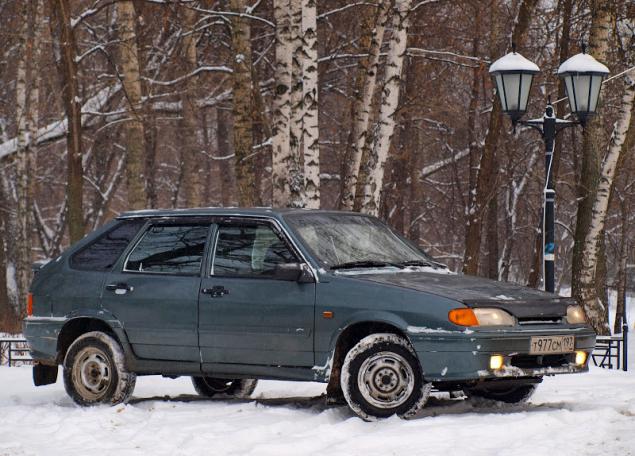 Expeditionary tuning however, was also present: cottage with two trunk spare tire and shovel on the roof, radiator cooling dopventilyator from Toyota Corolla, navigation and multimedia center in the form of Asus EEE PC, inverter 1000W and plastic boxes from Ikea to optimize shmurdyak. Yes, the back seat once thrown - it's there to anything.
Luggage packing has been given a lot of time. As a result, they took all the necessary and even a little more, and the car was not overloaded, and the mountain of things did not even think to get to the ceiling.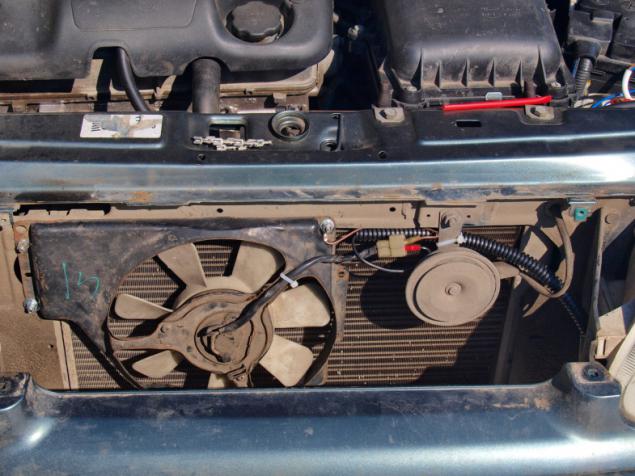 123
1231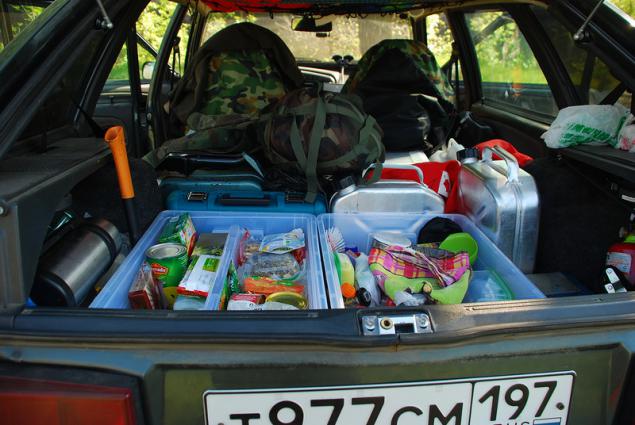 123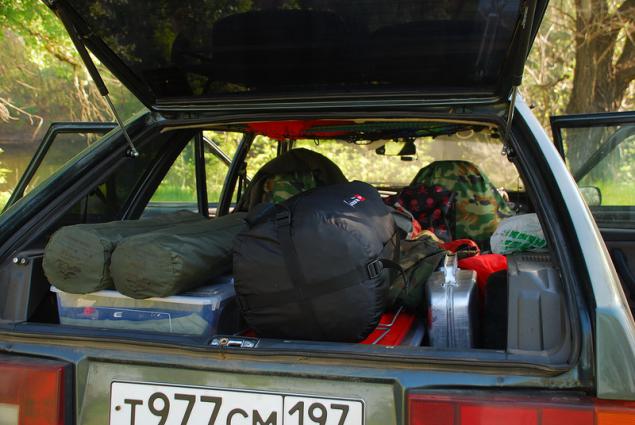 Route length of 25,000 km was calculated approximately 2.5-3 months movement. In general, as it happened, in spite of some changes that have arisen along the way.
In the illustration, you see the main participants of the run with an epic titled "In Asia, on the vase" - my wife Tanya (uporotyh), our car, as well as one-rider. His episodic role, he does not dismiss the work, so that it shines only Mongolian part of the path length of about two weeks. This was the trick - the most sparsely populated and wild places in terms of roads to get to the two crews. The rest are no restrictions and the whole summer ahead!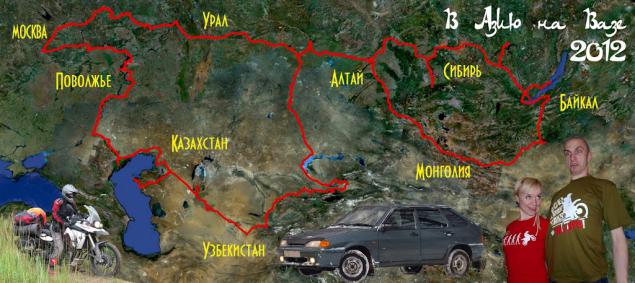 Let's go! April 20 was given a ceremonial start of the garbage in front of our house. The first stage - "Volga" almost break-in. Moscow - Astrakhan along the Volga. Going to civilization, we look at the behavior of the car and get used to a new life.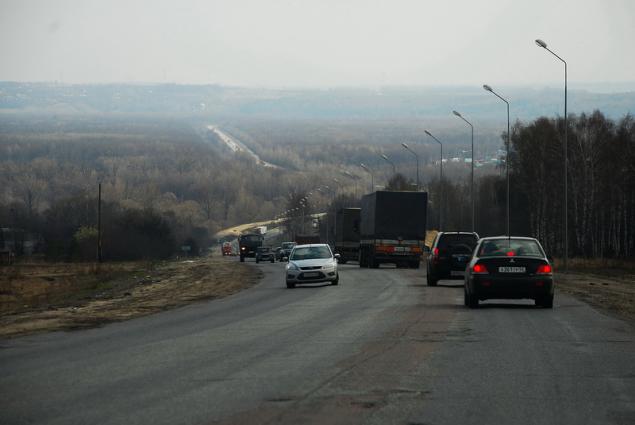 Near the local shops. Puppies so clung to the motorcycle that our mimimimetr instantly severed. I had to buy them a package of sour cream.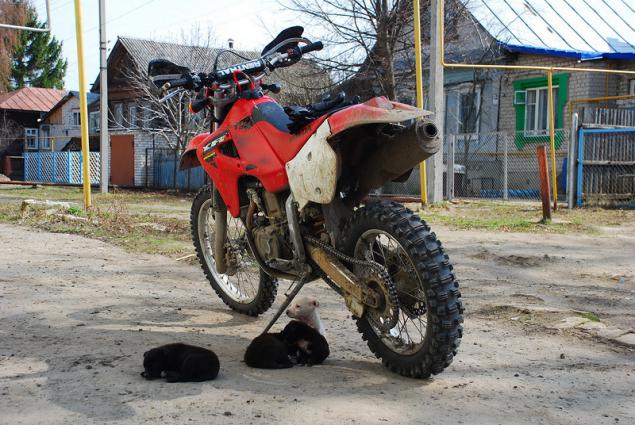 In Cheboksary, we were met Leper and motolegenda EpHu.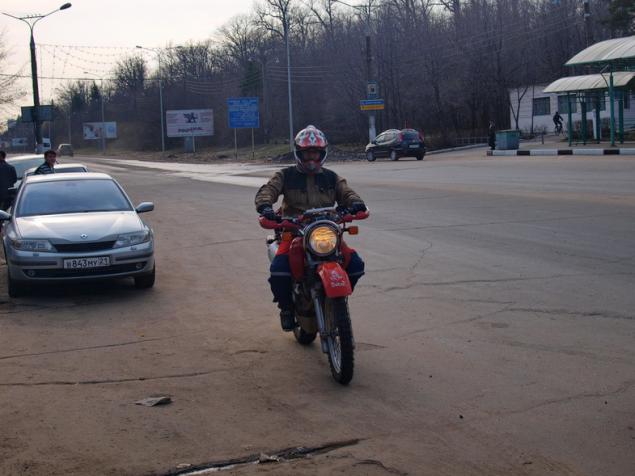 123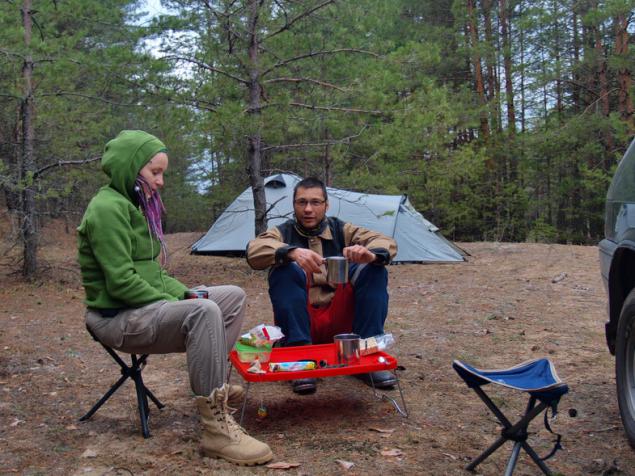 Ice drift on Volga. Ice is very cool rustling. In the hands of shatters into rectangles.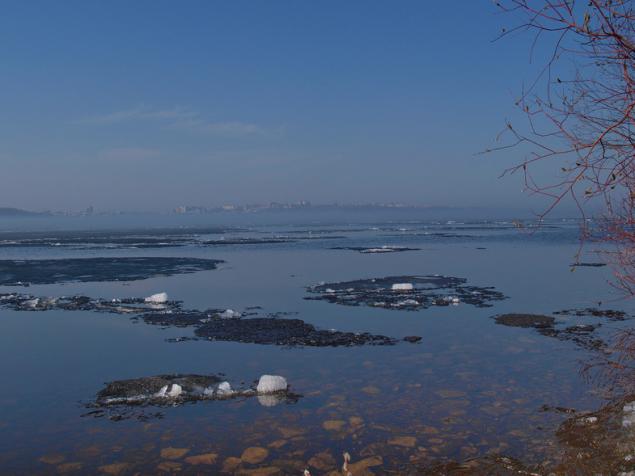 123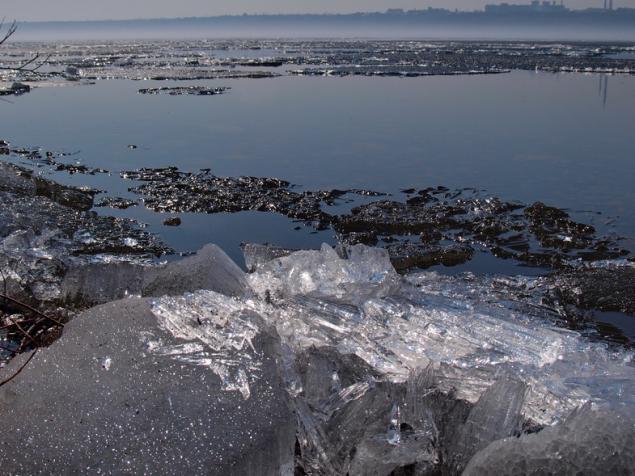 But if you do not look at the water, it is almost summer already.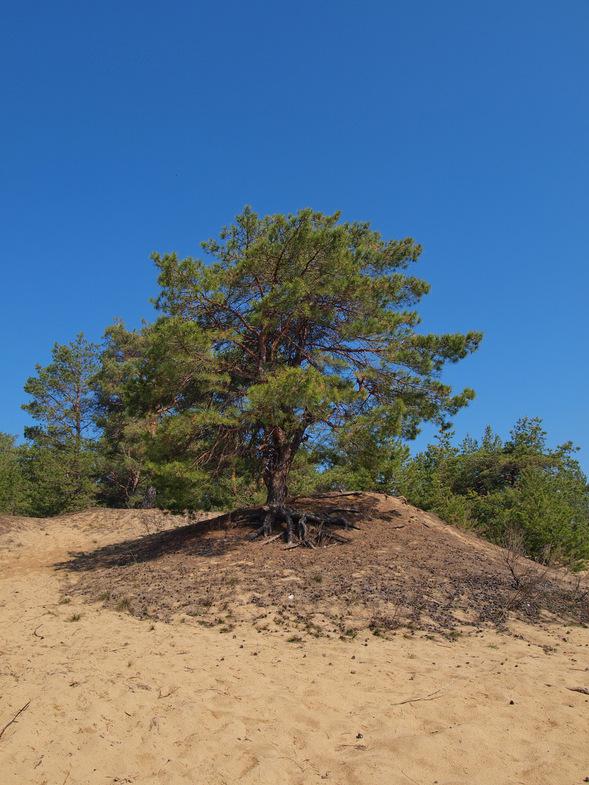 123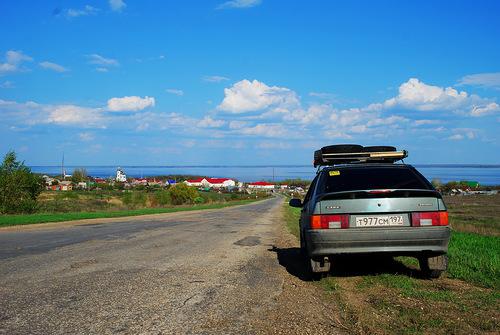 City-Sviyazhsk island, not far from Kazan. Actively restored. We do not have a weakness for religious buildings and relics, but the place itself is interesting and beautiful.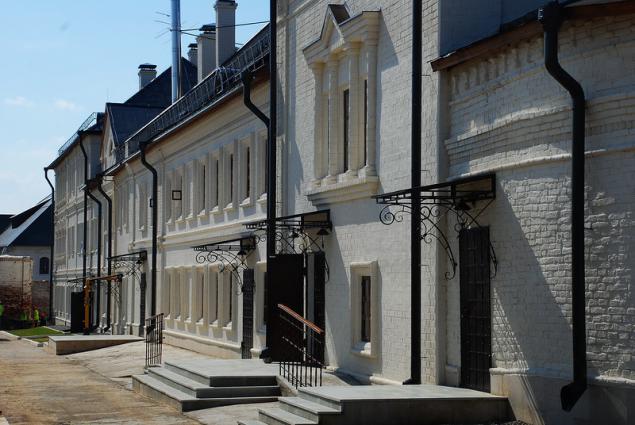 123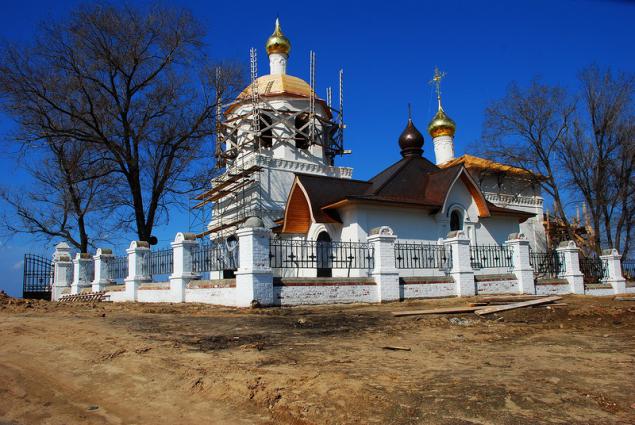 Here is more interesting - Museum of Civil Aviation in Ulyanovsk region. Unfortunately, climb the aircraft failed because they had come to the very close. But were the only visitors.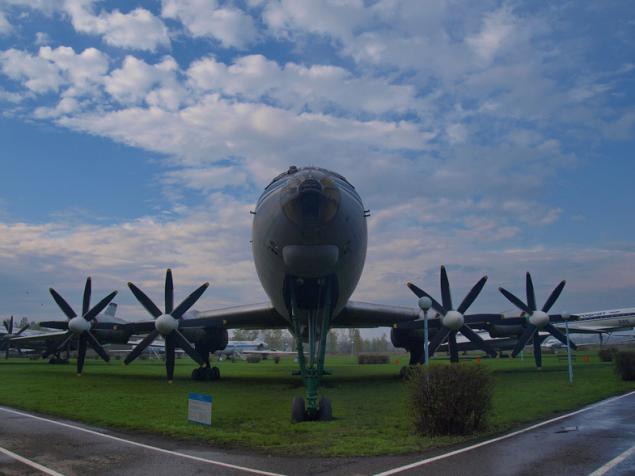 123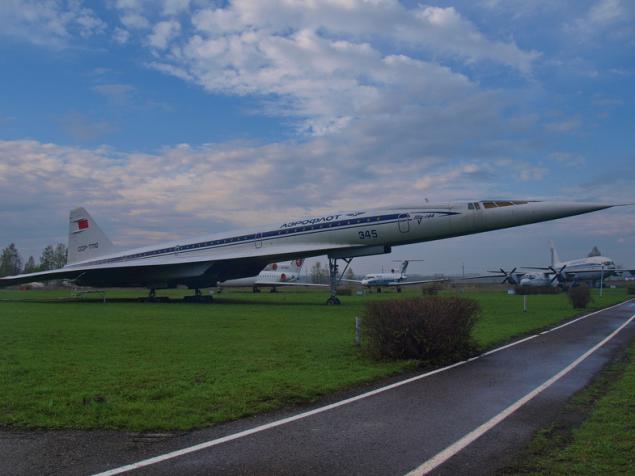 123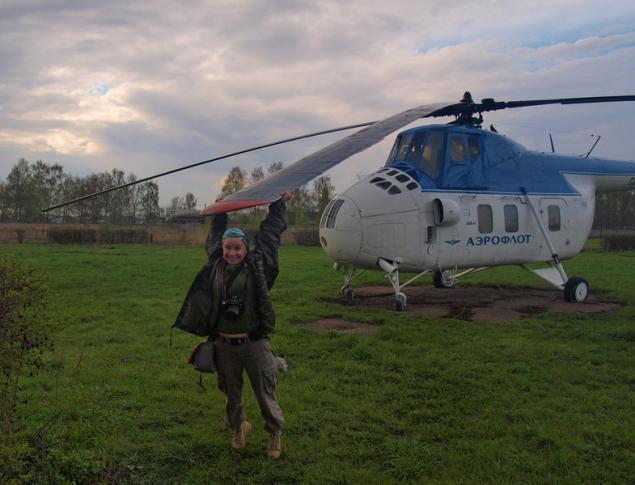 A little stuck in the swamp in search of suitable bushes to sleep.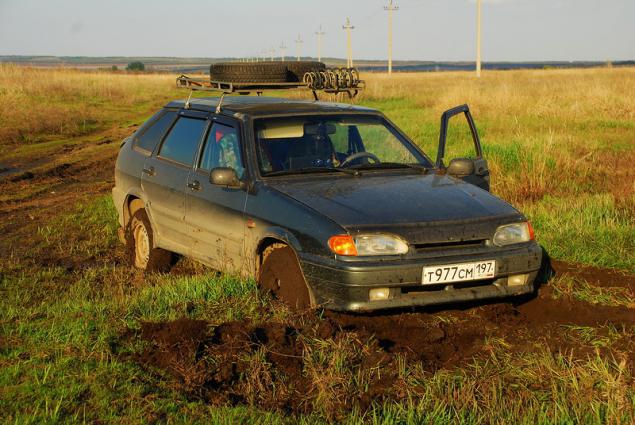 Incredibly impressed complex on Mamaev Hill.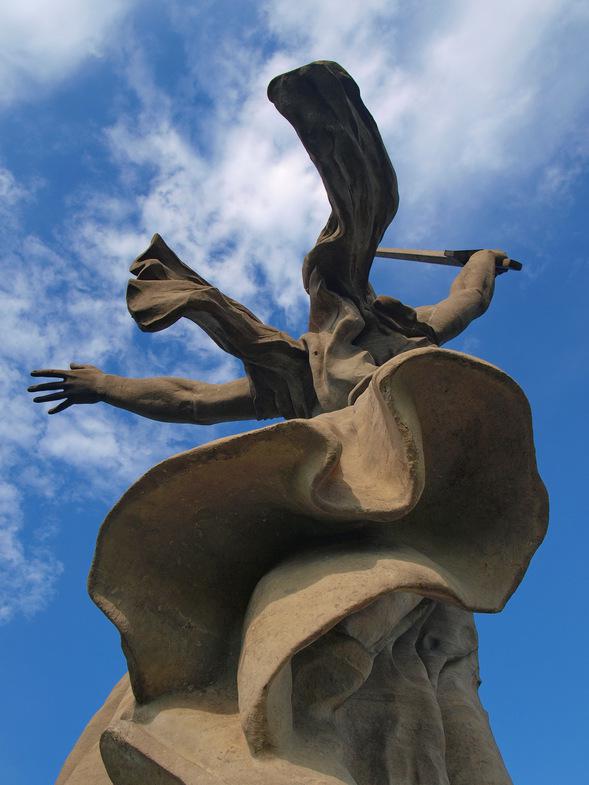 123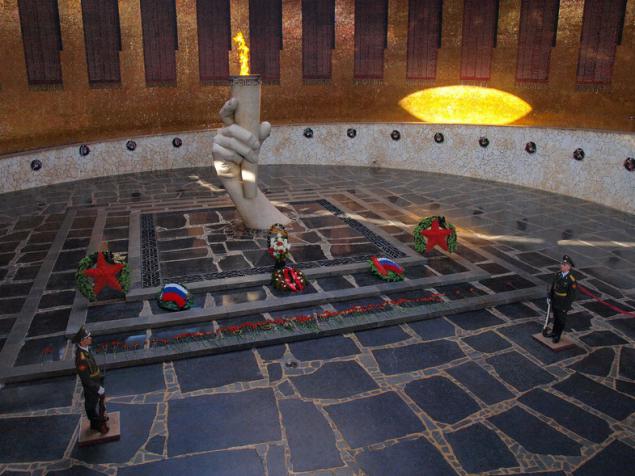 Our way towards Astrakhan.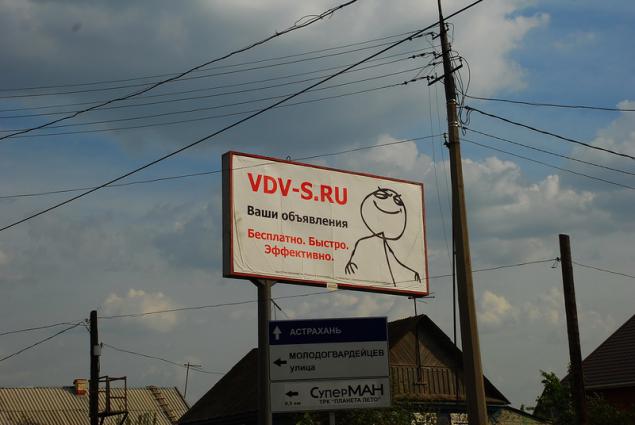 Kazakhstan close, so start steppe. Going to watch the salt lakes and Baskunchak Elton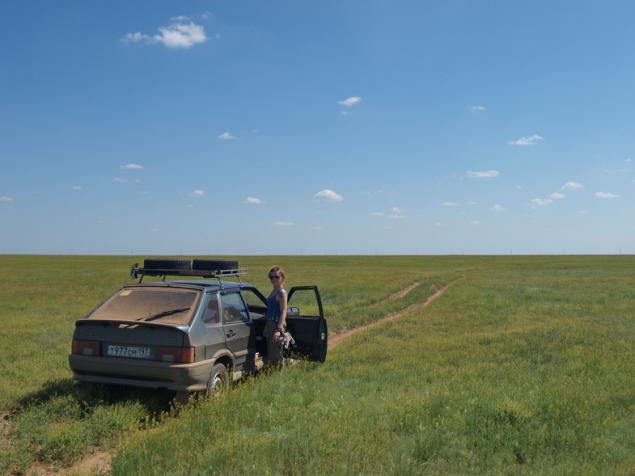 Naturally, our dream was to iskupnutsya in these waters to feel the miraculous effect of pushing the body from the water. But Elton was very small.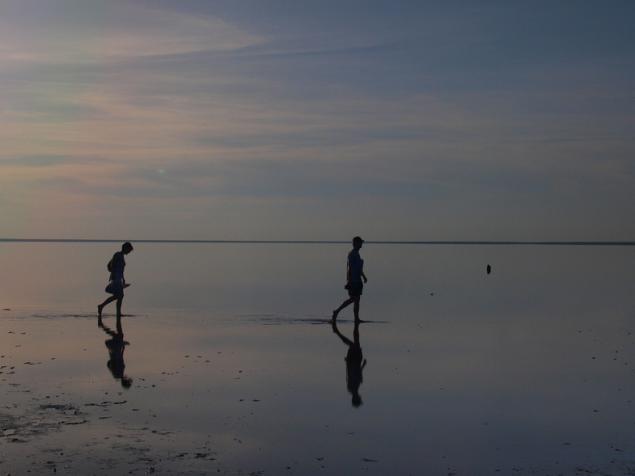 And at the same time with a bunch of people around, eager to score in the healing mud buckets.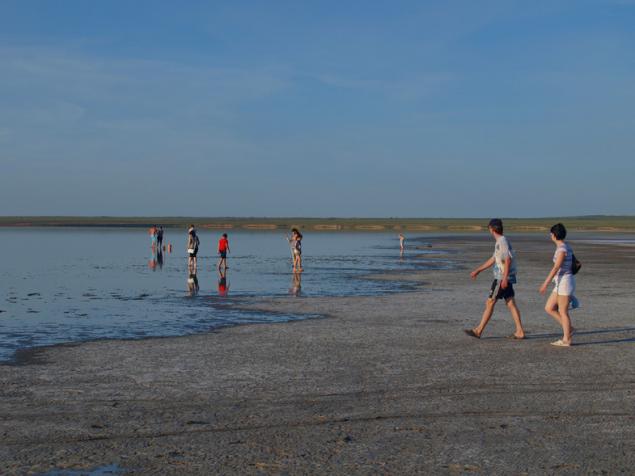 And Baskunchak slightly different as regards depth. But here we even touched the natural salt.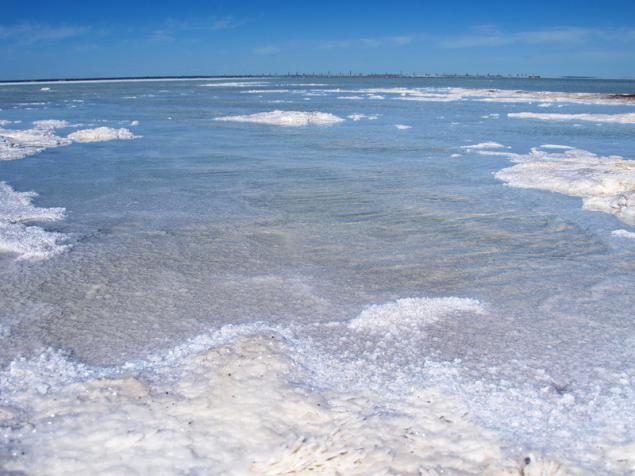 1123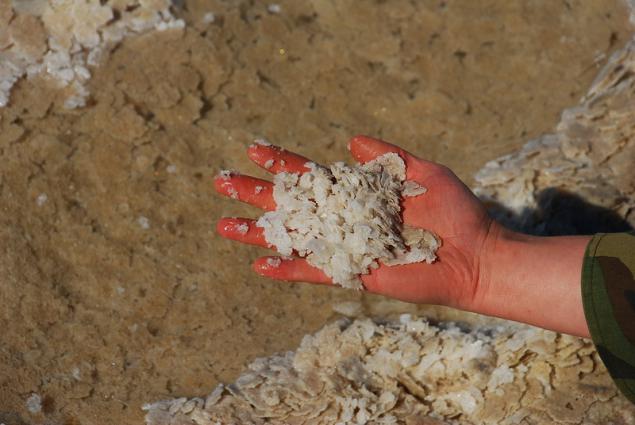 On the lake being industrial development of salt because formal entrance and approach it is possible everywhere. Along the perimeter of the pond is a technical way, it is, nevertheless, a picturesque.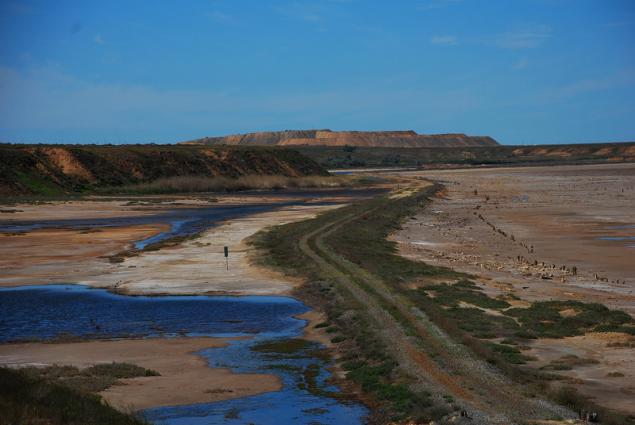 To the border with Kazakhstan, a couple dozen kilometers.
At night a strong wind tore the pontoon bridge. Tugs try to return it as it was, but not very successful.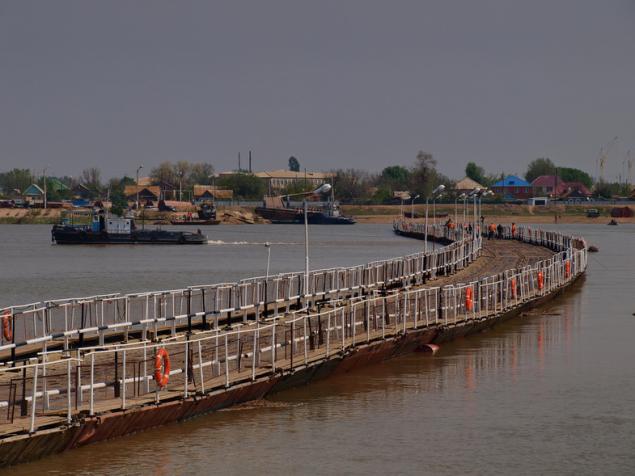 The long-awaited border. We pass easily, less than an hour, no levies like.
The famous firm Willi Betz. They carry food to US troops in Iraq are an endless stream of trucks. We have even then on it was determined direction - if we meet this, then we will not get lost.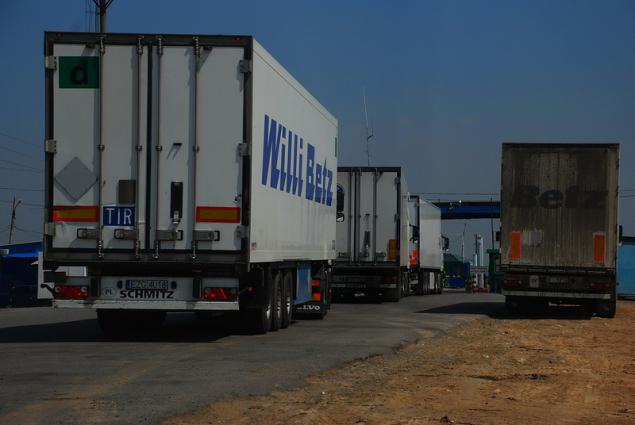 On the Kazakh side bustling key - moneychangers "Tengeee, tengeee, then do not buy it, buy it!" Guest workers, camels and drove that sort engines from their buses right on the roadside. Exotic begun!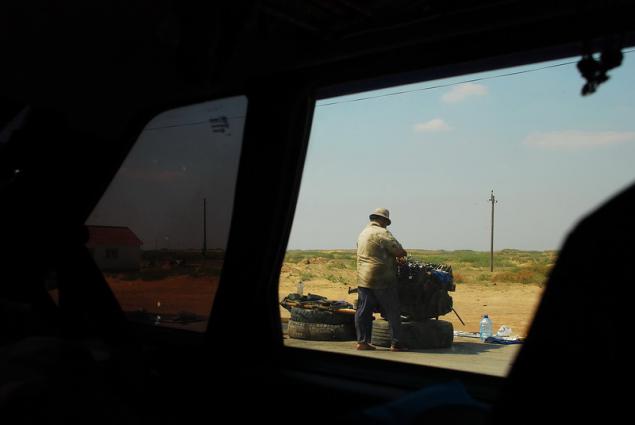 123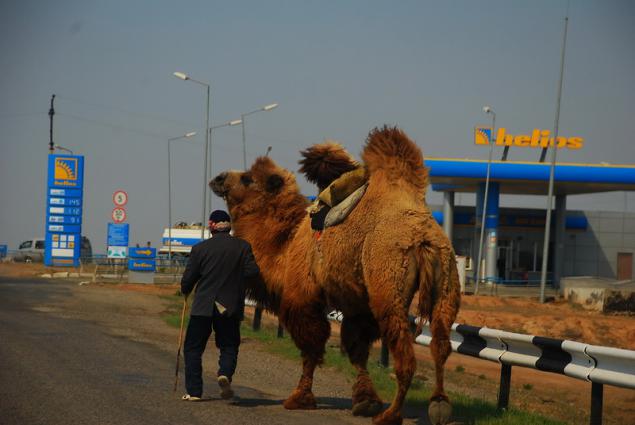 Atyrau, however, was quite clean and friendly. Solid banks vayfay and civilization.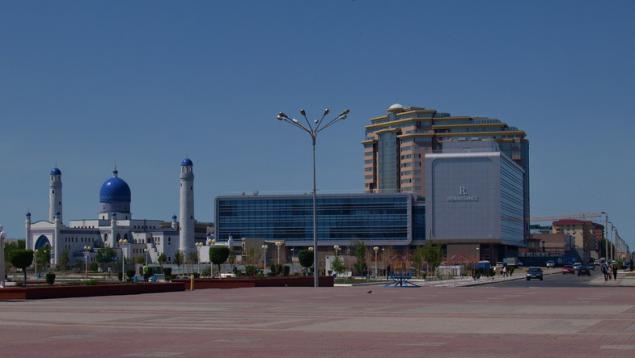 123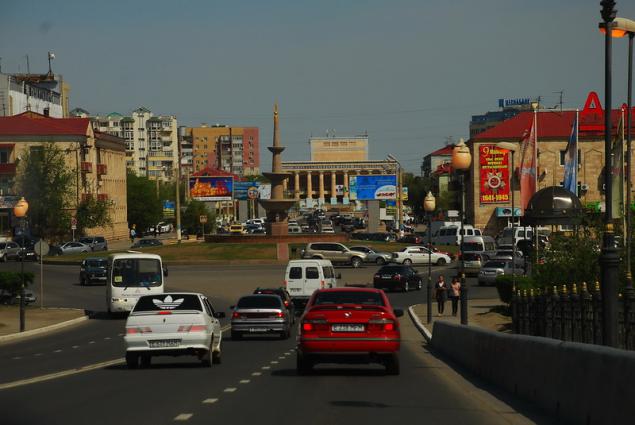 123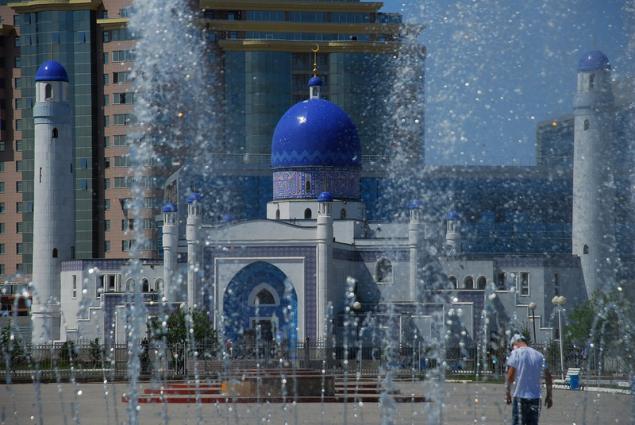 Roads in Kazakhstan in our example. Well, at least the main highway.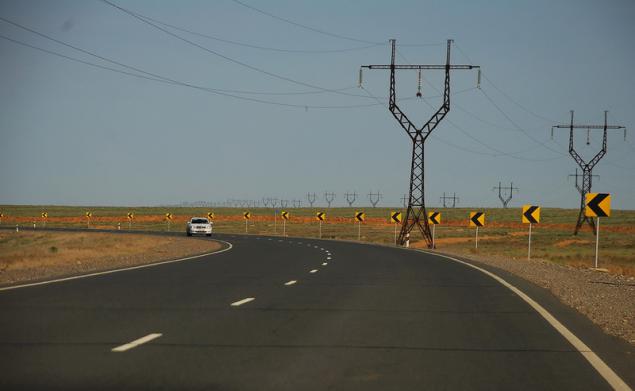 Initially we wanted to get to the Mangistau - the most famous and beautiful place in western Kazakhstan. There are no proper roads, and it was very interesting if we can get at least to some attractions on nedoprivode. However, here we suffered the first failure. Firstly, we are a little behind schedule (although Unlimited time travel, an approximate calculation of movement was still), and secondly, we suddenly fell off the trunk, which was clearly not designed even for those not very heavy loads .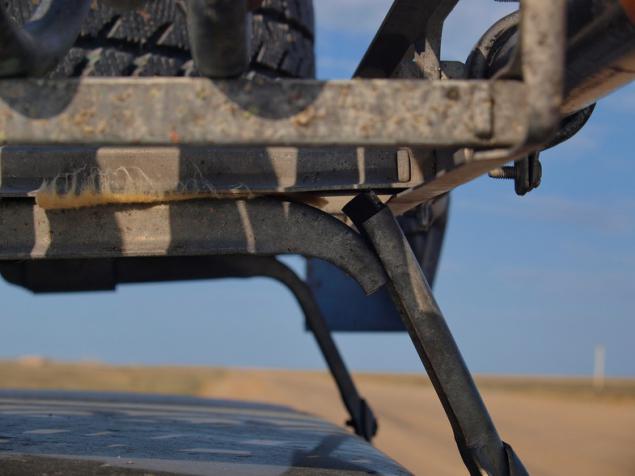 After some discussion, we decided that the time Mangistau is not our main goal, it is necessary to postpone it for another time, otherwise it threatened to stretch for at least another week, which would mean the failure of the meeting with the motorcyclist.
All we managed to see in the area - beautiful horses and thumbnails canyons.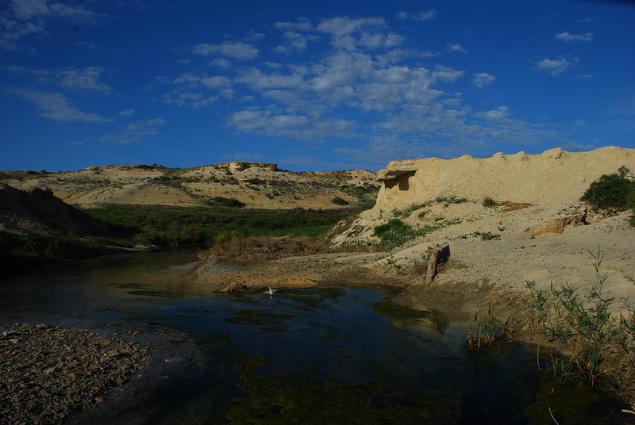 Brew roof racks Beyneu and continue the path towards Uzbekistan, to whom planned to devote considerable time.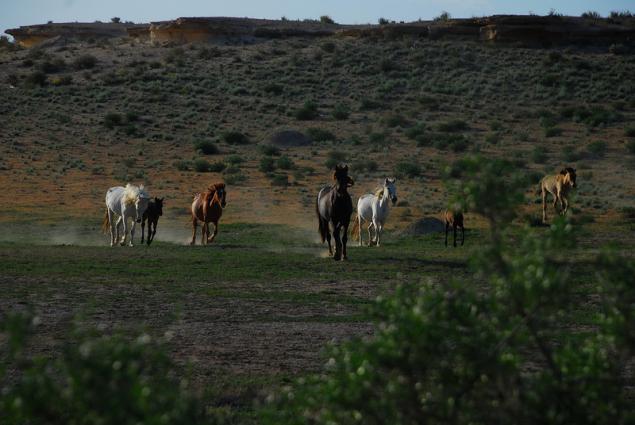 Kazakhstan-Uzbekistan border. We were waiting for her in awe. By the most conservative rating, its crossing takes 5-6 hours. Queues, endless handwritten papers, prosvetka all baggage (ie, absolutely everything, apart from the machine).
In fact, it turned out still worse. At first we were thoroughly battered on the Kazakh side, insolently demanding money for everything: for entry into the post, for the "oversight" of the vehicle, for the issuance of the necessary paperwork. Then we got on neutral territory. It is a branch of the post-nuclear world - zagonchik length of 200-300 meters, surrounded by barbed wire and filled with wagons, passenger cars and crowds of Uzbeks in robes and with bales. Everywhere garbage and shit, because no hint of toilets and no boxes. Oh, and all this at night because of the Kazakhs we left around 11pm.
Uzbeks launch vehicles in batches, for 3-5 cars somewhere every three hours. Sparsely in general. Protorchali we were there all night, and with the first rays of the sun rolled into at border crossings. Then everything as promised - the passenger is alone as a simple pedestrian and the driver, meanwhile, takes out of the car and everything, everything is on prosvetku. Dual control - after Satan ray machine into the act Uzbeks in white gloves and has personally convinced that the demonic fiends iron nothing overlooked. However, we clearly stand out from the crowd of local, because we have an interest in the heads. Young chuvachok dressed for civilian, pozadavat classic questions of "how-much-why", asked him to download some brand new movie with our computer, and then ordered us to skip the queue. No hint of money and extortion, but sooo slow.
Thus, on a quest "border crossing" took 12:00.
Level 3 - "Uzbekistan»!
The Uzbek side are waiting hordes of zombies to take by storm the gates.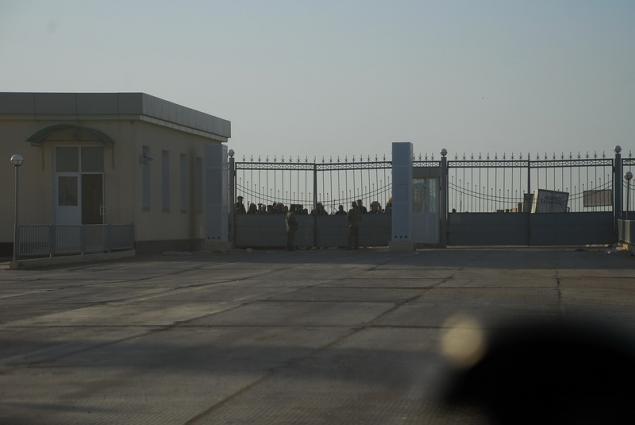 Immediately change money. We almost rich. This stack - 5000 rubles or 450 000 sum.
Posted in [mergetime] 1359251749 [/ mergetime]
The main trick Uzbek money that there is the largest denomination - 1000 sum. With that, let's say, to go to the toilet for an extra charge worth 300, and our average price tag when visiting a grocery store was 40-50 thousand. Ie they all go with meatballs and know how their money very quickly considered. And when they buy something more serious, money naturally carry suitcases.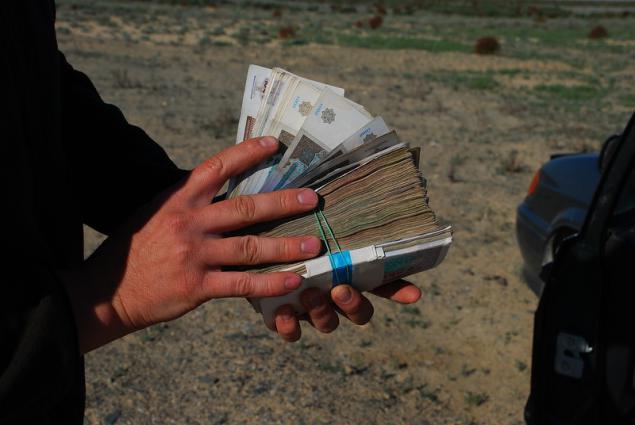 300 km flat like a table of the desert - and we move down from the plateau Ustyurt in Karakalpakstan, the "backyard" of Uzbekistan. Our first goal - a dried-up Aral Sea and the former port city Muinak.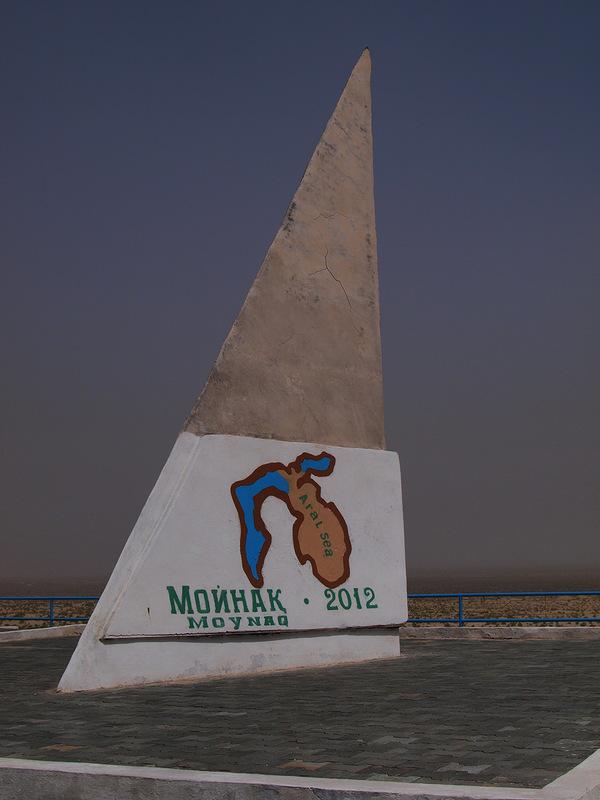 123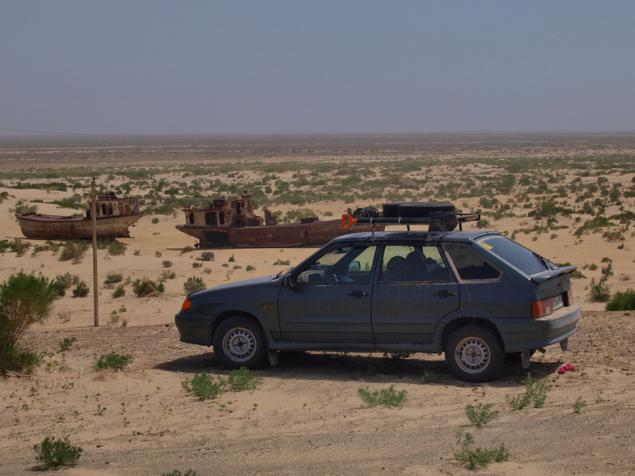 Once it was the seashore, and now the nearest water only 150 km. There is only sand, dust and rusty skeletons of ships.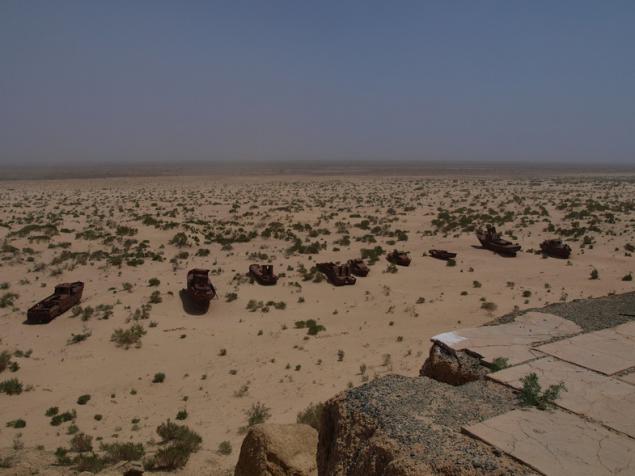 123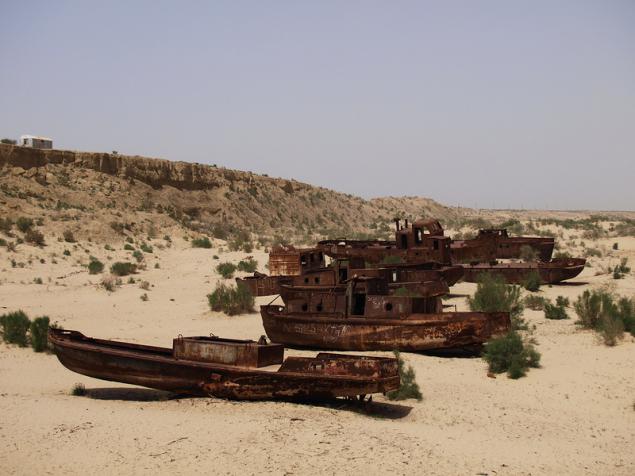 We do not always spend the night in tents, Dormitory, too, were, moreover, that in Uzbekistan, they are extremely cheap.
When needed a shower in nature, then lo! Canister with tap is hung on a tree.
She's washing machine. Belishko shove, pour liquid detergent and put in the car. Half-day drive Primers - and wash underwear!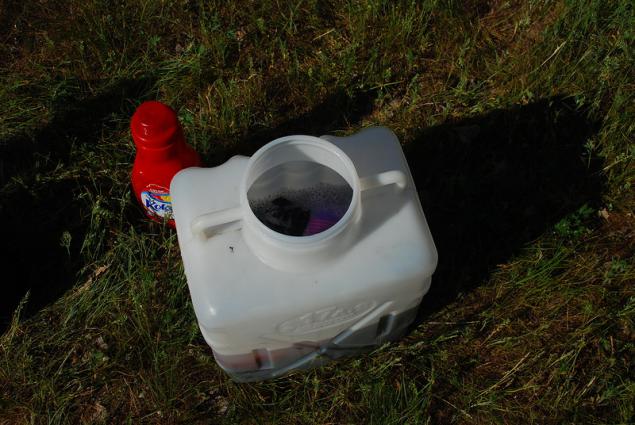 Here is the non-touristic fortress. This Gyaur Kala.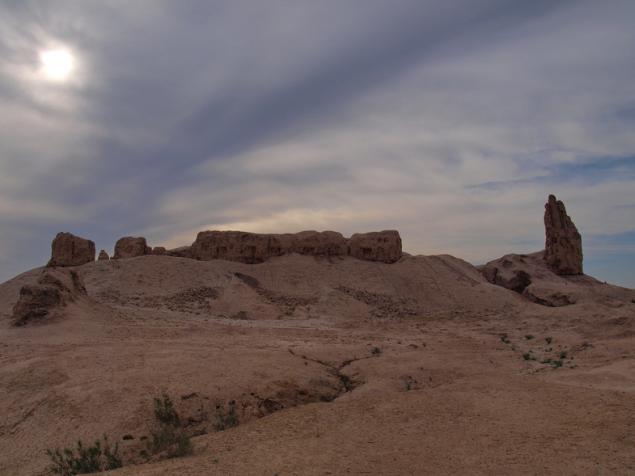 Once it was an impressive structure of clay reinforced with straw, but the time and the rains do not spare anything. Now this is more like a blurred Martian surface.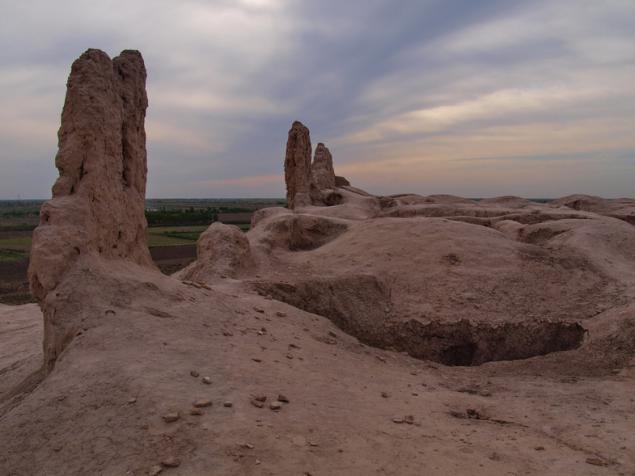 And here's another one, the Tower of Silence, built Zoroastrians. It is more picturesque, because it was built on a hilltop. But inside all the same - hard clay.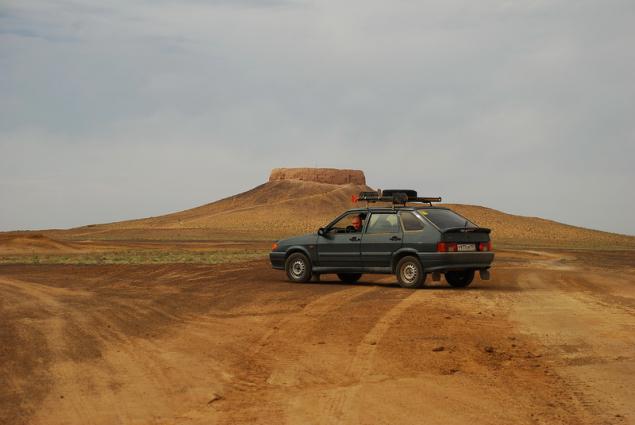 For local we were the same exotic as they are for us. In Russian say very few, but sfotkatsya Tanya lined crowds.
Children often ask sfotkat them, it is important process - poulybalis, seeing himself on screen camera down, satisfied fled.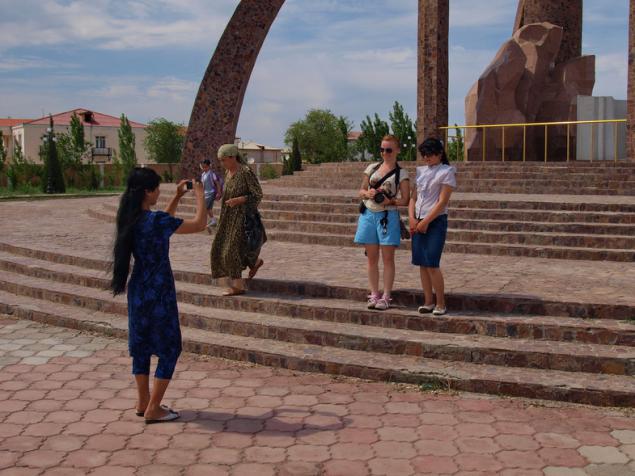 123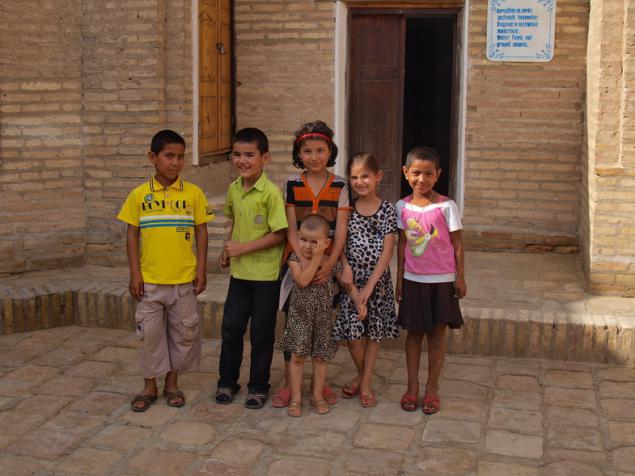 123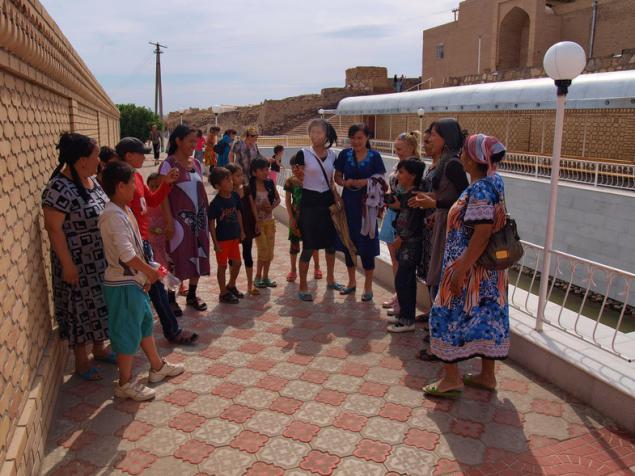 Khiva! One of the pivot locations of the Silk Road. Ichan-Kala, the historical center.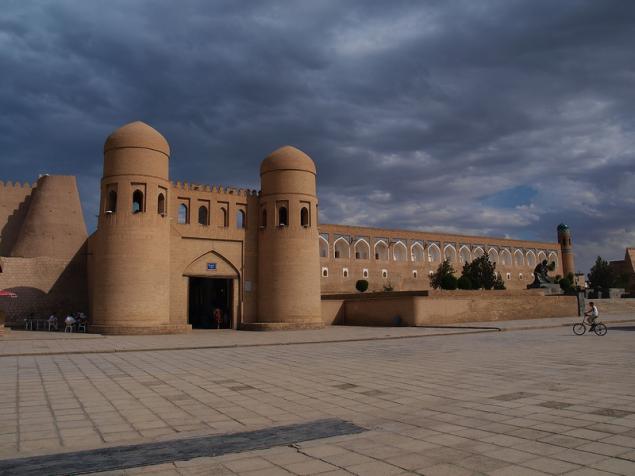 123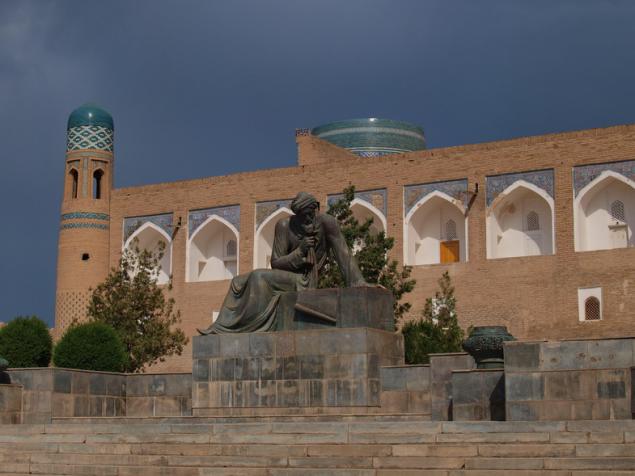 123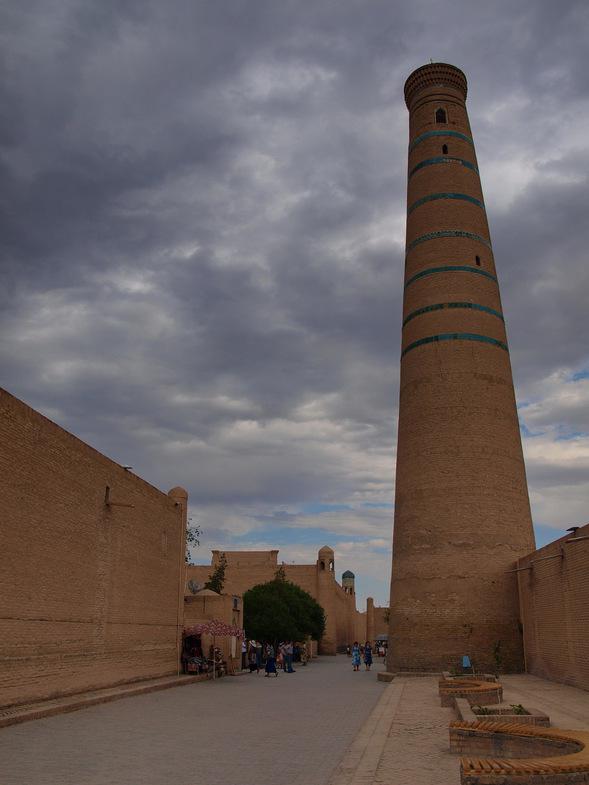 123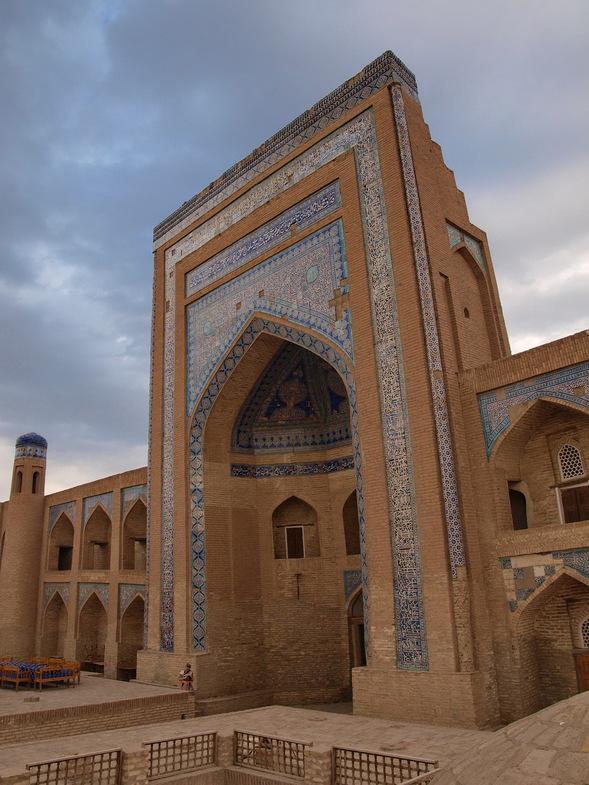 Nevertheless, it is still a residential area with houses, Dormitory, edalni. As if we lived in the Kremlin ordinary people.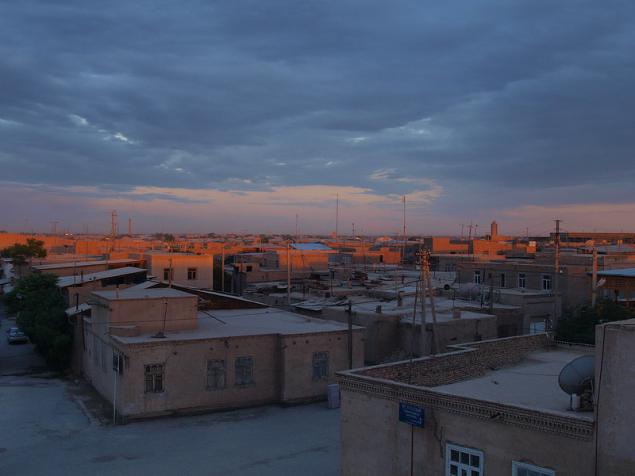 123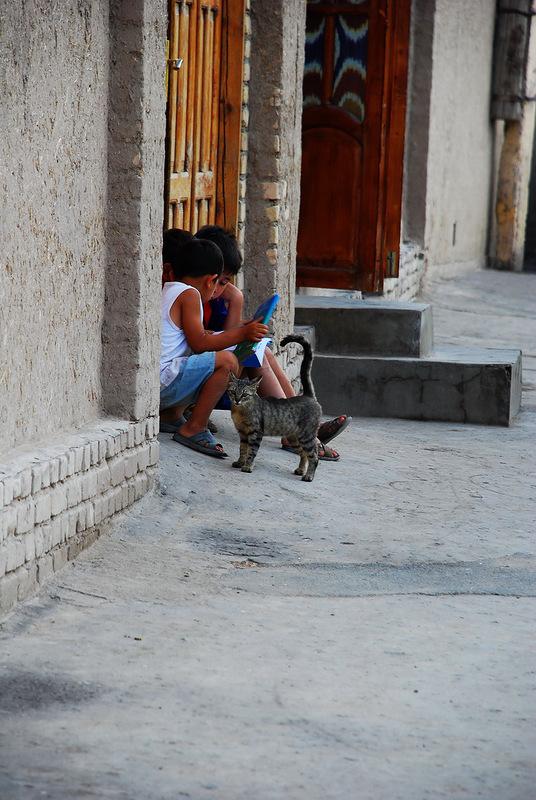 Fake tiger long version (to put more taking photos).
Tourists there is already quite a lot. In general, Europeans - French, Germans, Austrians. They have long Prochukhan all the charm of Uzbekistan - cheap, beautiful, exotic. Russian is almost there. Many local speak English and French, the children are asked to tourists "Bonbon" Russian knows basically only the older generation. In this case, all very glad to hear that you came here all the way from Moscow to seek zazvat guests for tea, remember how it was good at the Union, as they have served / worked in Moscow, etc.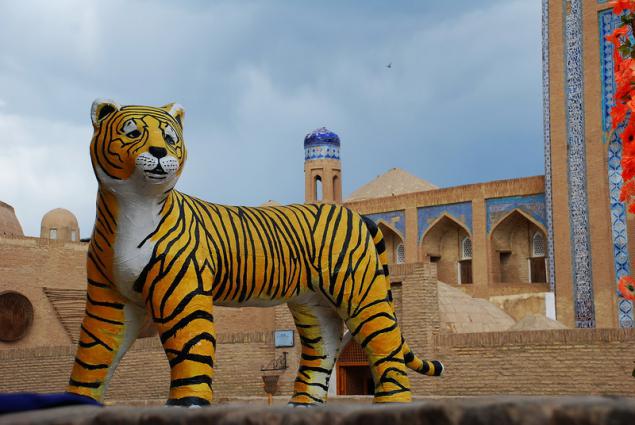 Uporotyh travelers like us, too short. For example, the guys from Belgium.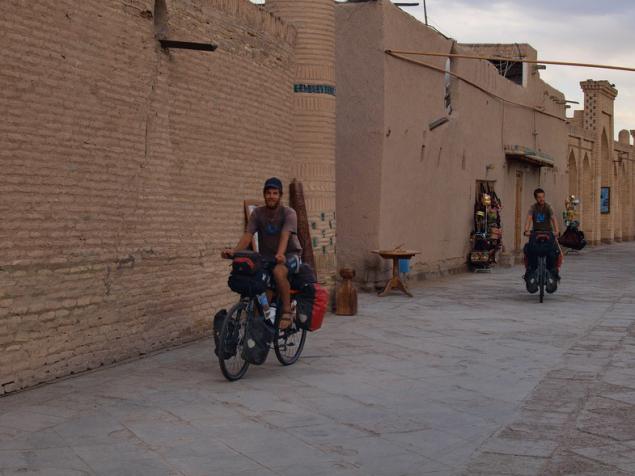 But the comrades of France. Traveling from Paris to Delhi rather have come back. On the road for almost a year. Their car - le Citroen 2CV, «The Ugly Duckling" age 25 years. Inside present retro: a minimum of space, big wheel, thin panels of doors, roof cloth with slits two inches thick. When I asked the owner why he chose this car, he said: «Because it`s the best!» After it our Vazik with openable windows and leakproof plastic-fabric interior seems frank burzhuinstve.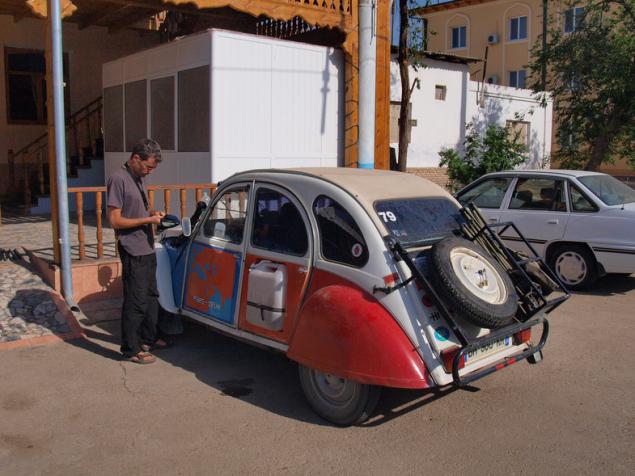 123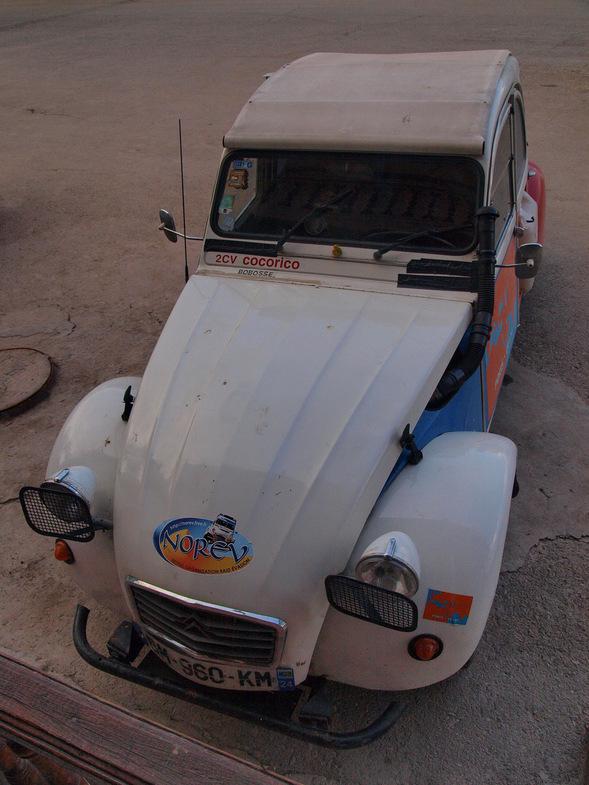 We're going to watch another fortress Ayaz Kala. On the way, bows, like, I'm cool conqueror of the desert, and Tanya friends with broccoli.
123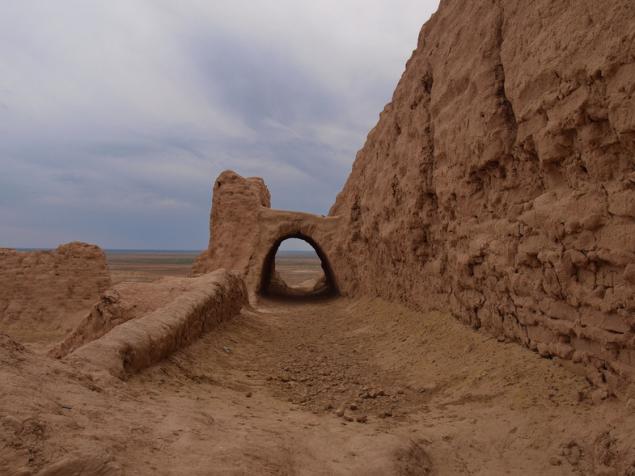 Further according to the plan of Bukhara. But as you remember, you must first cross the Kyzyl-Kum. Sounds scary, but really nothing serious, there is a road, and enough driving. Only she fucking quality, so that all go 20-30 km / h mnogogradusnoy heat. No gas stations, ate no sleep is not recommended.
By the way, with gasoline in Uzbekistan big probleme. 90% of the cars drive on gas, it is always there, but at the pump decent queue.
Gasoline often have only 80 minutes, well, tractor diesel fuel. 92nd - only occasionally, in the big cities. It also happens that there is no gasoline. Then getting into the act outbid selling fuel from the curb of the five-liter baklashek. Say bodyazhat and inflate prices. We managed to avoid this check on her, including by welcoming local, delivshimsya their benzikom or secret information about gas stations.
Before you go to Bukhara, we again stirred up the trunk, now another rack. Subsequently, we did it more than once. The trunk was the most weak link for the whole trip.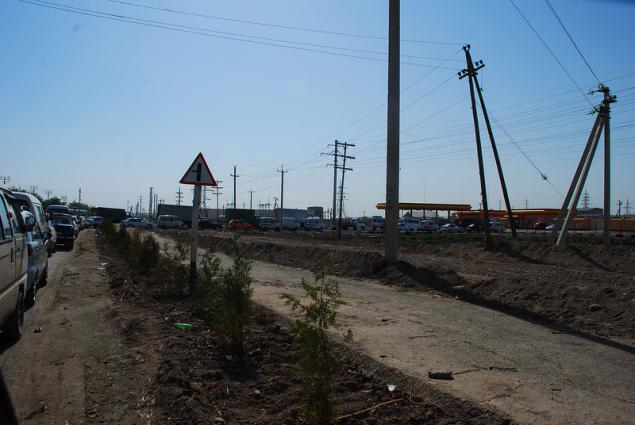 Here is the desert and the road to it.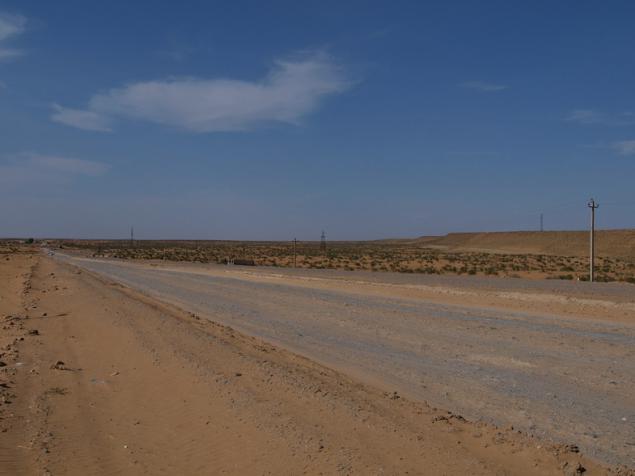 Bukhara! City, who left one of the strongest impressions. The very center of the Silk Road, which means that most concentrate eastern entourage.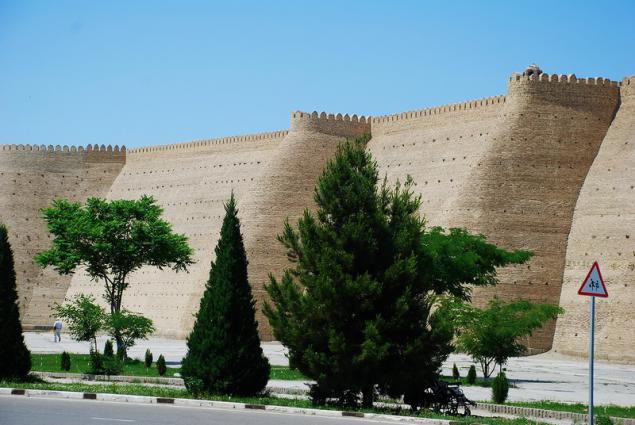 123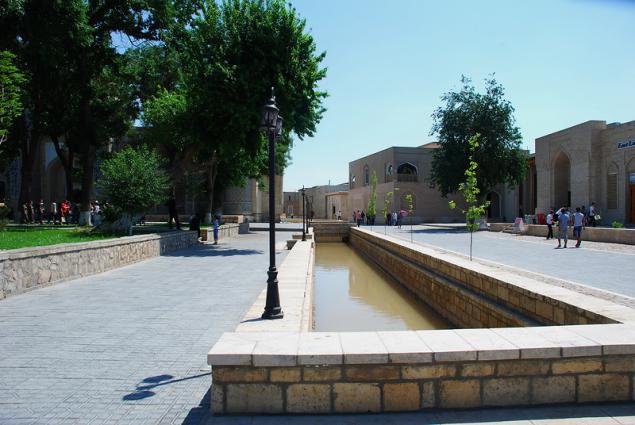 123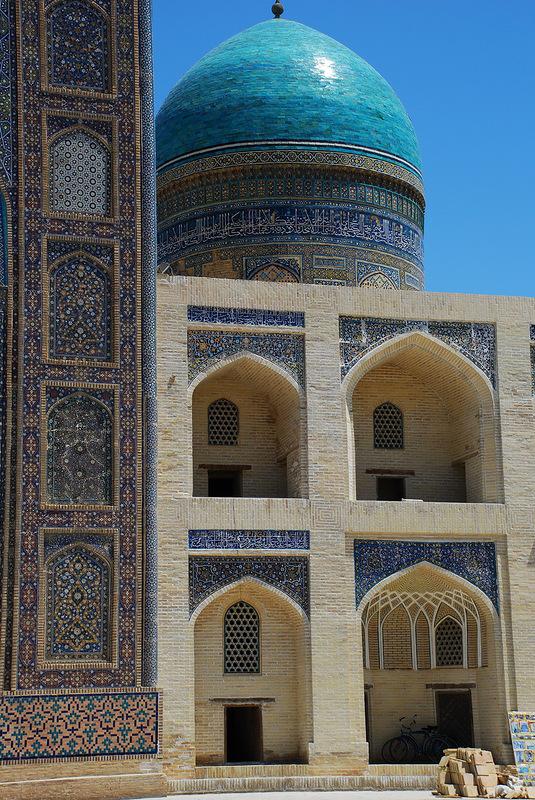 123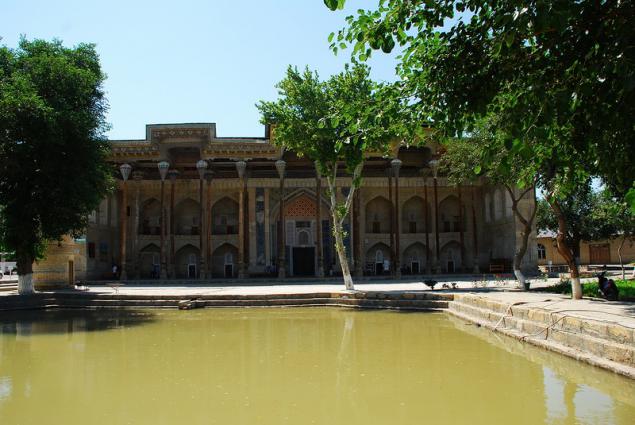 But enough of architecture and antiquities. Indeed, Uzbekistan is rich in nature and more.
Natural Park Zaamin, near the border with Tajikistan. There we brought the old mountain road, which we found to guglokartah. Later it turned out that the road is abandoned by all but the military, which there CAT and border zone. For us it was a surprise, as, indeed, and we for warriors. We even started a bit late and searched as shpienov. But these incredible views from a height of 2,500 meters, probably worth it.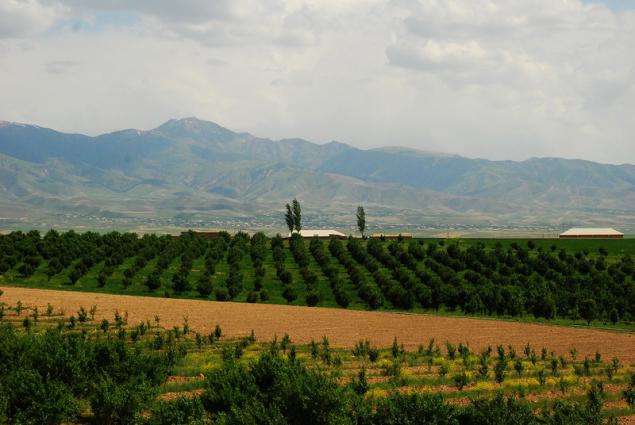 123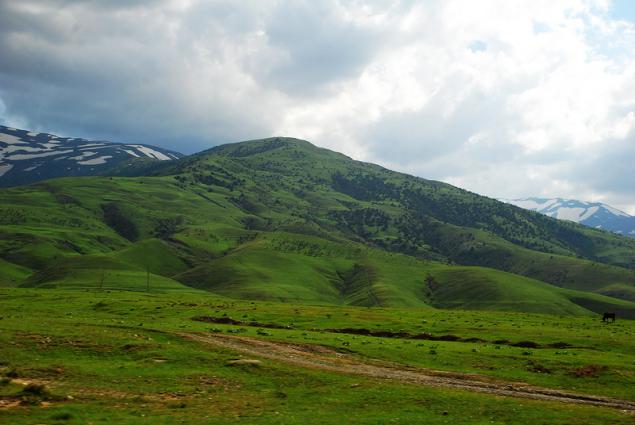 123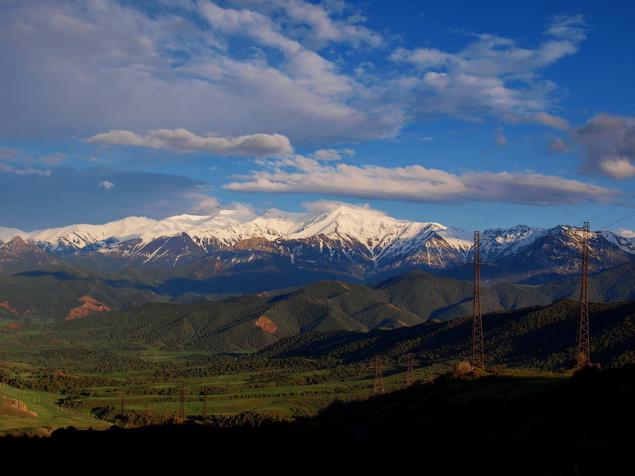 123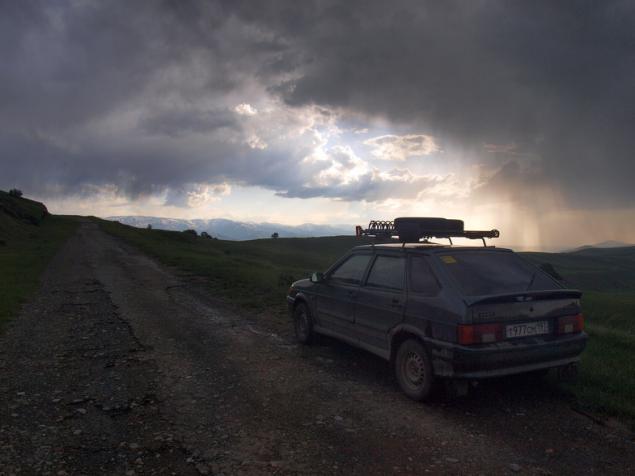 123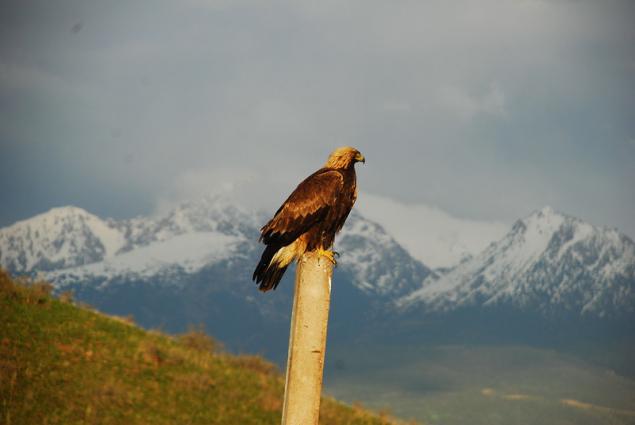 Charvak reservoir, about a hundred kilometers from Tashkent. Serpentines. Gonolyzhny Beldersay resort nearby.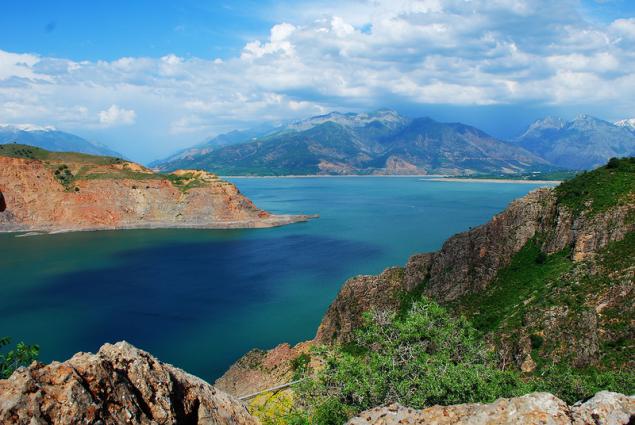 123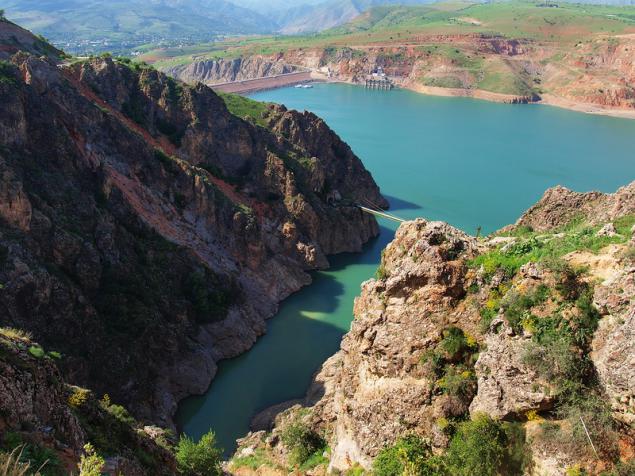 123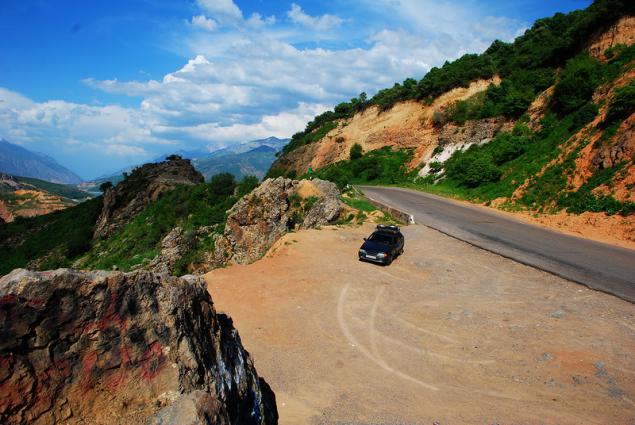 123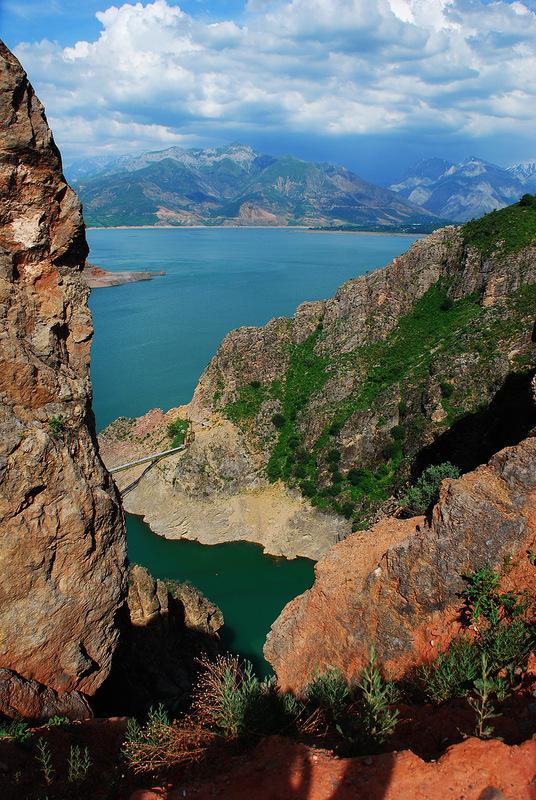 123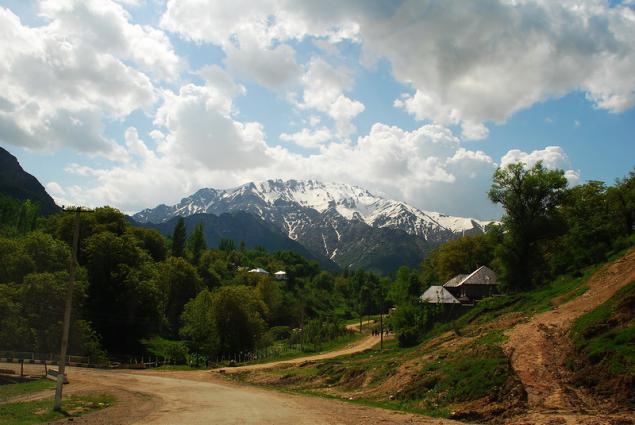 Solar furnace near Parkent. Scientific complex to produce ultra-high temperatures using solar energy. There are only two in the world, Uzbekistan and France.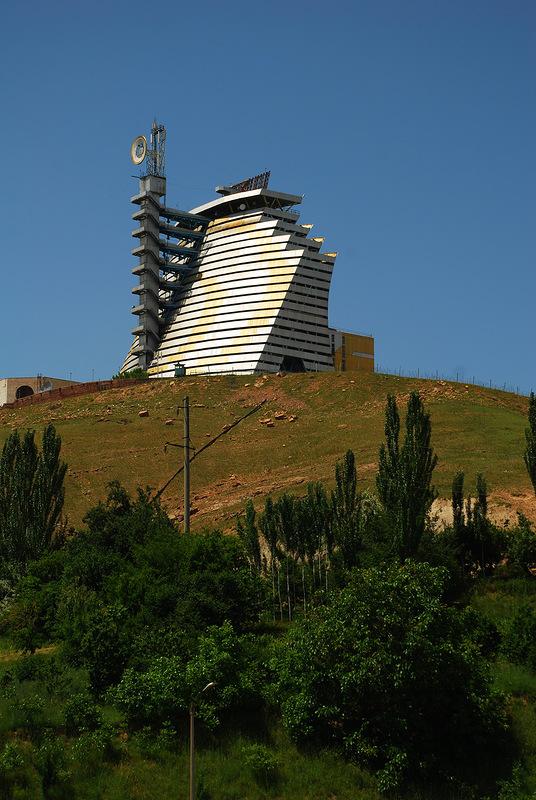 Unfortunately, we were not allowed inside - it needs special permission from the Academy of Sciences.
The huge building has a concave shape and a special coating to trap sunlight. Near field mirrors that automatically track the sun and focus its rays on the building. The temperature in the focus than 3000 degrees Celsius.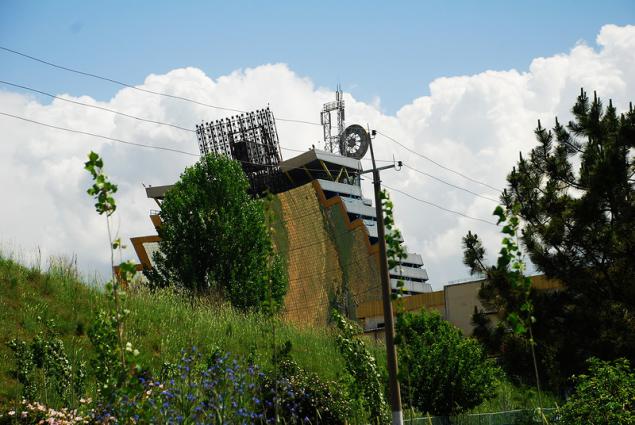 123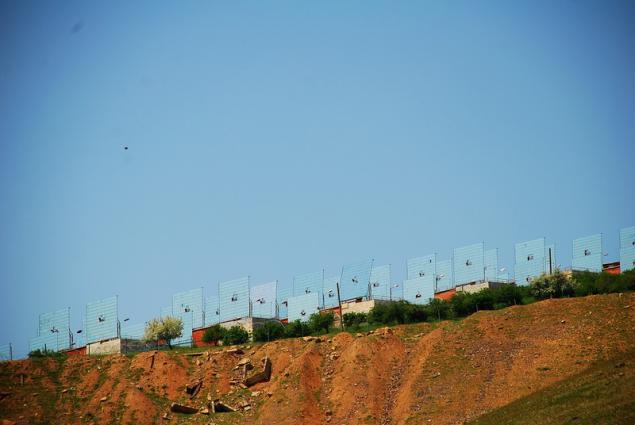 123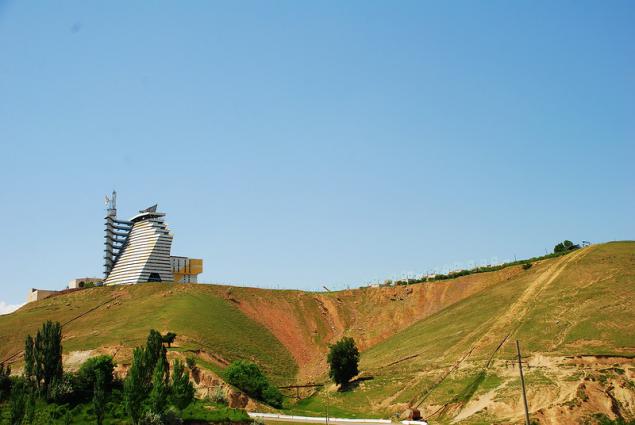 Immediately next to a water pipe here.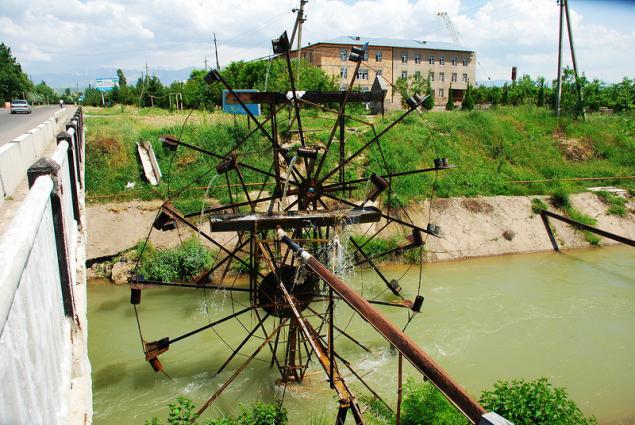 Five hours roasting on neutral territory and brazen bribe from the Kazakh side after freedom seemed a mere trifle.
By the way, the driver of the truck Baltic let us into his cool.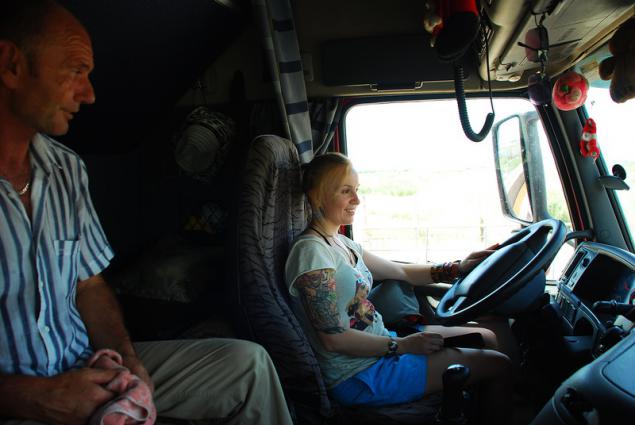 And here's another French at Le Citroen. This time there were several crews I did not get enough attention from others. Hug me and sundry. cool-wheel-drive truck support.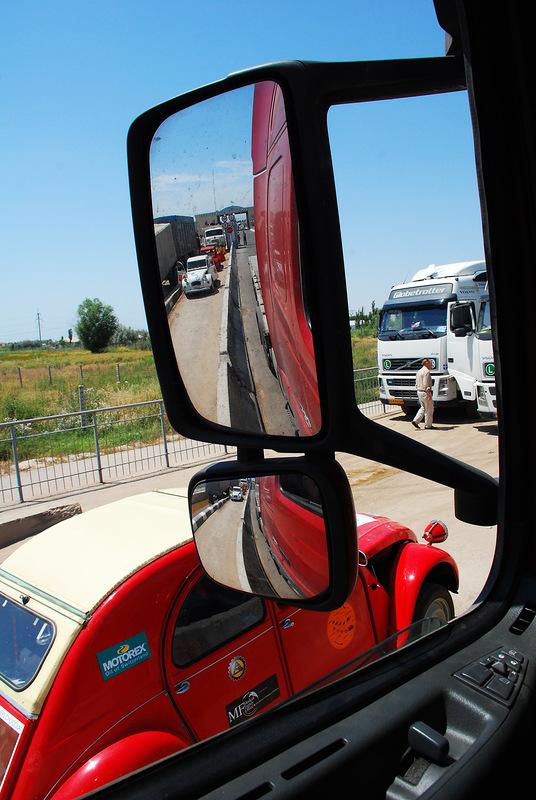 East Kazakhstan remembered mud, rusty iron on roadsides (after Uzbekistan neat it was very unusual) and absolutely insane brazen traffic policemen, begging for money just for the fact of passage past them. But the road was at times quite beautiful.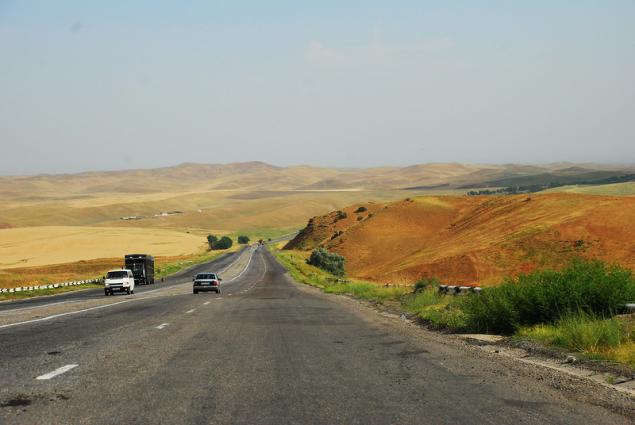 123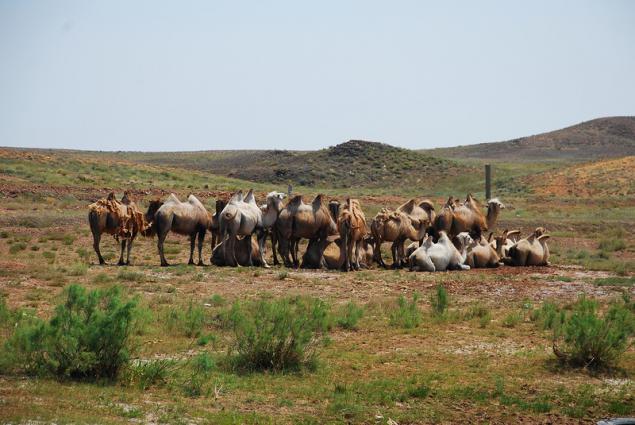 This smerchik.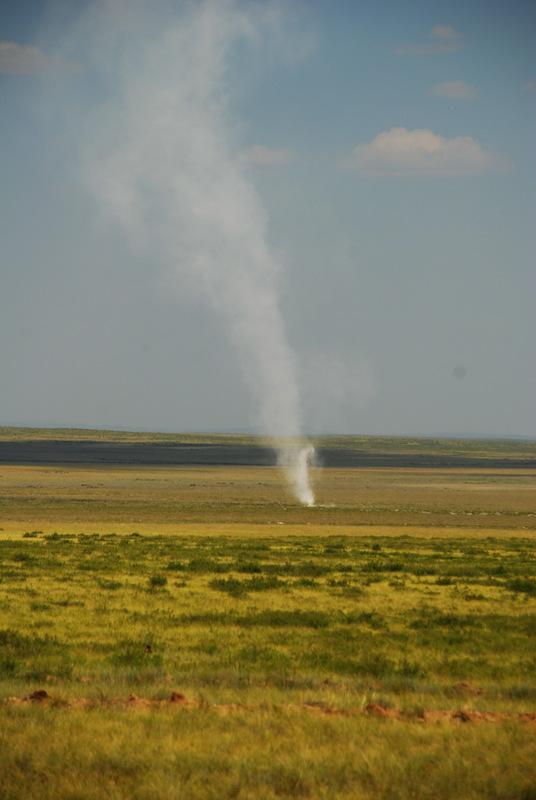 Something inevitably reminds homeland.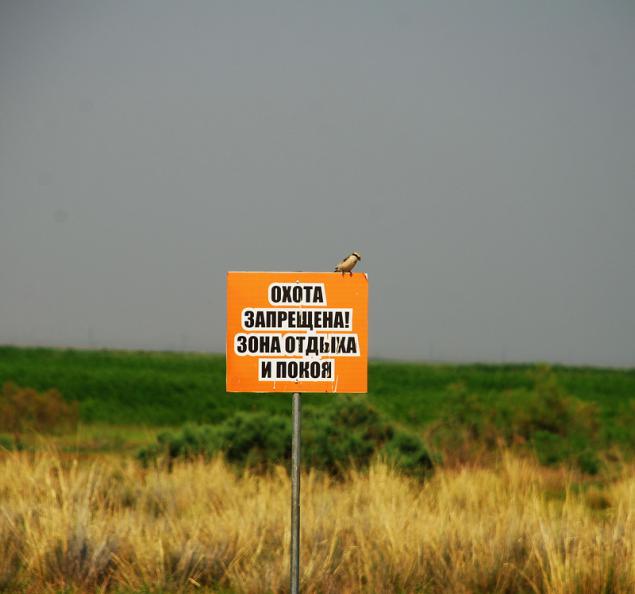 123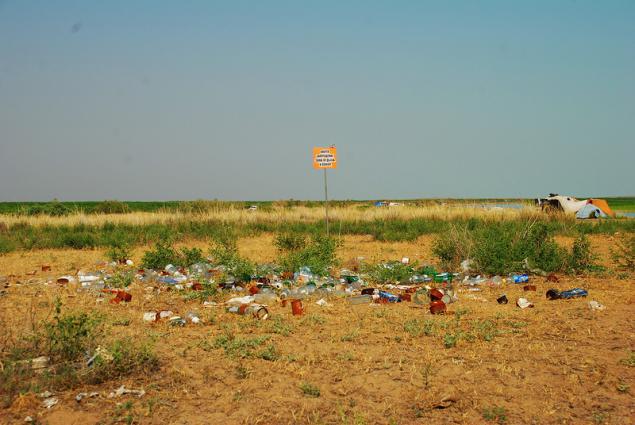 Slice of Karelia in Kazakhstan - elections. Place an incredible tourist concentration. Fee for everything - for entry into the car for the formulation of the car for the night, for palatkomesto. Thank you for not leaving. It was beyond our forces and make some shots, we fled in panic in the free steppe.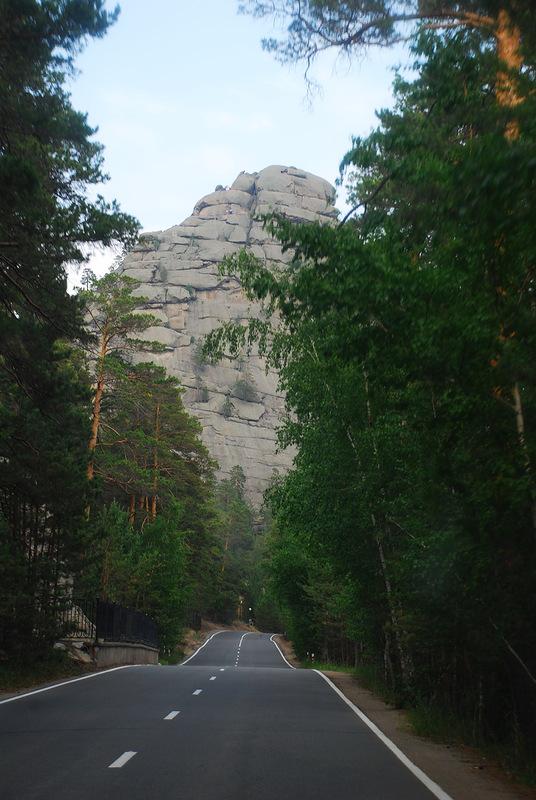 123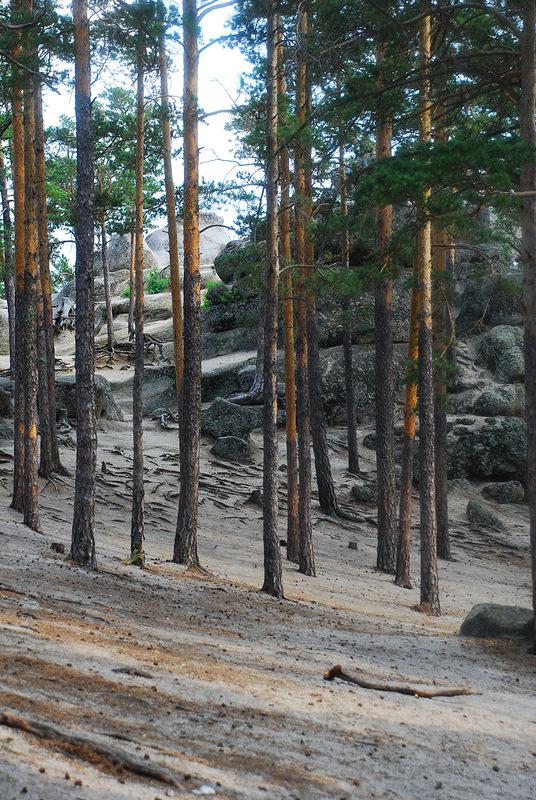 It happens.
But!
It did not happen.