Good day!
Inspired
fresh story
, I would like to share a short post about the ways of people who have decided to enter the University of Technology in Tampere (Finland) after reading < a href = "http://habrahabr.ru/post/207044/"> last post and talk about the learning process in comparison with the domestic.
I must say - delivery was successful. I>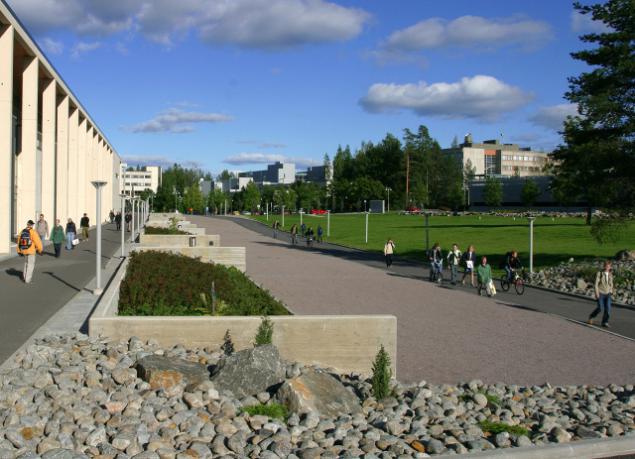 Author: TampereUniTech
I>

The subtleties and history proceeds Masters 2014 h4>
 Let's start with some changes on admission to exchange this year (previous requirements can be found in the same post last year ):


Donating language is no longer necessary. In the electronic application form on the exchange program now ask your opinion about the level of the language (it makes sense to put Advanced). Naturally, with zero English should not go, but a nice bonus - no need to spend $ 250 on the exam. From the mandatory documents notarized translated only need a list of items with the estimates from the dean and photography. But CV with letters of the Council to make, it increases the chance of admission. And if you have a publication, all very interesting. However, the form for entry is now closed - if your home university is involved in the exchange program, you need to request a link from the International Office of your university (if available) it reduced the flow of applications from highly Eastern countries. Otherwise - read the next paragraph. :) At the same time, it remains possible to apply on the program Free Mover . Simply put, anyone student may try to come for the exchange of their university, but with an individual examination of each application.
 Now to business, I was spoken to several people Habra, a group of students from the home university and the guys with domestic conferences, mainly from their feelings were the same conversation - curiosity and horror. Quite a few have decided to do, I personally know three such examples.

So, the first man was going to do a full-fledged master is on the 4th year undergraduate in his native SUAE brilliantly passed the language and surprised the selection committee average score close to 5 (Finnish system implies a point system, starting with one, and not three, as we do, respectively, of the genius of the student in their eyes just rolls over. No wonder he successfully entered and now preparing to defend in Russia.

The second man hit on the idea of ​​receipt to the master immediately after reading the post, preparing for language exams, but for a normal student renting another CSE (which is the language exam at any level) seems almost impossible, so he was put on a 58/110 with pass marks technical specialty is 80. Accordingly, the possibility of entering the Degree disappeared. At that time, bring to the exchange was more impossible, and from the experience of last year saw a very unrealistic because of the language threshold. What was surprising about the optional delivery of language to describe the already heavy. Link to the application has been successfully received, all documents are prepared and loading. Beginning of a long day waiting for a decision.

The third man did not even try to go to a full master's degree, and immediately set his sights on an exchange. Quietly passed IELTS, filled all the documents and filed without any additional tips or tremors. Decent way.

Well, both of these men successfully received. Of course, the curriculum was cut for various reasons, but that does not negate the fact that such a study in the near abroad was again possible. If you have not read the previous post , squeeze all also the main charm of higher education, in addition to the ease of admission is the fact that it is free. No need to pay a five-figure sum of four per year, and the level of supply of knowledge is good if there is a desire to learn.

But for these guys struggle with bureaucracy is only beginning. You must apply for a student visa, not cheap to buy insurance for the year, to find shelter and prepare for the move. However, the main problem at the moment remains almost. Documents confirming receipt send it by mail, let alone how much they will go for his native state - nobody knows. So, the simplest way is to come and pick them up in person, or wait a month. In an extreme case, ask them to convey to someone At least in his native country. Unfortunately, the design of a training visa takes at least 3 weeks, so getting them in mid / late July inexcusable, because learning begins August 17.

Summarizing, we can say that delivery is possible. It is not as bad as it seems. Anticipating a question about graduate school - with places big problem, but you can try again.

If you see a clear desire to enter the Degree program, I recommend to start preparing for language exams right now, but apply in February next year.

For the Patriots: This is not a post with overtones of "Time to blame", this addition of the story that you can get higher / further education close to home, and to return or not - can be discussed later, this is an extremely subjective solution.

If someone did at some Finnish university - unsubscribe please, very interested to hear your stories! I>

Naturally, willing to try to answer any questions.


The educational process h4> Also, I wanted to talk about most university studies. Frankly, it is very different from the one I had seen in St. Petersburg. Nobody needs. Absolutely. If you want to learn - and get the knowledge and some experience. Laziness - no force will be. For foreign students and extend the visa you need to dial a certain number of credits per year. To be precise - 40. Simply put, you need to pass the 12 simple objects (three credit apiece) or complex 7-8 (5-7 credits) for the first year. In comparison with our education, where each semester was over 7-9 items, looks acceptable.

Simple things can go on as two months (marketing, etc.) as well as four (language). As a rule, you must go to the lectures, or on practical exercises and pass a simple test. Naturally, there homework, which is difficult to spend more hours a week. Simply put, a week on this subject will be spent 3-4 hours maximum.

With serious subjects more difficult. Each week, you must go to the lectures (1.5-3 hours), supplemented by practical exercises (+1.5 hours) and, in the course of the semester, will likely be several laboratory (3-6 hours). The exam will be difficult.

Yeah, speaking of exams - no "automatic". Usually this set of questions (about 20) on all topics and reply to every need, ie Nobody pulls tickets and forms of all the same. However, the questions are not homogeneous, ie test may be open or in the same exam. Surrender is pretty trivial - all come to a large audience, get questions paper and answer three hours. Then the answers are collected, sealed in a package and include teachers who will check them monthly. Write off the impossible. Absolutely impossible. Nobody, of course, will not say a word, and that notice for this business, but will report to the teacher. Twice caught - certified. Not the most pleasant outcome. The course grade is 60% of the exam, and the remainder of the results of laboratory, homework and practice. You can retake the exam three times, if the implementation of the course has not changed. If it is required, and it is impossible to pass - will depart on all classes again.

The interesting part of training on technical specialty - laboratory - namely courses consisting entirely of them. Someone will say that it is easy credit, but it is not. Each laboratory lasts 3-6 hours, and there really are taught to understand the topic. For example, for a two-semester courses of laboratory networks, students have gone from setting up BGP interfaces on real hardware. Chance to touch not only the "config", but also with the wires run leaves a huge positive experience!

In any case, all the objects are divided into four groups for each specialty: compulsory, basic, secondary and optional, and need to dial in the amount of 120 credits. For the "techies" mandatory two - Finnish-1 and Personnel Management, an amusing combination. Further, there is a small group of major - almost everything you need to take, and they describe the "core" specialty. Additional items are describing secondary specialized or «Minor». A further - language and simply satisfying curiosity rates. Just to be able to select the theme of the diploma you need to dial 80 credits. Himself diploma is worth 30, and the remaining 10 - Related articles of his writing.
If you look at things soberly, you can finish the Masters two years due to the fact that some required courses overlap. From this time you need at least half a year to write the diploma. At the same time, you can learn and four, but it is meaningless in terms of the cost of living.

I hope that somehow clarified the situation for those interested in the teaching process. If there were any questions or have new, happy to answer them in the comments or personal message!

Thanks for your time!

p.s. Most likely my tongue already badly damaged, do not swear much.

Source: habrahabr.ru/post/225261/