My name is Victor, I am from Kaliningrad. Today, going to tell you how the day is not on the ground, at sea, in one of the 31 Mondays in March 2013, for the days of the week, and the numbers on the fisheries are not considered.
I will begin with a preface.
... A little over a year ago I published a note in this community. There I spoke shore employees combining the two professions. During the day on weekdays, I - an engineer, on weekends and holidays I - sound engineer, and still a large part of their free time to spend like that - available to me means forcing technique to serve art ©. And now I write about the next day its completely different, not similar to the situation. How and why?
41 photos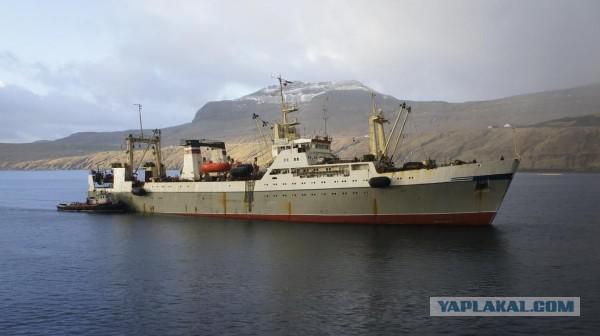 Everything that reason - my painful, periodically giving exacerbations desire for change. At some point I realize that here and now I have clearly stayed too long, and it's time to change everything that is possible. Good or bad, life will show. In the meantime, I am glad that so many have tried and conceived, and even more the fact that much more remains to be ...
Once again, this feeling has overtaken me in the late 2011 - early 2012. I started looking for options for a temporary change of activity. It was then that had very useful that the education I'm not just a radio engineer and marine radio operator. "Excellent! I go to Sea! "- I decided. However, it's not easy. Firstly, this profession is now rare, is not demanded on all vessels. Second, to go to sea, you need a whole bunch of documents, certificates, confirmations, certificates. But the collapse of the way too late. In April 2012, I resigned from the coast and work, spending all the money, embarked on this task.
And now - the search, employment, documents, training. Then a number of different training courses, 60000r one cashier, then the paperwork for another 20000r to another, and the long-awaited crust in my hands. This - the working diploma. Severe paper pulled out with great difficulty and not to everyone. Now, I - mate for a full Electronics ...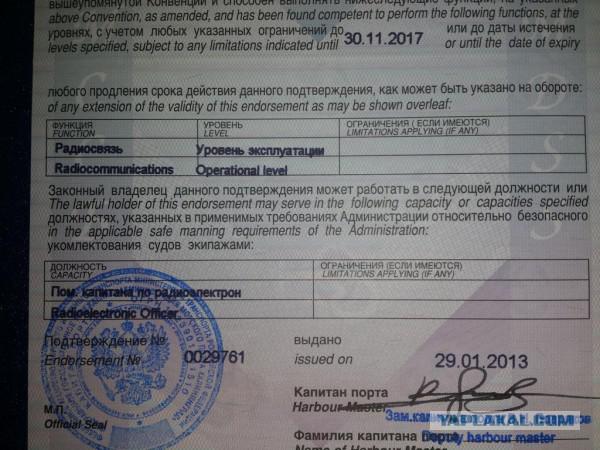 One of my day ...
March 2013.
Large self-freezer trawler. Fishing for blue whiting.
07, 11. Alarm clock. I get up slowly. You can afford the extra 10-20 minutes.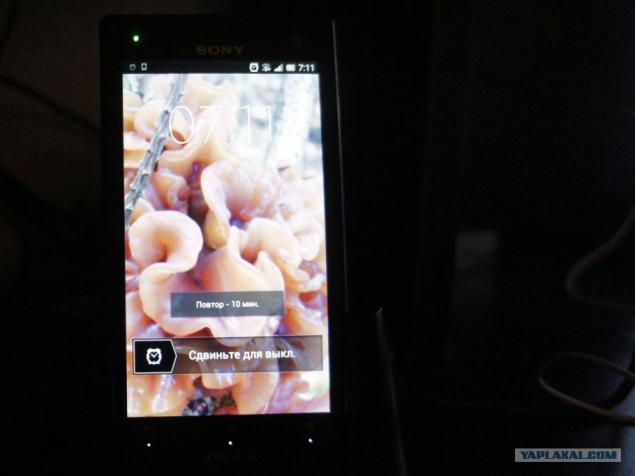 The vessel had most of the crew - rotational mode. 8 through 8. That is, 8:00 work, then 8, and sleep again. And so the entire flight, including weekends and holidays. Powered Ships clock and therefore provide a two-shift production. Only a few people on the ship have a working day, ie is force majeure working day, or at least present in the workplace, and sleep at night. And I'm one of them.
Morning sun ...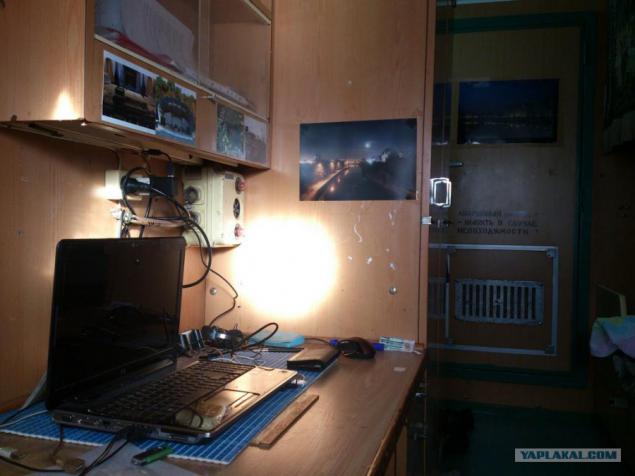 08.00 Breakfast.
Wardroom. Here the so-called feed kom.sostav, so it's clean and comfortable, and even there the waitress who sets the table when you arrive. The so-called enlisted personnel (sailors and so on.) Take food deck below. There are conditions a bit easier, but the food is, of course, it is the same for both. But they have more space.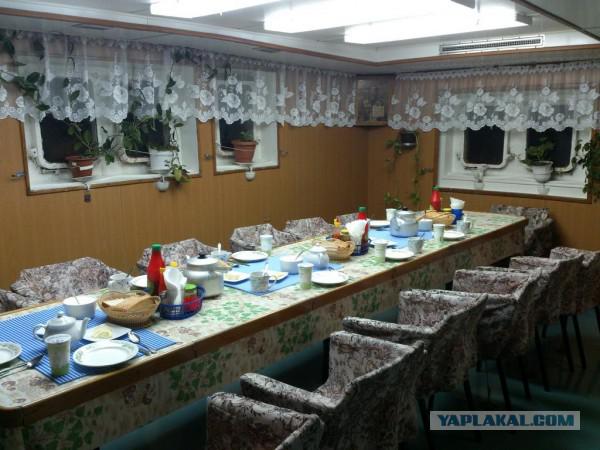 08.15
That's my job. Radio Room. The eyes and ears of the vessel at sea. Concurrently - Centre Resuscitation marine electronics.
Of course, a few words about my work. Most ordinary people the concept of "a ship radio operator" necessarily associated with a Morse code. "But, we know, Morse code, all that ..." - and then hear from people asking about this profession. So, comrades. Morse code for the marine radio service abolished ten years already as if not more. Contact long ago through satellite, or, if necessary, by telex. Apart from the phone, of course. Many modern ships have a full satellite Internet. Unfortunately, not ours. But it does not matter - without quite a coping.
Here in the picture - in fact, a hardware connection. Right - the control panel of the old station, the Soviet. It is, though serviceable, has long been used. Because it completely replaces and exceeds the possibilities of the one that left. Japanese. The difference in size and ergonomics available.
09, 00
A visit to the flying bridge. From the ship, in fact, watch the navigator controls the ship. And here is my superintendence.
All this set of screens - fish-finding and navigation equipment. Looking at them decide where to go and where to fish. Now almost everything is digital and done on the basis of the computer, so its configuration and maintenance is done mainly with the help of keyboard and mouse, not with a screwdriver and soldering iron as 10-20 years ago.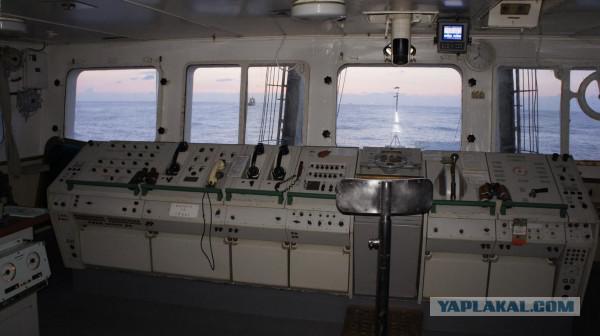 In fact, I - Ship enikeyschiki and repairman. Therefore, for the most part I configure / repair the computers, other equipment and less sometimes, if asked well, DVD-players, telephones, laptops crew. A perfectly routine radio communication is carried out without me.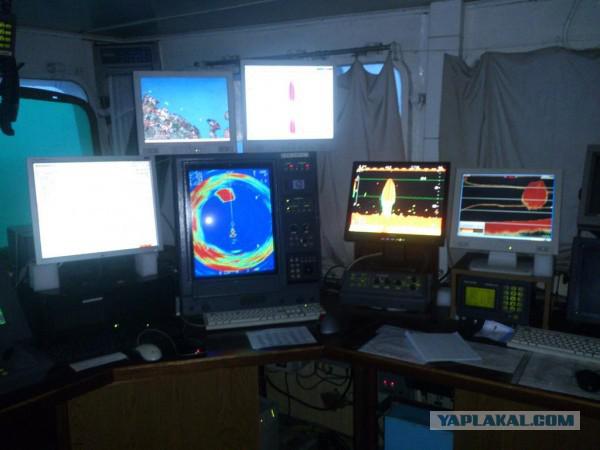 10, 00
Uninterrupted operation of electronics - a pledge of strong sleep specialist. A guarantee of trouble-free operation of electronics - periodic inspections. So now is the time to go on deck, breathe fresh air, and at the same time examine the equally important technique installed outside the radio room and the navigating bridge.
Here, in full working deckhands. Mining, as they are called here. Ready to be trawl. I will not disturb them.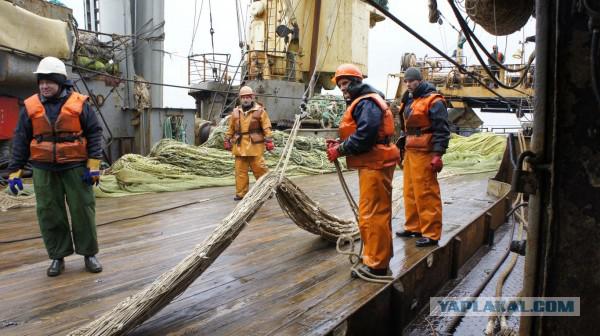 Photo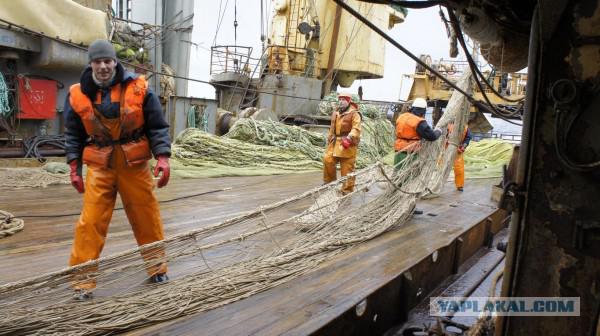 Photo
10, 10
Returning back through the fish processing plant. Here, the fact that caught doing something that will sell. Here - the most genuine assembly-line production, working virtually non-stop around the clock. The complete cycle includes sorting the catch, some varieties - Cutting, then freezing and packaging. It is doing this as a replacement team sailors handlers under the leadership of master processing.
Here in this place is taken "by-catch" - fish that does not go into production. Its either thrown or processed into flour, or hand out to everyone from the crew. Often, along with the usual commercial fish in trawl rare run up, delicacy species. Harvested and brought to the sale of smoking, but to eat during the journey - as much as necessary. That has periodically flight for cod, haddock, pollock, squid.
"In what caught handsome" - boasts a sailor catch handler.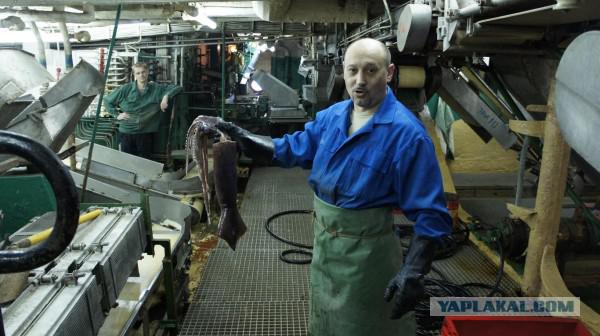 Photo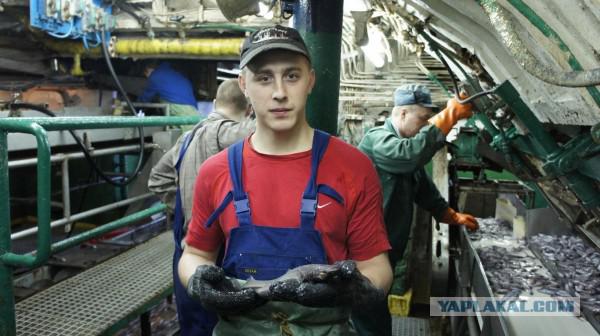 10, 15
Here, near the rybtsehom is machine shop.
It is necessary because the ship a huge number of different mechanisms that need to be maintained and repaired. And many of the details for them can be made directly into the sea. There is a turning, drilling, milling, various grinding machines, welding machines. Also, there are three specialist - fitter, turner and welder.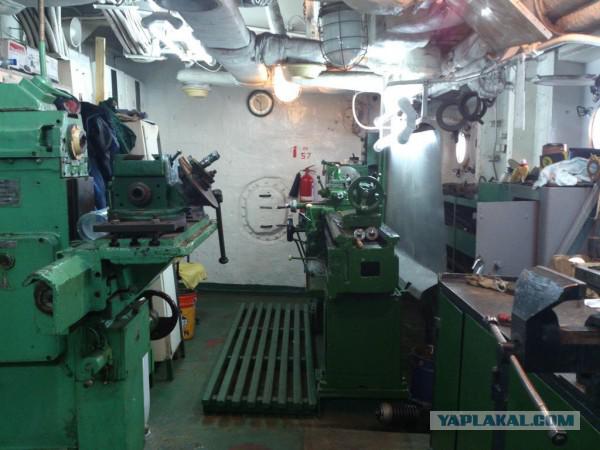 Photo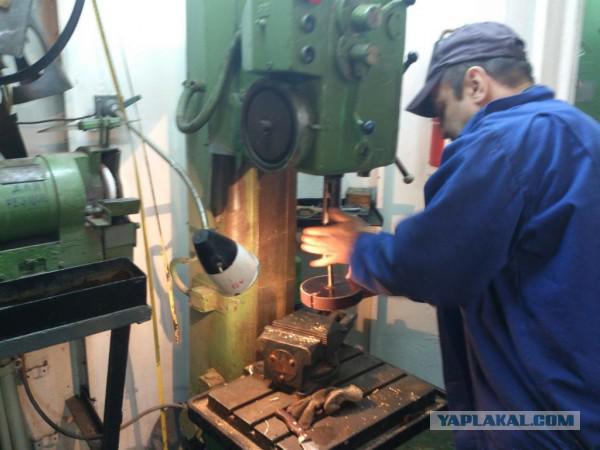 That is my order ready - for the tester probes. Quality content from the factory can not be distinguished.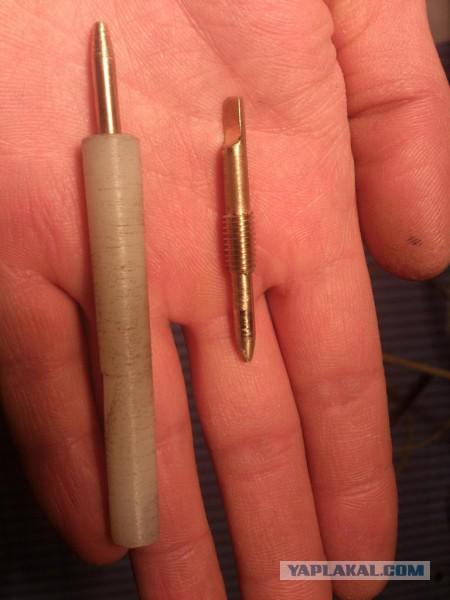 10 30 Coffee time. Actually, I do not hold this office traditionally drink tea and then, when you want it. Today - pu-erh with milk. The old sea saying goes, "If you want to live in comfort - eat and drink in someone else's cabin." Or the workplace.
This - my workshop. Here I pass most of my working day, so right there, and is equipped with everything for a "tea party." I understand, is not very hygienic, someone will say, but it's left of my predecessor, and I did not change anything.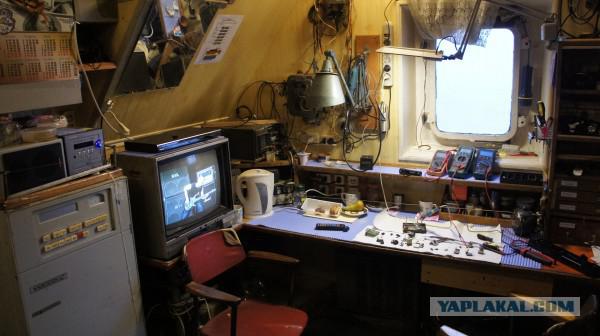 11, 00 The daily filling and sending documents to the bank information on the quantity of caught fish over the past day.
11, 30 "Ship time eleven o'clock thirty minutes. The crew was invited to dinner, enjoy your meal ».
No comments.
12 00 Afternoon rasslabon. If there are no urgent work, you can go to the cabin and lie on the couch, watch some movies.
And yes - a few words about the cabin. Below the picture it - a few angles.
In the Soviet-built vessels designed for a large number of crew (currently 75 on our people, and the ship was originally designed for 100) are small cabins. Almost 8 square meters. However, it is made with the mind. Thinks of everything - here and washbasin with mirror, and a great desk with drawers, shelves, locker under a sofa and a bed, a wardrobe, into which the entire work, and the "city" wardrobe. The bed, a sofa, a chair. Enough space to put a small refrigerator and TV, who needs it. Those who go to the sea for a long time and constantly equip their cabins all sorts of elements of comfort and little whims: halt carpets, extra shelves for DVD-ROM drive, flower pots, paintings, lamps - in general, who on that much. And that, in general, it is justified: because of all these little things - both provided and "naverchennym" cabin ceases to be "keley" or "cage homes" and transformed into a cozy temporary home in which you want to return after a day's work.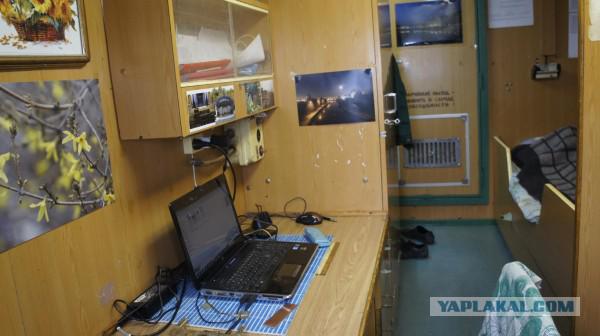 13, 30, "I rang the phone».
Not good. If you call, then something went wrong. "Missing signal from trawl probe».
The most troublesome problem. Trawl probe - is a very important instrument that sends to the bridge state data trawl. Without him, you can break up the trawl, and it is - a huge loss. Emergency hauling. While it will choose the tools you need to prepare and change. Work to be on deck.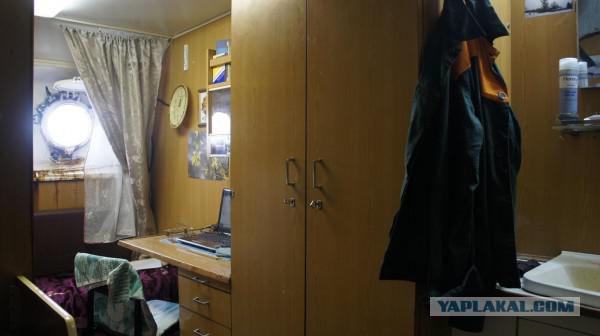 14 00 Trawl selected. It turns out that right next to the device peretёrsya cable. Delov something: crop and again "ramp up" plug. All anything, but the cable must withstand a force of 1, 5 tons, so is made in steel braid. "Clean," it can only be by means of a turbine.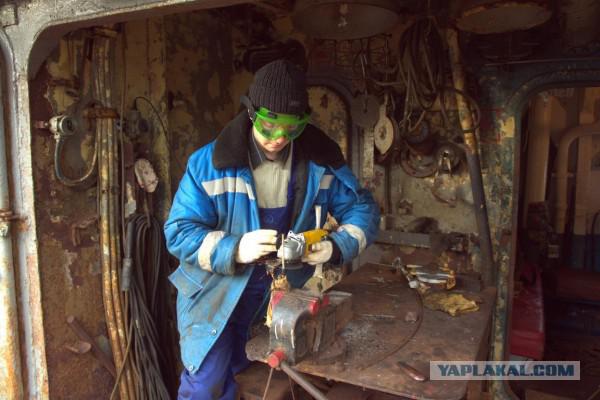 Photo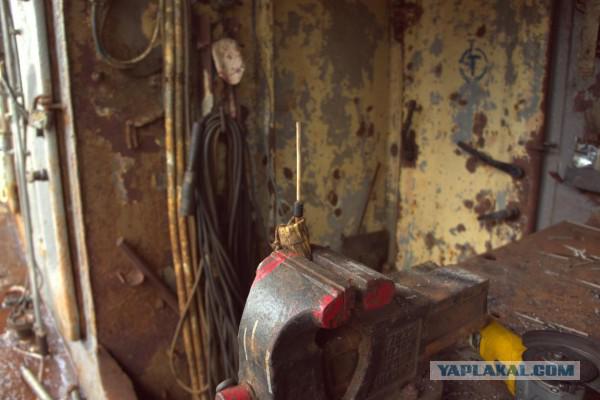 14 30 Well, everything and ready. You can put the trawl, but I have to queue another "challenge" - there is no voice communication with the engine room.
We put things in mechanics. What have we here? Nothing serious, just a fuse.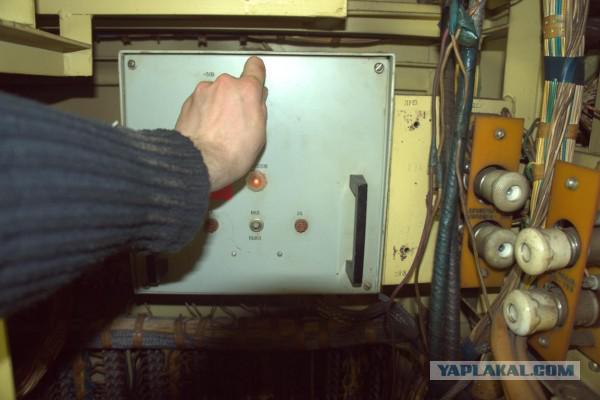 But, once gone, you can invite himself on a small tour of the engine room.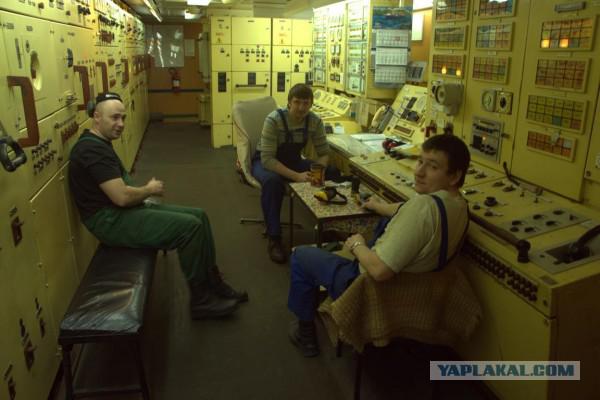 Photo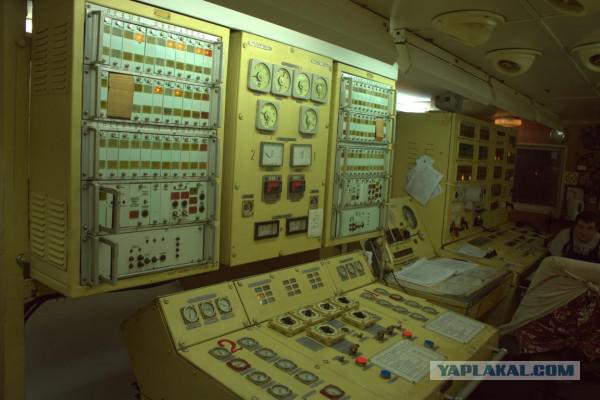 It is very hot and unbearably noisy. Another would be: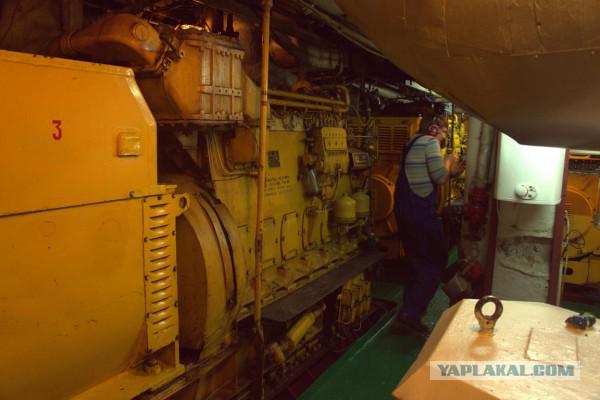 Photo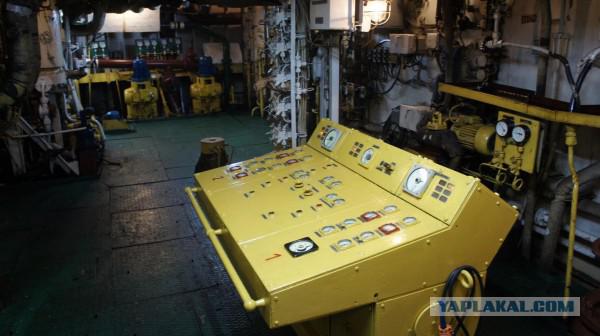 Photo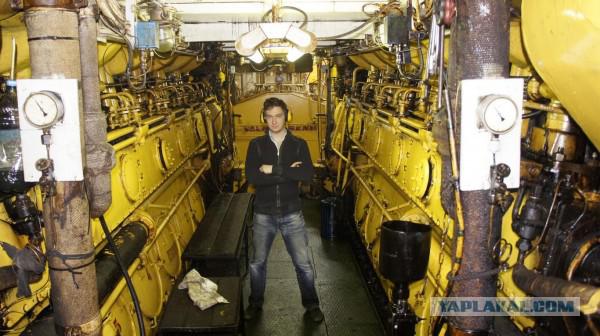 Photo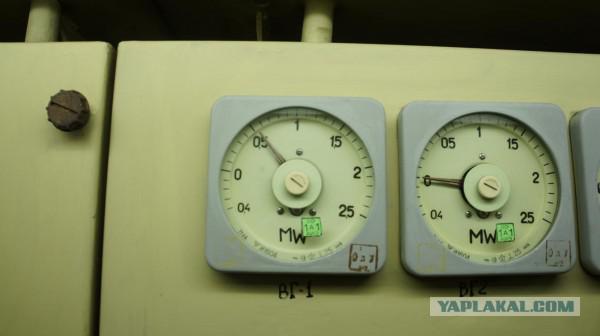 Photo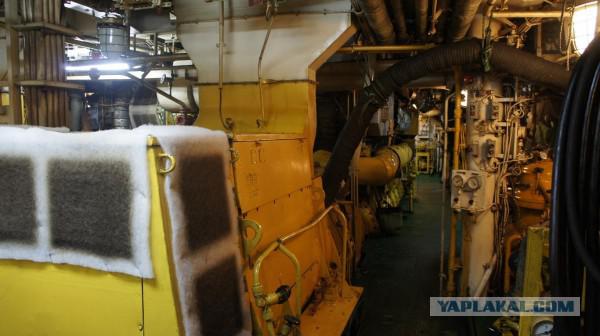 15, 00 After a visit to the deck and in the engine room only washed overalls. Fortunately, the ship has to do a special laundry and laundress, more precisely, "the driver of washing clothes."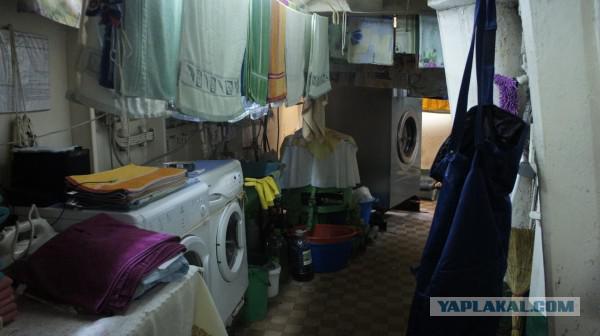 15 30 Snack
One of the most enjoyable parts of the day. Because it sometimes give all yummy. Sometimes, of course, grilled fish or porridge. But more often - pastries, pancakes, or anything else.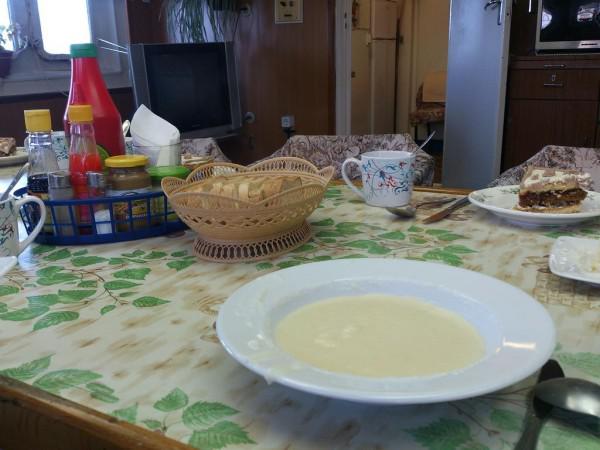 16:00 Well, that's a lull. It's time for hobbies.
Yes, without this in any way to the sea. Leisure time at sea - a very fickle thing. Sailors is fixed and very small. At the officers' / specialists - from time to time. Sometimes you have to work for days without sleep, sometimes you do not know where to throw the dice.
And when that time comes, we must spend it wisely. Someone reads a book, someone is watching movies, some rocks ... But I'm payayu.
Actually, I really love music and good sound. It is a great way hand radio workshop in which I collect tube amplifiers!
The situation just perfect! Excellent workshop on hand, no one and nothing distracting.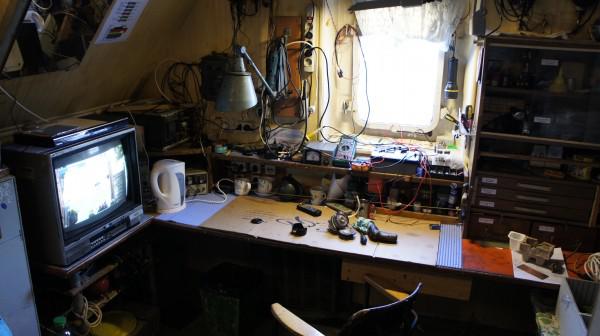 Photo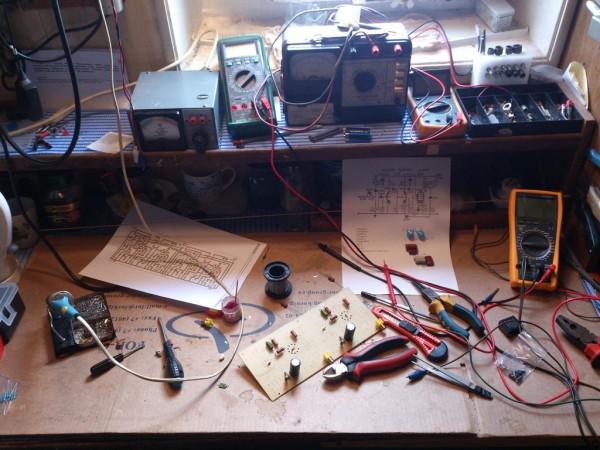 Photo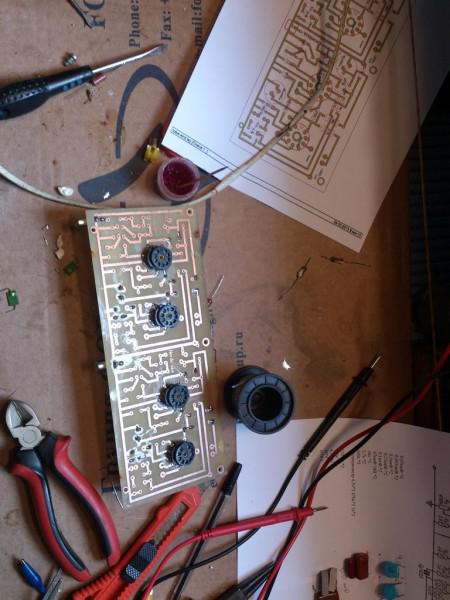 Photo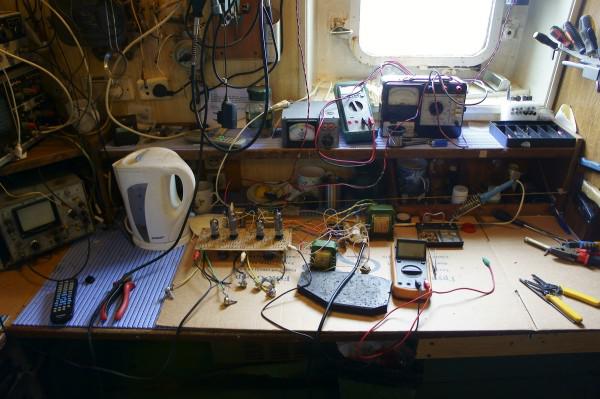 19:00
This is another creation J On board you can proudly write: Made at Nordic Sea
Warm, vacuum tube sound cold northern nights J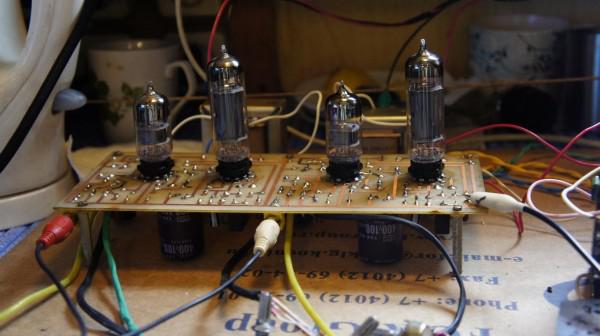 19:30 Dinner
Last date reception write.
In the picture - dining sailors, about which I spoke in the beginning.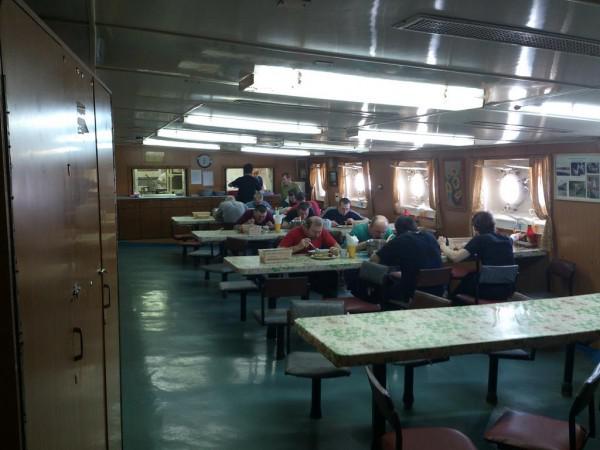 20:00
Free rest of the watch :)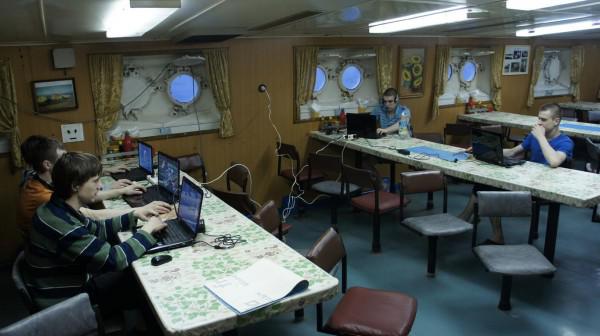 21:30 Evening summary. Important operation when the air there are all the ships of its fleet. So unusual and nice to hear voices in the air colleagues from different ships, their news, events.
22.00 Time of good cinema. In the radio room mini-cinema. This is not as much as before - watching movies in the main cabins. And before going all inside the team.
Posted in [mergetime] 1382460098 [/ mergetime]
23.00 End
I finished - torpedoes, but not much.
From here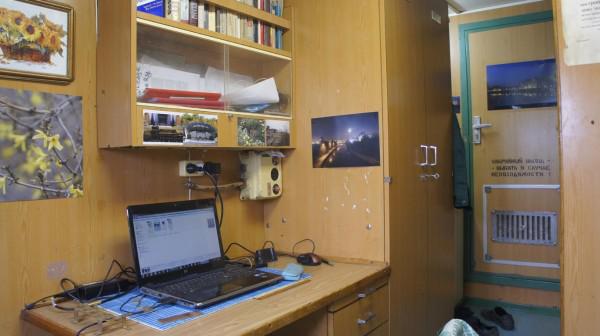 Source: