Migrants have threatened to respond to the "Russian March" own rally
The photo prayer during Eid al-Fitr holiday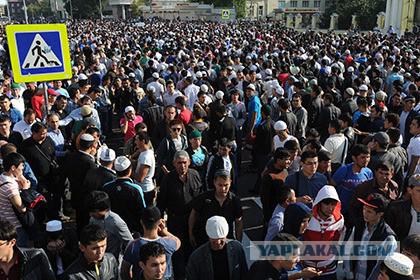 National diaspora asked the Moscow mayor's office refused to agree nationalists "Russian march", which they are planning to November 4th. According to the October 22 "Interfax", otherwise they are ready to rally back.
The report states that the determination to organize reciprocal action expressed the head of Russian Federation of Migrants Muhammad Amin. However, he did not say when and where it can go.
According to the federation, marches and parades on holidays should be carried out on the Red Square the army or the police, but not nationalists. Amin said that in their actions they call for violence against innocent people, including migrants.
The nationalists are planning to hold capital "Russian march" in the Lublin and has already sent to the mayor of Moscow notified. It is expected that the event, as in previous years, will be held in the National Unity Day, celebrated in Russia on November 4 and will end on a rock concert. It is not excluded that the event will take place not only in Lublin, as the nationalists have applied on several routes in the city center.
In the case of coordination actions, it will be held the mayor's office less than a month after the massacre in the metropolitan area Biryulyovo where locals together with a group of nationalists attacked a shopping center and ovoschebazah deemed conglomerations of migrants. The reason for the massacre was committed shortly before the murder of a resident of the district Yegor Shcherbakov. During that action, police detained nearly 400 people, but most of them were soon released.
The first "Russian March" was held in Moscow in 2005, and since 2009 he regularly held in Lublin. In Moscow, in such events each year involved about ten thousand people. In addition, the "Russian March" held in the regions, but there they are collected significantly less participants. In 2013, the event is scheduled to take place once in a hundred cities.
Source
Source: