Moscow Mayor's Office agreed to conduct the eve of November 4 National Unity Day "Russian march". Nationalist Action will take place in Lublin. Federation of Migrants of Russia, which had previously asked the nationalists refuse to conduct the march on November 4 expressed dissatisfaction with the decision of the City Hall. The FMR reminded officials that when they needed support, migrants have always been involved in the pro-government rallies.
The leader of the organization "Russian" Dmitry Demushkin said that in addition to the march in Lublin National Unity Day rally and held a rock concert of "Kolovrat". It is worth noting that in the repertoire of the band has songs such as "Niger, get out" and "Moscow skinheads." Moscow officials, apparently songs with explicitly nationalistic text not confused, because the concert was also agreed upon. True Dyomushkin noted that a group of "Kolovrat" specifically for the rally on November 4 written "absolutely new songs."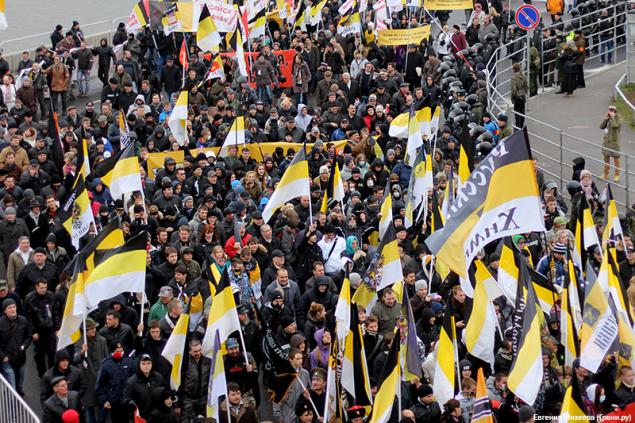 Meanwhile, the Federation of Migrants of Russia, which after the pogroms in Biryulyovo asked the mayor's office did not give permission for the "Russian March", he was dissatisfied with the decision of the authorities.
"Yes, we understand that to hold street protests - is a democratic right nationalists. But November 4 - a holiday when people have to walk around the city and enjoy. And on this day we have to warn Caucasians, Tatars, migrants received Russian citizenship, or who came to work, not to go into the city, do not appear in public, be careful, "- said the head of the organization, Muhammad Amin in an interview with« Slon ».
Chapter FMR recalled that his organization has always been to cooperate with the authorities and give them every support. "After all we went to rallies in support of President Putin and Sobyanin ... We go beyond Putin's first presidential election, the elections in 2004 and the last. These were not our individual stocks - we participated in actions with the "United Russia". In support of Sobyanin came out in support of the governor of the Moscow region (Andrei Vorobyov), "- said Amin.
Earlier national diasporas threatened to hold back the rally if the Moscow mayor's office will allow "Russian march". However, while migrants Russian Federation did not take on this account final decision.
Source
Source: