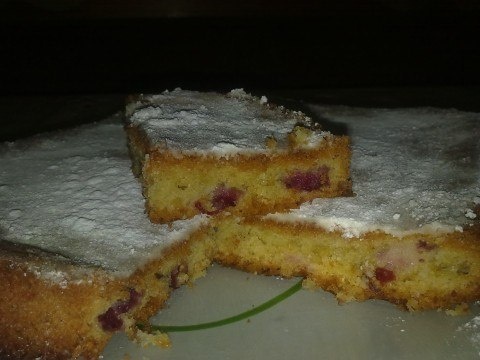 The recipe is very simple product and at least a lot of time not taking !!!
We will need:
- 1 pack of margarine
- 1 cup of sugar
- 3 eggs
- 1 packet of vanilla
- 1, 5 teaspoons of baking powder (can be 0, 5 teaspoons of soda slaked vinegar)
- About a cup pitted cherries
- 1 cup flour
Optionally, you can add sour cream, so he will not always add pyshnee.Ya, and so it turns out good!
Preparation:
Melt margarine in the quiet fire
as margarine has cooled slightly add the eggs and sugar
then mix well and add the baking powder or baking soda with vinegar and vanilla slaked
stir and add the flour
dough should be thick and should not be much liquid
Then the dough is ready to spread on a baking sheet with parchment blur oil
put the cherry
and bake at 180 degrees until done. Preparing prmerno 25-30 minutes
Ready cake sprinkled with powdered sugar
And call all in a table drinking tea !!!
Bon Appetite !!!