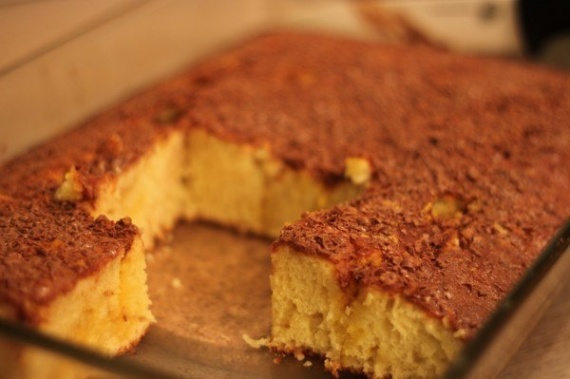 Dough:
3 eggs
3 cups flour
2 cups sugar
1 tbsp. tablespoon butter
3 cups fresh orange juice
1 tbsp. teaspoon baking powder
Mixer to whip the whites until fluffy foam. Set aside. Then beat the egg yolks with the sugar and butter. Add to this mix the flour and half a glass of juice. Beat well. Then add the beaten egg whites and baking powder. Do not whisk and mix well by hand. Bake in the oven until cooked.
Ready pie ruthlessly holing a knife in several places and in every hole pouring fresh orange juice on the knife. The larger the hole, the better. At watering should take 1, 5 glasses of juice. Is no longer necessary, as the cake may be too wet and fall apart)
Sprinkle with orange chips, cinnamon ... or that there tells a fantasy, I sprinkle with grated milk chocolate)