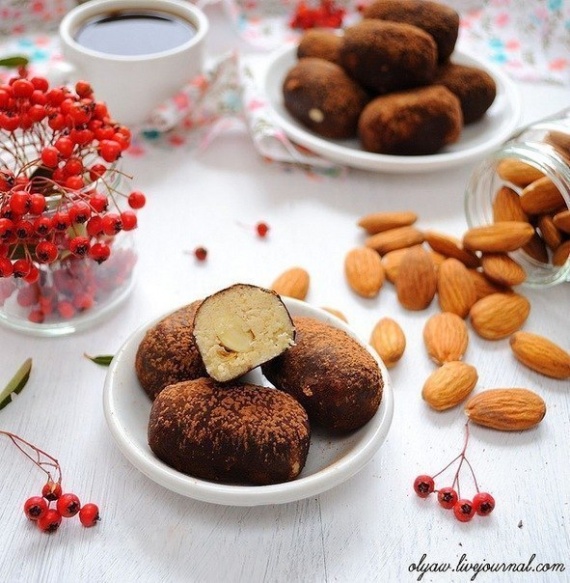 Ingredients for 30-34 pieces:
 - 200 gr. almonds (peeled)
 - 150 gr. sugar
 - 1 tsp. Lemon juice
 - 20 gr. butter
 - 300 gr. white chocolate (chocolate is better to take high-quality, I bought Belgian)
 - Cocoa powder for dusting (must also be of high quality, but for the lack of took what was)
Preparation:
Almonds are a little fry in a dry frying pan, so that only appeared golden spots, cool.
Pour the sugar in a frying pan with a thick bottom, add lemon juice, sugar should dissolve completely and turn into caramel, it does not follow that darkened too much caramel should be light-colored honey, turn off the heat, add the nuts and stir quickly to almonds has been well covered caramel, put on parchment, smooth, allow to cool.
When the almonds to cool to choose the most beautiful 30-34 pieces of walnut, put aside, the other in a coffee grinder to grind nuts in muku.Shokolad melt the butter in a water bath to add a little ground nuts and stir, should get plastic mass, if turned too thick you can put it in the refrigerator for 30 minutes, I turned at once, such as a need.
Walnut-chocolate molded small ball in the middle of a put almonds, molded oval konfetu.Kakao sift on a flat surface, the candy is good roll in cocoa from all sides, put on parchment, put into the refrigerator for about 1 hour, so that they are well hardened.