Candy consists of three layers: marzipan, orange marmalade and truffle mass. From this quantity of ingredients is obtained approximately 24 chocolates.
You will need:
Oranges – 1 piece
Cloves – 4 PCs.
Bitter chocolate 70-80% cocoa – 200 g
Migdal – 150 g
Sugar powder – 100 g
Sugar (sand) – 200 g
Gelatin – 5 g
Cream 20-22% — 100 ml
Cognac – 20 ml
Prigotovlennoe in the evening, cut the rind of one orange in a thin layer, so as to not hit the white substrate. Fill it with cold water and leave overnight. The next day drain the water, peel grind in the mill, pour a glass of water and put on fire is below average for half an hour.
Cook until crisp, clear orange, cloves free from transparencies and the resulting pulp grind in a blender. Of course, everything is easier if you have a special juicer for citrus.
In a saucepan with orange peel pour the juice and stir in the Cup of sugar. Put the cloves and place again on low heat for another 20 minutes. Periodically stir the jam so it does not burnt. In a separate bowl soak half a tablespoon of gelatin in two to three tablespoons of water. After 10 minutes melt on low heat (not boiling) and mix with jam.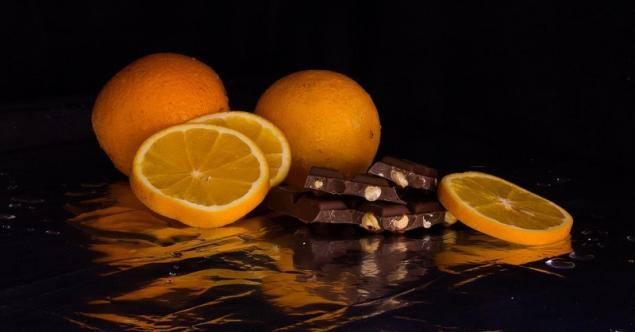 For truffle mass melt the chocolate in a water bath and mix with cream. Get enough thick mass.For marzipan almond pour boiling water and leave for two to three minutes. Clean from the top of the shell. 10 nuts aside, the rest grind in the mill, add one tablespoon of cognac and cream. Sift the powdered sugar and knead the almond paste. Instead of brandy you can take any strong alcohol. Most relevant would probably be the Amaretto liqueur. Pending nuts not chop very coarsely and fry in a pan until light Golden brown.
Now that all the ingredients ready, you can begin collecting candy.
On parchment paper, lightly dusted with powdered sugar, roll out marzipan. Form it into the shape of a rectangle with a thickness of half centimeter. On top evenly sprinkle with toasted nuts.
Marmalade can be spread when it is grabbed, but is still fluid. A layer of jelly half an inch too thick. Put the truffle. If he had time to harden – it should be slightly turn the heat on the water bath and mix well. And truffle is also half an inch.
The three-layer design put into the fridge to fully solidification and cooling. Briefly, for 10 minutes.
In order to chop the candy will need a long thin knife, which is usually cut into fillets. In high capacity pour very hot water (boiling water), prepare a paper napkin. Before each cut dip the knife in hot water, the metal is thoroughly warmed, dry wipe it with a tissue and gently cut the candy billet, ensuring that the top chocolate layer melted under the knife, but did not break. Size candy about 2x2 cm. Melt the chocolate in a water bath cover them candy.
I did it like this. First turned all candy, covered with a layer of chocolate in the bottom and put it in the fridge to harden. After that, I flipped the candy, one put on the plug and poziroval the remaining five faces. To dry, place candy on a sheet of parchment. Decorate them with stripes of orange (or other bright) candied fruit.published  
Author: Tatyana Kartasheva
P. S. And remember, only by changing their consumption — together we change the world! ©
Join us in Facebook , Vkontakte, Odnoklassniki
Source: www.foodclub.ru/detail/7064/