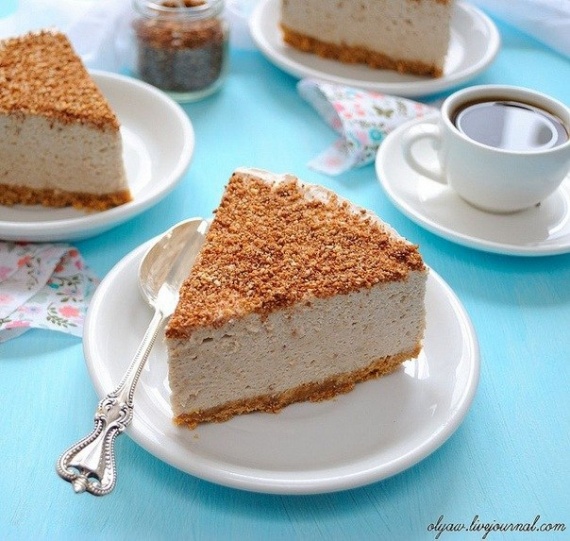 Ingredients:
For the base
200 gr. cookies
50 oz. melted butter
1-2 tbsp. tablespoons milk
Cream
400 gr. 9% cottage cheese
100 gr. sour cream 15%
4 tbsp. tablespoons light honey
200 ml. 33% cream (I used dried cream Dr. August Oetker they need to shake up with 150 ml. of milk)
2 tbsp. spoons of powdered sugar
1 tsp. Vanilla sugar
1 tsp. Lemon peel
3 tbsp. spoons of lemon juice
8 c. bystroratvorimogo gelatin.
3 small banana (if more then 2)
Bottom and bumpers split mold diameter 19-22 cm. To lay oiled parchment. Biscuits crushed into crumbs, mix with butter and milk, a lot of ram to the bottom of the form, while in the refrigerator clean.
Bananas (in advance from the refrigerator so that they are at room temperature) pyurirovat. Gelatin in the lemon juice, then dissolve in a water bath, mix with banana puree, put into the refrigerator for 10-15 minutes, the mass should be a little "grab" watch that it does not become a jelly.
Cottage cheese through a sieve, add the lemon zest, cream and honey, a little whip, whip the cream separately with powdered sugar and vanilla sugar, add a banana puree cottage cheese and cream, all is well again whip, put the cream in the form, put in the fridge for a few hours, preferably overnight.