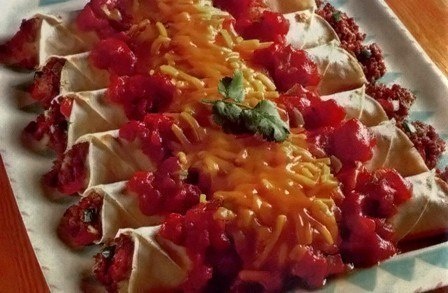 Ingredients:
►1 Armenian lavash (thin) or 6 small thin lavash,
►400 any g minced meat,
►1 egg,
►2 large bulbs,
►1 red bell pepper,
►1 carrots,
►2 Art. l. tomato paste,
►200 g of solid cheese,
►sol, pepper, spices for stuffing,
►mayonez for lubrication, oil and herbs.
Preparation:
Armenian lavash allow 6 equal parts. Onion very finely chopped (you can mince or grate). Chop herbs, finely chopped seeded red pepper. In minced add egg, chopped onion, greens, sliced ​​bell pepper, spices, salt, pepper. Stir thoroughly and divided into 6 parts. Diced onion second, grate the carrots on a medium grater, all fry in vegetable oil and then put out 3-4 minutes. tomato paste diluted with boiled water. Grate cheese. Baking dish lightly oiled. Each piece of pita bread with mayonnaise, distribute beef, roll to roll and put into shape. Bake in a preheated 180 ° oven for about 40 minutes. (Until cooked minced meat). Then put the tomato zazharku rolls and sprinkle with grated cheese. Put a few minutes in a hot oven to melt the cheese. Snacks can decorate with greenery and serve hot or cold.