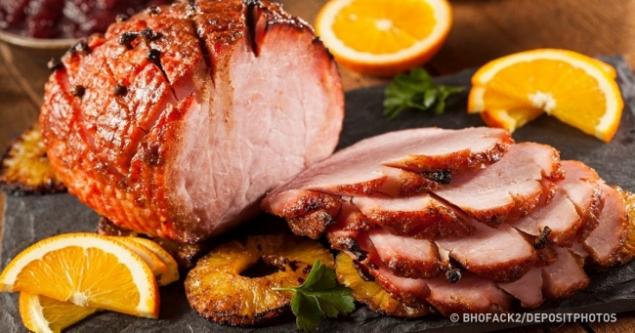 As a rule, we prepare for the New year what used. But sometimes you want to get off the beaten track and do something new, don't spend a lot of time and effort.
For the
Website
found 13 interesting and easy, and most importantly — new Christmas recipes!
Mexican salsa Salsa is a spicy sauce that is very similar to a salad. Spicy dressing makes this tomato sauce is a great complement to the meat.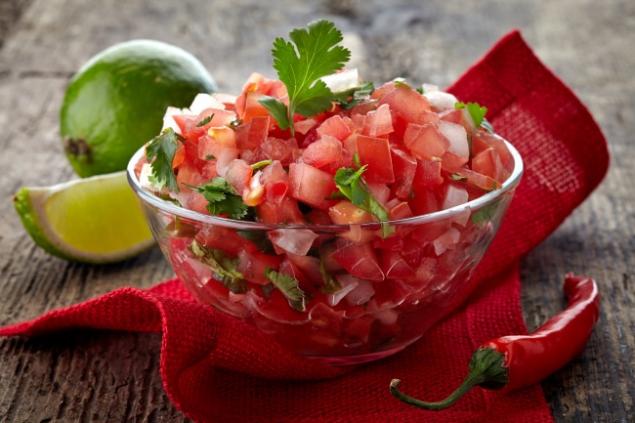 Recipe.
Ingredients (8 servings):
4 tomatoes
2 large cucumber
2 bell peppers
1 red onion
1 large avocado or 2 small
2 heads of garlic
1/3 Cup fresh lemon juice
bunch fresh cilantro
1/4 tsp hot pepper
1-2 cans of sweet corn
salt and pepper to taste
Cut all ingredients in cubes, garlic crush in chesnokodavilke. Mix lemon juice and season. Italian salad with pasta Salad with cold pasta — a classic Banquet dish, popular all over the world — from USA to Italy. It is best to opt for this medium-sized salad pasta: fusilli (spirals), Farfalle (bows) or hawser (small shells). Perfect pasta of different colors.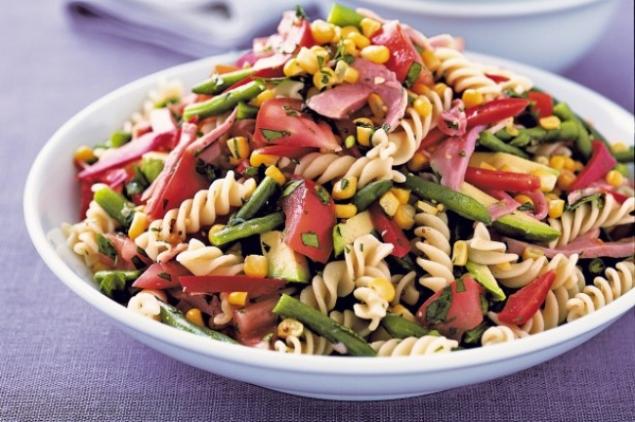 Recipe.
Ingredients (8 servings):
600 g ham
4 tomatoes
4 sweet peppers
700 g of pasta
3 cups of canned corn
2 cups grated cheese
mayonnaise or other sauce to taste
Boil the pasta in salted water, let them cool down. Slice the tomato and pepper cubes, ham into thin slices. Cheese RUB on a coarse grater. Mix all the ingredients, dress the salad. Appetizer of salmon and pita, Red salmon and winter holidays as if made for each other! Delicious starter of salmon is a great substitute for sandwiches.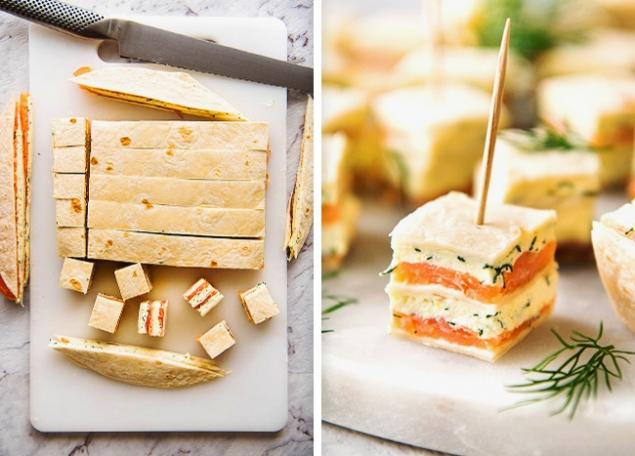 Recipe. From the specified number of turns approximately 49 pieces.
For the spread:
250 g cream cheese
1/2 Cup sour cream or yogurt for salad
1/2 tsp garlic powder
zest of 1 large lemon
1/2 tsp salt
1/4 Cup dill
The rest of the ingredients:
3 thin lavash or tortillas (about 23 cm in diameter)
350 g smoked or salted salmon
a little butter
Mix the ingredients for the spread. Spread half of the pita bread, given that our sandwich in the end will be square and the edges of the pita will be cut off. On top put half of the salmon. Take one pita bread and grease it with a thin layer of oil — this will help the salmon "foothold" on pita bread. Cover the layer with salmon butter side down. Spread on top of the spread, put the salmon and one pita bread, buttered (butter inside). Wrap everything in foil, press down flat with a heavy object, put it into the fridge for 4 hours, all night. Use a knife with a serrated edge to trim off the excess pita and square what happened. The resulting square cut into 6-7 strips of them make squares. Before serving, pierce each mini sandwich with a toothpick, garnish with dill. Unusual presentation of sausage Sliced salami or other sausage — a familiar part of the Christmas table. You can beat this snack that make it a rolls or tarts.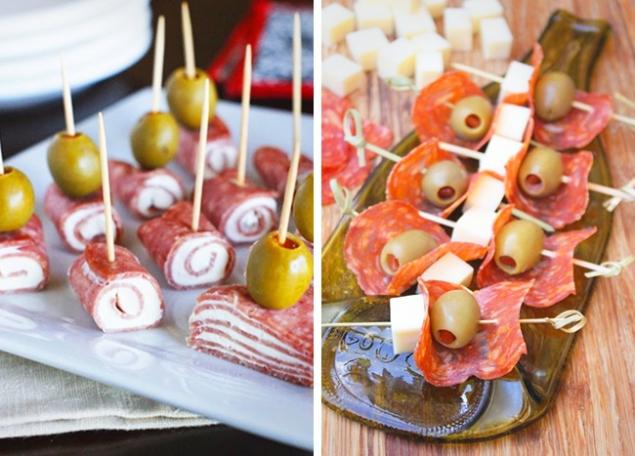 Recipe.
Ingredients (8 servings):
tray of cream cheese or 500 g of hard cheese
polpalki salami
a jar of olives
Make salami rolls and fill with the cream cheese. Or just arrange them on skewers anything, decorating the top of the "sail" of the sausage.
Tender mushrooms in sour cream For this recipe is perfect mushrooms. Mushrooms to be tender and juicy.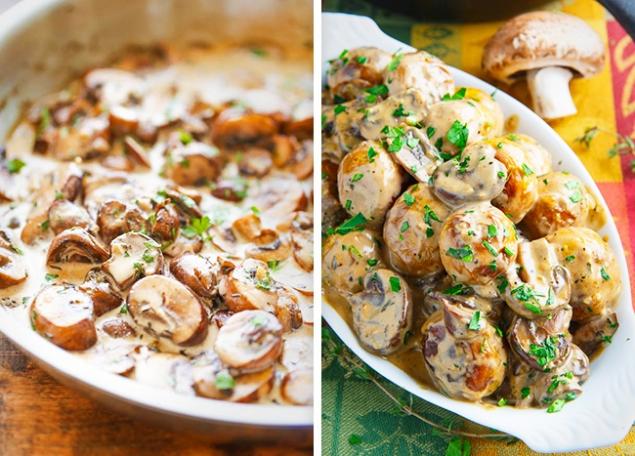 Recipe.
Ingredients (8 servings):
1 kg fresh mushrooms
10 tbsp sour cream
2.5 tablespoon cheese
2 tsp flour
greens-to taste
4 tbsp vegetable oil
Clean the mushrooms, rinse and scald with hot water. Throwing them on a sieve, allow to drain water. Slice the mushrooms slices, salt and fry in butter. Before the end of cooking the mushrooms, add 1 tsp flour and stir. Put the sour cream, sprinkle with grated cheese and cook on slow fire a little more. When serving, sprinkle mushrooms with parsley or dill. Potato gratin Potatoes is a frequent guest on the Christmas table. Gratin — a great way to apply it in new ways.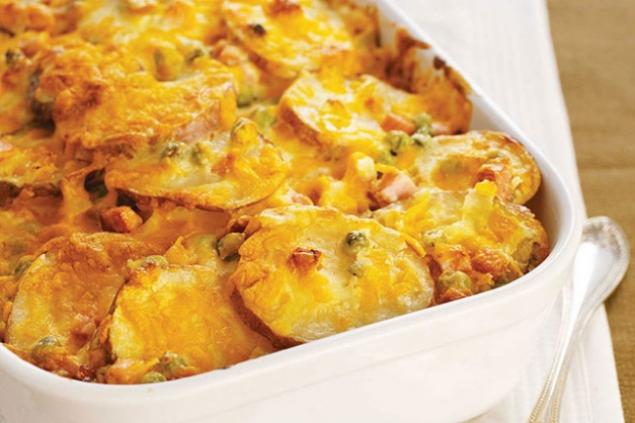 Recipe.
Ingredients (8 servings):
12 potatoes
2 cups of a 30% governmental cream
2 cloves of garlic
50 g butter
a pinch of nutmeg
salt and ground black pepper to taste
cheese to taste
The surface of the pan or form grate a clove of garlic and butter. Cut potatoes into thin round slices and place in layers in the form of, sprinkling with salt and pepper. Pour in the cream, sprinkle with nutmeg and slices of butter. Bake at 200 degrees until cooked. You can sprinkle with grated cheese. Simple recipe pork This pork is very good both hot and cold. To serve, cut into thin layers.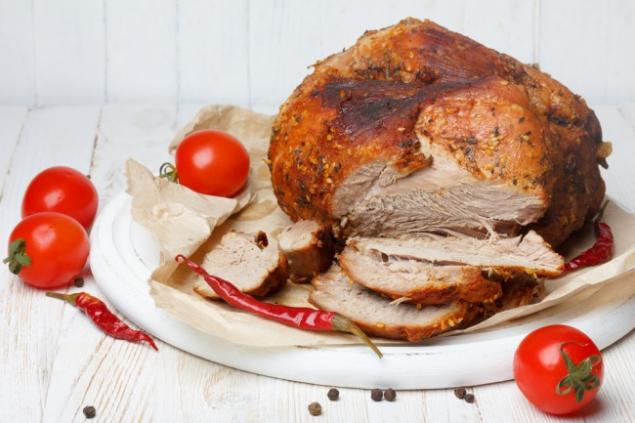 Recipe.
Ingredients (8 servings):
950 g of pork ham
5-6 cloves of garlic
salt and ground black pepper to taste
Preheat the oven to 200 degrees. Meat wash, dry, RUB with salt and pepper. Nashpiguyte garlic. Twist tight roll, securing with cooking string. Wrap in 3 layers of foil. Bake until ready. The Turkey meatloaf with sun-dried tomatoes and a Turkey — excellent replacement for chicken. Turkey meat is perfectly digestible, little cholesterol and lots of vitamins.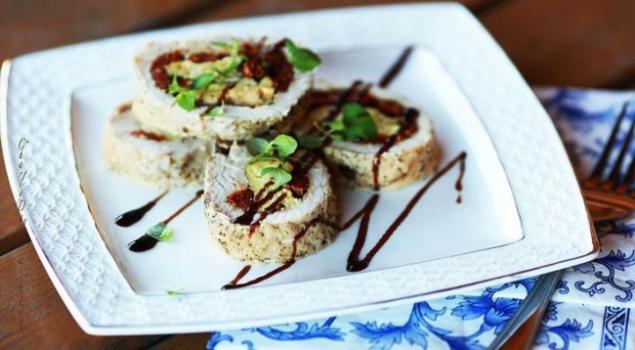 Recipe.
Ingredients (8 servings):
2-4 kg Turkey fillet
2 cups sun-dried tomatoes (they can make in the oven)
350 g bacon
a pinch of fresh thyme
Basil to taste
6 tbsp olive oil
400 g of butter
Sun-dried tomatoes cut into pieces, not too small. Turkey fillet cut, rasplatita, slightly repel, salt, pepper. Put in it the stuffing strata: bacon, tomato, thyme, Basil, butter. Drizzle with olive oil. Roll the meat, tie with a thread. Bake in the oven for 30-40 minutes at 180 degrees. Goose with apples and dried fruit Ruddy duck with a crispy crust — the "new year" dishes you can imagine! Contrary to popular belief to cook goose is a snap.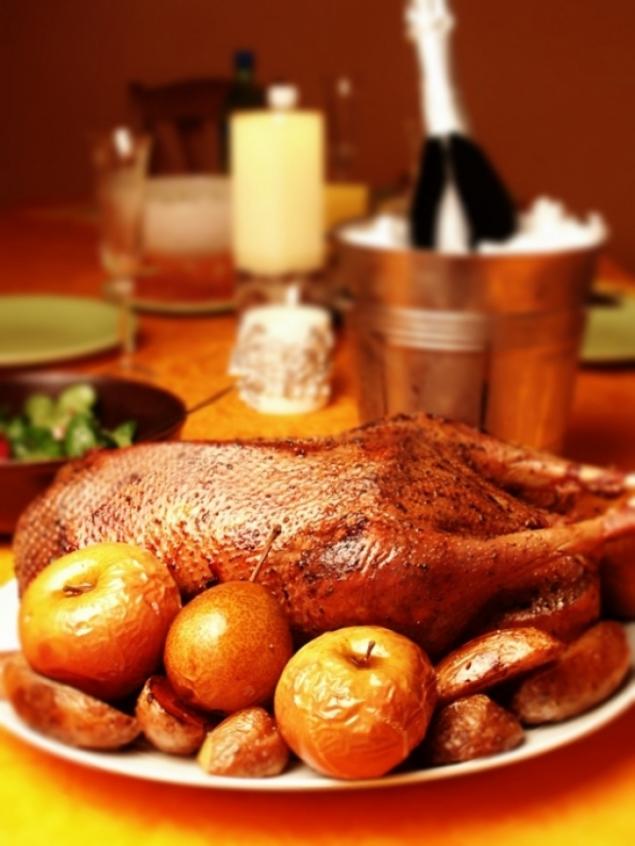 Recipe.
Ingredients (8 servings):
1 goose
1 kg sour apples
200 g dried apricots
200 g pitted prunes
salt and ground black pepper to taste
about 150-250 g of apricot jam
2 tbsp. honey
700 g of dry red wine
Apricot-honey glaze: apricot jam and honey, whisk in a blender until smooth. Place goose in a large pot of boiling water and boil for half an hour with any spices and salt. This will make the goose is soft and will accelerate the process of roasting. The goose dry with paper towels. It is advisable to place it in the fridge for drying overnight. But not necessarily — you can just fry. RUB the bird with salt and pepper inside and out. In the abdomen nataliite dried fruit and a small sour apples (the remaining apples and dried fruit leave at the end of frying). Place in a preheated 200 degree oven. Pour half a bottle of red wine and roast goose, basting with juice from time to time. After about an hour put in a pan the remaining fruit and add more wine. 15 minutes before the end of frying grease goose apricot-honey glaze. Roast chicken by Jamie Oliver Jamie Oliver is one of the most famous chefs and TV presenters in the world. He offered his recipe for oven baked chicken.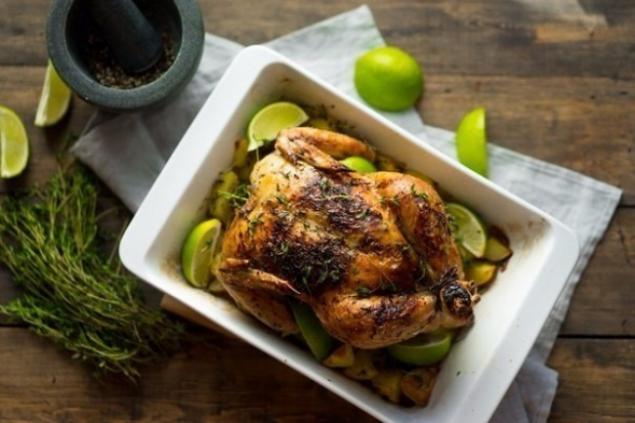 Recipe.
Ingredients (8 servings):
2 chicken
sea salt and ground black pepper
4 kg of potatoes
2 or 3 lemon lime
2 heads of garlic
thyme, rosemary
olive oil
RUB the chicken with salt and black pepper, wrap in plastic wrap and store in the refrigerator. Potatoes cut into 4 pieces. Separate the garlic into cloves. Preheat the oven to 190 degrees. Put the potatoes, lemon and garlic in the pan with plenty of boiling salted water and cook for 12 minutes. Drain water and allow potatoes to dry for 1 minute at the fire, shaking the pan. Remove the lemon and garlic. Cover the pan to keep the potatoes hot. While the lemon is hot, pierce it about 10 times. Remove the chicken from the refrigerator, blot with a paper towel and RUB with olive oil. Put the chicken in a lemon, garlic and thyme, then place it in a baking pan and cook in preheated oven for 45 minutes. Put the chicken on a plate. Put the potatoes with the rosemary leaves on the baking sheet and stir. Make a well in the center and place the chicken there. Cook for 45 minutes or until the chicken is cooked and potatoes are brown. When the chicken is done, remove lemon and garlic. Clean the garlic, mash and RUB them on the chicken, remove the leaves of rosemary. Ham with honey and mustard thus Prepared pork — a true home ham that can be served as cold as a snack, and hot, adding a side dish of vegetables and a mustard sauce.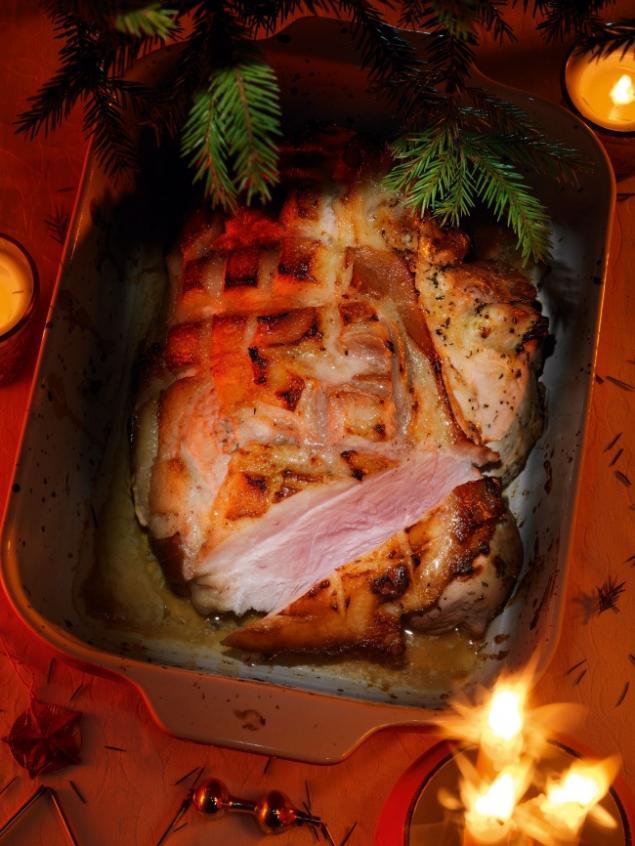 Recipe.
Ingredients (8 servings):
5-5,5 kg pork leg
2-2,5 heads of onions
2 carrots
2,5 egg yolks
2.5 tablespoon honey
1.5 tbsp espresso
6,5 tbsp Dijon mustard
cloves and salt to taste
Put the ham overnight in a large pot with salted water (150 g per 4 l water). Preheat the oven to 120-150 degrees. Onions peel and stick each on a few carnations. Put the ham in shape, next put the onions and whole peeled carrots. Pour water so that it covered the vegetables. Bake at a temperature of 120 degrees about 2 hours. Or, if you have a food thermometer until the temperature inside the meat was 75 degrees. Remove from oven and let cool. Proteins separate from the yolks. Whisk the egg yolks with honey, chilled espresso and mustard. Oven temperature increase to 230 degrees. Put the ham from the broth to the pan with the grate, cover the ham with glaze. Bake for 8 minutes or until Golden brown. Gingerbread cupcake with cranberry Butter cakes with ginger and cranberries create a unique mood in one of the festive evenings.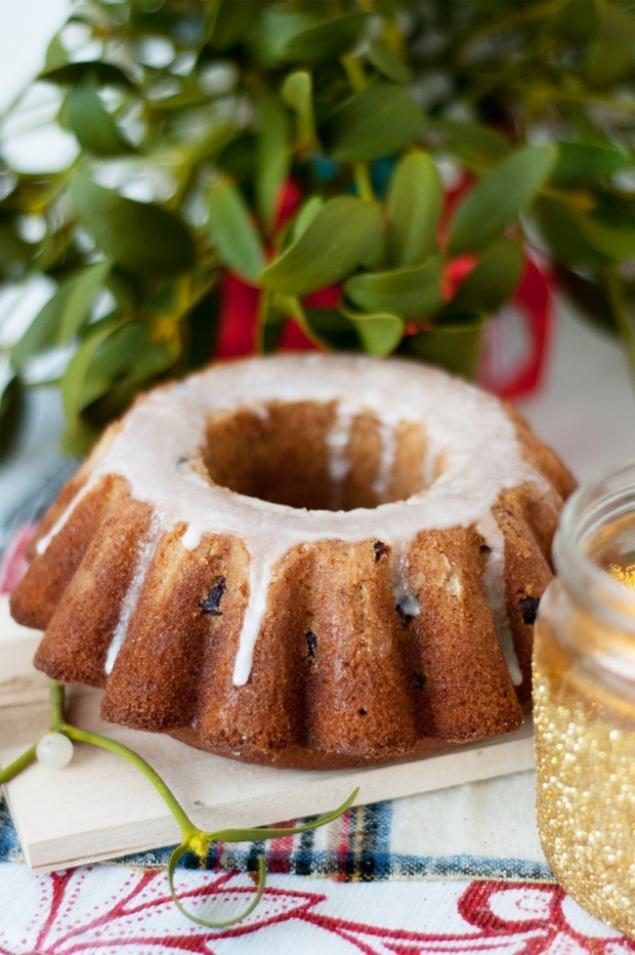 Recipe.
Ingredients (8 servings):
150 grams of wheat flour
1 teaspoon baking powder
1 tbsp ground ginger
1/2 tsp ground cloves
1/2 tsp cinnamon
1/2 tsp nutmeg
1/4 tsp salt
1/2 tsp black pepper
150 g cane sugar
1/4 tsp.
100 ml of milk
60 g butter
2 eggs
3 tbsp honey
dried cranberries
Eggs, butter and milk in advance remove from the refrigerator to heat them. Mix the flour, baking powder, spices and salt. In another bowl, whisk the sugar and butter, add eggs, honey, milk and soda, stir. Mix both mixtures until smooth. Stir in dried cranberries to taste. Grease cake pan with butter and sprinkle with flour. Pour the batter and send in a preheated 180 degree oven for 40-45 minutes. The finished cake can be poured glaze: 3-4 tbsp powdered sugar add a few drops of lemon juice and mix. The mixture should be thick and opaque. Photos on the preview bhofack2/depositphotos
According to the materials eda
See also
8 unexpected dishes for the holiday table
9 awesome snacks for the festive table
via www.adme.ru/zhizn-kuhnya/10-obaldennyh-zakusok-dlya-novogodnego-stola-1120660/