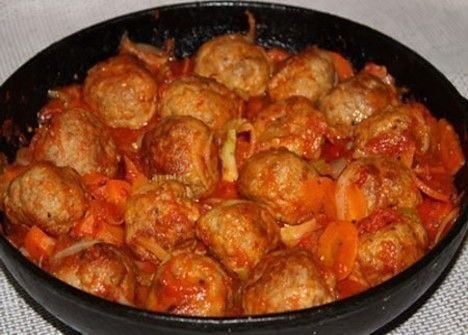 Ingredients:
500 grams of lean ground beef
1 clove garlic, crushed
1 tablespoon chopped parsley
1/2 teaspoon cumin seeds (optional)
salt and pepper to taste
1 egg
green chopped parsley for decoration
For the tomato sauce:
2 onions, finely chopped
400 g fresh tomatoes (can substitute canned in its own juice)
1 tablespoon tomato paste
a pinch of grated nutmeg
Preparation:
1. Connect the beef, garlic, parsley, cumin (if using), salt and pepper to taste and stir. Add the egg, mix again, divide the minced into pieces (20 pieces);
2. Form the meatballs. (To make it easier to make the meatballs, you can hand periodically lowered into the cold water, then stuffing will not stick to your hands and the balls will turn out flavorful);
3. Tomatoes and onions finely chopped or ground in a blender with nutmeg, salt and pepper. Put the tomatoes in a pan, add the tomato paste and bring to a boil, then reduce heat;
4. Carefully lay the meatballs to the sauce, cover and simmer on low heat for 40-45 minutes, stirring occasionally;
5. Ready-made meatballs in tomato sauce serve garnished with parsley.
Dish meatballs in tomato sauce turns juicy and very flavorful. To enhance the taste of the stuffing, you can add your favorite spices.
Bon Appetite!