Chickpeas, aka garbanzo beans, in tomato sauce – the dish is extremely simple, but versatile: using only spices, you can easily turn it in a dish of Indian cuisine.
We are going to cook chickpeas in tomato sauce with an eye to its Greek roots, adding rosemary and oregano.
Boiled until soft chickpeas we combine with tomato sauce, homemade (make from canned tomatoes) and simmer for a long time so all the flavors came together and the dish acquired the required consistency.
For a fasting and a vegan chickpea will be an invaluable source of vegetable protein, and meat – a delicious respite.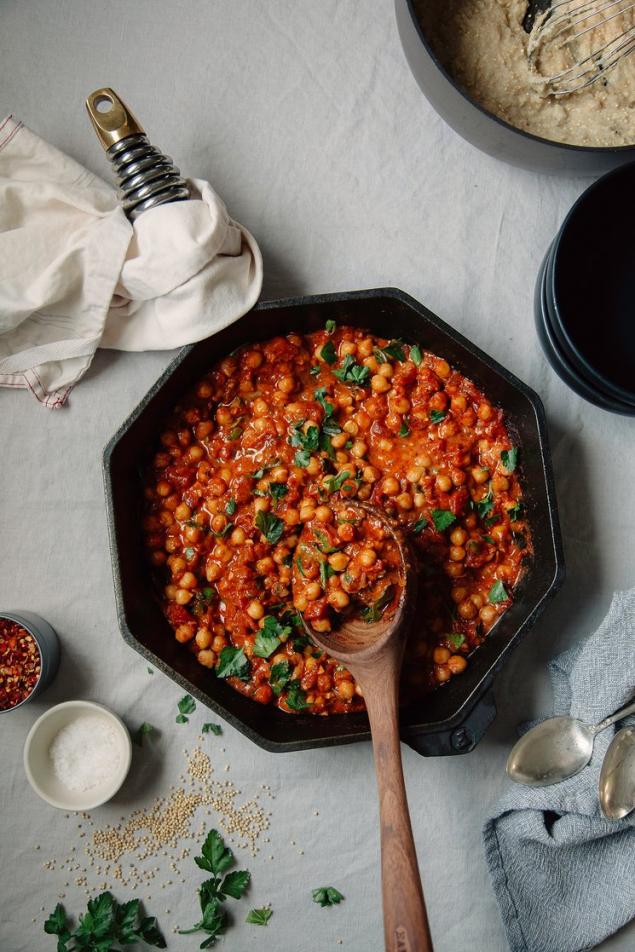 Chickpeas in tomato sauce
Ingredients:
2 servings
1 tbsp. chickpea
2 sprigs of rosemary
2 Bay leaves
a few sprigs of parsley
1/2 lemon
for the sauce:
400 g diced tomatoes
1 small onion
2 cloves of garlic
1 tsp dried oregano
2 tbsp olive oil
salt
black pepper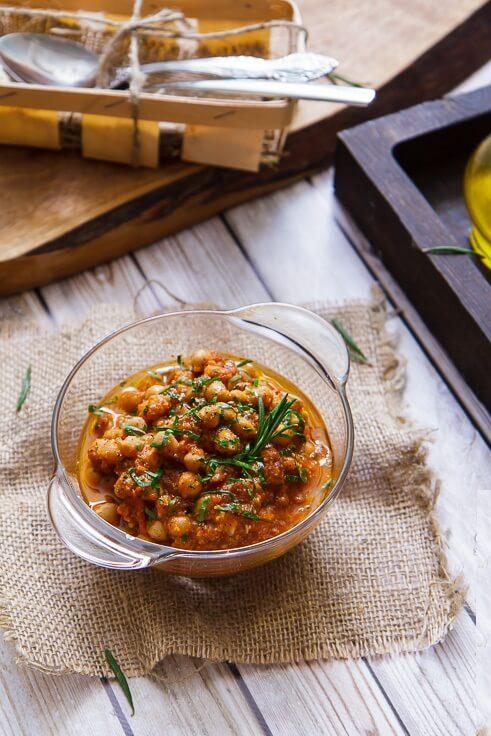 Preparation:
Pour the chickpeas with warm water and leave for 8 hours. After that, the water drain, again cover the chickpeas with water, put on fire and bring to a boil.
Boil for 5 minutes, then drain, cover chickpeas with fresh water (or broth, vegetable or chicken), add Bay leaf, rosemary and parsley stalks (the leaves are more useful), bring to a boil and reduce heat. Cook the chickpeas until tender under a cover at weak boiling for 1.5 hours.
Meanwhile, heat the oil and fry it for a couple of minutes the chopped garlic and onion, stirring constantly, then add the chopped tomatoes (or peeled tomatoes) and reduce heat.
Season sauce with a pinch of salt, black pepper and dried oregano, and simmer, stirring occasionally and stretching tomatoes with a spatula, about 30 minutes, until thick and almost smooth.
When the chickpeas and the sauce are ready, pour the chickpeas along with the liquid in which it is cooked, to the sauce, and cook over medium heat, stirring occasionally.
During the mixing process, remove the chickpeas spent their stems and Bay leaf and cook for about 20 minutes, or until until the sauce acquires the desired consistency.
In the end try to straighten the salt and pepper and remove from heat.
So the sauce was more dense and homogeneous, to break the blender about a quarter of the chickpeas in tomato sauce, and then combine this dense mass with the finished dish.
Mix in the sauce the chopped parsley and the zest and juice of a lemon, the last focusing on the taste.
Serve chickpeas in tomato sauce, a sprinkle of olive oil on top and garnish with the finely sliced greens and, if desired, finely grated Parmesan or other cheese.
Cooking with
P. S. And remember, only by changing their consumption — together we change the world! ©
Source: arborio.ru/nut-v-tomatnom-souse/