In the period of Great lent and seasonal vitamin deficiency, we offer you to pay special attention to the chickpeas and shares the recipe of a soup with chickpeas, noodles and greens.
Chickpea is a special representative of the legumes for those who do not like peas, beans and lentils. As one of the important components of the cuisine of the Mediterranean and Arab countries, garbanzo beans, a little common here, against which I strongly disagree.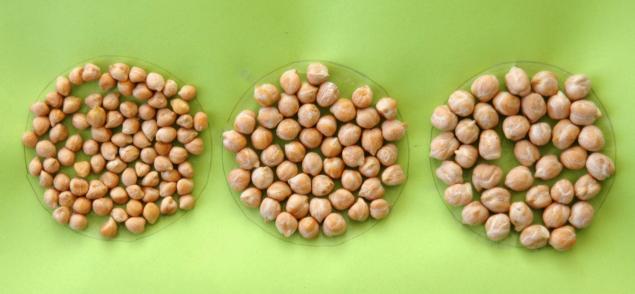 Chickpea is an almost universal product, good in soups (the most famous Moroccan harira), is added to the piława, stews and complex fillings, gives a special charm vegan salads in the Ottolenghi style Gotama. Let's not forget about hummus, falafel and pancakes made of chickpea flour.
Dry chickpeas, and beans, need long soaking before cooking, to soften the hard vegetable shell. For this reason, do not salt the chickpeas while cooking and try to cook in soft water.
The usual sequence of actions with chickpeas: soak for 8 hours in cold water, then change water, bring
the chickpeas
to a boil and cook for 40-50 minutes until tender on low heat or simmer in the oven at a low boil.
Stewed chickpeas cooked in a small amount of water with thyme and allspice in a thick-walled pot, for some reason, it is very reminiscent of roasted chestnuts. 10 minutes before end of cooking chickpeas have salt, then drain in a colander, return to pan, season with olive oil and let stand under cover.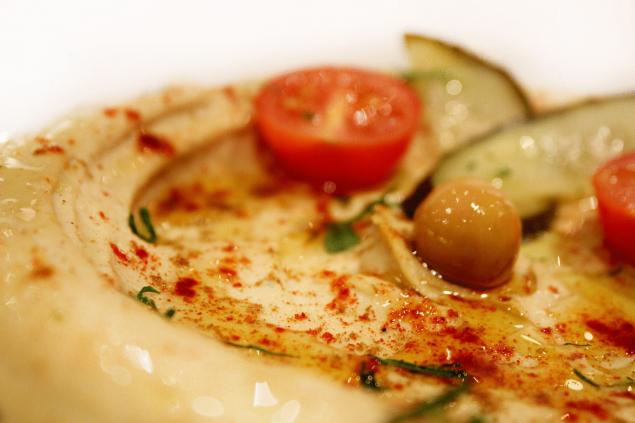 To use
chickpeas
as a savoury snack or addition to salads, cooked chickpeas should be dry, roll them in spices and then fry in olive oil. Spices are traditionally used in Eastern cuisines, along with chickpeas not only for a more vivid taste of the dishes, but for the best digestion of legumes. Chickpea well asafoetida, turmeric, ginger, cumin and coriander.
Soup with chickpeas, noodles and greensWhat you need:
1200-1500 ml of vegetable broth
120 g of dried chickpeas
300 g of pumpkin, cleaned from the skin
1 onion
2 cloves of garlic
1 large bunch fresh cilantro
1 large bunch of spinach
1 bunch green Basil
1 tbsp olive oil
salt and pepper to taste
for the noodles:
270-280 g wheat baking flour
1 tbsp fine sea salt
150 ml of water
additional flour for rolling out dough
What to do:
Sift flour in bowl, dissolve salt in water, add the flour and knead nekrutoe dough. If the dough sticks to hands, add more flour when kneading. Knead at least 10 minutes until the dough becomes smooth and soft. Make the dough into a ball, wrap in plastic wrap and leave at room temperature for 2-3 hours.
Chickpeas, rinse and place in a pot of cold water, bring to the boil and boil for 2-3 minutes. Close the pan with a lid and leave for an hour. Drain the chickpeas, pour fresh water, bring to a boil and cook for 50-60 minutes until tender. 10 minutes before end of cooking salt.
Table sprinkle with flour and roll the dough in a rectangular layer thickness of about 3 mm. Roller for pizza dough cut in the transverse direction into strips with a width of about 0.5 cm to Expand each strip of noodle and lay out on the table. For the soup you will need about half of the noodles, the rest can be dried and used later.
Wash the greens, cut the leaves and coarsely chop. Pumpkin cut into cubes about the size of a pea nut. Onions and garlic peel and finely chop, sauté until transparent in olive oil. Add the pumpkin, a little salt and add black pepper, stir and then on low heat for another 5-6 minutes.
Boil the broth, add the vegetables and chickpeas and cook for 5-10 minutes until cooked pumpkin.
In parallel to boil in a pot 2 liters of water, put the noodles, and cook at a low boil for 4-5 minutes until al dente. Drain in a colander.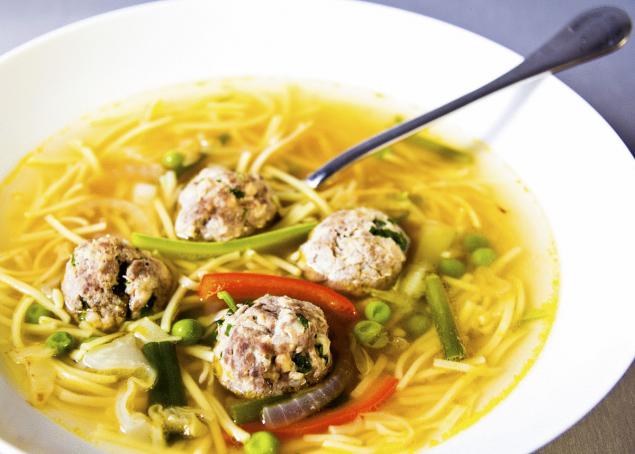 In a saucepan place the herbs, mix well, add cooked noodles, test for salt and pepper and remove from heat. To more accurately feed the noodles can be spread out on plates and then add the soup. In each plate you can put on a few notovich meatballs falafel. Serve immediately.
Source: www.gastronom.ru