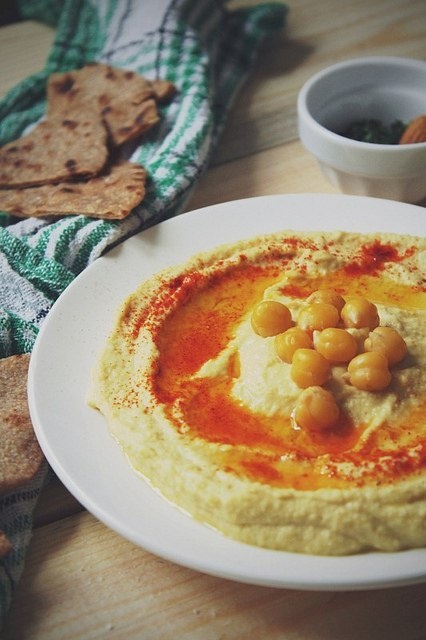 Ingredients (5 servings):
For the hummus:
1 cup dried chickpeas (get ready 2 cups)
1 teaspoon soda
water for soaking chickpeas
juice of half a lemon (3-4 tablespoons)
2 cloves garlic
2 heaped tablespoons Tahini paste
1 1/2 teaspoons sea salt
1 tablespoon olive oil extra virgin
150 ml of water, which was cooked chickpeas (save it after cooking)
1/2 teaspoon ground cumin
1/2 teaspoon turmeric
Chips:
cakes, tortillas, 5 pieces (click here to get a great recipe whole grain tortillas home in this community)
olive oil
large sea salt
Method of preparation:
Rinse the chickpeas, put it in a bowl, add baking soda, cover with water so that it covers the chickpeas to 5 cm, and leave for the night. Soda is needed in order that it helps water penetrate deeper into the chickpea, and it will save you much time cooking.
After soaking the chickpeas doubled in volume, so you will know when it is ready for further cooking. Wash it, to shift into a saucepan, add water twice more than chickpeas, bring to a boil and cook over medium heat for about 10 minutes until he finally softened. Save the water in which cooked chickpeas, and optional - some peas for serving.
In a blender grind chickpeas, lemon juice, garlic, Tahini paste and olive oil. Start slowly add water in which the cooked chickpeas, until you get the desired consistency. It took us 150 ml. At the end, add the spices: by the way, while cumin is really used to the taste, turmeric is more likely for a warm and pleasant colors. Grind hummus, until it becomes smooth.
To prepare chips, preheat the oven to 180 C. You can use store bought tortillas, but in this community, we published a terrific recipe for whole grain tortillas home, you can cook these cakes in store and store in the freezer until they are needed. So, it's your choice, and we usually stick to homemade food, we just love so much!
Cover the baking tray with baking paper and sprinkle it a little olive oil. Take the cake, cut them into small triangles and place on a baking sheet in a single layer. Drizzle or grease with a brush a little olive oil and sprinkle with coarse sea salt. Brown the them in the oven, so that they become golden and crispy, it will take about 10 minutes. Looks like it's the healthiest chips you've ever seen, did not you?
Spread hummus on plates, drizzle with good olive oil, sprinkle with paprika, chopped herbs and nuts, garnish top chick peas - there are so many opportunities that you can freely decide for yourself how you want to see your hummus. Do not forget to freshly made chips - they are best friends home hummus!